Whether you're a person working in an office or a Paralegal student, sometimes to collect information and statistics, you need to convert PDF files to editable Word documents. In this article, the simplest solution for how to convert PDF files to Microsoft Word 2003/2007/2010/2013/2016 with PDFelement and will introduce some excellent recommendatios of PDF to Word converter for you.
PDFelement is a well-designed free PDF to Word converter to allow you easily convert PDF to Word and lets you to easily edit the images, texts and pages on your PDF files. You can simply download the software here. Since the setup is small in size, it won't take much time to download. The installation is also straightforward.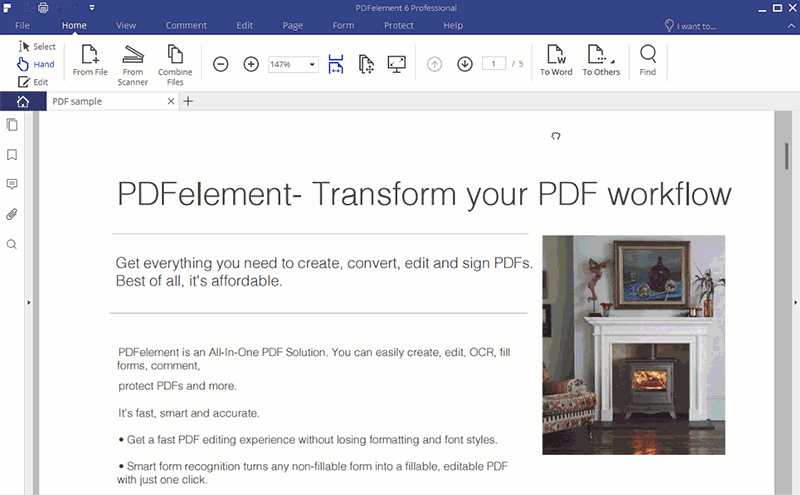 ---
How to Convert PDF to Word in Windows 10/8/7
The most amazing feature about PDFelement is that it is so easy to use. As you shall see by the step by step guide below, saving PDF as Word can be done in just a few minutes. Here's how.
Step 1: Open PDF File
Begin by downloading and installing PDFelement to your PC and then launch the program. On the Home window, you can click on the "Open File" button to browse for the file on your computer, or you can also drag and drop the PDF file you want to convert into the primary window.
Once you've opened a PDF with PDFelement, you'll see the file under the "Recent" list next time you start the program. That makes it more easy to deal with the PDF file next time.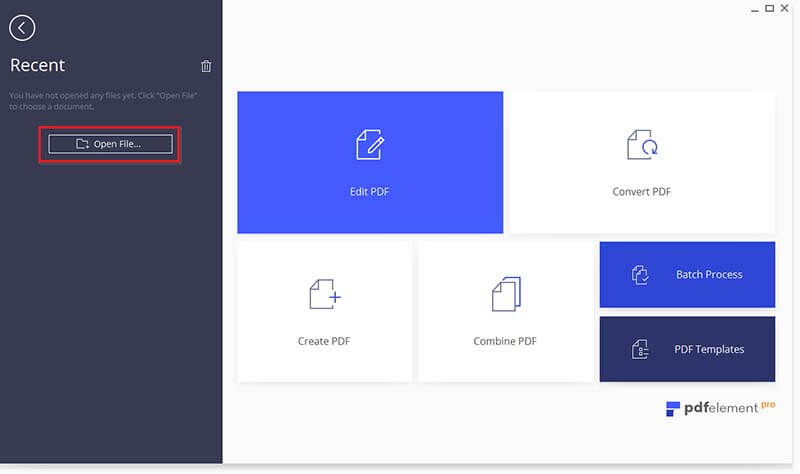 Step 2: Choose PDF File
On the pop-up window, navigate to the specific folder and choose the PDF you want to convert to Word and click on "Open".
Tips: You'll be able to open multiple PDF files in this step. Select more than one PDF file, and all of the PDF you selected will be opened in the program.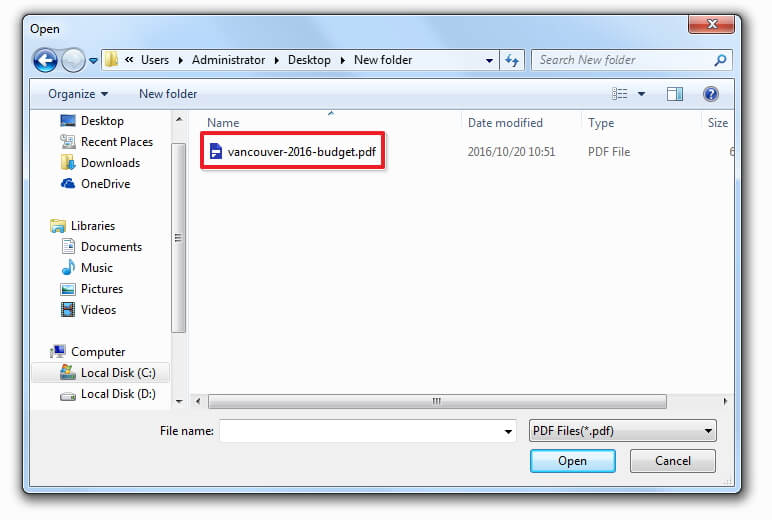 Step 3. Convert PDF to Word
Once the file is opened, you should click on the "Home" button on the menu bar and then choose "To Word" in the options provided.
Tips: If you have the need to convert PDF file to other files like Excel and Text, you can click on the "To Others" button beside. You'll then see a list of all of the supported output formats.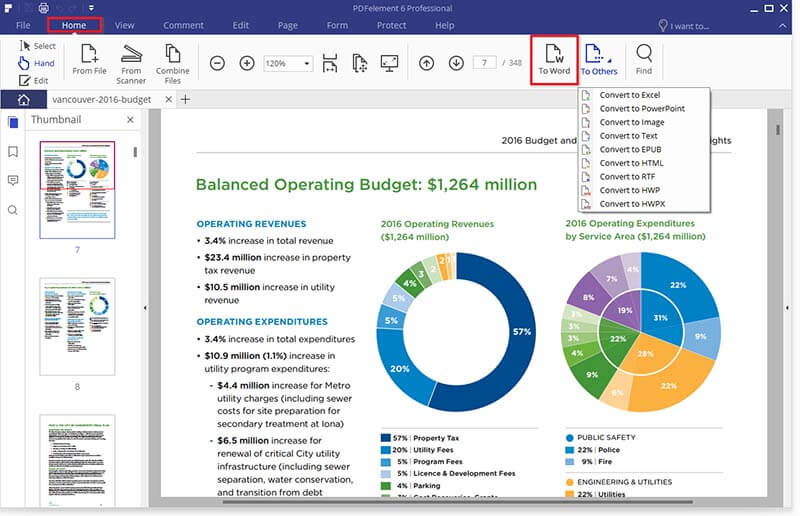 Step 4: Customize Convertsion Settings
If you want to specify settings for the exported Word document, click on the "Settings" button on the dialog box. Change the settings of the conversion and click on "OK".
Select the output folder, and when you're done, click on "Save" to start the process. The conversion will finish in a few seconds.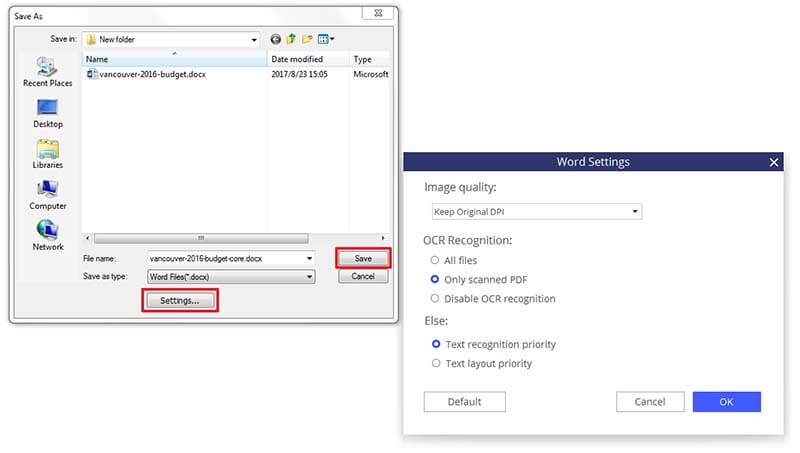 ---
Choose the Right PDF to Word Converter for Windows 10
| Product Features | PDFelement | Nitro Pro | Acrobat | Foxit |
| --- | --- | --- | --- | --- |
| Compatibility | Windows, Mac, iOS, Android | Windows | Windows | Windows |
| Price | $99.95 | $159.99 | $155.88 | $129 |
| Conversion Speed | Convert 100 pages in 1 min | Convert 100 pages more than 2 mins | Convert 100 pages more than 2 mins | Convert 100 pages more than 2 mins |
| Easy to Use | | | | |
| Keep Original Layout | | | | |
| Batch Conversion | | | | |
| No File Size Limitations | | | | |
| Security | | | | |
| OCR Feature | | | | |
| Output Format | Turn PDF into Word, Excel, PowerPoint), JPG, PNG, TIFF, BMP, GIF, Text, RTF, HTML, EPUB, HWP, HWPX | Doesn't support changing PDF to HWP, HWPX, EPUB, HTML, GIF, BMP | Can't export PDF to EPUB, Text, HWP, HWPX, HTML, GIF, BMP | Only transform PDF to Word(.doc,.docx), Excel(,xls,.xlsx), PowerPoint(.ppt), Text, Image, and HTML |
| Annotate PDF | Annotate PDF with note, stamps, highlight, underline, drawing etc. | Review PDF with note, markups, stamps, shapes, drawing etc. | Highlight text, add comments, draw shapes and free-hand marku | Create comment with text box, sticky note and other kinds of annotation |
| Edit Text and Images | Add text, link, and image to PDF file, change text color, font, align, line space and so on | Edit PDF content completely | Add, delete and modify PDF texts and images | Edit the properties of text and images in PDF file |
| Edit Page | Insert, delete, crop, rotate, split, extract, replace pages of PDF file | Add, remove and organize PDF pages | Insert, delete and organize pages in a PDF | Insert, delete and organize pages in a PDF |
Why choose this Best Windows 10 PDF to Word Converter:
Installation is smooth and is often completed without any glitch.
It has a robust editing engine that empowers computer users to edit any of their documents.
Extract and convert PDF documents to images, HTML, Microsoft docs, etc.
Export all the data from hundreds of scanned documents or forms.
Back out sensitive content in order to prevent others from seeing your most confidential data.
Support about 26 of the commonly spoken languages when it converts the scanned documents or forms into editable texts.
Customize your own forms with checkboxes, buttons, and text fields.
---
Detailed Information of Different PDF to Word Converters
1. Smallpdf
Smallpdf is one of the best free PDF to Word converter online, which makes converting the PDF to Doc files incredibly easy. You don't have to download any software, or change the settings. Also, your files get deleted an hour after completion of your conversion for PDF to Word.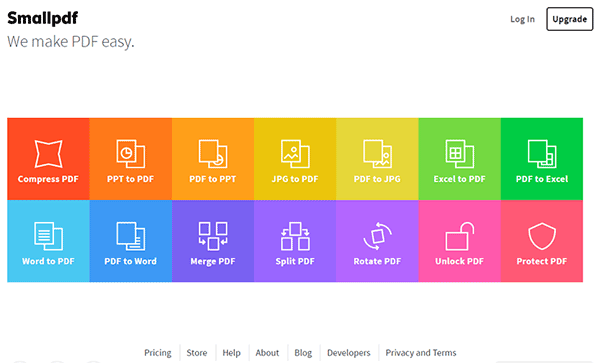 Step 1: Upload your PDF file on Smallpdf.com by clicking on the blue button. Alternatively, you could drag and drop the contents into the area.
Step 2: Wait until the conversion is completed. In fact, it only takes a few seconds or minutes to convert PDF to Word.
Step 3: Download your word file and save it in your preferred location.
---
2. ZAMZAR
Zamzar is another online PDF converter to convert PDF to Word, which was created by Mike and Chris Whyley. With this online software, you can convert PDF to Word online without downloading any application tools.
Step 1: Select the PDF files or URL you need to convert
Step 2: Click on the "Convert files to" and select the docx format.
Step 3: Fill in your email address. This is where you'll receive the converted word document.
Step 4: Click on the "Convert" button. After the conversion is completed, you'll receive a URL from where you can download your file.
---
3. OneNote
This is one of the best note-taking software out there, designed to be used on phones, tablets, and computers. It is commonly known to help users in creating to-do-lists, capturing ideas and setting reminders. The good news is that you can also use it to convert PDF to Word easily and quickly.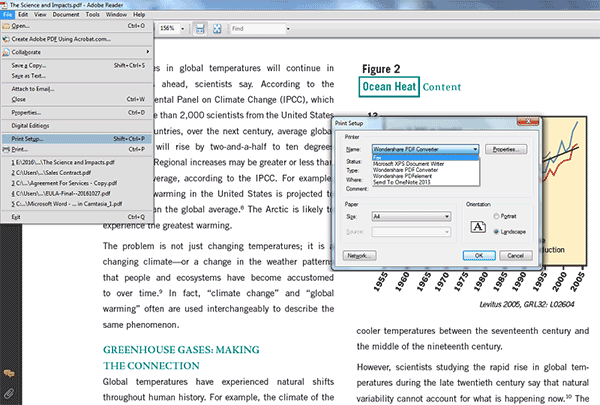 Step 1: Open the PDF file using Adobe Reader.
Step 2: On the "File" menu, click on "Print".
Step 3: While in the Print Dialog option, choose the "Send to OneNote" as the printer and then click on "Properties" so as to open the printing preferences.
Step 4: Specify the page size and orientation that you need. Once you're satisfied with the setting, click "OK".
Step 5: Now click on the "Print" option. Upon doing so, you'll send the file directly to OneNote.
---
4. Adobe® Acrobat®
Adobe® Acrobat® is another best free PDF to Word converter that enables users to send well-formatted documents that contain very distinctive colors, graphics, typefaces, and photographs. These documents can be created on users'computers to other computers, regardless of the operating system, hardware platform, and application program responsible for creating the originals. Check the detailed guide of converting PDF to Word in Adobe Acrobat.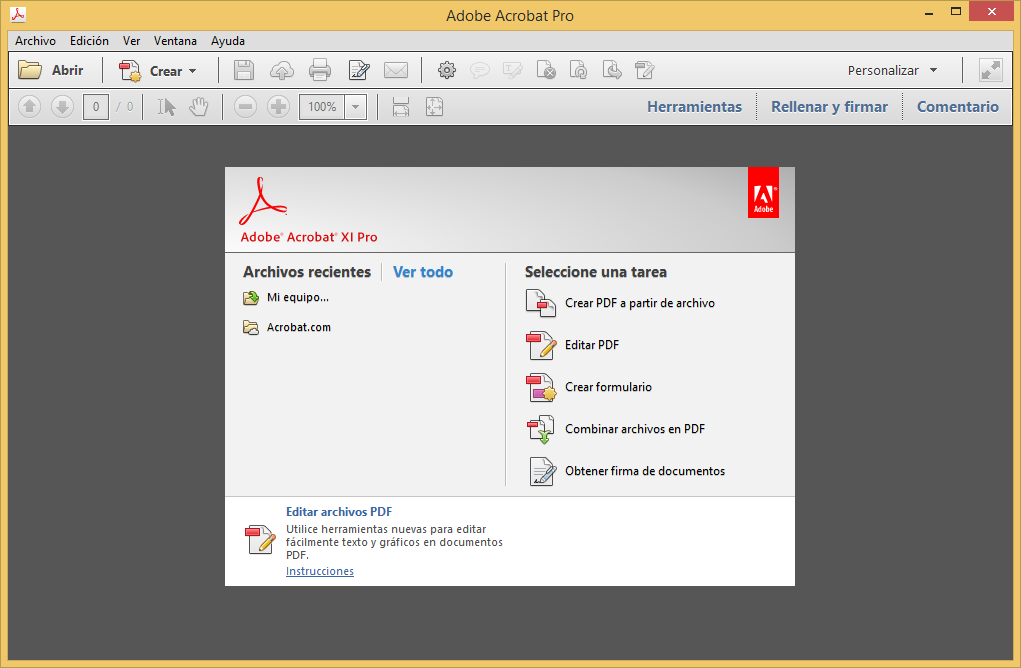 Step 1: Download and run the Acrobat in your computer, and then open the PDF document you would like to convert. If you don't want the PDF file to automatically open in acrobat, you can change the settings to your preferences.
Step 2: Click on the Export PDF option just in the right-hand pane.
Step 3: Select the ideal Microsoft Word format you want to export, and then choose Word Document.
Step 4: Now click export to convert PDF to Word.
Step 5: Name the new word document and save it where you find appropriate.
However, Adobe Acrobat XI will be end of support on October 15, 2017. That means there will be no more product support and update from Adobe. It's better that you should choose the best alternatives to Adobe Acrobat.
---
5. Nitro Pro
Nitro Pro, the desktop software is designed to facilitate the conversion of your PDF files to Word documents. Put it simply, it is the ultimate digital documentation solution. With this app, you can create, edit, sign, merge, review and protect files, check the below guide of using Nitro convert PDF to Word..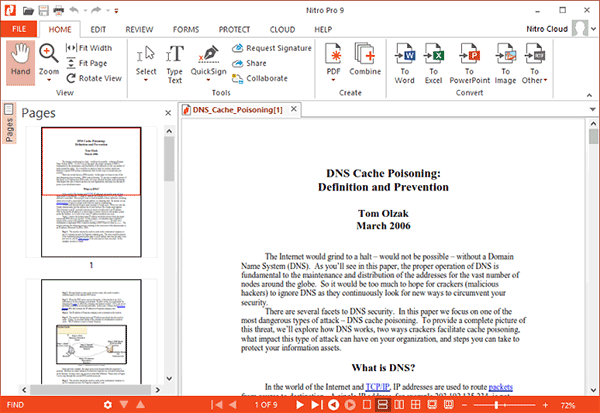 Step 1: Download and install the application to strat to convert PDF to Word. Make sure your computer runs on both Windows XP, 8, 8.1 or 7 versions, and that it has a processor of 1 GHz.
Step 2: Open the application and go to the "HOME" window section. You'll see the "CONVERT" menu.
Step 3: After opening the "CONVERT" option, just select the file format in which you'll want to convert the PDF, and then click the corresponding button.
Step 4: You'll need to select the files to convert. Once you're done, simply click on the "Convert the PDF" button and the app will convert the file to word document.
---
6. ABBYY FineReader
ABBYY FineReader is simply an all-in-one OCR and PDF to Word converter that modifies the crucial information locked in paper-based documents, as well as PDFs.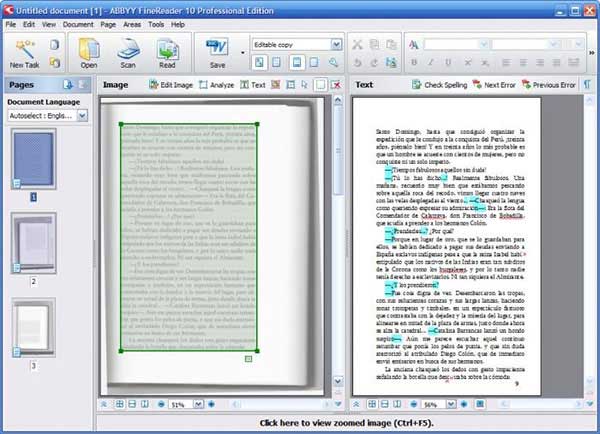 Step 1: Download and install the application
Step 2: Configure the ScanSnap settings. Make sure you change the application to "ABBYY Scan to Word".
Step 3: Click on the application settings to configure the settings in the ABBYY window.
Step 4: Check the boxes to keep the line breaks.
Step 5: Click on the "OK" button to close the window.
Step 6: Finally, click on the scanning tab.
---
7. Foxit
The Foxit Reader is a multilingual freemium PDF tool developed by Foxit Software Incorporated. It is a tool that can do everything from creating to editing to even signing and printing PDF files – just like you do it in Word. The Windows version of this tool, Foxit PDF to Word converter enables the conversion of files from PDF format to Word format, among many other features offered by it.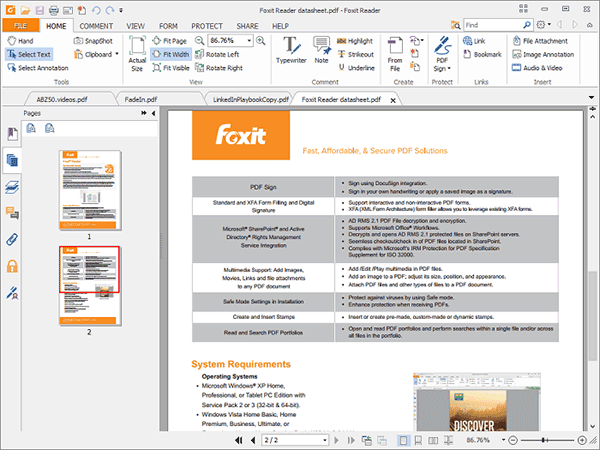 The Foxit reader PDF to Word conversion is a simple task that can be easily done by following a few steps and guidelines. This PDF to Word converter is extremely handy when you need to convert PDF to Word.