Being able to convert PDF to Word on Mac is a necessary skill if you want to easily edit the PDF document. This is because as much as PDF documents are the default format for sharing files online, unless you have the right know-how or the right program, editing a PDF document is never easy. Therefore, if you want to make significant changes to a PDF, the best course of action would be to convert PDF to Word for macOS Sierra. Of course you can learn how to convert PDF to Word on Mac for other reasons. Whatever the reason, this article will offer you a complete guide to change PDF to Word on Mac (including macOS 10.13 High Sierra) with PDFelement 6 for Mac .
PDFelements 6 for Mac is regarded as the best option and the most recommended for PDF to Word conversion for Mac users. That's because this application has been intricately crafted to help you solve all your PDF file manipulation needs with ease, convenience, and flexibility.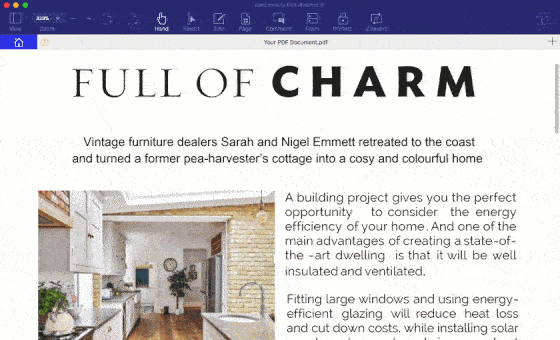 Benefits of PDFelement for Mac:
Superior OCR capabilities that simplify the process of transferring any images or scanned PDF files into easily editable and searchable text formats.
Comes with numerous word document editing features like spell check, line mode, and paragraph mode.
Allows a user to create and convert PDF files into any other document formats like Word.
Increase in data security feature in the form of permissions, passwords, digital signatures, text redaction and so on.
Makes it easy to leave comments, notes, and highlights on PDF files.
It has a charming and user-friendly interface.
It supports Mac OS X 10.10, 10.11, 10.12 and macOS High Sierra.
---
How to Convert PDF to Word on Mac
Step 1: Convert from PDF to Word on Mac
Drag and drop the PDF file you would like to open into PDFelement's main window and the file will be opened. Once the File has been opened in PDFelement, click on "Convert" button to enable the "Convert" function.
You can then click the "To Word" button to choose Word as the output format. You can also select the range of pages that you would like to convert by clicking on the "All pages" button on the "Options" tab. Once you are happy with all the changes, click "Convert" and your document will be ready in a few seconds.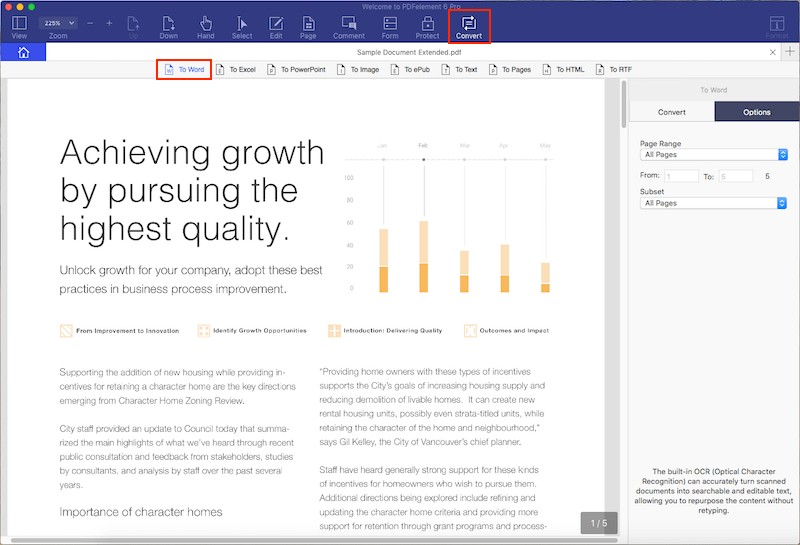 Step 2: Make Settings of PDF to Word Conversion in macOS (Optional)
To convert a scanned PDF file, click on "Convert" and select "To Word" on the menu bar. Ensure that you enable the OCR slider on the right menu, and then click on the "Options" tab if you want to customize the conversion. Then go back to the "Convert" tab and select "Convert" to start the process.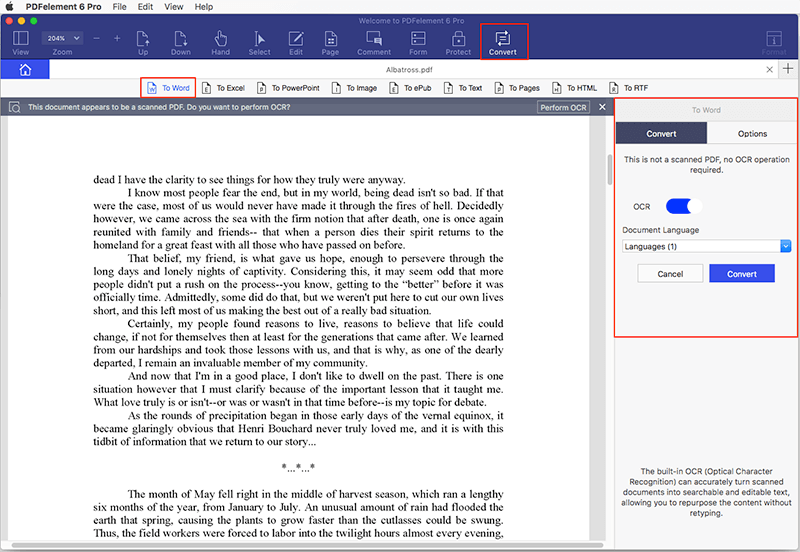 ---
Preview Can't Convert a PDF to Word on Mac
If you are more interested in free PDF editor, you can try using Preview. Now despite the fact that it is an inbuilt Mac PDF editor, it falls a bit short when it comes to functionality and features. Below are a few of its best seller features, it allows users to annotate, add images, and highlight sections of the text in a PDF File, allows for editing, but is a bit limited in terms of functionality, enables users to combine files, and it is free to use. However, it can't convert PDF to Word in macOS, it onlys support turnning PDF into JPEG, PNG, TIFF.
Pros
It's an inbuilt app on Macs.
It enables users to combine files.
It's free to use.
It provides basic editing features.
Cons
Very limited regarding functionality.
Lacks OCR capabilities.
Extremely hard to use during document conversion.
---
PDF Expert Can't Convert PDF to Word in Mac
This is yet another excellent PDF app for Mac. Despite the fact that it comes with fewer features than PDFelement 6, it's cheap and also easy to use. There are a few of its best features, super fast to use, comes with professional annotation tools, allows for document signing, has an impressive sharing feature, has form filling capabilities, and is also compatible with most Apple devices (Macs, iPads, and iPhones). However, it does support converting PDF document to Word format on Mac.
Pros
Can be used on a number of Apple devices.
Has split screen capabilities.
Offers easy file transfer options.
Cons
Limited in features and functionalities as compared to PDFelement.
Has limited OCR capabilities.
Has limited image editing tools.
Not easy to use when it comes to document conversion.
---
Another Way to Convert PDF to Word on Mac
Another way to convert PDF to Word on Mac is to use Wondershare PDF Converter Pro for Mac. This one is also as effective and also comes with a lot of features that allow you to create PDF, convert PDF to different formats including Word, HTML, Excel and others and its very own OCR capabilities. But perhaps the biggest advantage that PDF Converter Pro for Mac is that it can be used to convert batch files very easily and also convert protected files.
Here's how to use PDF Converter Pro for Mac to convert PDF to Word on Mac. Download and install the program to your computer, launch it and then follow these very simple steps to Convert PDF to Word on Mac.
Step 1. Import PDF Files
Click on the "+" button at the top of the main window to import the file you want to Convert.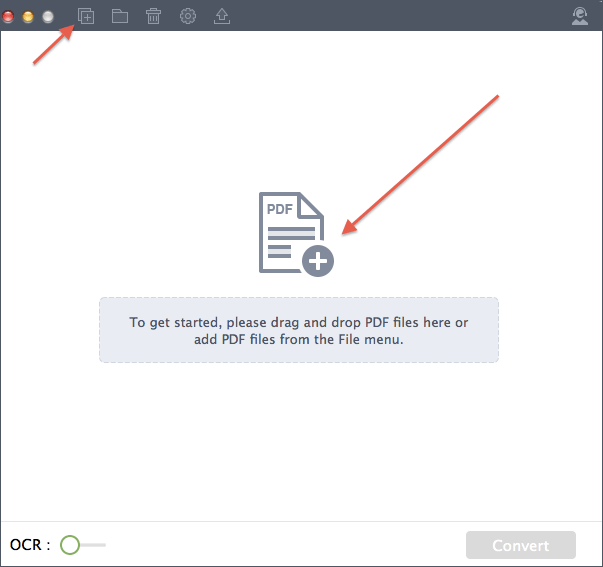 Step 2: Select the Options
Click on the "Format" icon to select the output format (in this case Word Document). You can also choose the "Page Range" button to select the pages you would like to convert.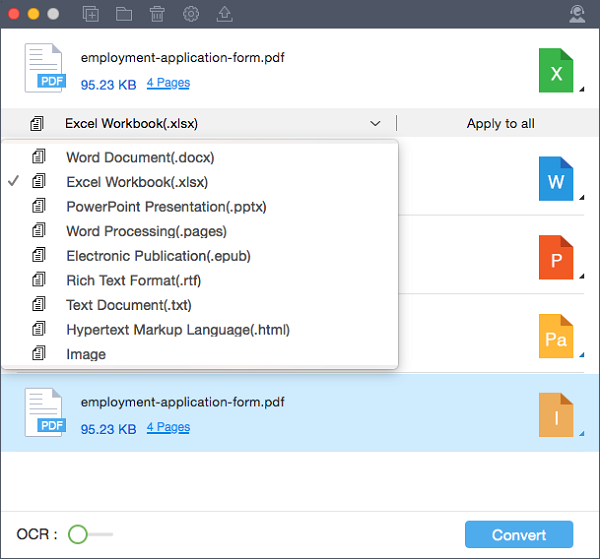 Step 3: Convert PDF to Word on Mac
When you are done, click "Convert" to begin the process. You can choose to "Cancel" the process at any time. In a few seconds, the PDF will be converted into Word.