Want to merge PDF without Preview on Mac? Merging two or more PDF files means transfer the one document into another PDF file to make one combined document. By combining PDF files on Mac, users will not have to go through the different PDF files or open two different files in the PDF reader, so, it will not only save the time but also the space on the computer.
Apart from that, sometimes, you scan documents and all of them are saved in different PDF files. Merging will help you to combine both documents, so, you don't have to navigate to different documents. Similarly, you can save more than two PDF files at the same time. This article will tell you how to merge PDF on Mac with PDFelement for Mac.
There are multiple ways to merge PDF files on Mac. One of the basic ways is using PDFelement for Mac. It enables you to add multiple PDF files to merge into a single PDF document with easiest steps. One of the unique things about using this software is that you can instantly convert different images and combine them into one PDF file right from the main screen of the software. You can easily rotate the pages in the newly merged PDF file, rearrange them or can even edit them.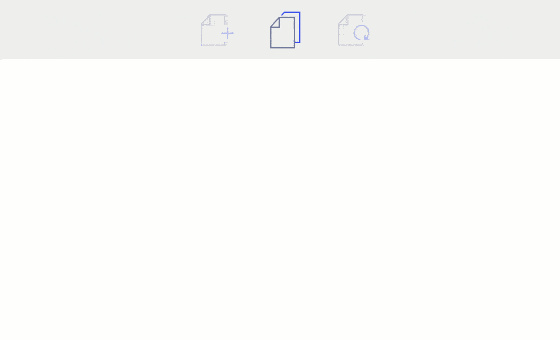 One of the biggest advantages of using this software is that it will let you convert the recently merged PDF files into Word document, slides or sheets. If you are combining scanned documents, you can perform the OCR feature of PDFelement for Mac on this document to change it to the edit-able PDF file. What's more, it's compatible with macOS 10.10, 10.11, 10.12, 10.13 and 10.14 Mojave. So you don't have to worry about the compatibility issue. You can also combine scanned documents into one PDF on Mac.
---
How to Combine PDF Files on Mac
So, how can we combine PDF files on Mac? The following steps will show you how to accomplish this task.
Step 1. Launch the Program
Before you continue, make sure that you have got the latest version of PDFelement for Mac. Open the software and click "Combine Files" on the home window and choose the file you want to merge.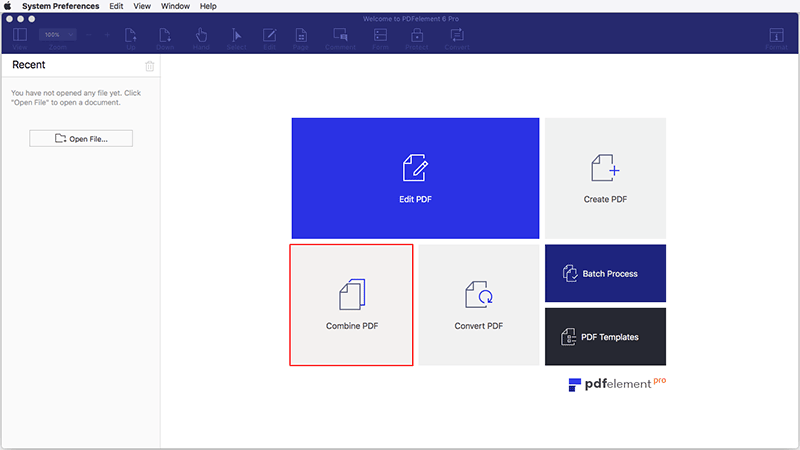 Step 2. Join PDF Files on Mac
First of all, add the files that you want to merge into one file, click on "Add Files" and select the files that you want to add. Once all the files have been moved in that window, click on the "Combine" button.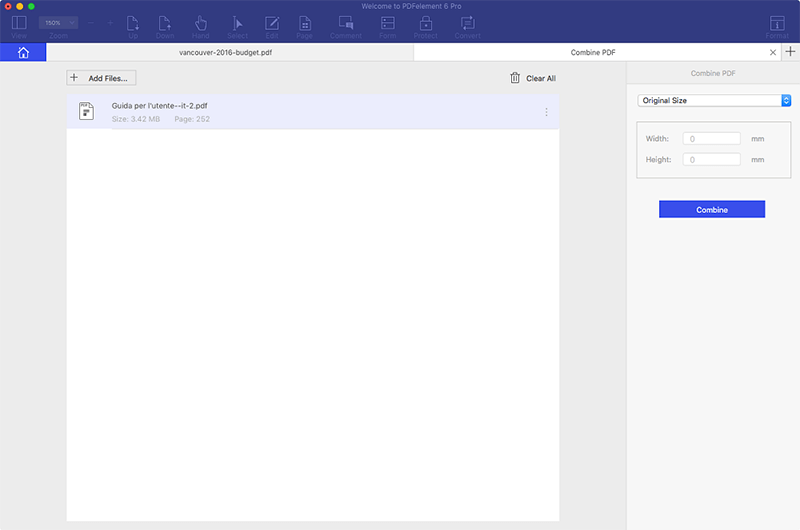 It will ask you to save the merged PDF file on your Mac OS, select the appropriate location, re-write the name of the final PDF file and click on the "Save" button.
Step 3. Edit PDF File (Optional)
Finally, the merged PDF file will be opened in PDFelement where you can edit it as you want. In order to delete, add or replace the text in the PDF file, click on the "Edit" button in the top bar. If you want to rearrange the pages of the PDF file in PDFelement, click and hold each page and move it accordingly.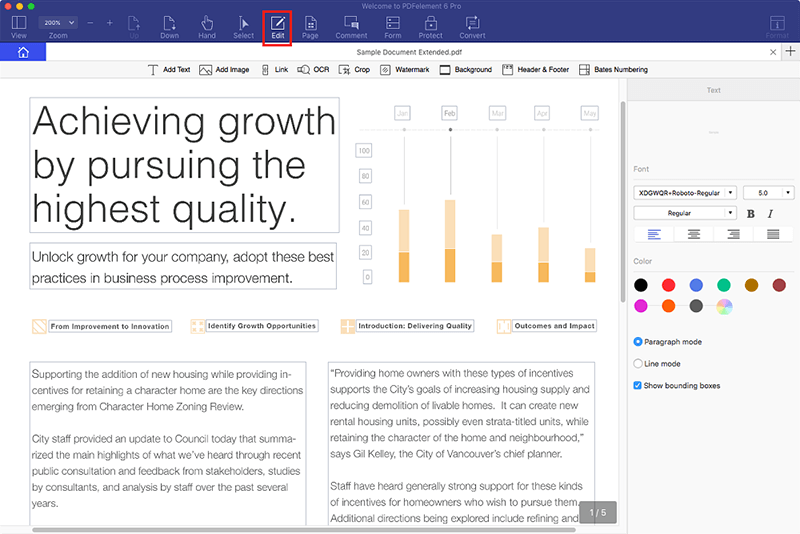 Step 4. Save Merged PDF File
If you have edited your PDF file, you will need to save all the changes in the merged file. Click on "File" and then select "Save As". That's it! In this way, you can merge as many PDF files as you want.
---
How to Combine Scanned Documents into one PDF on Mac
Step 1. Open Program
Open the PDFelement for Mac. From here, you can go two different routes. The first one is to click "Combine file" box in the welcome window. Another option is to go to "File > Create > Combine files into PDF".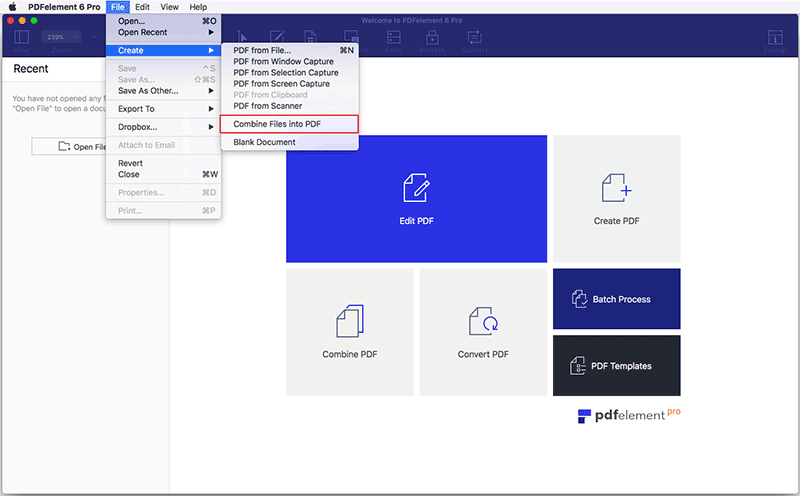 Step 2. Combine Scanned Documents into one PDF on Mac
Once you click "Combine files into PDF", a pop up window will appear. Click on "Add files", and then add all scanned documents or image based PDF files you want to combine into one PDF on your Mac.
In the "options" tab, you can select the size of the file and other customization options. Once the files load, click "Combine". The process will start and you will combine scanned documents into one PDF on Mac successfully.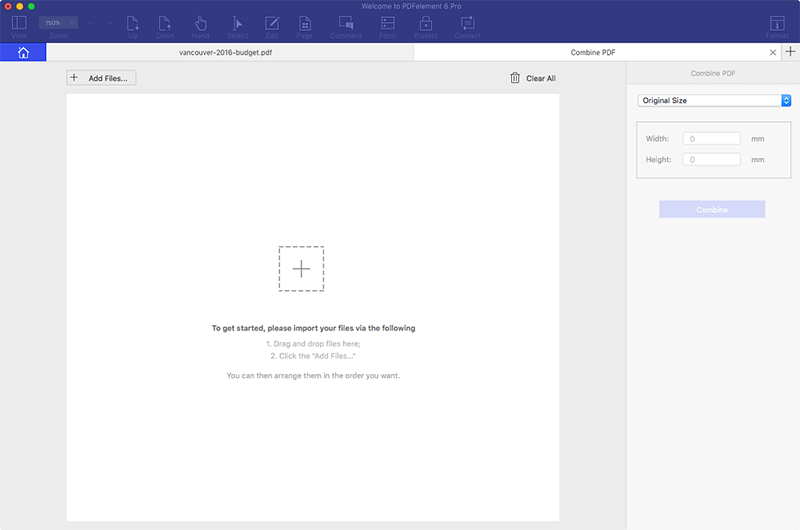 Step 3: Perform OCR (Optional)
Once the combine files process ends, the created PDF will automatically be open in the program. If you want to edit the PDF, you can click on "Edit" and then "OCR", or you can directly click on "Perform OCR" on the reminder bar.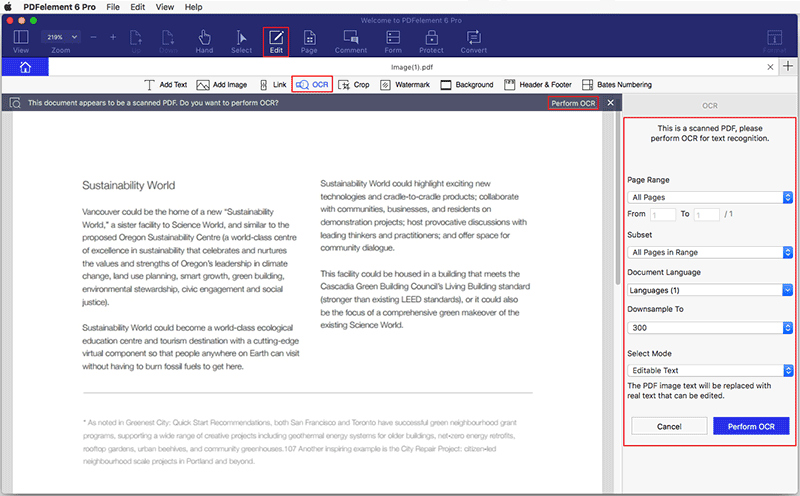 Note: OCR feature is only available in the PDFelement for Mac version. Please download the Pro version below: