How to Convert JPG to PDF on Mac (2019 New Updated)
JPG is an image format that is used often. Due to its compressed size, JPG images are easier to share by attaching to an email or uploading online, but from time to time you might want to share them in PDF format as well. You may have several JPG images you want to convert to PDF on Mac (including macOS 10.15 Catalina). But what if you don't know how to create a PDF from a JPG on Mac? In this article, we'll conver the methods to convert JPG to PDF on Mac using PDFelement.
How to Convert JPG to PDF on Mac
Follow the steps below to easily create a PDF from a JPG on Mac:
Step 1. Convert JPG to PDF on Mac
Open the program on your Mac and you can go to "File" in the main menu and click on "Create" and then the "PDF from File" option, which will also enable you to upload your JPG file.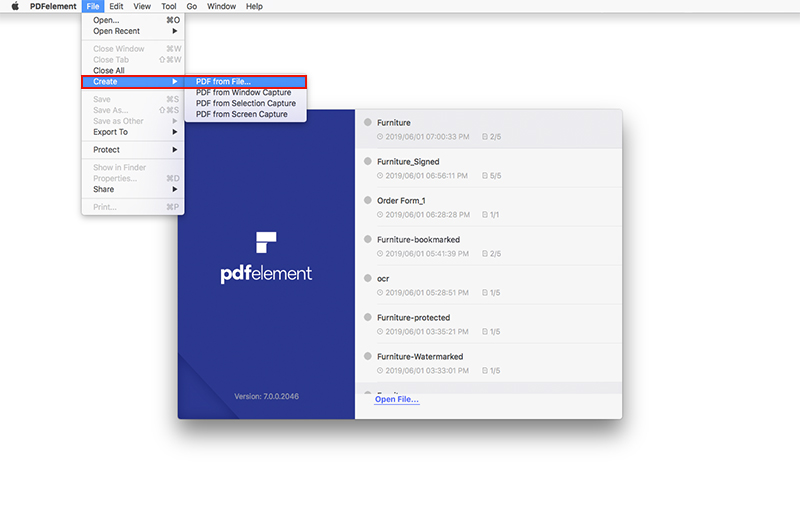 Step 2. Edit PDF (Optional)
The JPG file will now appear as an image but in PDF format. The program will automatically detect when an image is scanned, and will suggest performing OCR in order to edit text. Click on "Perform OCR" button to do this. Once OCR is complete, click on "Edit", and start modifying your PDF file as needed. For more details on how to edit scanned PDFs on Mac, click the following link.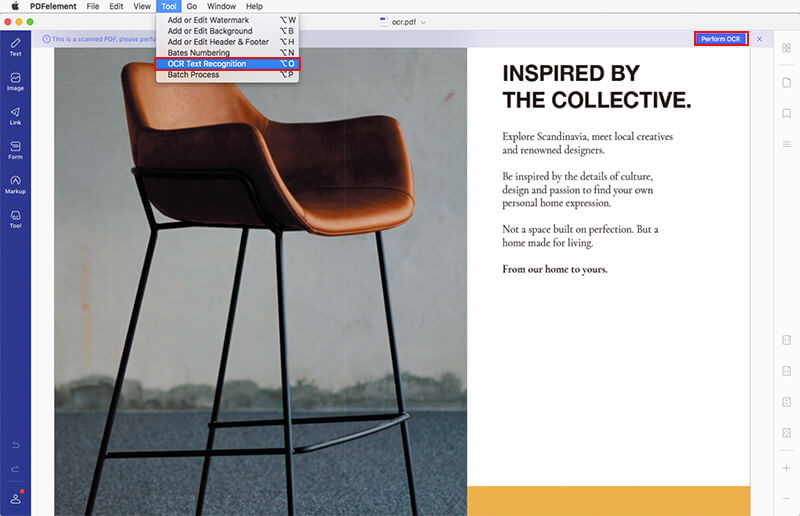 Step 3. Save JPG to PDF on Mac
After editing your PDF, click on "File" in the main menu, and select "Save As". Rename the file and save it. You have now converted JPG to PDF on Mac.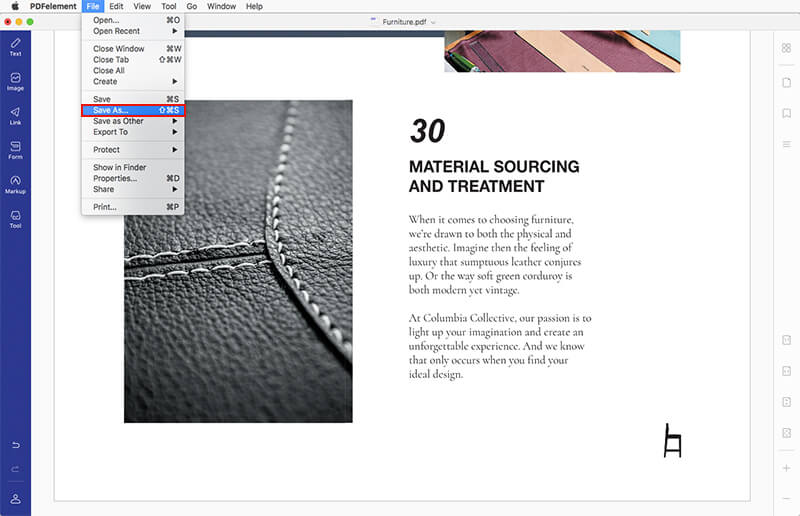 ---
How to Change JPG to PDF on Mac with Preview
Preview program can also help you change JPG to PDF on Mac. The steps are outlined below:
Step 1. Open JPG with Preview
Double-click your JPG file to open it with Preview by default. Then click the "File">"Print" button on the top menu.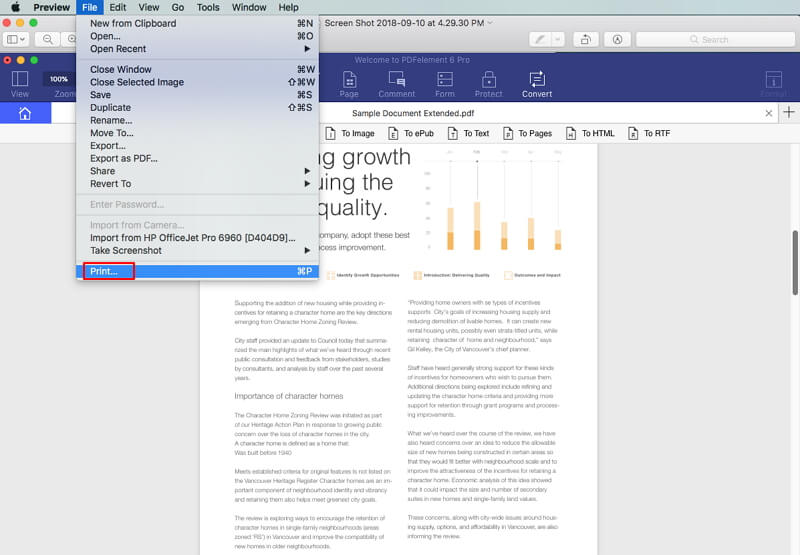 Step 2. Save JPG as PDF
In the new pop-up window, click on the "PDF" option at the bottom to choose "Save as PDF". Rename the file and choose an output folder to save the PDF file in your local folder.
---
The Best JPG to PDF Converter on Mac
To convert your JPG to PDF, you need the right PDF software that can create PDFs from images formats, including JPG files. One such program that can convert images to PDF is PDFelement for Mac. This software supports multiple image formats such as PNG, BMP, GIF and TIFF as well. This multilingual software works in macOS 10.15, 10.14, 10.13 and 10.12. Other functionalities of PDFelement for Mac include:
Converts PDFs to RTF, TXT, DOC, DOCS, XLS, PPT, HTML, EPUB and Images.
Allows you to edit text, change font size or color, add images, and delete, add, replace, or extract pages.
Allows you to annotate, add comments, draw markups, add watermarks, add links, or underline and highlight text.
It allows you to fill out PDF forms with ease and create forms as well.
It is equipped with an OCR plugin that makes scanned PDFs editable, selectable and searchable.
The OCR plug-in that is found on the purchased version supports over 20 languages like Spanish, French, Korean and much more.
Enables you to apply your digital signature to a PDF document.
Free DownloadFree Download or Buy PDFelementBuy PDFelement right now!
---