Electronically signing PDF documents has expanded a significant increase over the past few years and many people are opting electronic signing to avoid the annoyance of first printing out the document, signing it and finally skimming it. The understandable reason for electronic signing is, to verify the genuineness of the document and to confirm the identity of the signers. In this article, I will tell you how to sign PDF on Mac with PDFelement for Mac.
Although Preview in the Mac provides a good option to electronically sign the document but it is far away from being perfect. For example, you can only use the camera or trackpad to sign a document and there are no options to type the signature or use the already taken image as your signature. Sometimes, the camera app is not working properly and if you have a lot of documents to sign, it will not be less than a pesky task. So PDFelement will be your best choice to sign PDF without Preview.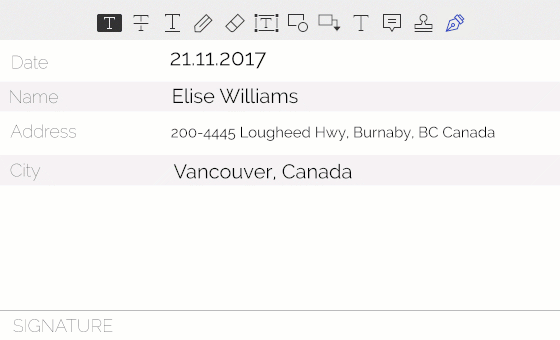 PDFelement for Mac is an all-in-one PDF tool for all your PDF needs. Its editing feature will let you easily change texts and images and organize pages in your PDF. The OCR feature even gives you the possibility of making image-based scanned PDFs searchable and editable. With it, you can also create PDF documents from image and document formats or vice versa.
PDFelement for Mac will let you create and fill PDF forms. You can also add e-signature to your document to authorize it. What's more, you can also protect your files with password and permissions. In this way, no one can view, copy, edit or print the content without entering the right password.
---
How to Sign a PDF on Mac
First, you'll need to download and install PDFelement for Mac on your Mac. This program supports macOS 10.14 (Mojave), 10.13 (High Sierra), 10.12 (Sierra), 10.11 (El Capitan) and 10.10 (Yosemite).
Step 1. Import Your PDF
Once you have installed PDFelement, import the PDF file that you want to make changes to. You can easily do this by clicking the "Open File" button on the Home window. You can also click the "File" menu on the top left corner and select "Open" to import a PDF file.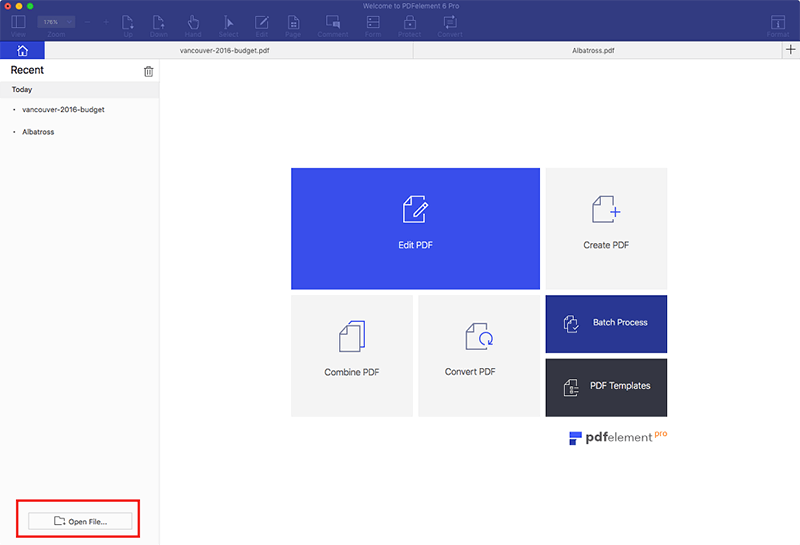 Step 2. Sign A PDF on Mac
Once your file has been loaded, choose the "Comment" button in the toolbar. Select the "Signature" option in the submenu (Or you need to click on "More" to reach the "Signature" option). In this place you need to click on the "+" icon. And then you can choose the way to create your signature from the four options shown on the window.