Imagine the following scenario. You receive an email, a PDF file that has a log of great images. And you want some of those images as a separate JPEG file. So, how can you extract image from PDF on Mac? Well, there are many ways you can use to grab the image and extract it from a PDF file into a JPEG file. Here is the best option - PDFelement for Mac to extract image from PDF on Mac.
As mentioned previously, what you need is a quality PDF software, one that has many features, one of which is extracting images and photos from PDF documents. Where can you find such software? PDFelement for Mac is one of the best options you can use to extract photos from PDF Mac. The software, which recently got its sixth update is your all around PDF solution. And unlike many PDF software tools you can find, it is very cost-effective. Here are some of the distinguish features of the software:
As mentioned, one of the features is extracting images from PDF. But you can do much more with images. You can add images to the PDF file, use copy + paste function, replace images, rotate images, and crop images
Edit pages with functions like crop, split, replace, insert, and much more. You can also add page boxes and page label
If you need common text editing tools, it has that as well. But you will also find some more advanced text editing features like intuitive paragraph, single line editing mode, and much more
The annotation tools will help you craft a professional looking PDF document within minutes. You can add comments, text boxes, stamps, sticky notes, and more. You can also use the personalized drawing tools for collaboration
Creating personalized PDF forms is part of the common, but also advanced features pallete
---
How to Extract Images from PDF on Mac
Now that we know that extracting images from PDF on Mac is possible thanks to PDFelement for Mac, let's look at how to extract images from PDF Mac. As mentioned previously, the whole process is fairly easy and anyone can do it. Within a minute, you can extract the image and use it as you wish later on. Here are the steps you need to follow in order to do it.
Step 1: Enter into Editing Mode
Open the PDF document you want to extract the image from. Click on the "Edit" toolbar to open the editing mode.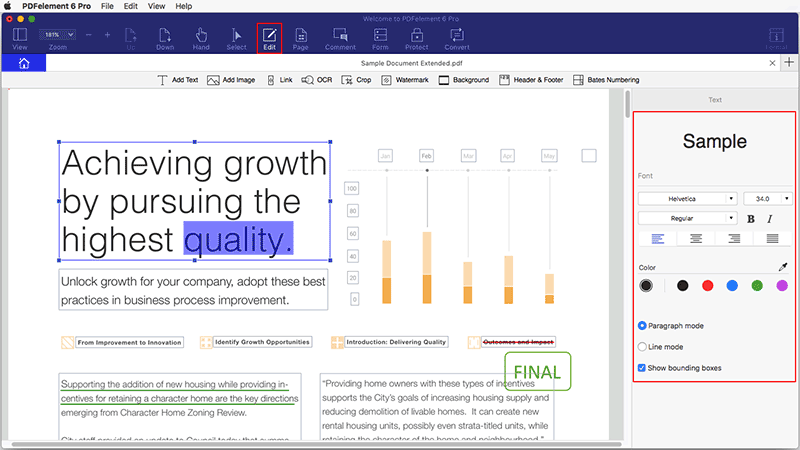 Step 2: Select Images to Extract
Browse through the document to find the desired image/photo. Click on the image, and you will select it with your cursor. Now, click on the option "Extract current image" if you like to extract the selected image. You can also click on "Extract all images". The latter will extract all images from the PDF document for you to use later on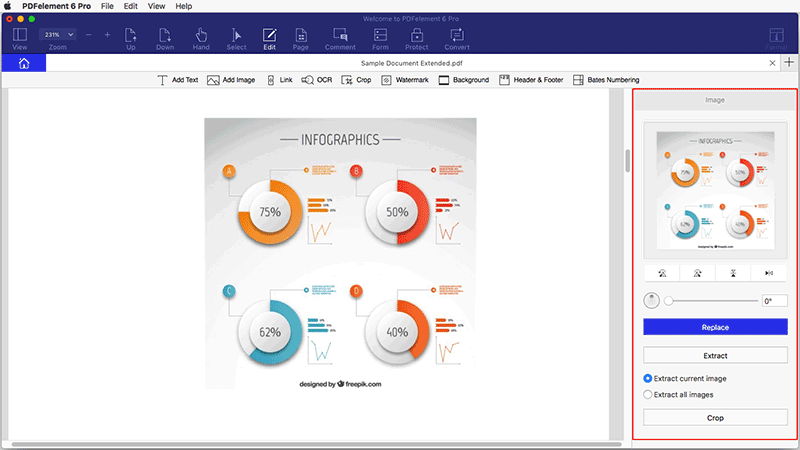 Step 3: Extract Images from PDF on Mac
Click on "Extract", and you will see a pop up window appearing. You need to choose a name for the image, tag, and where to save it. The window will ask "Where to place the image". Choose the location of your choosing, and click on "Save".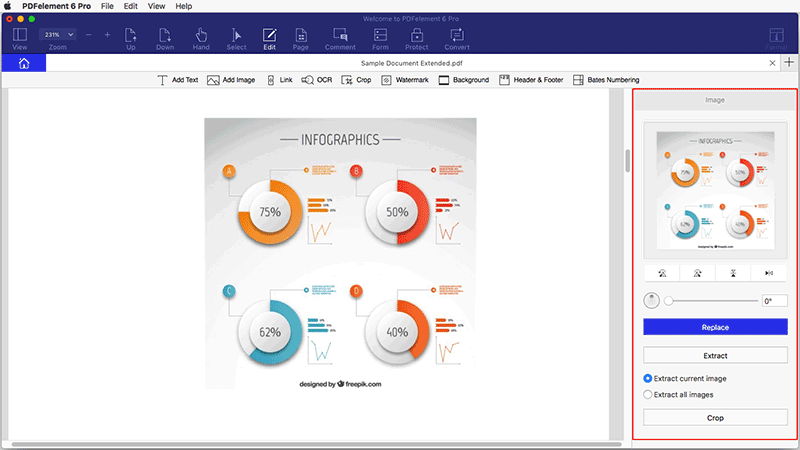 PDFelement for Mac will successfully extract the image to your desired location. You can now open the image and use it anyway you wish.