As we know, the new Notes app on Mac allows you to make richer and smarter notes. In other words, you can add photos, videos, URLs and location data. You can also add checklists to your rich notes. Notes app also brings some new features related to PDF. But many of us don't know how to handle PDF with Notes on Mac till now. Here will be best way for you to get the answer with PDFelement for Mac.
---
How to Work with PDF Using Notes on Mac
Step 1. Insert PDF into Notes
As mentioned earlier, you can add PDF files to your Notes. In order to do this, create a note first. Then find your PDF from the Finder and directly drag it into your Notes.
When you add a PDF file to a new note, it shows up as an attachment in your note and the app itself does not allow you to fully view the PDF document. Instead, when you double-click the attached PDF file in Notes, the default PDF viewer of El Capitan runs: The Preview App.
Step 2. Export Notes as PDF
To share, click on the "Share" button from the main tab and choose another applications or services. You can also export your notes into a PDF file. To export, choose "File" and "Export as PDF"s.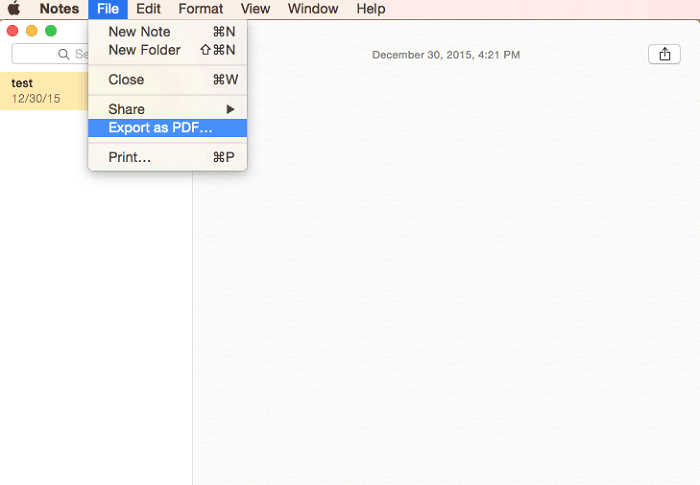 ---
Steps to Edit PDF Using PDF Editor for Mac
To edit PDF on Mac OS 10.13, 10.12, 10.11, 10.10 and lower, you'd better use a professional PDF editor. Our suggestion is PDFelement for Mac, which is a smart tool that allows users to save web pages, jpeg's and text files as PDF documents and generally edit, convert and annotate PDFs on Mac OS X 10.11. Let us figure out the characteristics PDFelement has that turn it into one of the best choices in the market if not the best.
Step 1. Create PDF Files
PDFelement can create PDF files from many other documents like webpages, images, text and more.
To create a PDF from a single file, you can click the "Create PDF" box after opening the program, or go to "File > Create" to select "PDF from File";
To Create PDF from multiple files, go to the "Combine PDF" box after opening the program or go to "File > Create > Combine Files into PDF";
To create a blank document, you can go to "File > Create" and then select the "Blank Document" option on the top menu.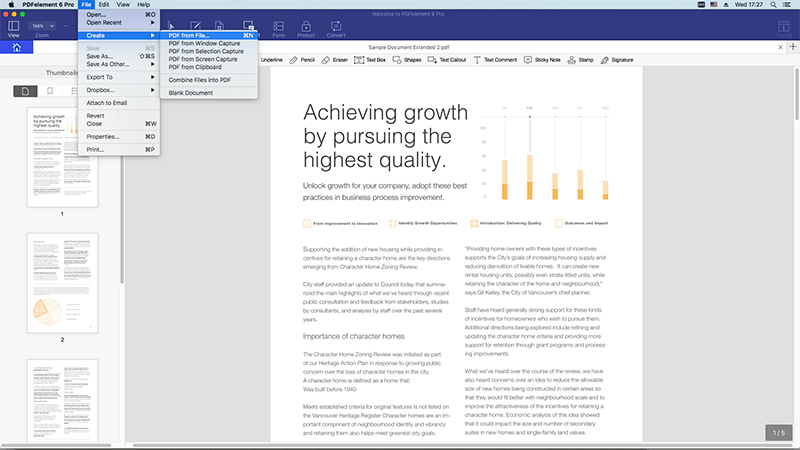 Step 2. Edit Text, Images and Pages
This fabulous software can fully meet to requirements on editing PDF documents. Click the "Edit" button on the top toolbar, then you can directly modify the texts and images. To extract, crop and replace image, you can double click on the image to get the options.
On the right side "Page" menu, you can find the option you need to edit PDF pages, like crop, replace, rotate, delete, split and more.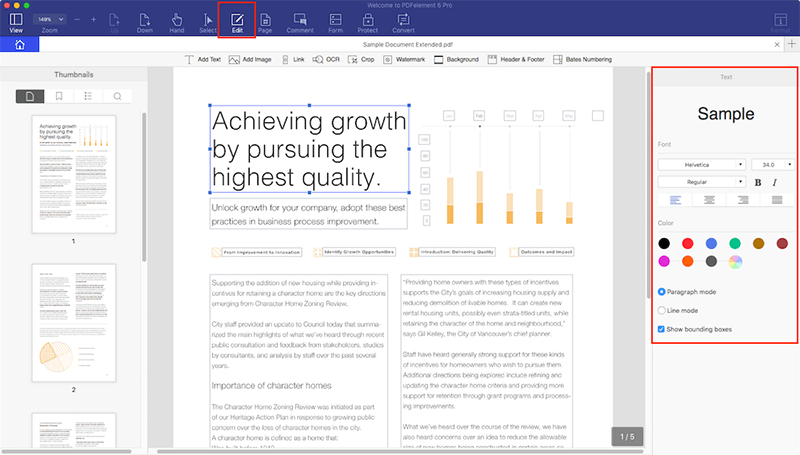 Step 3. Annotate PDF to Remark Content
Click the "Comment" button to expand the drop down menu, which contains all the tools needed for annotations: Sticky Note, Text Box, Callout, Text Comment, Shapes, Free-hand Drawings (with Pencil and Eraser).
To highlight, underline, or strikethrough the texts on your PDF, you can click the "Highlight" button on the below ribbon menu.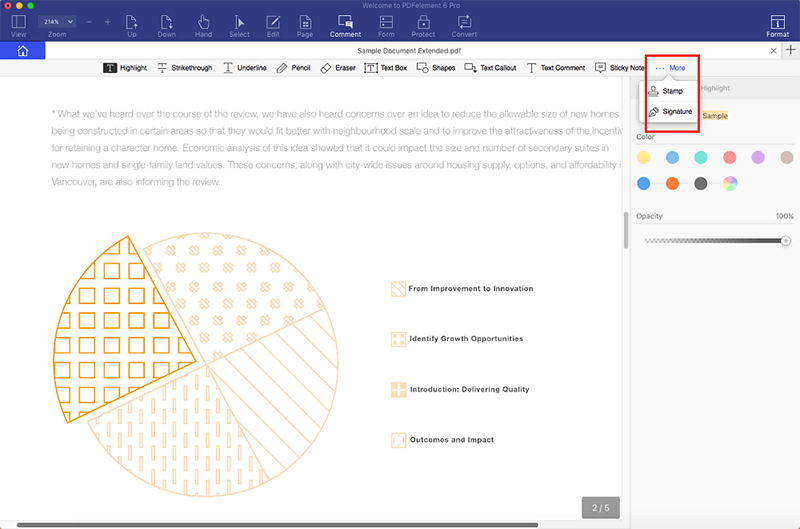 Step 4. Convert PDF to a Format You Prefer
PDFelement supports many popular output formats including Word, Excel, PowerPoint, Text, Epub, HTML, image, RTF. Just click the "Convert" button in the toolbar and on the pop-up, choose your desired format. You can also convert multiple files in batch.