Top 5 Invoice Generator Software
When you are running an enterprise, you can get paid by providing the client with an invoice. This document is a formal request for payment. The invoice contains details about the products that you sold or the services that you rendered. This document is issued after service provision or product delivery is complete. Upon issuance, it signifies the necessity for compensation. It also indicates to the buyer that the task is complete.
Free Generic Invoice Template
Free Download and customize it according to the sample text below
| | | |
| --- | --- | --- |
| Free Download>>> | Free Download>>> | Free Download>>> |
---
Best 5 Invoice Generator Software
In the business industry, the FreshBooks software provides invoice generation and business operation solutions. Through an intuitive dashboard, FreshBooks allows you to automate tasks. You can also generate business documents such as invoices, quotations, receipts and notices. By implementing automation and scheduled document generation, This invoice generator frees up your schedule as a business owner and enables you to engage in other activities such as marketing and research. The software is based on Cloud infrastructure. Therefore, you can easily access its features, tools and business data through a dedicated portal. You can use FreshBooks as a free online invoice generator through a 30-day trial demo. After it expires, subsequent use requires payment of $15 per user.
Zoho is a business productivity software suite which provides invoicing solutions. It can be used by medium and large businesses as well. The software is capable of creating invoices that can be sent via multiple types of media so as to satisfy the logistical needs of businesses and clients. Zoho operates in a fast, effective manner. In addition to that, the software can perform time tracking and deliver automatic reminders. It can also facilitate online payments and produce reports which are insightful. In addition to that, Zoho assists you to perform efficient time management. Seeing as it can be integrated with third-party plugins, the capability of this software can be extended according to your preferences. Capable of assisting you to create teams, Zoho is an ideal invoice generator software for the 21st century. You can try out its features for free through a trial. Long term use of Zoho requires that you purchase a subscription.
3. Intacct
This is an online invoice generator which you can use to improve the efficiency of your business operations. Intacct is essentially an enterprise resource management software. Within it, you can perform a collection of accounting tasks. Examples of these are generating invoices and billing. Intacct provides you with a range of tools such as tax automation, leak control, margin calculation and currency management for international transactions. This software is versatile and can be used in various fields of industry. Hence, it is an ideal digital investment to make for your business. You can try out Intacct over a period of 30 days for free through a demo account. Subsequent use requires you to purchase the software at a cost of $400.
This software is designed to be very effective when used by contractors, small businesses, medium sized enterprises and freelancers as well. Zipbooks provides them with the tools and features required for generating invoices and other business documents. This software is web-based. Therefore, you can access its dashboard from any location in the world by simply logging into a web portal. Seeing as it is a professional digital tool, this software accepts various types of payment methods. Examples of these are checks and credit cards too. By utilizing its powerful tools, you can use Zipbooks to create professional invoices, calculate projected revenues, track organizational expenses and also handle income for your enterprise. A great feature of this software is that it can be integrated with other tools too.
Built to assist small and medium enterprises in handling their invoicing processes, Invoicely is a user-friendly software which focuses on invoicing and billing. When you use it, this software can help to maintain your finances. Furthermore, it can help you to produce business documents such as expense reports, invoices and summaries. Invoicely is quite versatile. Therefore, the software can handle multiple methods of payment such as credit cards and online money transfer strategies such as PayPal and Stripe. An interesting feature of Invoicely is that it can transform business reports into invoices within 60 seconds. Best of all, it is an invoice generator software free to use.
---
How to Generate an Invoice Easier with FreshBooks
What is FreshBooks
Arguably the top software for creating invoices and other business documents today is FreshBooks. This software can assist you to run your business in a more efficient, effective way. By providing resources that can help you to automate processes, FreshBooks helps to run your business in a more efficient way. By using its interactive, intuitive dashboard, you can generate business documents easily. You can also make the software perform business processes such as task scheduling, accounts reporting, setting client sessions and the organization of expenses automatically. By providing you with these facilities, FreshBooks allows you to spend less time on business administration functions and more time expanding or marketing your enterprise. The software is built on Cloud infrastructure. Therefore, it can be accessed easily from anywhere in the world. Here is how this software generates invoices.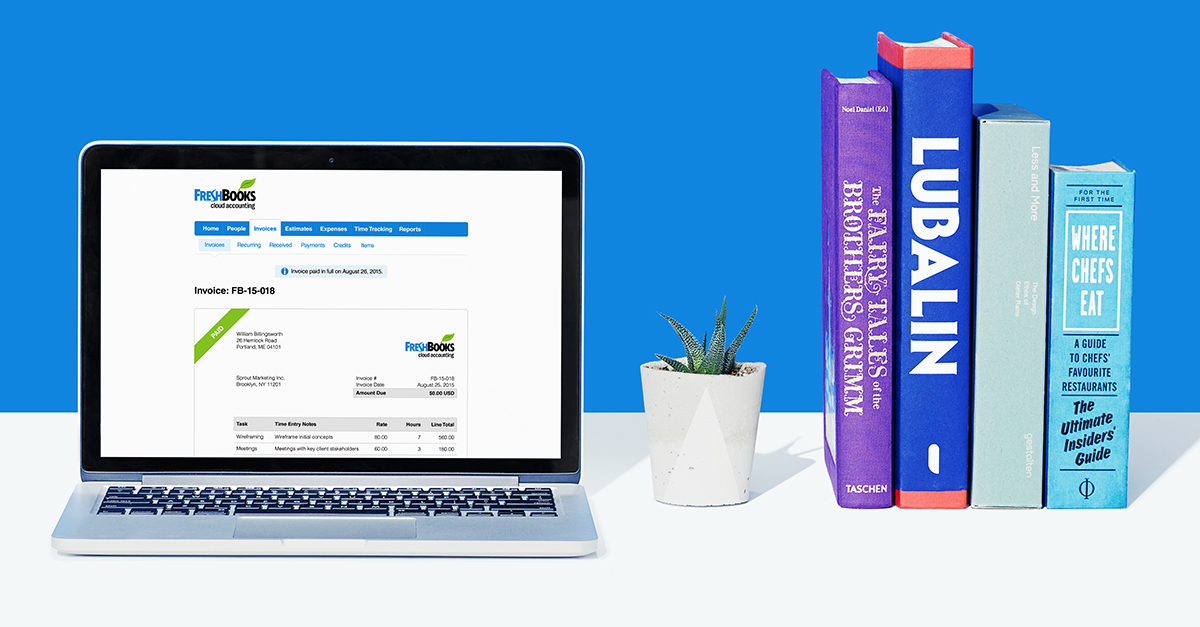 How to Generate an Invoice with FreshBooks
The process of generating an invoice using FreshBooks is quite easy to perform. There are two main modules that can be utilized for this purpose. They include:
1. The Dashboard
You can create a new invoice directly from the Dashboard. Here, you can simply click on the button labeled "Create New". Once you do so, you can proceed to select the option labeled "Invoice". This will open up a generic invoice template screen labeled "New Invoice" where you can enter the details about your invoice.
2. From the Invoice Panel
Creating an invoice can also be accomplished directly from the Invoices Panel. In this section, you can simply search for and click on a button labeled "New Invoice". Doing so will bring up a new template window which you can customize to fit your transaction needs.
The various options of the invoice are organized into 3 main sections. They are:
This section of the invoice allows you to adjust the document such that it can accept or reject payments made using credit cards.
Aesthetic settings for your invoice are performed here. You can determine the overall theme, header colors and font of your invoice in this section. Furthermore, you can use the options here to determine if your invoice will be recurring in nature.
Invoice Transaction Details Sections:
This is the most important part of the invoice template. Here, you can enter details about your current transaction. Examples of these details are the Company Name, Client Name, Products or Services Delivered as well as the Total Cost.
Once you have made some progress with the template, you can Save the invoice for later editing. However, if you finish up, you can Send it directly to the client.
FreshBooks business software provides one of a kind solution. It is based on Cloud technology hence is accessible from anywhere. In addition to that, you can implement it and automate various business processes. As a result, it is an ideal digital business partner!
Free Download or Buy PDFelement right now!
Free Download or Buy PDFelement right now!
Buy PDFelement right now!
Buy PDFelement right now!