PDF is a format that generally stores a lot of useful data. These PDF files are quite useful and handy no matter for personal usage or any kind of commercial business purpose, these PDF files are quite useful and handy too. But you need to have a proper PDF reader installed on your desktop or a PC in order to read them. Here's a list of the top 10 free PDF Readers.
10 Best PDF Readers for Windows 7/8/8.1/10
1. PDFelement
PDFelement is loaded with numerous features & facilities that will help all users, no matter you are a beginner or a professional user. You can enjoy reading in Kindle, iBook, etc. It also provides a great compatibility with the various Windows versions, starting from Windows XP right up to the latest Windows 10.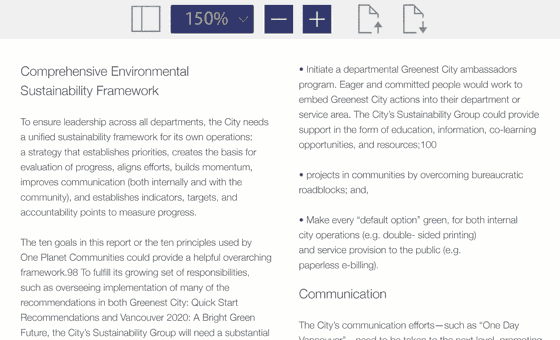 With its ample number of useful features included in the complete suite, this efficient tool, PDFelement is one of the most popular PDF reader for windows among its users.
Pros:
It has various features including converting PDFs, reading PDFs, creating PDFs, annotating PDFs, editing PDFs, adding watermark, resizing & rotating graphical objects in the PDF document, and even protecting PDFs with passwords.
It has a brilliant OCR feature supporting 17 popular languages.
You can change viewing modes quickly with its drag-and-drop function.
The ribbon-like interface presents all potential functions thus allowing the users to load more than 300 different formats.
You can also view the scanned images clearly with the embedded OCR feature.
---
2. Nitro Pro 10
Nitro Pro is another popular PDF Reader and extends an outstanding viewing interface with least burden in your computer. It also has the compatibility with Windows 10, 8, Vista, 7 and XP .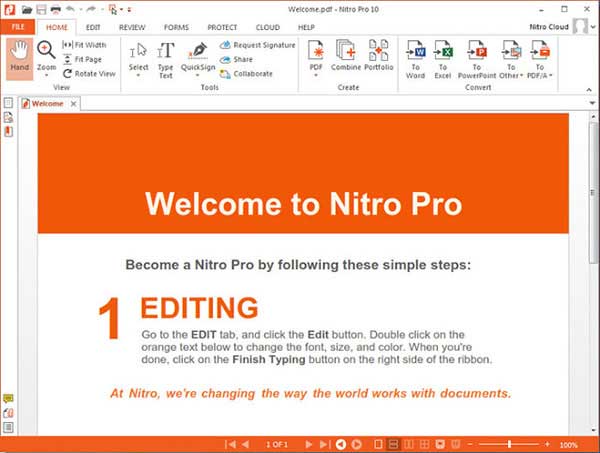 Pros:
Users can get a familiar startup with its Microsoft-style ribbon interface.
Its optimization provides a user-friendly interface.
The available features are the best in its class.
It is really simple to markup and add sticky notes in PDF documents for reviewing.
You can also get access to some special features in the ribbon.
Cons:
It does not have the free version and you need to pay.
It does not support to embed audio & video files into a PDF document.
---
3. SodaPDF
SodaPDF could be one of the best options when it comes to an useful PDF Reader for Windows. You can spend hours after hours to explore the funcionalities that are far beyond the simple PDF viewing & editing.
Pros:
It supports multi-document tabbed viewing, different reading modes, form-filling & annotation/highlights.
It allows you to add geometric shapes, sticker notes, and textual stamps to your PDF documents.
It supports various types of file conversion and a batch mode for bulk PDF creation as well.
This software has a facility of cloud storage services including Google Drive & OneDrive.
Cons:
The licensed version of SodaPDF is pretty costly.
OCR crashes sometimes.
---
4. PDF-Xchange Viewer
PDF-Xchange Viewer is an excellent PDF Reader and Viewer. Additionally, it is packed with a versatile number of extra features. It is compatible with all Windows systems, from Windows XP to Windows 10.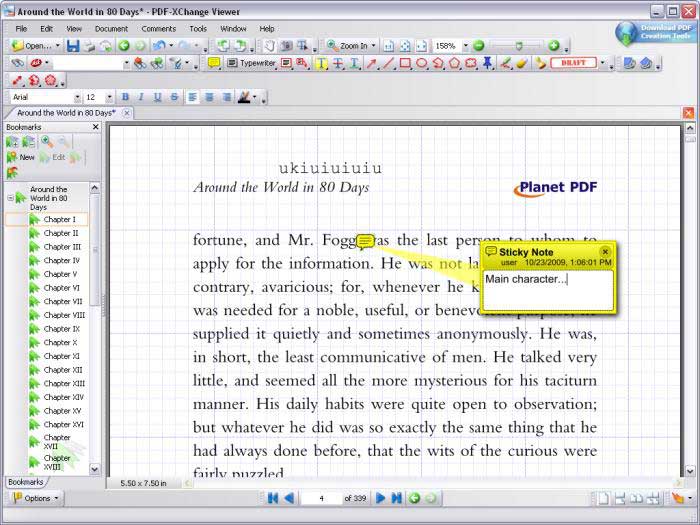 Pros:
It has a tabbed interface in order to process multiple PDF files at a time.
It supports the standard features, such as read and bookmark.
It can not only create PDF files from links, but also from existing files.
Cons:
The unpaid version has limited features.
It's much costly to pay compared to the other products.
---
5. Foxit Reader
This application has been quite popular as a PDF Reader for Windows. It works seamlessly with all Windows systems.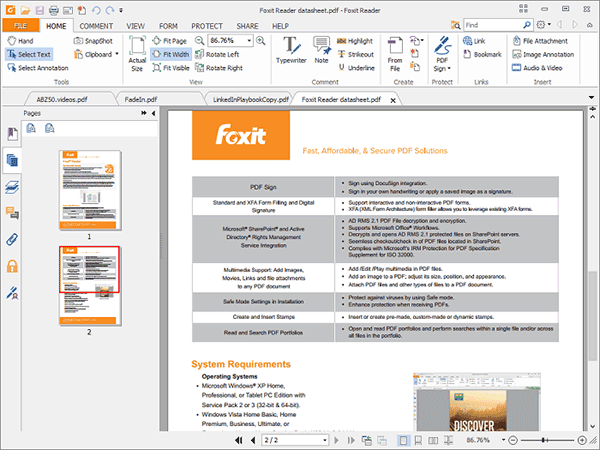 Pros:
It has a similar interface like Microsoft products.
You can view text within PDF portfolios.
Tabs can be also created for customized views.
Managing comments are simple with the commands like export, import, e-mail, pop-up notes, and comments are available.
It has a better controlling feature like the Group Policy.
Cons:
Several users have problems to view or open PDF documents in Windows 7 using this tool.
The system crashes frequently.
The trial version is totally different while updates are initiated.
---
6. PDF Reader
This is a PDF Reader with multiple features that assists both your primary & advanced document management requirements in the office. You can create, edit, view, and annotate your PDF files in Windows environment.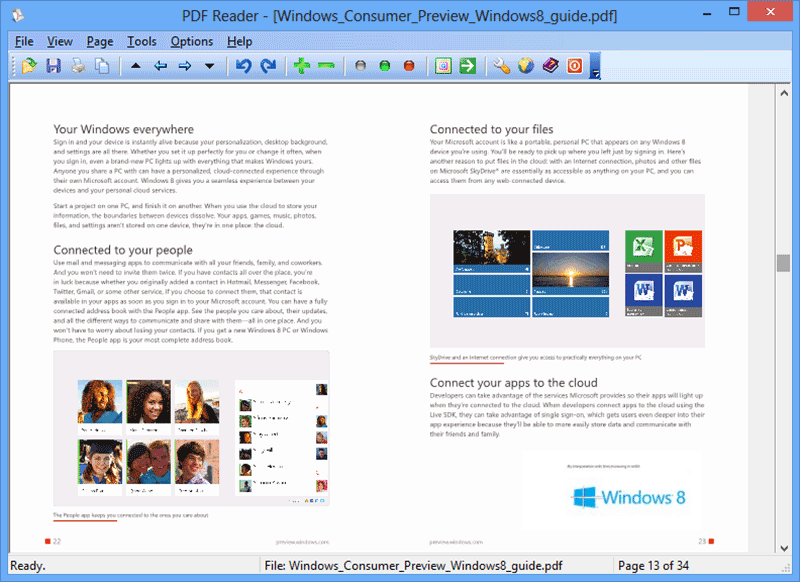 Pros:
It supports multiple features and facilities.
It embedded with a simple and intuitive interface.
Cons:
It may perform slowly when OCR crashes.
---
7. Adobe® Acrobat® Reader
Adobe Reader has been released more than 20 years ago. Adobe Acrobat Reader as the new PDF Reader is clearly an advanced & latest version in terms of creating, viewing, and combing PDF files. The software is compatible with Windows 2012 R2, server 2008 R2, 7, 8, & 10.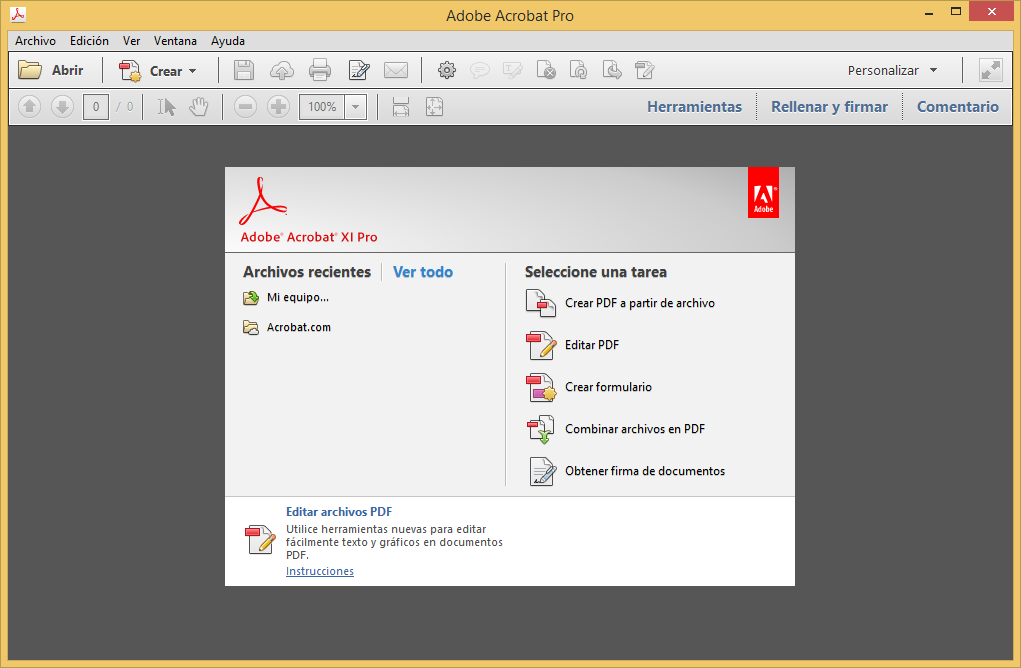 Pros:
It's undoubtedly one of the best free PDF readers among these readers.
It has a fast performance levels allowing the users to work seamlessly.
It has a user-friendly interface with sophisticated outlook.
Cons:
Only some limited features are available compared to the other PDF programs.
The export function has a relatively slower speed, hence the PDF conversions take a considerable amount of time.
Adobe Acrobat XI will be end of support on October 15, 2017. SO you should check for the best alternatives to Adobe Acrobat.
---
8. Expert PDF Reader
If you're in need of the free PDF viewer which can handle some occasional annotation & editing tasks, then Expert PDF Reader will be the best option for you. It is compatible from Windows XP to Windows 10.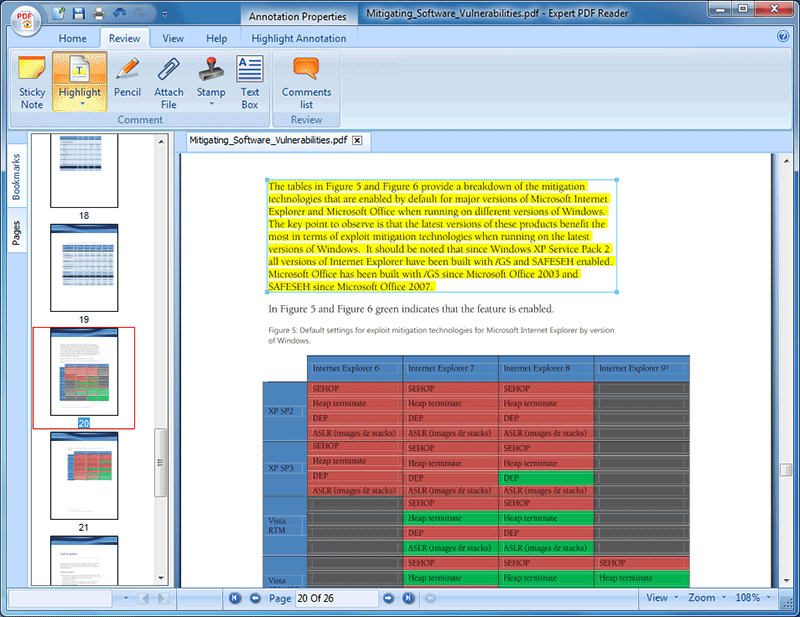 Pros:
It supports to create PDF, edit PDF, view PDF etc.
Its interface is pretty simplistic.
Cons:
It really lacks with a number of features.
It is convenient for only a few simple PDF usages, not convenient for most advanced users.
---
9. Sumatra PDF Reader
This is a lightweight PDF Reader that doesn't complicate the functions. It is packed with the necessary features which allow a seamless operation. It is compatible with the older versions of Windows like XP, Vista, 7, 8 as well as the latest Windows 10.
Pros:
It has the built-in EasyStart which saves time & allows conversion previews.
Advanced features like creating custom profiles, watermarking, and merging are clearly visible.
It provides one of the simplest viewers.
CBR or comic book reader format is also supported.
Cons:
The available features are very limited.
The optimization controls are not that efficient.
---
10. SlimPDF Reader
SlimPDF Reader claims to be the all-in-one PDF Reader & PDF editor. It supports various Windows platform.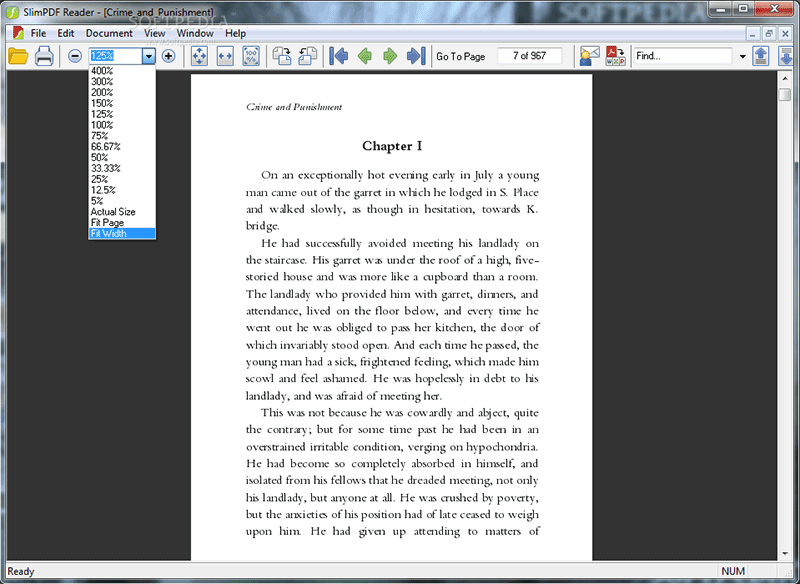 SlimPDF Reader claims to be the all-in-one PDF Reader & PDF editor. It supports various Windows platform.
Pros:
It is a pretty light-weight application, hardly takes a fraction of your disk space.
The controls & navigation are easy, simple & self-explanatory.
Cons:
It only supports the basic PDF features.
It lags behind compared to the other competitive PDF suites available on the market.
---
Tips on Choosing the Right PDF Viewer
Windows 10 system has brought a lot of new features that have greatly improved the users' experience on this particular operating system compared to its earlier versions. Even, Windows 10 has the integrated native feature, create PDFs using print feature and the Edge browser as the free PDF viewer. So, if you want a reliable yet powerful PDF reader, then you might need these tips while choosing the right product.
The basic versions of the most PDF viewers are only useful for beginners. The professionals who need to maneuver between several documents faster should opt for the paid versions.
You should choose a PDF reader which is having clearly visible sub menus and simple navigation.
The PDF viewers which are packed with the important functions including edit, annotation, & creation definitely have more value.
Your PDF viewer should be compatible with each and every format.
Document loading times should be minimum in order to improve the viewing pleasure.
Overall, PDFelement has all the necessary features to facilitate the best PDF reading and viewing experience.
---