Need to send specific information from your large PDF file for someone else to review? You obviously won't want to send the entire document, so extracting pages might be your best option. However, extracting pages from a PDF can be a bit of a challenge without the right PDF tool. But with programs like - PDFelement for Mac, this task becomes a lot easier.
One of the best tools to extract pages from a PDF document on Mac is PDFelement for Mac. This PDF software is specifically designed to work on any macOS including Mojave. Although it is a complex program with many advanced features, it is still easy to use, even for beginners. Let's take a look at what you can do with PDFelement.
Edit, add, or remove text and images within your PDF document.
Annotate PDF files by adding comments, highlights or underlines to text.
Extract entire pages from a PDF document. You can even extract multiple pages at the same time.
Secure PDF documents by adding signatures, passwords and more.
It is fully compatible with latest macOS 10.14 Mojave.
---
How to Extract Pages from PDF on Mac
Now that you know what PDFelement for Mac can do, let's see how you can use it to extract pages from a PDF. The process is easy if you follow these simple steps.
Step 1: Open the PDF
Installing PDFelement on your Mac and open the program. Then, open the PDF file that you want to extract pages from. Do this by clicking on "Open File…" in the main window. The program will then allow you to browse your computer for your PDF document.
Step 2: Click "Page" > "Extract"
In the top toolbar, click on "Page" and then select "Extract" from the drop-down menu. The pages of your PDF document should be displayed within the window.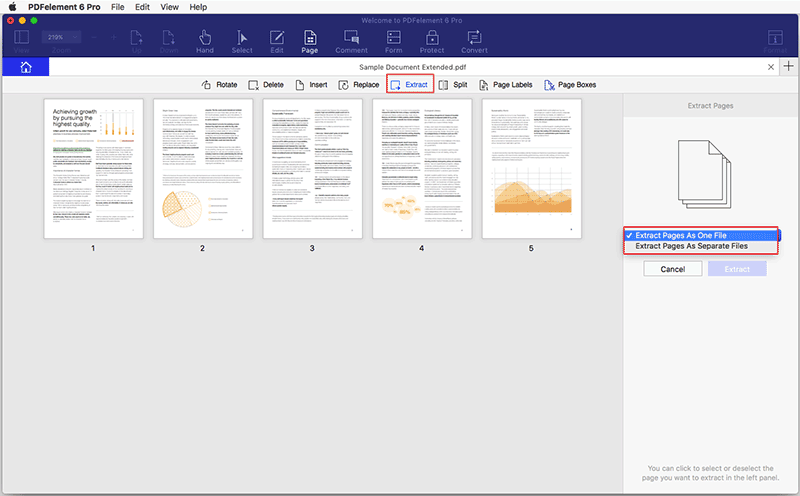 Step 3: Select a Page or Multiple Pages
Click on the page you would like to extract to select it. You can also select multiple pages by holding down the "Command" key on your keyboard while clicking on each page you want to extract.
Ensure you've selected the right pages before continuing.
Step 4: Extract Pages from PDF on Mac
Once the pages you need are selected, click on "Extract Pages as One File" if you want all the information in the selected pages combined into a single file. If you want the information in the selected pages to be saved into separate files, select "Extract Pages as Separate Files".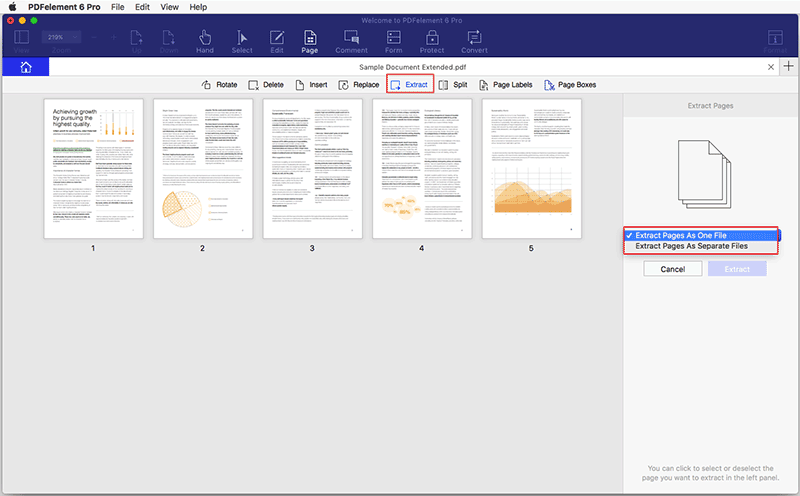 Finally, click "Extract" to select an output folder for the extracted pages. The information will be saved in the new location as a new PDF document. You can now share this PDF with others.