Go back in time, in the 16th, and up to the 19th century, and you will be hard pressed to find any page numbers. Part of that reason is we didn't have the technology to add numbers to the page. When it first began, page numbering was not just a tool for readers, but also a guide for those who physically produced books. Nowadays, page numbering is much more. With header and footer, you can add date, automatic page numbering, bates numbers for legal documents, title, or even author. All of that is possible when you add page numbers to PDF on Mac with PDFelement 6 for Mac.
Adding page numbers in PDF is an easy process, once you have the right set of tools to do it. With that in mind, PDFelement 6 for Mac is a complete PDF solution that might help you. There are not many products out there that come with so many features like this mac software, for the price of it. Simply put, it is a complete PDF solution with an affordable price tag. Here is a quick breakdown of all of the features: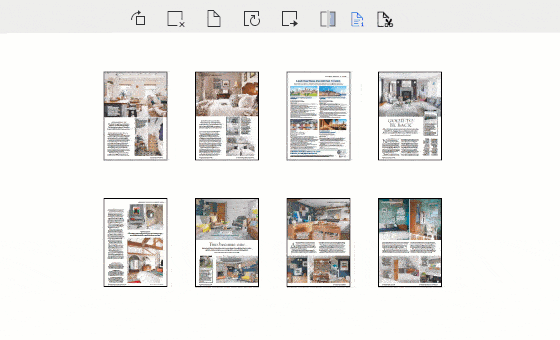 Add page numbers easily through the edit tool
Much more editing tools, both for editing text and editing images
A variety of annotation tools like sticky notes, personalized drawing tools, comments, highlights, and much more to make your PDF look as professional as ever
Convert any document into PDF and vice versa. Batch conversion is also supported
Easily create PDF documents from text or from image
Protect your documents with password, or with encryption
Add digital signatures to your documents
Create fillable forms in your PDF
---
How to Add Page Numbers to PDF on Mac
Now that we know you can add page numbers to PDF on Mac, as well as many other functions, let's see the guide on how to add page numbers to PDF on Mac.
Step 1
Open the document to add page numbers to. Go to the toolbar, and click the "Edit" section. Find the "Header & Footer" part, and click on "Add".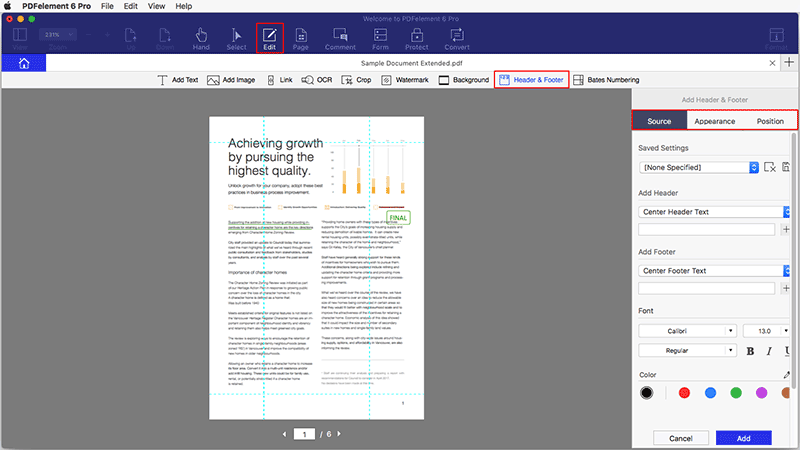 Step 2
Once you click "Add", you will be presented with several options. You need to choose the font, and the color you want to use for the header and footer. Bear in mind, the text will apply to all header and footer entries. You cannot apply different settings to individual header or footer within the same PDF document.
Step 3
Go to "Appearance" section to choose date format and page number format. There are several options for you to choose from. This is also the point where you need to enter or select the valid value for Start Page Number.
Step 4
Last, but not least, go to the "Position" tab. At this part, you can customize the margins of your header and footer. The goal is to make the page numbers appear properly in your PDF. Once you set everything you need, go to the "Source" tab, and click on the "Add button". The software will automatically add header and footer to your PDF document.
---
How to Add Page Labels to PDF on Mac
PDFelement for Mac allows you to add both page numbers and page labels to your PDF documents. It is important to know the difference between the two, and use the tool you need for the specific document. For your notice, Page Labels tool only affects the page numbers shown in the Page Thumbnail panel. You can also add page numbers to a PDF document using the "Add page numbers feature" we discussed previously as header and footer.
It is important to note that page numbers on the page is not the same as the page label that appear in the page thumbnail. For instance, the first page of the document is usually page 1. However, because PDF documents may contain front matter, for example, table of contents or copyright page, the page numbers may be different from the numbering shown in Page Thumbnail panel.
The beauty of page numbering is that there are many different ways you can use. For example, you can stick to the standard 1, 2, 3, 4, 5, and so on. Or, you can use letters, like a, b, c, d, and so on. Or, I, II, III, and continue from there. If you like, PDFelement for Mac allows you to add a prefix for better customization of the numbering system, you can add numbers like 1-1, 1-2, 1-3, 1-4, and so on for Chapter one of your book. That being said, here is how to add page labels to PDF.
Step 1
Open your document, and in the welcome toolbar, click on pages. It is located just next to edit.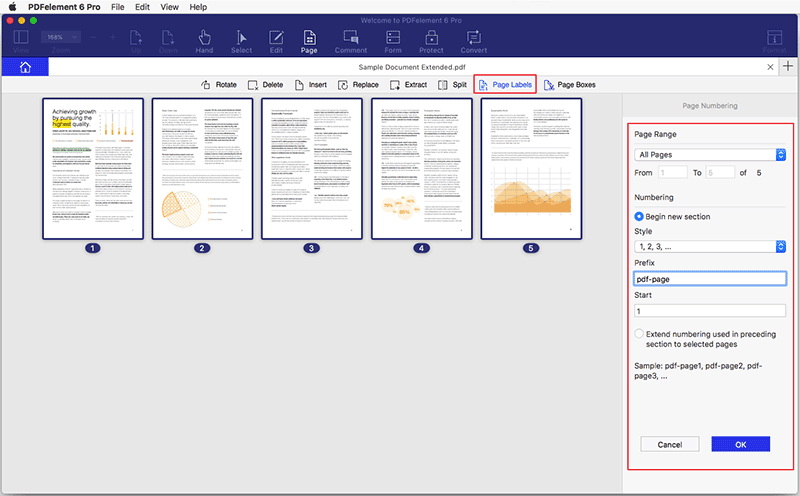 Step 2
Once you click the "Page" tab, select Page Labels. Here, you can select page range, be it all pages, starting from page 5, or anything else you want. You also need to select the style (1,2,3 or a,b,c) and prefix.
Step 3
Once you have set everything, click on the "OK" button, and PDFelement will automatically add page labels.
---
Video on Batch Add Bates Numbering to PDFs on Mac