Adding page numbers is a handy tool, not just for readers, but also for those who created or are working with a document. You have many options now for how to set up page ordering. You can insert page numbers in the header or footer, and you can choose which information to include. You can choose to add the date, automatic page numbering, bates numbering for legal documents, the document title, or even the author. You have all of these options when you add page numbers to PDF on Mac with PDFelement for Mac.
How to Add Page Numbers to PDF on Mac
Now that we know you can add page numbers to PDF on Mac, as well as many other functions, check out the guide on how to add page numbers to PDFs on Mac below.
Step 1: Open a PDF
Launch PDFelement, then drag and drop a PDF document into the program window to open it.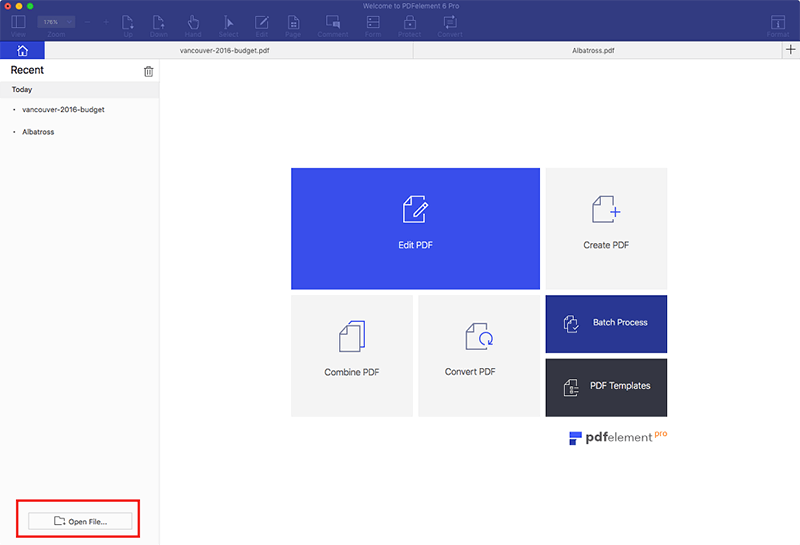 Step 2: Use "Header and Footer" Tool
Click the "Edit" tab. Find the "Header & Footer" tool, and click on the "Add" option. Then more options will appear on the right-side for you to set.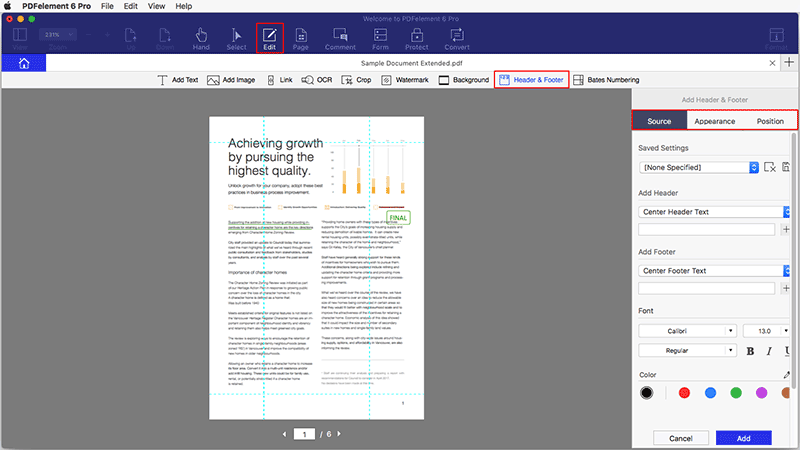 Step 3: Add Page Numbers to PDF
Go to the "Appearance" tab to choose the page number formatting that you'd like to use. Choose the "Start Page Number", then go to the "Position" tab. Here you can customize the specific margins of your page numbers and set the page range as well. Last but not least, go to the "Source" tab, and click the "+" button to choose "Insert Page Number" either in the "Add Header" area or the "Add Footer" area. You can also set the font and color. After all settings are complete, click the blue "Add" button and your page numbers will be added to your PDF document automatically.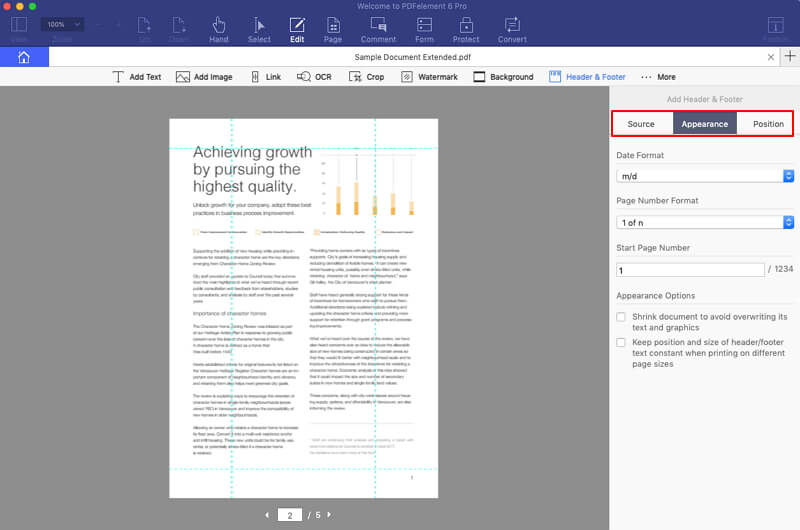 ---
How to Add Page Numbers to PDF on Mac with Preview
Preview is an alternative method to help you add page numbers to PDF on Mac. Even though it does not have the tool to add page numbers automatically, you can do so manually by adding blank text boxes and typing in the number of each page.
Step 1: Enable Markup Toolbar in Preview
Open a PDF document with Preview, then go to "View">"Show Markup Toolbar" button on the top menu.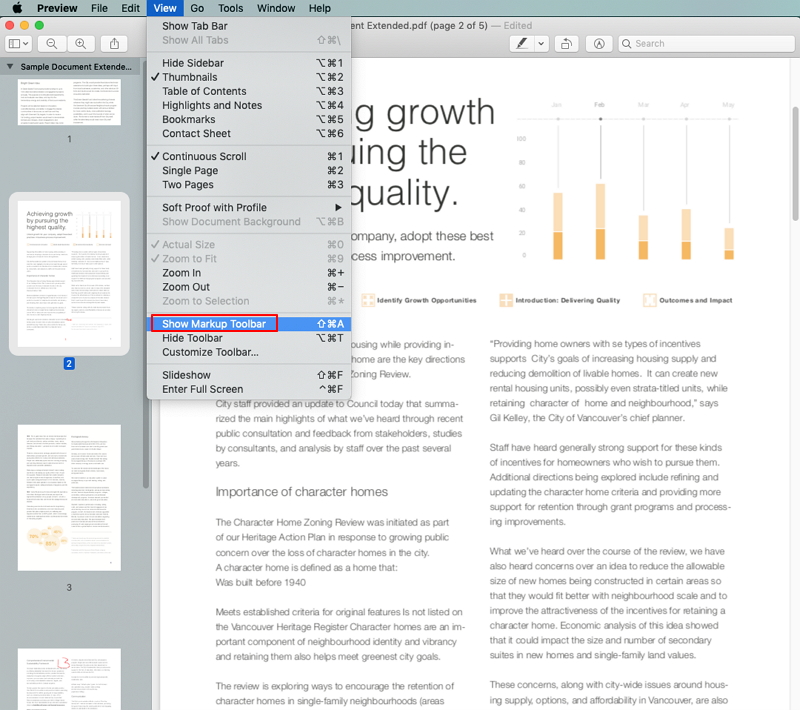 Step 2: Add Text Box
Click the "Text Box" button and a text box will appear on the page. You can type the page number format as you'd like in the text box, and drag the box to the correct position where you want it to be placed. Then use the same method to add page numbers on the remaining PDF pages before saving the file.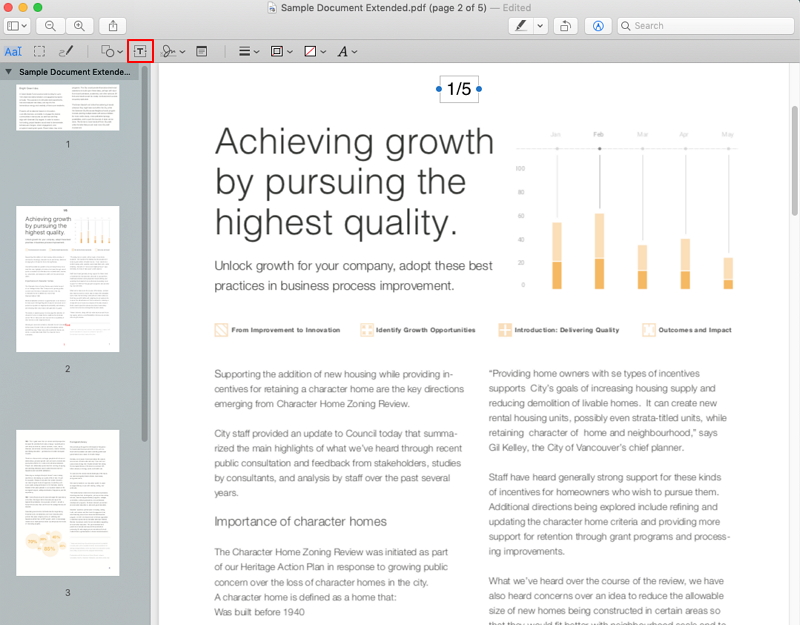 ---
How to Add Page Labels to PDF on Mac
PDFelement for Mac allows you to add both page numbers and page labels to your PDF documents. It is important to know the difference between the two, and use the correct tool for your specific needs. The Page Labels tool only affects the page numbers shown in the Page Thumbnail panel. You can also add page numbers to a PDF document in the header or footer using the "Add page numbers feature" we discussed previously.
It is important to note that page numbers are not the same as page labels which appear in the page thumbnail. For instance, the first page of the document is usually page 1. However, because PDF documents may contain front matter like table of contents or a copyright page, the page numbers may be different from the numbering shown in the Page Thumbnail panel.
You have many options for how to use page numbering. For example, you can use the standard 1, 2, 3, 4, 5, letters, like a, b, c, d, or Roman numerals such as, I, II, III, and so on. PDFelement for Mac allows you to add a prefix for better customization of the numbering system as well, so you can add numbers like 1-1, 1-2, 1-3, 1-4, and so on for each Chapter of your book. Here is how to add page labels to PDF.
After opening your PDF document in PDFelement for Mac, click the "Page" tab, and select the "Page Labels" tool. Here, you can select page range, set the style (1,2,3 or a,b,c) and prefix for the page labels. Click "OK" to apply the page labels.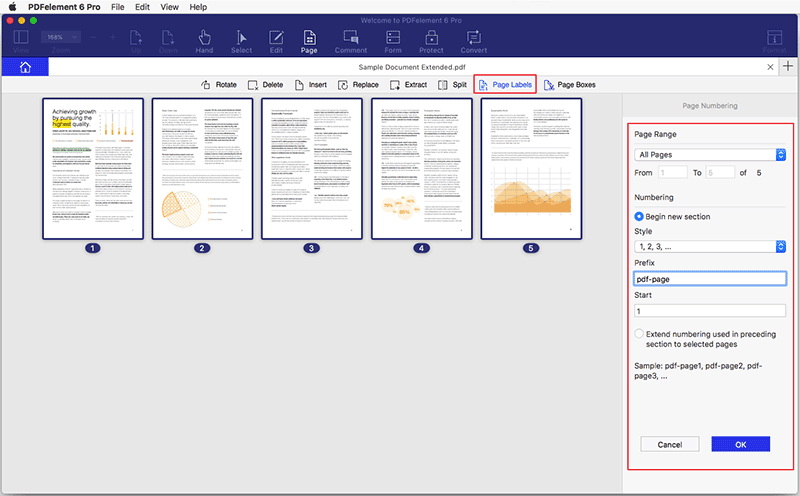 ---
The Best Tool to Add Page Labels to PDF on Mac
Adding page numbers in PDF is an easy process, once you have the right set of tools PDFelement for Mac is a complete PDF solution that will assist you with many tasks. There aren't many PDF editors on the market that have the same number of features at such an affordable price. Simply put, it is a complete PDF solution with an affordable price tag. Here is a quick breakdown of all of the features:
Add page numbers easily
Use a variety of editing tools, both for editing text and images
Use a variety of annotation tools like sticky notes, personalized drawing tools, comments, highlights, and much more to enhance the appearance of your PDF.
Convert any document into PDF and vice versa. Batch conversion is also supported
Easily create PDF documents from text or from images.
Protect your documents with password encryption or security tools such as redaction.
Add digital signatures to your documents
Create fillable forms from scratch or from a pre-made template.