How to Reduce PDF Size on Mac
Do you have a large PDF file that is taking too long to upload? You can reduce PDF file size on Mac to a smaller size for easier sharing and uploading. Plus, if you have many large files they tend to take up a lot of space on your device, so compressing PDFs helps save storage as well. In this article, we will show you how to make a PDF file smaller on Mac with PDFelement.
How to Make a PDF Smaller on Mac
To shrink PDF file size on Mac, you need to download PDFelement. It is compatible with macOS X 10.10 (Yosemite), 10.11 (El Capitan) 10.12 (Sierra), 10.13 (High Sierra), and 10.14 (Mojave). Once you have downloaded it, install it on your Mac and launch it under Applications. From there, follow these steps.
Step 1. Import the PDF You Want to Compress
In the program window, navigate to the bottom right and click on the "Open File" button. This lets you search for the PDF file you want to compress and open it with PDFelement.
Step 2. Edit Your PDF Document (Optional)
Next, you can edit your PDF file. Click on the "Text" button on the left toolbar. A formatting toolbar appears with several editing options. To edit text, place your cursor in the area where you want to modify texts. Double click on it and start typing.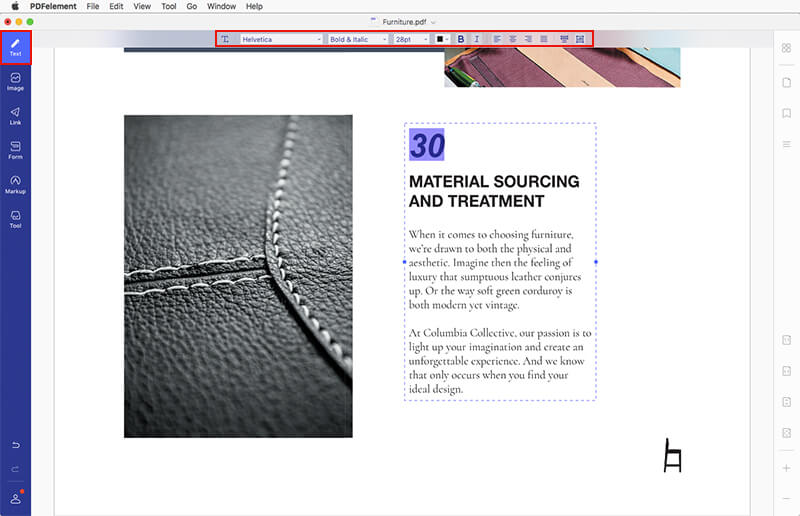 Under the "Image" button, you will also be able to modify images. Move your cursor to the image you want to edit. Double click on it to start making modifications.
Step 3. Resize PDF on Mac
After editing your PDF file, you can now compress it. Go to "File" on the main menu. In the drop down menu that appears, click on "Save as Other" > "Optimize PDF". Choose the compression level and check the quality output by clicking on "Preview". Finally, if you are satisfied you can then click on "Save As" and rename your PDF file.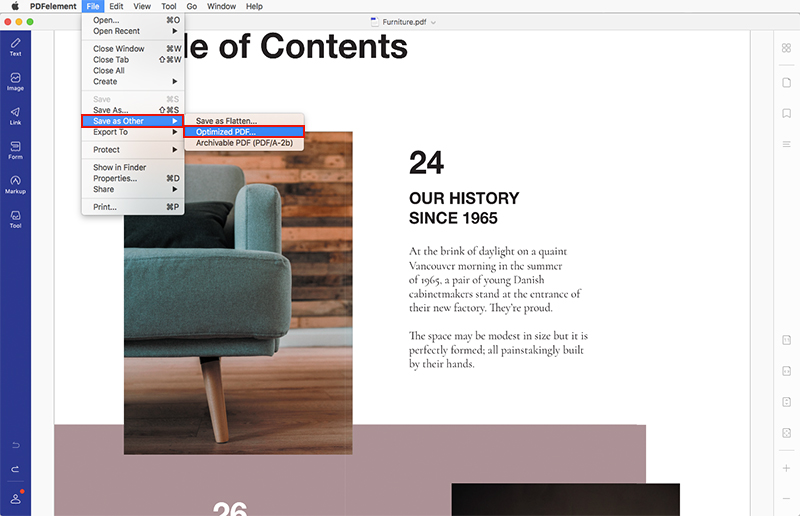 ---
Video Tutorial on How to Reduce PDF Size on Mac
PDFelement is an ideal software to use when it comes to compressing PDF files. It allows you to optimize PDFs to a manageable size while retaining the layout of the original document. Afterwards it will let you preview the compressed file before saving changes. The great thing about compressing files with PDFelement is that it will show the size it has reduced the file to by percentage. You can also explore other features of this software such as:
The ability to create PDF files from other existing PDF files, Images, HTML files and screenshots, and more.
The ability to edit images, text, objects, merge files, edit pages, highlight, annotate, add links and add watermarks.
The ability to convert PDF files to output formats like, HTML, Texts, EPUB, PPT, Word, Excel, Images etc.
The ability to use the OCR feature to make scanned PDFs searchable and editable.
The ability to encrypt PDF files by setting an open password or a permission password.
Free DownloadFree Download or Buy PDFelementBuy PDFelement right now!
---