Businesses and academic institutions are using PDFs more and more, for a variety of reasons. A compressed file size is one of those reasons. Sometimes you have to deal with extremely large files that take up too much storage space and are too big to send over email etc. They can also make things slow when trying to upload them to a sharing site or other programs. To make it easier to attach and send files, reducing the size of your files in PDF format can be a lifesaver. In this article you will learn how to compress PDF in Preview on macOS X.
How to Compress PDF with Preview Alternative
Want to compress your PDFs with a more sophisticated PDF software than Preview? PDFelement for Mac is one of the best alternatives to Preview and other premium PDF editors on the Mac platform, including macOS 10.14 Mojave.
This fabulous software allows you to edit text and images by letting you to add or remove annotations, passwords, signatures, bookmarks, watermarks, Bates numbering, custom headers and footers, and hyperlinks. PDFelement also lets you overhaul entire documents by converting them from PDF to and from other file formats, including Word, Excel, images files etc. It offers optimization features that let you compress your large PDF files into a smaller size, which can be done on more than one document at the same time – thanks to batch processing.
Step 1. Open PDF
The first step is to open PDFelement for Mac. On the Home window you will see the "Open File" button at the bottom left of the screen. Click on it to upload the PDF file that you want to compress.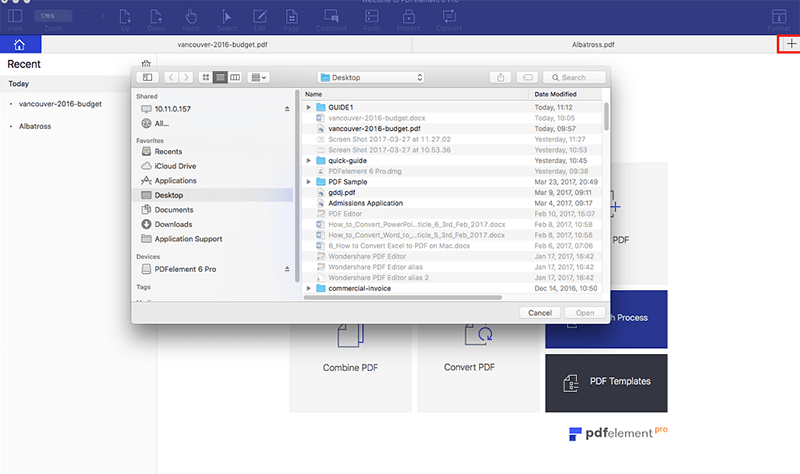 Step 2. Optimize to Reduce File Size
Go to "File" and click on the "Optimize PDF" option. You'll find different compression options. You can choose to preview the result before compressing it. Click "Save As" and then the program will then resize your PDF immediately. The software will display both the original file size and the size of the reduced file. After that click on "Save" to apply the changes.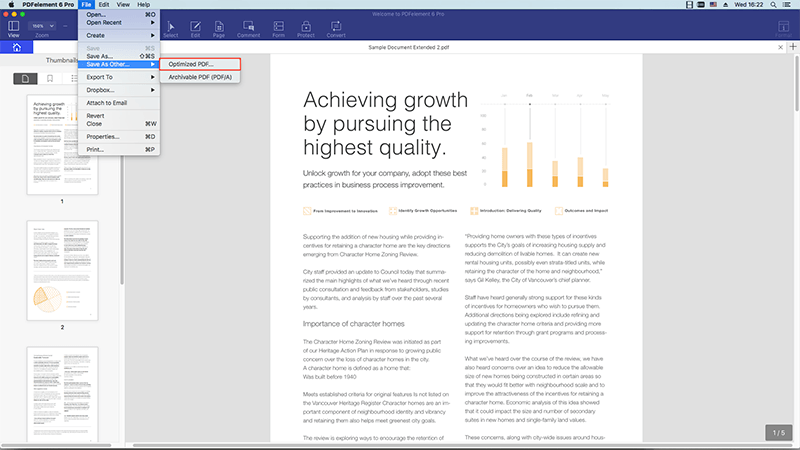 ---
Tips: How to Compress PDF with Preview on Mac
If you need to reduce PDF file size in Preview on Mac, luckily it is quite simple. Just follow these easy steps:
Step 1. Open your PDF using Preview on your Mac. Click on the "File" menu and click "Open" to upload your PDF file.
Step 2. Once the PDF file is open in Preview, click on "File" and select "Export".
Step 3. In this window, scroll down and click on "Quartz Filter" and select "Reduce Size file". Then click on "Save". You have compressed your PDF.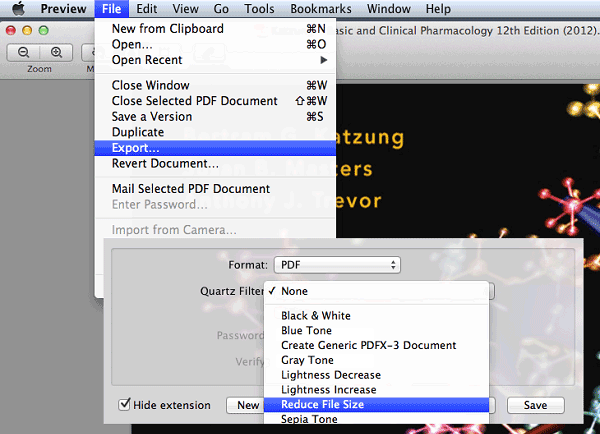 ---