How to Rotate Table in Word
Microsoft® Word documents have the capability to manage the table. However, the issue is that each version tend to handle tables differently though the variation is not wide apart. The good thing is that you can rotate table in Word irrespective of the version. How to rotate table in Word will largely depend on the version. This article will focus on how to rotate table in Word 2010 even though the steps may be applicable to some other versions.
How to Rotate Table in Word
It is important to note that there are 2 ribbons for table which covers layout and design which gives total control over all types of tables. There are steps that are required to rotate table in Word as seen below:
In a Word document, select an entire table and then click on the "Layout" tab.
To rotate the table clockwise to about 90 degrees, click "Text Direction" in the Alignment group. You can always click again to further rotate it to 180 degrees, 270 degrees from start. Note that Word itself does not give room for upside down table or allow the table to freely rotate to odd degrees.
Click and drag to adjust the cell borders where necessary.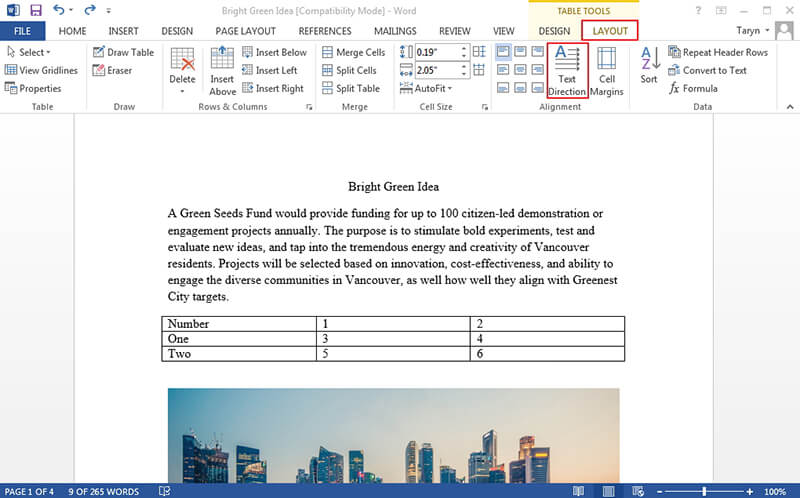 ---
Advantages of PDF Document
Anyone who download, upload or distribute documents online must have used PDF at some point. If you work in the office, it is almost impossible that you avoid using PDFs because that is what most offices use due to its benefits. PDF offers unparalleled advantage no matter the angle you look at it. For a start, PDF is secure due to the great security features around it. For instance, PDF cannot just be edited by anyone unlike Word documents. This feature makes a whole lot of sense especially if you are publishing legal documents or things like research papers and transmitting them over the internet. Besides, they are not infected by Trojans or viruses.
Another important quality of PDFs is that they can be viewed in most browsers. No matter the browser, clicking the PDF link will open the document easily and this is one of the reasons a lot of people use it.
---
All-in-One PDF Solution
PDF surge in popularity can also be attributed to the emergence of PDF editors. It is now very easy to work on PDF files and convert them to and from other file formats. One of such PDF editors that have made this possible is PDFelement. This is an all in one PDF editor that gives users the capability to do whatever they want to do on their PDF files with ease. When you talk about PDF editor, a good number of people think Adobe but unfortunately it is expensive and out of reach for a lot of people. However, with PDFelement, you have a top notch editor that has all the features and quality of Adobe but at the same time less expensive than Adobe making it the most cost effective PDF editor today. Let us learn features of PDFelement.
PDFelement gives you total control of your PDF. This means you can always do a lot of things with your PDF. You can create PDF from scratch, you can convert it to and from other document formats like Word, Excel and others. You can also transform scanned PDFs into an editable and searchable one with the help of its industry leading OCR function as well as many other features. Other functions include: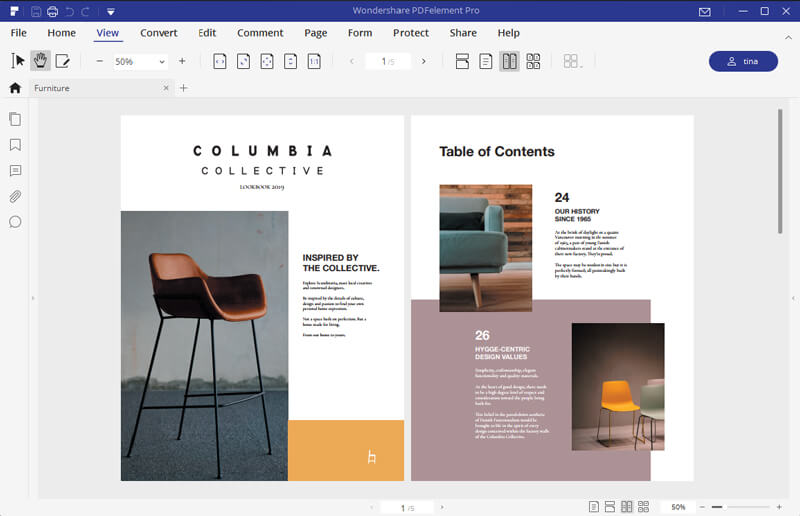 Password Protection: If you do not want unauthorized access to your document, then applying password protection is what you need and PDFelement gives you that capability. This is helpful when confidential documents are transmitted over the internet to keep it safe from data thieves.
Merge and Split: Do you want to merge different PDFs or split a PDF document? Then PDFelement can help you out. You can combine different file formats like Word, Excel and PDF and also separate large PDF files into any number you want.
Digital Signature: This is one of the most important features required in a PDF editor and fortunately you can get it using PDFelement. This is normally required when you intend to add some authenticity to your PDF document. What PDFelement will do for you is to help you create a personalized encrypted digital signature. With this, you can easily sign your PDF document electronically and it is well accepted.
Page Extraction: What will you do when you have a large PDF file but want just a single page out of it? PDFelement has page extraction feature that allows you to extract any specific page or pages of a document in order to create a new PDF file as you want it.
Free Download or Buy PDFelement right now!
Free Download or Buy PDFelement right now!
Buy PDFelement right now!
Buy PDFelement right now!
---