Have you downloaded or synced many PDF files to iPad, and are wondering how to transfer the files to Mac or PC for backup? It is no secret that everyone knows it is easy to sync PDF files from your Mac/ PC to iPad using iTunes. But, what about backup PDF files from iPad to Mac or PC? It is quite frustrating to see that Apple makes it easy to transfer files from Mac to iPad via iTunes, but they don't have an option to backup PDF files from iPad to Mac/PC. There is no doubt that iTunes is a great app, and it comes with strong protection to protect copyright and authority. This makes it impossible to transfer data from iPad to Mac/ PC via iTunes. The question on most people lips is: how to backup PDF files from iPad to Mac/ PC? This article will show you every option you can take to transfer/ backup PDF files from iPad to PC and Mac (including the latest macOS 10.13 High Sierra).
How to Transfer/Backup PDF from iPad to Desktop
1. Backup/Transfer PDF from iPad to PC
It doesn't matter whether your iPad or iPhone is jailbroken or not. This method can be used to backup PDF files from these devices (iPad and iPhone) to your Mac computer or Windows computer. To achieve this, you will need to use iFunbox as your iOS tool to manage PDF files on iOS. This iOS tool makes it quick and easy to export PDF files from iPad and iPhone to Windows and Mac computer. Make sure you download and install this app on your computer before proceeding.
Once you have downloaded and installed iFunbox, connect your iPhone or iPad to your Mac/ PC and then start the app. Once the devices are connected, you will detect a file list on the right-hand side of the iFunbox. When you click on the File Browser button, you will see the iBooks option. Click the iBooks list so that you can see all the PDF files and books on your iPhone or iPad. Now you can choose the PDF files you wish to backup. To do this, hold or drag shift and click to choose the PDF files to back up. The next thing you should do is right-click on the PDF files, then select copy to Mac/ PC, and the folder to save the PDF files on your computer.
2. Backup/Transfer PDF from iPad to Mac with iTools for Mac
This second option requires you to download and install iTools for Mac. Once you have done that, connect your iPad or iPhone to your Mac computer then start the iTools app. On the iTools interface, click the Books button so that you can see all your PDF files and books. Right-click on the PDF files you want to backup. Then select the Export option and the folder to save the files on your Mac computer.
3. Backup/Transfer PDF from iPad to Mac with iBooks and Mail
With this option, you will need the iBooks app so that you can transfer PDF files from your iPad to your Mac computer. The iBooks is a tool that is easy to use and can be used to download ebooks to read from your device. This app is developed by Apple and can be downloaded from iTunes. The iBooks allows you to send downloaded PDF files to your email. This is how you can do that with an iPhone or iPad device.
From your iPad or iPhone device, tap iBooks app. Once you are on the iBooks interface, tap Bookshelf and search for the PDF file you want to backup/ transfer. Then tap on the PDF file. From there, look for the icon second next to Library then tap on it to reveal the contents. Tap the icon on the right top corner of the app. A dialog box will pop out, tap on Mail then select your Email. Enter your email address then select Send to complete the backup.
---
Edit PDF Files on Desktop after Transfer/Backup
Once you have transferred PDF file from your iPad to Mac or PC, you will need a tool to read, edit, convert and protect the PDF file. In this case, PDFelement is an important tool to use. This PDF tool has amazing features and stunning interface to meet your needs to read, edit, convert, annotate and protect PDF documents.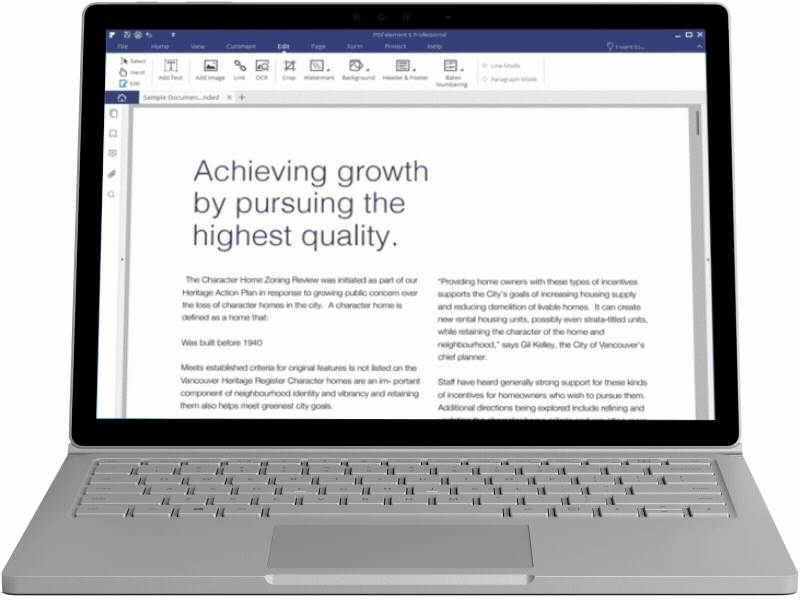 OCR technology can help to transfer scanned PDF or image PDF into editable texts for you to copy, edit and print.
Add digital signature, password, permission to protect your PDF files.
Combine multiple files into a single PDF files.
Convert 200+ PDF files to other formats at one time.
Annotate PDF with sticky note, bookmark, highlight area, delete line, free-hand drawing, stamps etc.
It is compatible with Mac OS X 10.10, 10.11, 10.12 and 10.13 High Sierra.
Step 1. Edit PDF Pages
Open your transferred PDF file in Wondershare PDFelement. Simply go to the "Edit" tab and there are multiple options for you to choose. Click the "Edit" button and you will enter into editing mode. You can click anywhere of your PDF files and there will appear a text box. Then you can edit the text freely.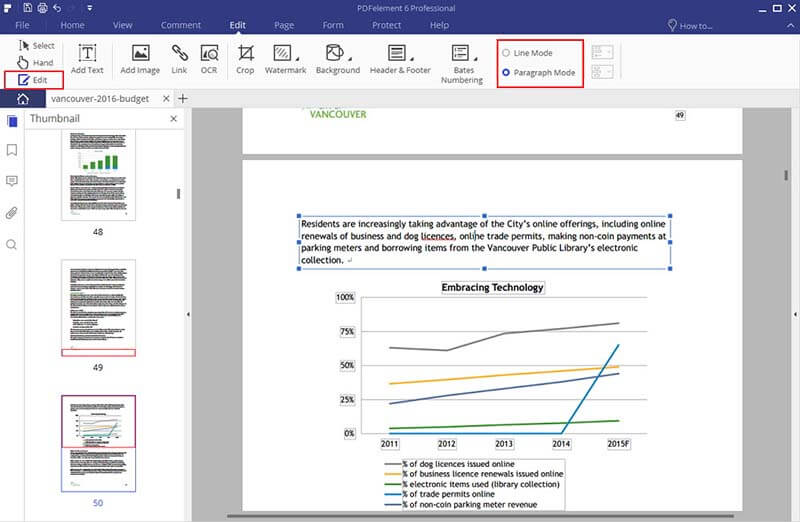 Step 2. Edit PDF Image
Click the "Edit" button. Right click the image in your PDF and there will be an options window. You can choose to "Cut" "Copy" "Rotate" "Delete" the pages.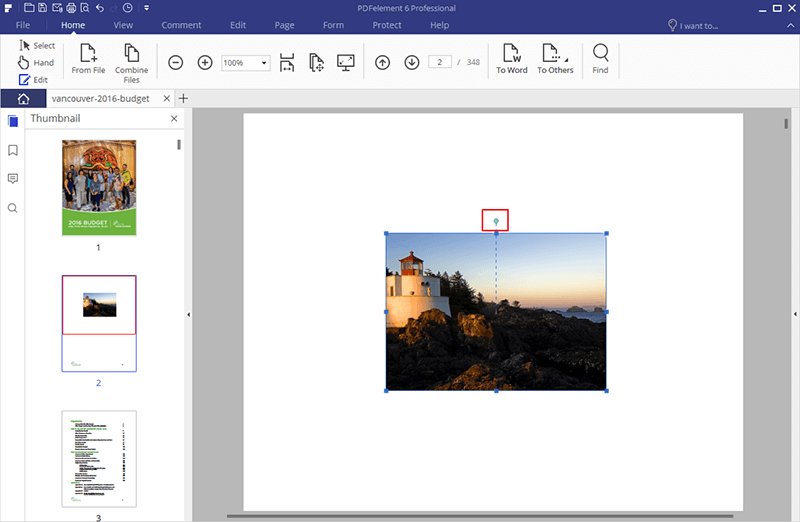 Step 3. Edit PDF Pages
Go to the "Page" tab and you can insert pages by clicking the "Insert" button, split PDF pages by clicking the "Split" button, rotate PDF pages by clicking "Rotate" icons. There are also other features and you can choose the one you need.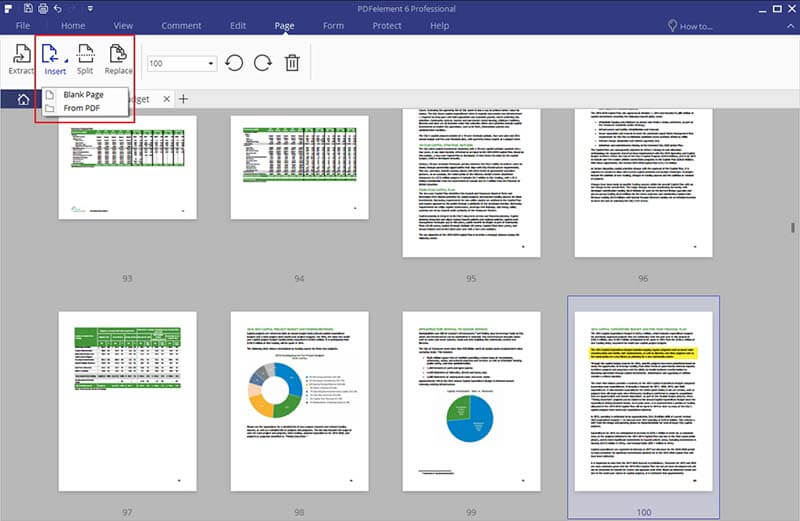 Step 4. Highlight PDF Area
You need go to the "Comment" tab and click on the "Highlight" button. Then you just click the area you want to highlight. If you want to delete the highlight area, just right click on the highlight area and choose "Delete" to remove the highlight area.
---