Every now and then, you need to print a PDF file. For example, you needed to scan a document, make some changes, and then you need to print the changes. While you can make all of the changes in a PDF file thanks to PDF editing software, you now need to print the file. Well, a good PDF software allows you to print the PDF from the software. Apple users can easily print Preview on Mac. But first, you need to learn how to print Preview on Mac.
How to Print PDF with Preview Alternative
As mentioned previously, Preview is a native program in the macOS for viewing images and PDF files. As such, it offers limited number of features. Yes, printing PDF is one of those features. But if you are looking for a more advanced software, Preview won't help you. Which is why a better option is to install a PDF software with advanced features. One option is PDFelement for Mac, a complete PDF solution that will make your life easier. Here are some features:
Wide palette of editing tools for both text and image, including changing font style, size, and text. As for images, crop, rotate, extract, and many more are available
Convert any file type into a PDF file, and vice versa. If you need to convert multiple files, batch conversion allows that
Standard annotation tools like notes, comments, highlights, enriched with many personal drawing tools
Protect your documents with password protection and encryption, as well as redact sensitive part of the document
Add electronic signatures to the document and create fillable forms
With that in mind, here is how you can print PDF with the best Preview Alternative.
Step 1: Start Printing
Open the file you want to print, go to the toolbar, and click on "File" > "Print". Alternatively, you can use the keyboard and click "Command + P". This will activate the print command window.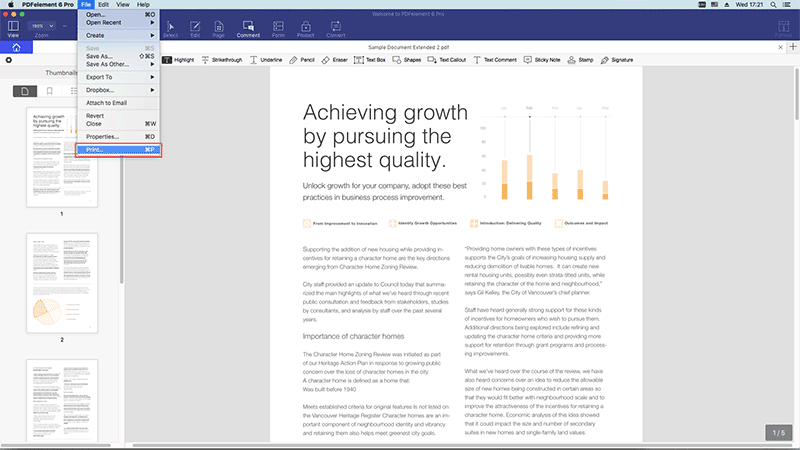 Step 2: Set Print Options
Once you activate the command window, a pop up window will appear. Here, you can choose the printer you want to use, copies you need to print, and similar customization options. For example, you can customize paper size, orientation, scale, and other page customization options. As you change the settings, a preview of the printed document will appear.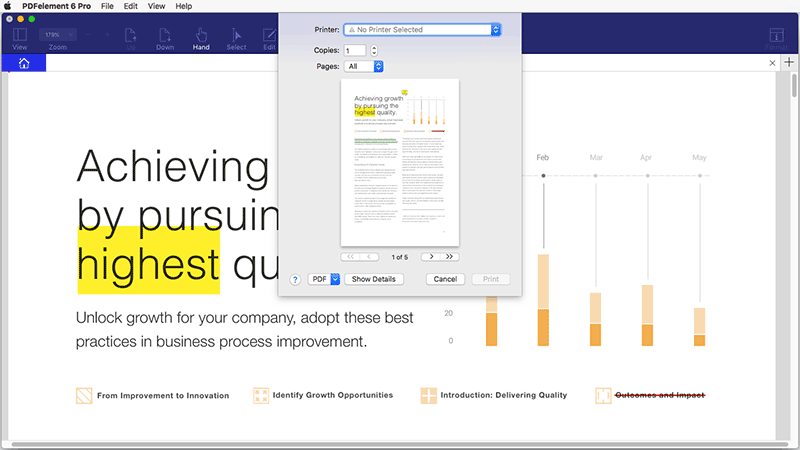 If you want to see more details, click on "Show Details", button in the Print window. Copies is the number of copies you want to print, Pages will allow you to print all pages of the PDF, or customize pages you want to print, Page size allows you to choose between A4, A5, US letter or something else, while Orientation can be either portrait or landscape. Last, but not least, you can choose the printer to print the comments and forms in the PDF.
Step 3: Print PDF with Preview Akternative
If you are satisfied with Preview of the printed document, click on "Print". This will give you the paper copy.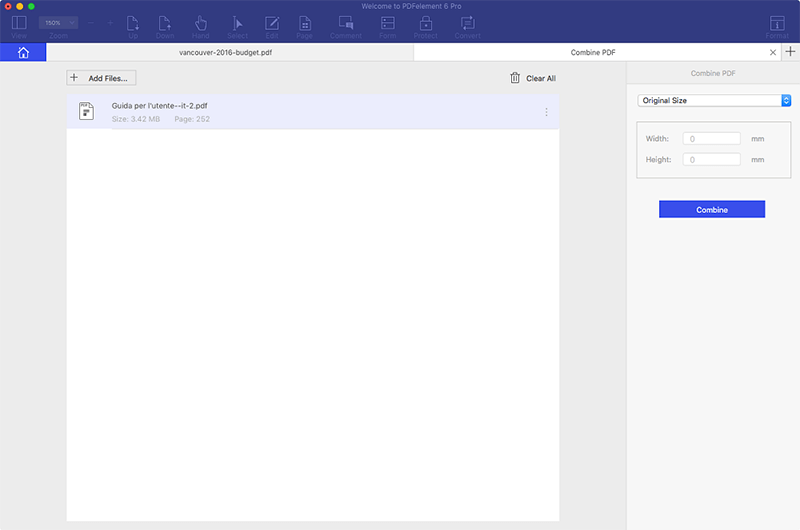 ---
How to Print in Preview on Mac
Preview, a native PDF software on macOS allows you to print some or all pages in a PDF, print images on the same sheet of paper, and much more. Here is how to print Preview on Mac.
Open the PDF file or image you want to print. If you need to print more files, open all of them in Preview
Go to "View" > "Thumbnails", and then command and click the thumbnails for the pages you want to print. This is an option if you want to print just some of the PDF or image pages
Go to "File" > "Print", and then choose the print options. If you do not see the options, click on "Show Details". To print same image or page multiple times, click on "copies per page", and then choose a number. To scale an image, click on "Scale" and then enter a percentage. If you need to print only selected thumbnails go to "Select Pages" in sidebar. Choose scale to fit if you need to fill as much of the paper as possible
Click on "Print" after you've modified the settings and options
---