Not sure how to redact PDF on Mac? This article shows how to redact text, images and pages on your Mac using a powerful PDF redaction tool - PDFelement for Mac. Redacting PDF files is a great way to fully protect them, since when you use PDF encryption software, it is still possible that someone can decrypt the file. Therefore, the most effective way to protect confidential information is to remove or cover up sensitive fields or pages permanently through redaction.
How to Redact a PDF on Mac
PDFelement for Mac is a powerful one-stop shop for of your PDF needs. Let's take a look at how to redact information on Mac using PDFelement.
Step 1. Open PDF
Once you launch the program, you will see the "Open File" button at the bottom left of the screen. Click on it to select the PDF that you want to protect through redaction. Once you've done this, click on the "Open" button.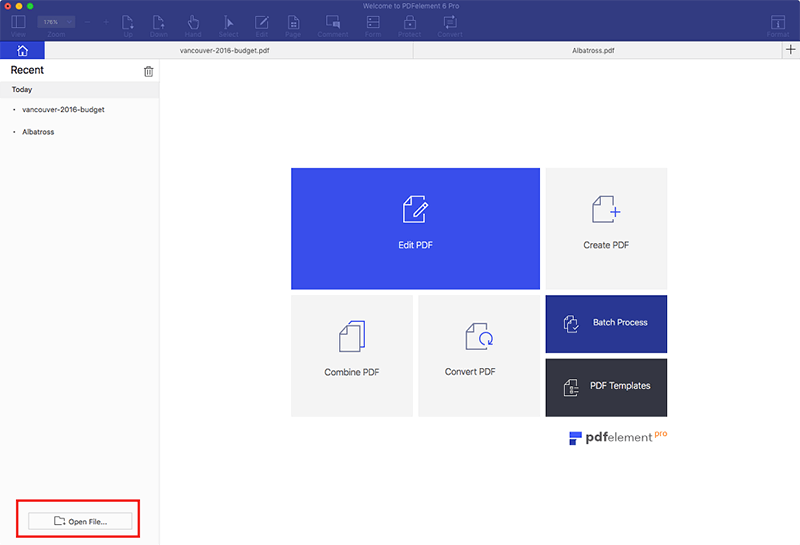 Step 2. Redact PDF on Mac
As mentioned earlier, you can redact text, images, and pages on your PDF by clicking the "Protect > Redact" button.
To redact text and images click on the "Text & Image" tab on the right side corner. Now drag the cursor to highlight desired texts or images. Once you release your mouse, the item will be automatically blacked out.
To redact pages, go to the "Pages" tab. A new window will appear. Select the page range that you want to redact.
After selecting the content that you want to redact, click on the "Apply Redactions" button. The selected area will be removed permanently. Once you save the document, you will not be able to uncover the redacted area. If you are ok with this, then proceed and apply the changes.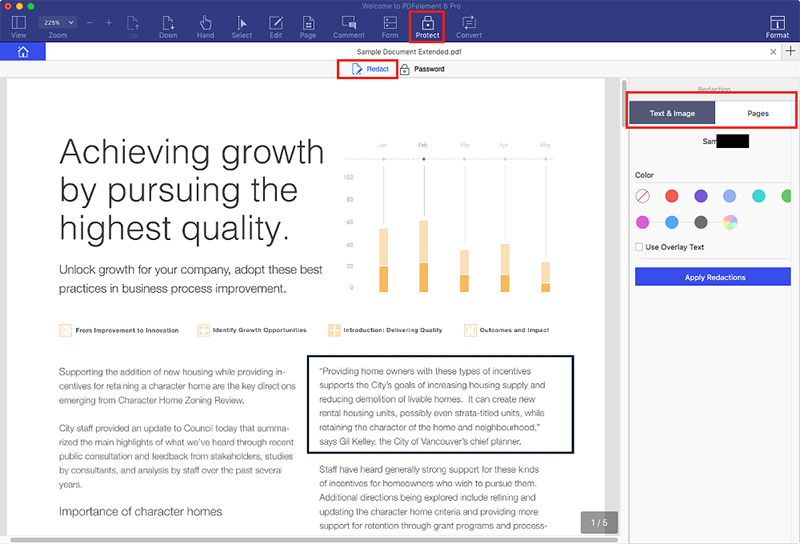 Step 3. Edit Redaction Properties
You can also change the redaction properties if you have a PDF document with redacted content. When you click on the "Protect > Redact" button, you can select a preferred color on the right-side. You can test the changes by redacting parts of the PDF file. You can also change the overlay text format. Enable "Use Overlay Text" and select preferred style and font.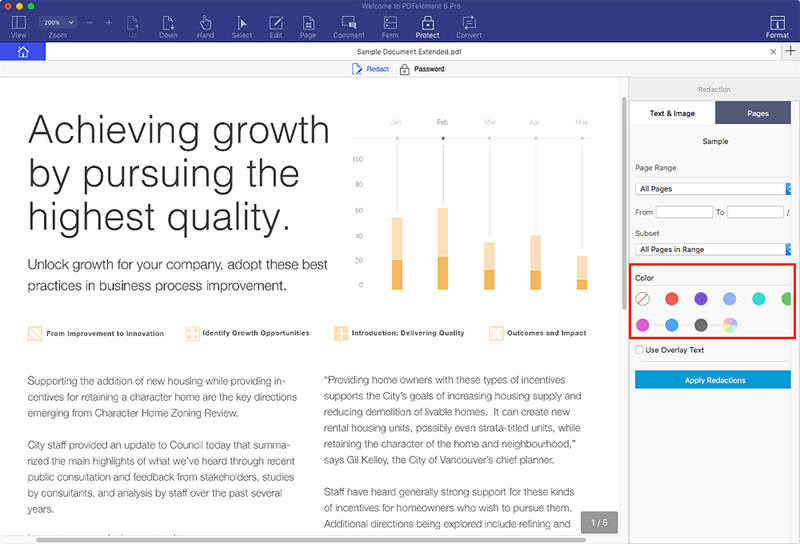 ---
Convert Editable PDF to Redacted PDF on Mac
Step 1. Convert PDF to Editable Word Document
After opening your PDF file in PDFelement for Mac, click the "Convert" button and choose an output format to convert to. In this case you'll want to select "To Word".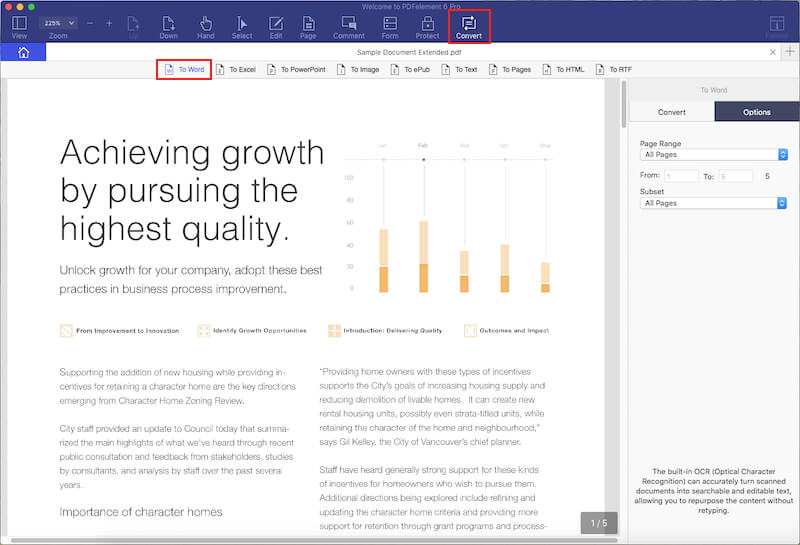 Step 2. Redact in Word
After converting your file to a Word document, you can find the file in the output folder and open it using Word. To learn more details about how to redact in a Word document click here.
---
Best Tool to Redact PDF on Mac
Although there are different redaction software tools available on the market for Mac, nothing beats PDFelement for Mac. This software is recognized for its ability to edit, convert, create and OCR PDF files. It also allows you to black out text, images and pages permanently, plus perform batch redaction on your PDF. Some of its other features include the ones listed below.
It lets you modify text, images, objects, and pages, as well as annotate and highlight using different colors, or add comments, sticky notes, bates numbering, and watermarks etc.
This tool supports creation of PDF files from different sources. It also converts PDF files to editable formats like MS-Word, Excel, PowerPoint, Images etc.
It allows you to fill PDF forms, sign forms and create them.
It includes an OCR functionality that makes image-ased or scanned files readable, editable and searchable.
It is compatible with macOS X 10.14 (Mojave), 10.13(High Sierra), 10.12, 10.11, and 10.10.