It seems Apple has equipped Preview with many PDF features: review PDF files, mark up PDF with tools, delete & merge PDF pages, etc. However, the only thing it cannot do is to create PDF forms on Mac, including macOS 10.13 High Sierra and macOS 10.12 Sierra. To accomplish the task, you should never rely on Preview, but a professional PDF form creator for Mac. Now in this article you will find a great solution - PDFelement for Mac to help you create PDF forms on Mac.
Create Fillable PDF Forms on Mac
PDFelement for Mac is fully compatible with Mac OS X 10.13 (High Sierra), 10.12 (Sierra), 10.11 (El Capitan), 10.10 (Yosemite). Download and install package for the Mac PDF form creating tool. Now follow steps below to learn how to make PDF forms on Mac.
Step 1. Download a PDF Form Template
One way to make it efficient to create forms in Mac is to start with PDF form templates, rather than start from scratch. You can download PDF form templates from our template page or from the Internet. Then launch the software and click "Open File" to import the templates you downloaded.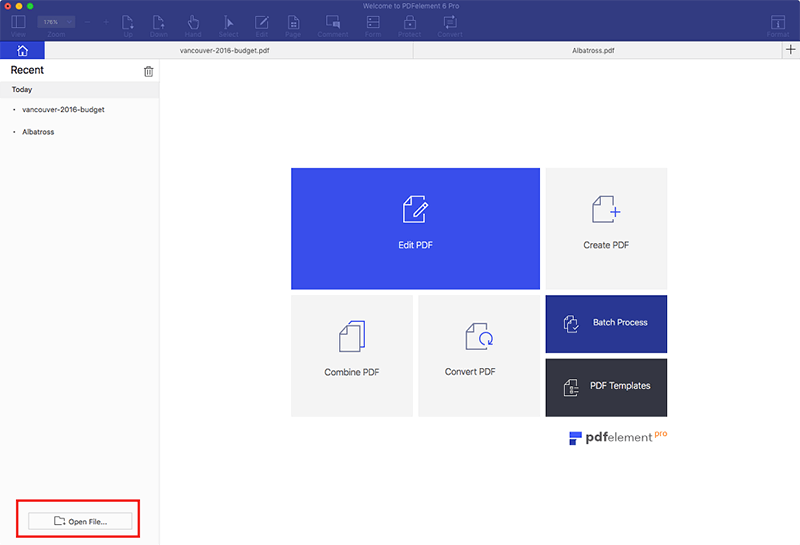 Step 2. Create a PDF Form from Template
By default, when opening a PDF form template on Mac, all the interactive fields will be highlighted. This is the mode for filling out a form on Mac. Click the "Highlight Fields" button on the top information bar, then all the interactive fields will be editable. You can then fill the content.
If you want to modify the items, you can click the "Form" button to edit them or choose an option you need to add new items to your forms. That's how you can create PDF form on Mac El Capitan.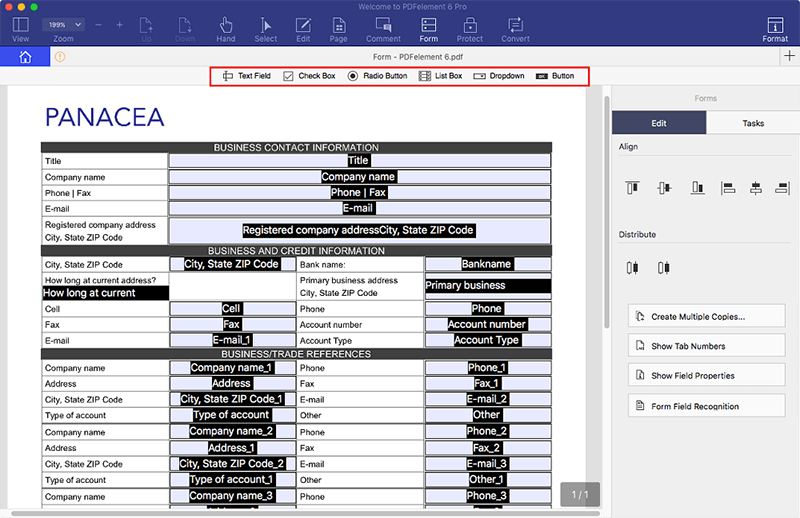 Step 3. Build PDF Form from Scratch
If you want to start from a blank document, you can go to "File > Create > Blank Document" to open a blank page. Then click the "Form" button to show all the form elements like checkboxes, radio buttons, text fields and so on. Click one of the elements on the floated menu. Move mouse over a blank area to draw checkboxes, radio buttons, list box, etc.
Create Multiple Copies: It will help you duplicate multiple copies of the selected field at once.
Show Tab Numbers: It will show you the default field order when you use the Tab key to enter, the same order as the creation order and you can change the order manually as you want.
Form Field Recognition: It will help you create the fillable form on the PDF file automatically, you do not need to add fields or boxes one by one.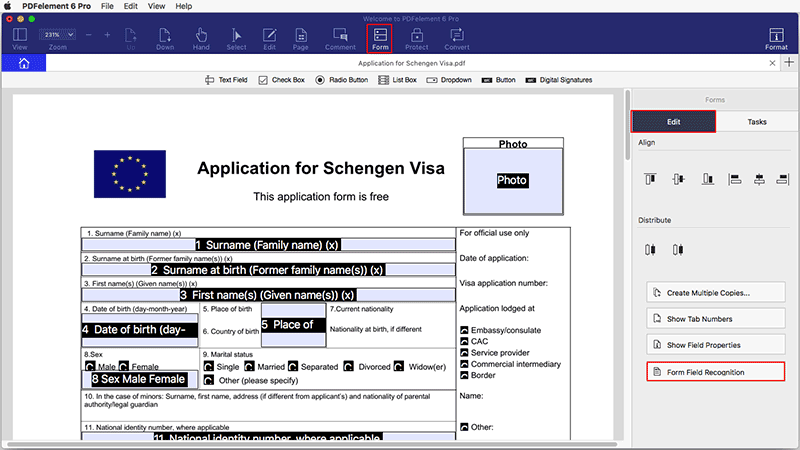 Step 4. Edit Fields Properties
After adding an element, you can set the properties for the interactive field by double clicking on it. To align added interactive fields, go to the left side "More Form Options" to select one of the Align options. Modify an existing field. Click to select the field. And then press Delete key to delete it. Or move your mouse to adjust its size. After drawing forms, you can then type in text.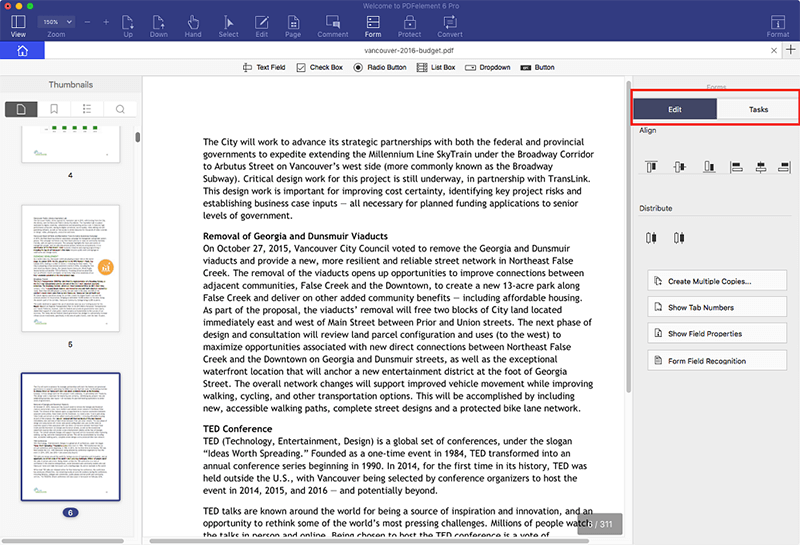 Double-click the field or box to open its Properties window, then you can set the appearance, actions, options, and calculations, etc.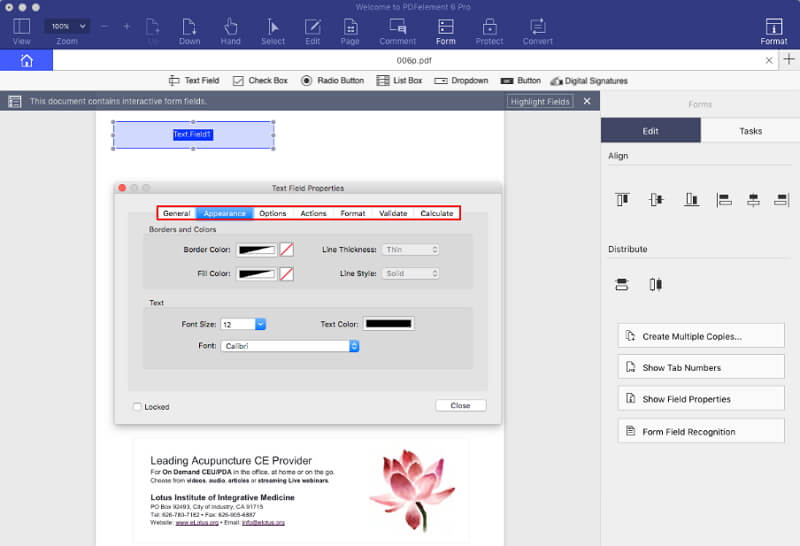 ---
Video on Creating Fillable PDF Forms on Mac
PDFelement for Mac – an awesome PDF form maker for Mac. You can use it to create your own stylish form as it offers you free form templates and options to create text fields, buttons, lists and more. In addition to working as a form creator, it is also a form filler and form editor. With its help, you are able to fill out PDF forms and edit items as you want.
PDFelement for Mac can fully your PDF editing, creating and converting needs. You can make changes on PDF texts, images and pages, just like work with a Word processor. The advanced OCR technology even lets you turn scanned PDF into editable text. Besides, it allows you to convert PDF from or to various document formats. Moreover, it supports the new macOS High Sierra, so you don't have to worry about the compatibility problem.