There are many reasons to sign PDF online. One is that you may not have any space on your device to download the software or it may be as a result of being in a hurry to send the signed PDF across to a client. Whatever the reason, signing PDF files online is a fast way to transfer files through online network. There are many online tools that offer this service and this is what this article will look at. Below are the top 6 tools to sign PDF free online.
Top 6 Tools to Sign a PDF Online
1. SignX
SignX is a product of Wondershare and one of the best online signature PDF tools to sign PDF online. It is free to use and very well secured. It boast of top notch features like bulk sending, two factor authentication, real time notifications and multiple user support. It is important to note that eSignatures done on this platform are legally binding and enforced as hand written ones which makes it an ideal solution for professionals on the move. With eSign+, you can sign PDF online free and invite others to sign while you receive real time notifications.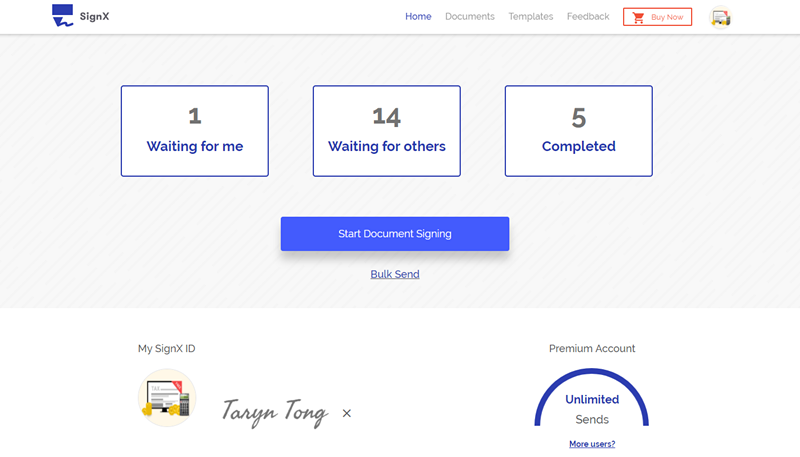 ---
2. Dochub
This is one of the best online tools in the sense that it offers encryption which is very useful when talking about document security. To use this service, you can register with your dropbox, email and Google account. Apart of its key features of sending, editing and signing PDF files, you will also have the option of exporting them in doc format. Dochub enables you to easily sign your PDF document or request someone else to sign.
---
3. HelloSign
This is another free tool for signing PDF files online. It is important to note that this tool also prioritizes security. All you need do is to register with the email or Google account you have. Its interface is user friendly, intuitive and easy to use with a very catch design. This tool will also offer you start tips you may need to help you successfully use it when you sign into your account.
---
4. RightSignature
This is one of the easiest and fastest ways to get your documents filled out and signed online. Once you open the website, fill the form with your hometown, name etc. You can then sign your PDF form with ease. RightSignature also has the option of for using apps on iPhone, iPad, Blackberry devices and Android. However, note that it is just free for the first five documents.
---
5. SignNow
SignNow has the ability to sign your PDF documents from the comfort of your email and dropbox in your iPhone and iPad. You can sign them, add a date and send it back to your recipient. Apart from this feature, you can save multiple signatures that mean you and your spouse can sign a different document.
---
6. DigiSigner
Another way to sign A PDF online is to use Digisigner. All you need do is to choose a document and upload it over a secure connection to the Digisigner server, sign with your mouse, typing text or even inserting a signature image. Also, you can invite other people to sign and receive a notification when they are done.
---
Limitation of Online and Free PDF Signer
There is no doubt that signing your PDF documents online is simple and easy using these online tools. However, it is important to understand that there are limitations to these services especially on the number of documents you can sign at a time. For example, online tools like RightSignature and HelloSign will not allow you to sign more than 5 documents in a month. This means that it may not be suitable for someone with large documents to sign. In addition, you need to have stable and fast network connection.
---
Best Desktop PDF Signing Tool for Windows and Mac
PDFelement is one of the best desktop PDF signing software available. It will let you apply a certified industry standard digital signature on all your PDF documents or your own handwritten e-signature quickly on your desktop.
Free Download or Buy PDFelement right now!
Free Download or Buy PDFelement right now!
Buy PDFelement right now!
Buy PDFelement right now!
Related Articles
All Topics