In a world characterized by linguistic diversity, it's common for individuals and organizations to encounter content in languages they may not understand. This language barrier can impede communication between borders and cultures. Several platforms and software providers have developed powerful translation tools to translate documents to English texts. This article will discuss 10 of the most reputable translation tools in the market, including Wondershare PDFelement, a platform under the Wondershare brand on which tool simplifies document translation of 100+ languages.
Top 10 PDF English Translation Tools
Translation tools offer a range of features, functionalities, and capabilities, each with its own advantages and use cases. By discussing PDFelement and its alternatives, the article aims to provide readers with a comprehensive overview of the options available for addressing intercultural language barriers in document processing.
1. Wondershare PDFelement – a PDF Translator
Rating on G2: 4.5 / 5 stars - 584 reviews
Price:
Yearly Plan - $79.99
2-Year Plan - $109.99
Perpetual Plan - $129.99
User Review:
A user review on G2: Wondershare PDFelement helps customers to read, create, and edit PDF documents. It is a good tool to have for good businesses.
PDFelement's AI feature
PDFelement has gained recognition for its smooth integration with an AI Assistant, ChatGPT, and extensive tools for various PDF-related tasks. This inventive combination of advanced AI technology, traditional document management features, and translation capabilities is crafted to meet the diverse needs of professional sectors such as Education, Legal, Finance, and IT. With that in mind, here's a brief tutorial on leveraging PDFelement's feature-packed platform to translate Word documents to English.
Translate PDF to English Using PDFelement AI
When using PDFelement, there are multiple ways of translating images to text. This feature enables users to create, edit, and reproduce content from images with ease, precision, and efficiency. Here are three ways to translate documents to English using Wondershare PDFelement.
Open your desired file to be translated on PDFelement.
Click AI Tools in the home tab.
Select Translate PDF.
In the popup window, select your Target Language.
Click Translate.
Wait for the process to finish. Click Open Folder when it appears to find and open the translated document.
Translate Specific Texts on PDF to English
If you prefer to translate particular phrases, sentences, or paragraphs into English, here's a brief guide using PDFelement.
Open a PDF document in PDFelement.
Click Translate icon at the right side of the software interface and set the source and target language.
Paste text you want to translate into the box, and click Translate to translate the text.
Translate Scanned PDFs to English Using PDFelement OCR
Suppose you just want to translate scanned PDFs or image-based files to English. With PDFelement's OCR feature, you can easily recognize the scanned file for the language and translate the whole page without the need to convert the file into searchable text. Here's what you need to do:
Launch Wondershare PDFelement and open the image-based PDF you want to translate.
If you want to translate an image, click + > From File to convert the image to PDF.
To copy the text, click OCR at the top. Select the correct source language and click Apply.
Click the Translate icon on the right toolbar.
Specify the source language and target language.
Select the text that you want to translate.
Click Translate.
2. Use HiPDF for PDF Translation Online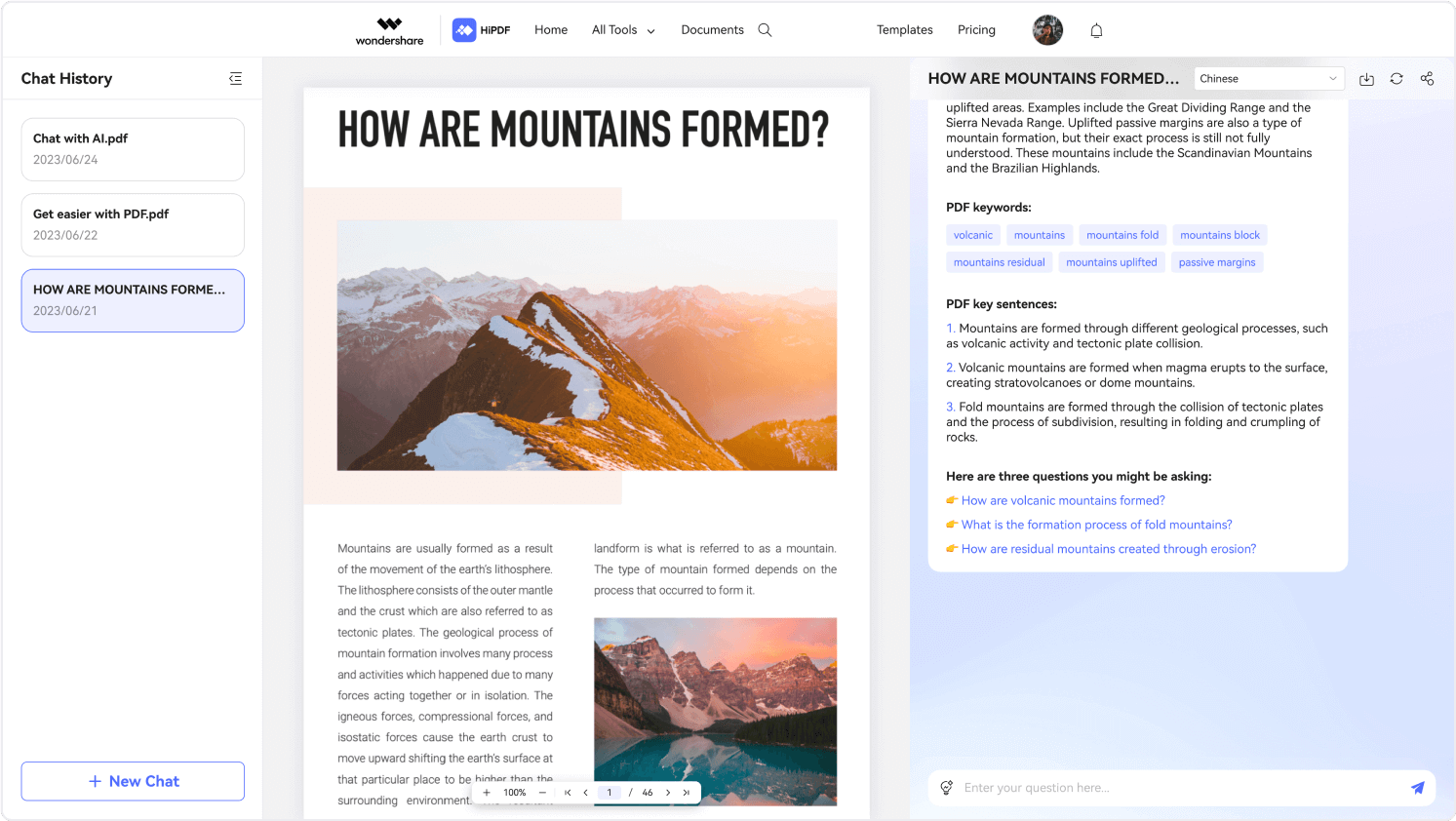 Rating on G2: 5 / 5 stars - 24 reviews
Price:
Free Trial - $ 0.00
Monthly Plan - $5.99/month
Yearly Plan - $3.33/month
User Review:
A user review on G2: We can convert any documents or images without problems. It is completely free, and we can access it anywhere, even if we don't have a very secure connection.
HiPDF is another platform that Wondershare offers. Not to be confused with its bigger brother, PDFelement, HiPDF can be accessed on your browser and possesses several tools to edit and translate PDF to English online. Here are the steps to translate a PDF to English.
Open HiPDF on your browser.
Click the Chat with PDF button and select your file to be translated.
Once you have uploaded your desired document, you can chat with your PDF. In this instance, we can ask AI to translate a PDF document into English.
Wait for the process to finish. You can also use HiPDF for added editing and conversion tasks online.
3. Google Translate for Translating PDFs
In the world of document translation, Google Translate is like a super helper. It can change words from one language to another, making it easy for people who speak different languages to understand each other. And guess what? It doesn't stop at just words! Google Translate is so cool that it can even change whole documents, like PDFs, into different languages.
Rating on G2: 4.6 / 5 stars - 473 reviews
Price: Free.
User Review:
A user review on G2: Super fast – begins translating as soon as you start to input text. Reliable enough for most purposes and works with over 130 different languages. It can be used for individual words, text, files, PDF docs, speech, and websites.
4. SwifDoo PDF for Translating PDF Documents to English
SwifDoo PDF shines as a fantastic tool for transforming PDF documents into different languages. It's super simple to use, with buttons and menus that are easy to understand. Just a few clicks, and presto! Your document is now in a language that makes sense to you. SwifDoo PDF stands out as a language wizard in our lineup of impressive PDF tools.
Rating on G2: 5.0 / 5.0 Stars - 1 Review
Price:
Monthly Plan - $20.00 / month
Quarterly Plan - $16.00 / month
Yearly Plan - $5.75 / month
2-Year Plan - $3.30 / month
Perpetual License (1PC) - $103.0 / Perpetual - One-Time Fee
User Review:
A user review on G2: it has already replaced Acrobat Reader as my default PDF application. Lightweight and battery-saving.
5. DocTranslator – A Web-Based PDF Translation Tool
DocTranslator is a web-based translation service that allows users to translate PDF files and other documents from one language to another. Users can upload various types of documents, including PDFs, Word files, and more, and DocTranslator will attempt to translate the text into the desired language. It supports multiple languages and is a convenient tool for those looking to quickly translate documents without the need for manual translation.
Rating on G2: No reviews to date
Price:
Free Plan - $0
Lite Plan - $14.99 / month
Unlimited Plan - $49.99 / month
User Review: No reviews to date
6. Smartcat – A Translation Platform for PDF Files
Smartcat is a cloud-based translation management platform designed to streamline and automate translation and localization processes. Smartcat supports a wide range of file formats, including PDF, Word, and others, and provides features such as translation memory, terminology management, and quality assurance checks to enhance translation consistency and efficiency.
Rating on G2: 4.6 / 5 stars - 115 reviews
Price:
Free - $0.00
Starter - $99.00 / month
Unite - $699.00 / month
User Review:
A user review on G2: Through the tool I am also more productive because I can even import documents and manage easily over the system and then download.
7. WorkinTool – Translate PDFs to English and Other Languages
WorkinTool is a web-based platform with multiple tools to streamline your workflow. Its free online PDF translator can recognize and analyze the content of a PDF. It can translate multiple languages, including images, documents, and files like PDF, Word, Excel, PowerPoint, and text.
Rating on G2: 4.0 / 5 stars - 4 reviews
Price:
Free Plan - $0
Monthly Plan - $10.95
Annual Plan - $29.95
Lifetime Pro - $39.95
User Review:
A user review on G2: It's easy to navigate and use based on the task. The UI and processing are fast as well for each feature. Love the standardized color schemes and fast-working features.
8. Text Cortex – Translating PDFs into English
The AI translator of TextCortex can translate PDFs into over 25 languages. It uses AI to automatically translate PDF documents from one language to another. The free version of the tool can be used each month.
Rating on G2: 4.7 / 5 stars - 148 reviews
Price:
Free Plan - $0
Lite Plan - $23.99 / month
Unlimited Plan - $83.99 / month
User Review:
A user review on G2: It writes coherently and paraphrases huge chunks of text into a reasonable caption. You need to give it thorough prompts and enough information - and check what it's extracted. It's like working with a much faster human research assistant.
9. PDFgear – A PDF Translation and Editing Tool
PDFgear is an easy-to-use PDF editor and reader with translation feature. It can translate PDFs into popular languages like French, Spanish, Chinese, and more.
Rating on G2: 4.5 / 5.0 stars - 2 reviews
Price: Free
User Review: No reviews to date
10. Reverso – Translating PDF Docs to English Online Free
Reverso offers online translation service translates your texts in PDFs between English and French, Spanish, Italian, German, Russian, Portuguese, and more. It provides instant translations of selected text when reading content on your browser, on Safari or any other app.
Rating on G2: 5 / 5 stars - 1 reviews
Price:
Free Plan- $ 0.00
Monthly Premium Plan - $9.99/month
Yearly Premium Plan - $6.49/month
User Review:
A user review on G2: I have always used Reverso's website, and it is great, but their app is fantastic. You just need to select the word you need to be translated, click ctrl+c+c, and the app instantly appears with the many translations of the word and context. It's amazing.
Conclusion
In the vast realm of online tools for English translation, users encounter a myriad of platforms, each boasting unique features and benefits. Amid this diversity, the importance of possessing an all-encompassing PDF editing software cannot be overstated, and PDFelement, developed by Wondershare, emerges as a standout choice. Its robust capabilities extend beyond typical PDF editing, encompassing a sophisticated English translation PDF platform that distinguishes itself in terms of efficiency and functionality.