It is not often easy to convert open source pdf to excel and have an output that is of the best quality. This is more so in cases where you need to convert a scanned pdf to excel open source. In such cases, it is important to choose the right pdf to excel open source converter. There are quite a few pdf to excel converter open source available in the market. When choosing the converter to convert pdf to excel open source, you need to check for its flexibility, affordability and features. While some converters can help convert pdf to excel open source, most of them struggle when you use a scanned image to convert pdf to excel open source. The OCR capability in many pdf to excel converter open source does not meet the quality expectations like Wondershare PDFelement.
Top 3 Open Source PDF to Excel Software
Three of the best pdf to excel open source converters are listed here for your reference.
1. Convert PDF to Excel
An open source pdf to excel conversion software, this converter is more known for its versatility and resourcefulness. Since it supports batch processing, it is quite handy when you are converting more than one file. The only drawback is when you try to merge more than one PDF to excel wherein the conversion may not be as optimal as you hope for.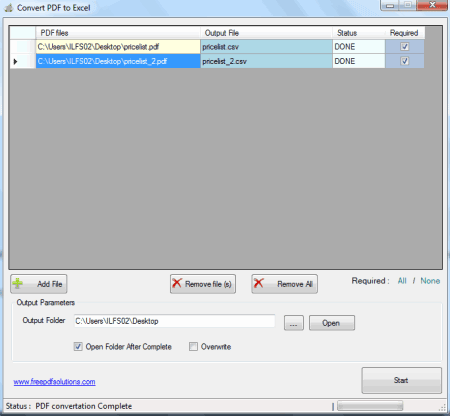 2. PDF to Excel using GT Text
Another open source pdf to excel converter, this helps with converting a PDF file to excel file at a very basic level. However, you are required to extract data column wise into the converter for it to convert which could be a painful and lengthy process.
3. Free PDF to All Converter
This basic PDF converter is quite easy to use and can convert any searchable PDF to the excel format, but only .xls is supported. It also supports conversion to HTML, JPG, Word and TIFF formats. Quite smaller in size, every conversion format in this converter has a different setting.
Verdict of Open Source Software:
Not all file formats are supported like EPUB, XLSX, RTF, etc.
Multimedia inclusion is not possible.
Not very strong in handling large files.
Complexity in terms of the settings and interface.
Not as easy to use like other converters in the market.
---
How to Convert PDF to Excel Easily
PDFelement surpasses all the above converters in turning the above limitations to its advantage. It is not just the best converter for all your PDF conversions but it is also the best in editing and manipulating PDF documents. It supports over 100 languages in its Optical Character Recognition (OCR) feature and it is also compatible with multiple platforms like Windows 10, iOs, Android. It is also compatible with all file formats including the latest EPUB. While brimming with user friendly features, it is priced very low and also has a trial pack available to check it out.
It is quite easy to convert your PDF documents to excel sheets with the help of Wondershare PDFelement.
Step 1. Importing PDFs for Converting to Excel
Launch the Wondershare PDFelement from your desktop and open the PDF file that you want to be converted to excel. You can do this by clicking on the "Edit PDF" on the home page. Or you can click on the "Open File...". Once you have opened the file, you can make any changes like adding text, images or annotations before proceeding to conversion.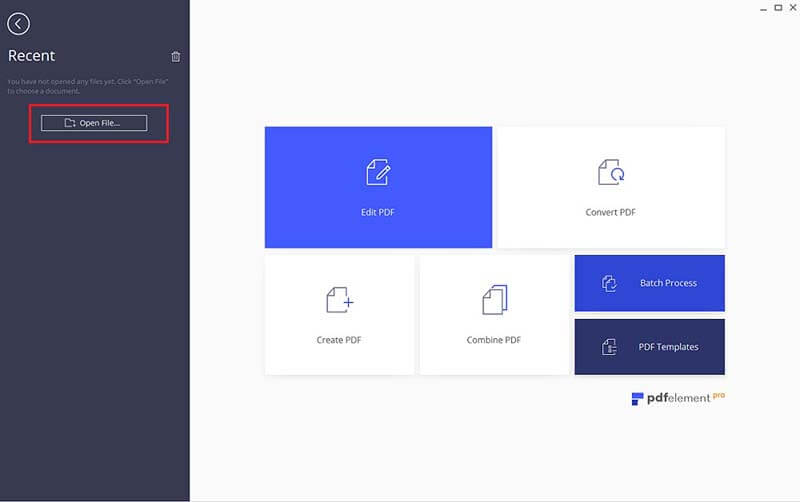 Step 2. PDF to Excel Conversion Settings
At the menu ribbon, you will find a button marked "To Others". Click on this and choose "Convert to Excel" in the dropdown list. Also you can change to either .xls or .xlsx format from the dropdown in the pop-up window.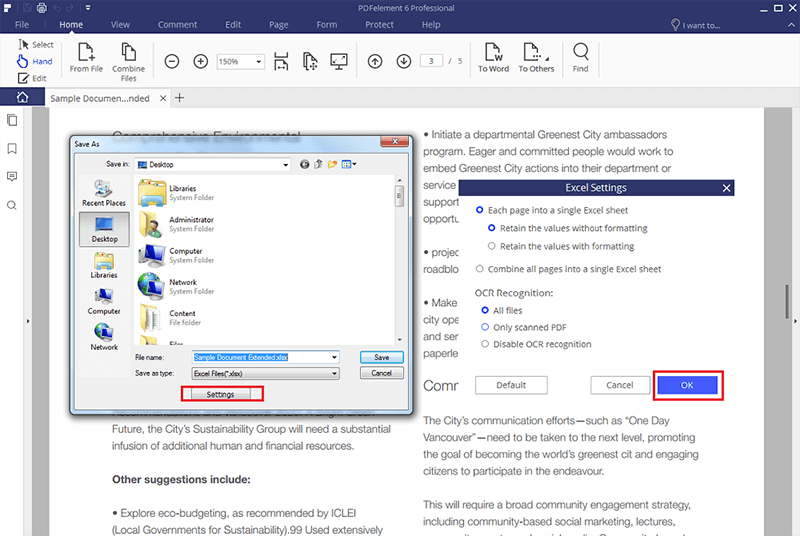 Step 3. Conversion to Excel
Click on "Save" and your PDF will be converted to an excel sheet as required.
---
Important Tips to Work Faster in Excel.
Here are some tips/shortcuts to help you work faster on MS Excel.
Making additional lines within the same cell doesn't require you to drag your mouse to the tool bar. Instead, just click Alt + Enter and you will get an additional line within the cell for you to type.
Often when we are working on a huge file there are times we would like to know how to see a change that we make in the 100th row is affecting the data in the 1st row. A watch window can help you to do this. Just click on the cell that you want to be watched for change in value and click on add. Now whenever you change this cell, you can see the changes and effects it has on other cells using this watch window.
If you want a cell to have only a certain set of values, you can design a customary drop down list by clicking on Data validation under the Data menu. Add the list of values to this and save. Now you have the customized list ready.
---