Top 10 Signature Website in 2023
Signing documents is a big deal especially when you are using paper and pen. It is time to quit this old method and embrace the new way of signing documents and that is using a web signature. It is important to note that a web digital signature provides you with an alternative of your personal written signature and the good thing is that it is perfectly legal if you use the right platform. Fortunately, there are a lot of signature websites that you can use and we will show you the top 10 signature website in 2022.
10 Best Signature Website
Like mentioned earlier, web based electronic signature is the way to go. It will save you a lot of time, resources and improve productivity levels. Once you subscribe to some of these online signature website, then signing your documents online becomes very easy. The following are some of these websites offering this service.
PDFelement needs no introduction as it is now one of the most used web signature platform by individuals and businesses. This signweb is capable of signing any kind of document whether it is PDF or other file formats and it is very easy to use. This is because it is designed to be used by just anywhere as long as you can handle a mouse and read what is written on the button. Signing documents on the PDFelement platform does not take any time as it can be done in just few steps.
PDFelement is a secure platform as your sensitive documents are protected from the preying eyes of online data thieves. Besides, signatures on this platform is legal and enforceable like the ones written by hand since it passed all known regulations. This free signature website also does other functions perfectly like editing, conversion, redaction, splitting and merging PDFs, annotation and more. It is affordable when compared to other web signature platform and it is available on Windows, mac, IOS and Android.
---
This is another signature website free that helps you create legally binding signatures online in just few steps. It is web based electronic signature platform that is a professional electronic signature platform that gives you the platform to securely and quickly sign documents from anywhere and any device. With SignX, you have the capability to eliminate paper based tasks and improve productivity. It boats of a lot of top notch features that helps make it one of the best for web signature application. The website is easy to use and getting a good electronic signature over your document takes you just a few steps. Besides, it boats of features like bulk send, multiple user support, real time notification and lots more.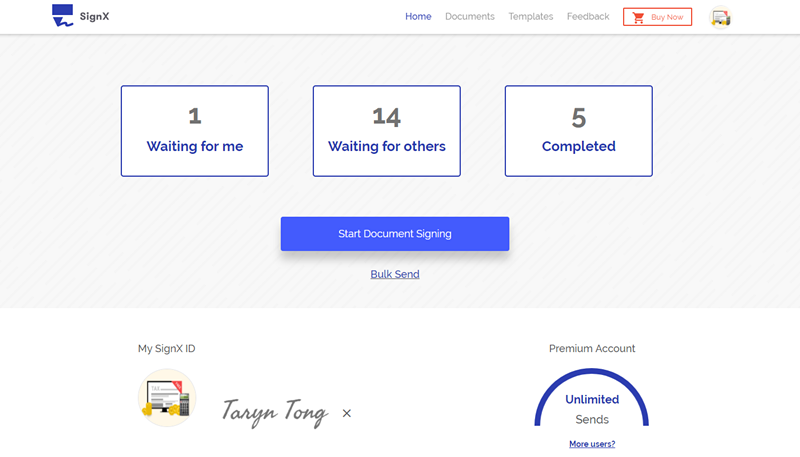 ---
This is another top website that offer digital signature service. It can be used by individual or businesses and it delivers legally accepted signatures that are enforced like handwritten ones. It is available online, mobile devices and a host of other platforms. Adobe EcoSign has a user friendly interface that could be eased into your office system. Besides the fact that it is a good web signature platform, it can also be useful in other functions like enhancing workflow management. There is no doubt that it is a good platform to get your documents signed online since it will enhance your efficiency without having to give away the integrity of your documents.
---
DocuSign website will allow you to sign documents online without stress. The good thing about this tool is that it is easy to set up and you can see the results in a matter of minutes. DocuSign provides industry standard legally binding signatures. Apart from giving you the platform to sign documents, DocuSign also provides you with the ability to track the progress especially when there are multiple signers to the document. With DocuSign, you can always sign those important documents anywhere and anytime.
---
This is also another top website signature platform that allows you to sign beautiful signatures that are accepted worldwide. Like other electronic signature platform, this website allows multiple signers to sign a single documents from any device which could be desktop, tablets, smartphones and laptops. It has a user friendly interface and very good for both businesses and individuals.
---
This is another good tool for website signatures that allows you produce signatures that are legally accepted. It is well secured with SSL data encryption, signature certificate as well as other security features designed to keep your documents safe. Apart from being available online, it is also available on mobile devices. It also allows multiple signers of a single document.
---
This website signature service is one that focuses on providing electronic signatures for emails. In addition, it will also allow you monitor and track the progress of other signers. It is well secured as it maintains a high level security for scripted signatures.
---
Another top signature website that provides digital signature services for businesses as well as individuals. It is important to note that AssureSign complies with all known regulation and standards. For this reason, every signature from the platform is legally binding. It can be easily integrated with existing office system and it is easy to use.
---
Cosign is a platform that provides digital signatures for both individuals and businesses and supports multiple types and formats of documents. It is available online and on mobile devices and it supports a lot of signature types including scripted signatures.
---
Though Sertifi may not be a popular web digital signature platform, it is also one of the top 10 signature websites of 2018. It is easy to use because of its friendly user interface and can support multiple signers. Besides, it also has a track and management feature making it a very good tool for signatures.
Free Download or Buy PDFelement right now!
Free Download or Buy PDFelement right now!
Buy PDFelement right now!
Buy PDFelement right now!
---
Other Popular Articles From Wondershare