InDesign is a professional application which is used to create and edit graphics and images. But you can always use to open PDF files. You can open PDF in InDesign using the "Place" function. The entire document, including text and images, with the original formatting and layout, will be placed on a blank sheet in InDesign.
If you want to create a PDF file from graphics or images, or convert a PDF file into an image, you can simply export the Images from InDesign and upload them to PDFelement to convert it to a useable PDF file. Here's a list of the best features of PDFelement for Mac.
It lets you create, edit and convert PDFs
It is available for both macOS X (Mojave Included) and Windows.
Users can create PDF files from a blank sheet or can import different images, documents, PowerPoint presentations, Excel Sheets and Webpages to create a PDF File.
The editing feature lets users modify PDF content easily as Word.
It lets you create and fill PDF forms.
It lets you sign PDFs digitally.
You can edit any text or image in the PDF file. Add new text, change the formatting of the existing text or permanently delete text from the PDF file.
Rearrange pages by dragging and dropping page thumbnails into the desired order or position.
Change the positioning of images in your PDF file. You can crop, compress, resize and rotate images.
---
How to Convert PDF before Opening PDF in InDesign
Step 1: Open InDesign File and Create PDF from Other Formats
Click the "Create" button in the "File" tab, and then select "PDF from File". Select the files you want to convert into a PDF and click "Open" to convert the file to PDF.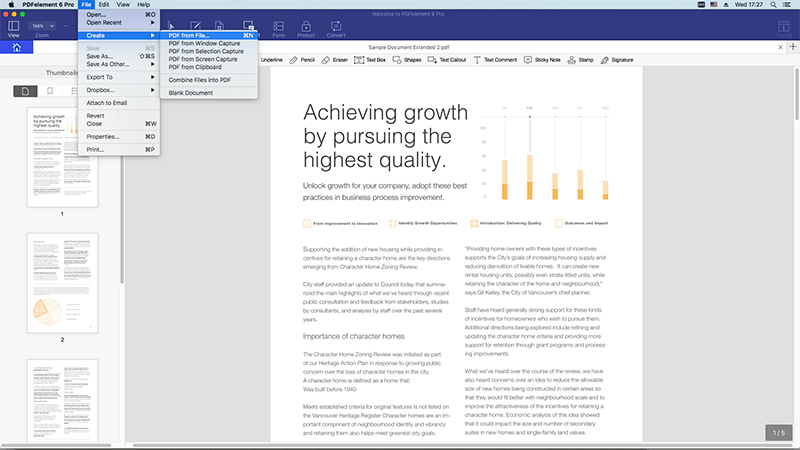 Step 2: Convert PDF to InDesign Supported Formats
If you think that open PDF in InDesign is a little complicated than open an image in InDesign directly. You can convert your PDF into image (jpg, png, gif, bmp, tiff) or txt by clicking the "Convert" and "To Image" (or "To Text") buttons in PDFelement. After conversion, you will be able to simply open the converted PDF within InDesign.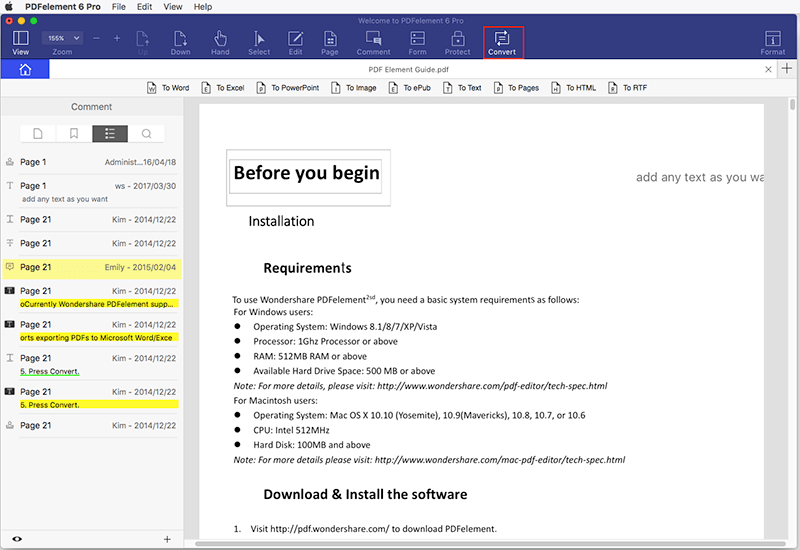 ---
How to Open PDF in InDesign
Adobe's InDesign is one of the most popular applications used to create and edit different types of images, logos and designs. Luckily, you can open PDF in InDesign and place it on any image that you'd like. You can then set the position of the text and images in InDesign through the use of different layers. The ability to open PDF files in InDesign for Mac helps you create various different types of documents.
InDesign supports PDF format and lets you export image files as PDFs. However, unlike professional PDF creators or editors, it does not provide many options for editing PDFs. If you are looking for a way to open and add PDF files to an image using InDesign, follow the simple steps below. Apart from PDF files, it also supports JPEG, PNG, ANI, RTF, SWF, QXP, TIF, TXT and many other popular image and document formats.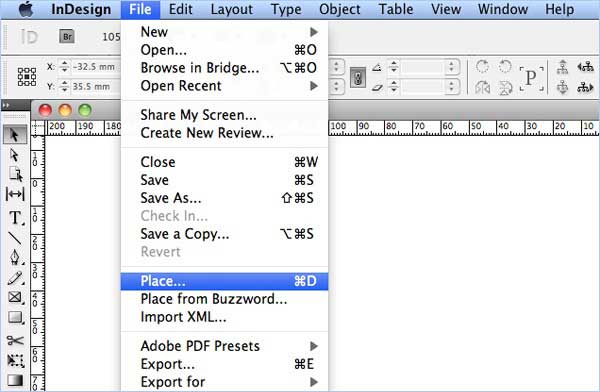 Step by Step Guide to Open PDF in InDesign:
First of all, launch InDesign on your computer. In the main window, click on the "File" Button in the top toolbar in Mac OS X. Then hit the "Place" button and select the PDF file that you want to open in InDesign.
In the next window, check off the "Show Import Options" setting and select your PDF file. Lastly, hit the "Open" button to open the PDF File in InDesign.
Now, you can edit your PDF file or make changes to it in InDesign. You can also adjust the text in the PDF file to fit it in the frame of InDesign. However, once you are done with editing the file or making the change to the required document.
To export the PDF file from InDesign after you've made your changes, click on the "File" button again and hit "Export". Select "Adobe PDF Print" from the dropdown menu to save the PDF file. That's it! Your InDesign project will be saved as a PDF file.
---
Tips for Using Adobe InDesign for Mac:
InDesign is specially designed for image files, so, if you want to import large PDF files in the program, it is recommended that you extract the images or different pages and add them one by one in InDesign.
InDesign has the built-in ability to save documents to cloud services for extra storage protection in the case that you lose the file.
To edit text, double click on the text to select it and then start typing.
---