Can't open a PDF on Mac OS X El Capitan? Are you looking for a reliable way to open PDF on Mac (macOS Mojave included)? Adobe Reader and other PDF tools only work to let you read the PDF files. Some of them even offer limited options for editing PDF but they are that-limited. If you want a complete system that will help you not only open but also give you unlimited ways to edit your PDF files, you've come to the right place. In this article, we are going to offer a complete guide on how to open PDF files on Mac with PDFelement for Mac.
One of the best options when looking to open PDF files on Mac is PDFelement for Mac. The software is designed to make it easy for you to open PDF on Mac. Then you can read PDF comfortably. It also comes full of features that allow you to easily annotate your PDF file. This means that you can highlight texts in a number of ways including striking through, underline, adding note and stamps.
And that's not all you can do with PDFelement for Mac. It allows you to add passwords to documents and even restrict various actions on the document including restricting opening of the document, printing and even editing PDF on Mac. You can also sign the PDF file using an encrypted signature from your own handwriting. Most importantly, the locations of buttons, icons are designed according to Mac users' operating practices.
---
How to Open PDF on Mac
PDFelement for Mac is compatible with Mac OS X 10.10, 10.11, 10.12, 10.13 and 10.14 Mojave. The following simple steps will help you open your PDF files on Mac using PDFelement for Mac.
Step 1: Begin by Opening Your PDF File
Download and install PDFelement for Mac on your computer and then launch the program. To open PDF on Mac, click on the "Open File" button at the bottom right and browse for the PDF file you would like to open. Alternatively, you can easily just drag and drop the PDF file on to the primary window to open it.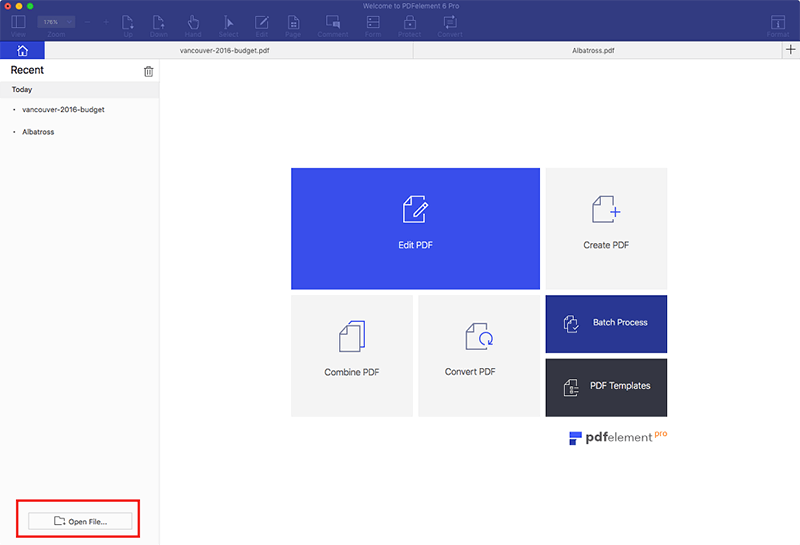 Step 2: Edit the Document after Opening a PDF
Once the document is open in PDFelement, you can easily edit the text or even the images in the document. To edit the test; change font, font size and even color, select the "Edit" button and then click on the text you want to edit. You should see a blue box around the text. Double click on the text to bring up the cursor and then select the text to change its font, font size and even style and color.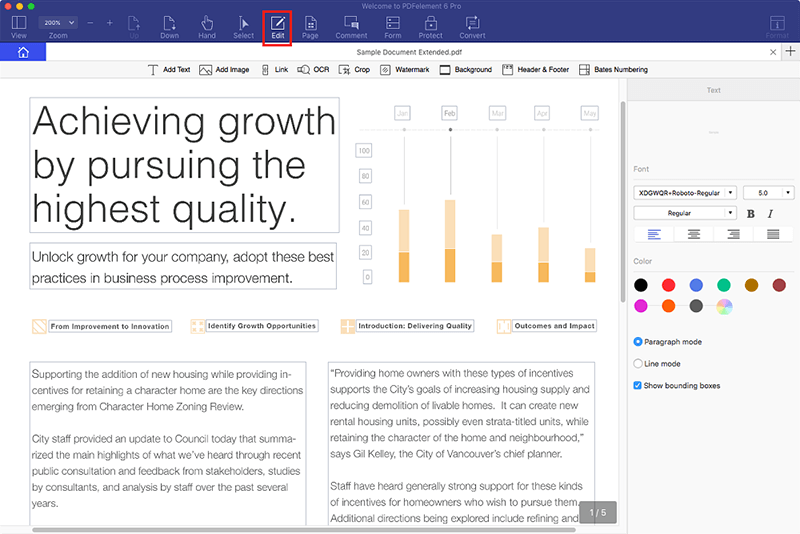 To add text, click on "Add Text" icon under the "Edit" menu and then click on the page where you want to add text. An input box will appear where you can proceed to type in the text.
To add an image to the document, click on the "Edit" button in the toolbar and then select "Add Image". Drag the image you wish to add to the document. You can resize the image by clicking on the edge of the blue box and then dragging to adjust its size.
Step 3: Share the File after Opening PDF
Once you are happy with all the changes, click on "File" and choose the "Attach to Email" button. Log in to your email account to attach the PDF to email. You can then simply send the PDF via email right from PDFelement.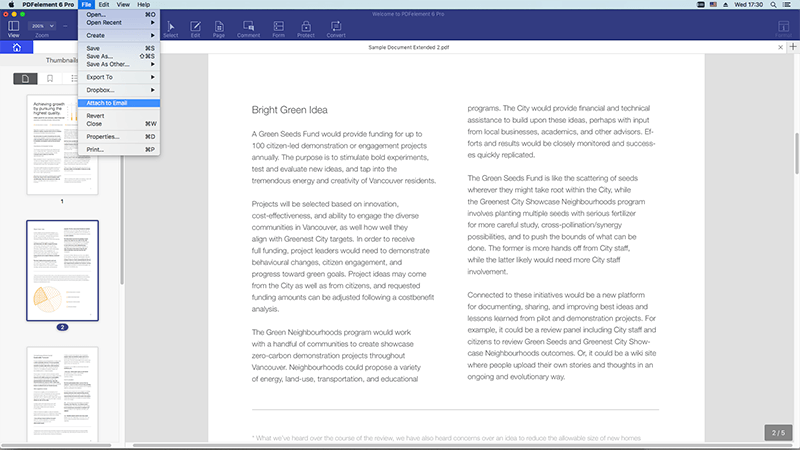 ---
Tips: How to Open PDF with/without Bookmarks Showing on Mac
When creating PDF files, one may opt to build bookmarks for easy navigation of pages. Bookmarks are link texts that let you go to pages of PDF file quickly, which often appear on the left panel of a PDF file. Although they are important, you might find them annoying at times thus you will want to hide them as you view your PDF file. In this article, we will show you how to open and view PDF file with or without bookmarks showing On Mac.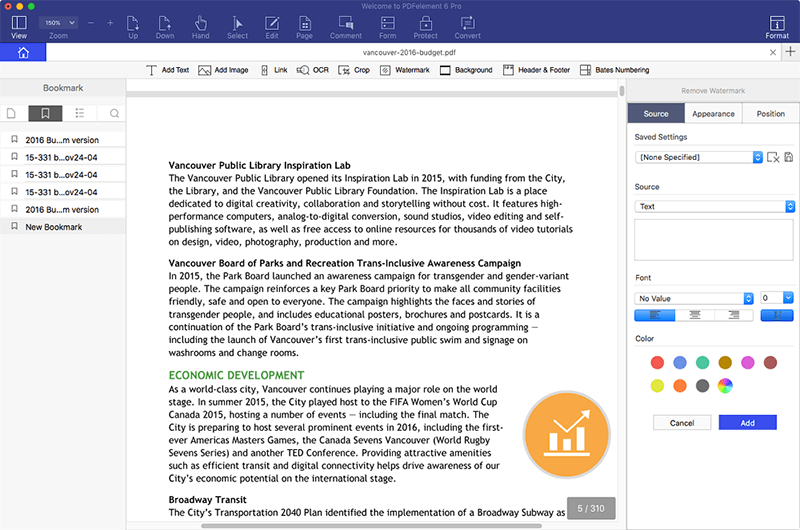 Step 1. Import PDF into PDFelement: Launch PDFelement for Mac and then click on "Open File" button. You will be able to select PDF on your Mac and open it with the program. Alternatively, you can also import PDF files into this application by clicking on "File" on the main menu followed by "Open" button.
Step 2. Open PDF with Bookmarks: The imported PDF file will now be displayed on the program. Now if the PDF file has bookmarks, PDFelement will automatically show bookmarks in auto view mode. As you view your PDF file, you will be able to see bookmarked content. You can also click on the "Bookmark" button in the left panel, which is the second icon on the left panel to display bookmarks.
Step 3. Open PDF without Bookmark Showing: You can also view the PDF file without bookmarks showing. To hide bookmarks or change to other view mode, you can go to the "File" tab on the main menu and click on the "Properties" button. Here you will see Description, Security and Initial View. Click on the "Initial View" option. You can then select the viewing modes of your choice from "Page Only", "Bookmarks Panel and Page" and "Pages Panel and Page".
---
Solutions for PDF Won't Open on Mac
"What's the matter? In the past, I can open a PDF file on Mac easily. Now my MacBook Pro just quit opening PDF files, especially those embedded in email as attachments. But if a PDF file is attached to an email, it could be opened by the sender, right? Why I can't open it? Any suggestion? "
Many factors can block you from opening a PDF file on Mac. The factors include damage to PDF file, incompatibility of your PDF reader with your PDF files, and PDF protection that prevents a PDF file from being opened by unauthorized users, etc. If you can't open a PDF file on Mac, you can try the solutions above.
PDF files can't be opened due to the damage issues. Some PDF files will be damaged during the process of downloading or shipping. If a prompt from a PDF reader tells you that the PDF file you're trying to open is damaged, then you should get the PDF file again. If you've received it from an email, you should save it to local drive before you open it.
PDF reader for Mac can't open a PDF file on Mac. Sometimes your PDF reader just can't open a PDF file mostly because it doesn't support the PDF file which does not conform to certain industry-specific PDF standard. In this case, you should choose another PDF reader for Mac to open it.
---
Tips and Tricks on Using macOS High Sierra
Apple's latest operating system comes loaded with a bunch of new features. Here are a few tricks to help you make better use of this OS when it becomes available publicly.
The new macOS Mojave is already available, you can download update your macOS to the latest version.
The new macOS Mojave will make it possible for users to shop online using Apple Pay. Websites will display the Apple Pay button.
This new OS Mojave will also bring the Picture in Picture (PiP) TO Mac.
An auto unlock feature will use location data from Apple Watch to unlock the Mac Automatically.