Mac users are always unsatisfied as it is not easy to edit PDF files or documents. PDF format will not allow Mac users to make changes or add updated on PDF so if you are looking for open source PDF editor for Mac then you can get help from free PDF editor Mac tools that will allow you to modify your files. Here we have top 5 Open Source PDF Editors for Mac (10.13 compatible) that can use to edit, convert and do any changes on PDF documents. From the list you can choose any one to personalize and figure out which one is the best for you.
There are plenty of ways that will allow you to view, edit PDFs on Mac but for that you need to have a reliable open source PDF editor for Mac. Mac users have a flexible choice for PDF editor with a range from simple form filling to complete PDF manipulation. Since PDF is an Open Format we have consider top 5 Mac open source PDF Editors. Compare each of the PDF editors that I have shared.
The Most Stable Open Source PDF Editors for Mac
1. Formulate Pro for Mac (Best Open Source PDF Editor for Mac)
Formulate Pro for Mac is one of the best open source PDF editors for Mac that are made for Mac Pcs. It has all functionalities which is stable and solid. It is a professional PDF editing tool with comes with high ability to redact PDF files. This software also provides cloud services for those who wants to have an endless amount of space to store their documents and used for merging and combining the PDF files. They are also used for creating, signing and analyzing PDF forms and protection of PDF files with permissions.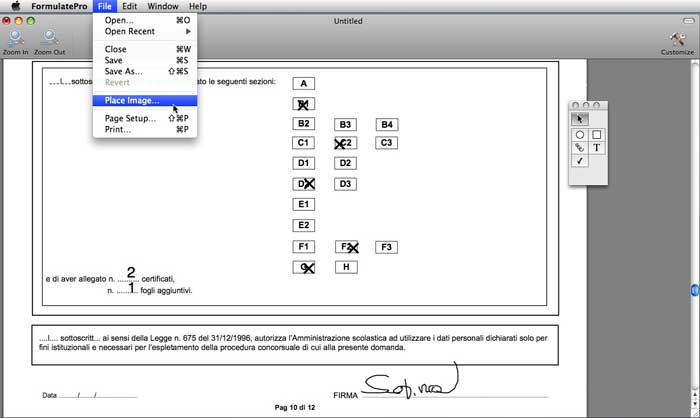 Features:
This tool will convert PDF to other output formats and vice versa
You can add, delete and modify texts, improve images, rearrange pages
It supports OCR technology in multiple languages
It has Password protected abilities
Pros:
Along with features it will have wide variety of tools that can be used to create excellent PDF files and presentations.
This is a tremendous PDF conversion program that can use to convert your PDF files into different file formats
This software is very easy to use
Cons:
It does not convert documents to EPUB formats
---
2. PDFpenPro (Mac PDF Editor Open Source)
PDFpenPro is shareware which offers a lot of editing functionality that will customize your PDF files that you want. The features which includes exporting PDF content with correcting types in PDF text, sign PDF files along with handwritten signature and more. Even it is not exactly easy to use pen that this software employs using mouse but still you can use to handle PDFs without any trouble.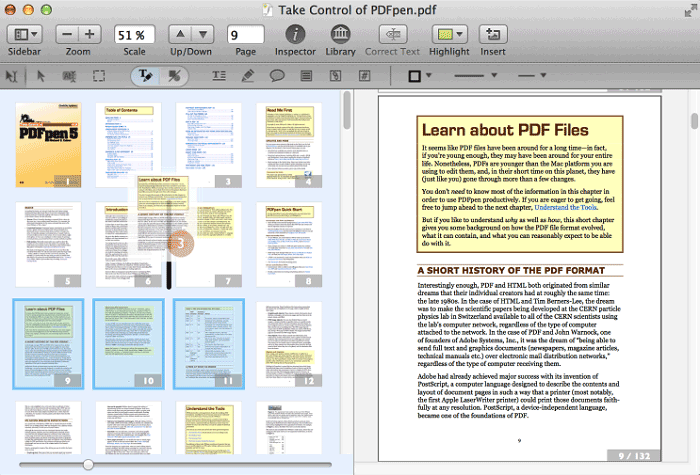 Features:
Export PDF content to Microsoft Word document
Correct typos in PDF text
Sign PDF files with handwritten signature
Make images-based text in PDF files to editable by performing OCR
Store PDF files in the Cloud
Create PDF forms
Pros:
You can use PDFpenPRo that can add real signatures to your PDF documents for increased protection
It lets you to edit PDF files with using pen
PDFpenPro comes with OCR technology that allows you to edit scanned PDF files easily without printing
Cons:
PDFpenPRo does not support pen pads
When you are using a mouse it become very difficult to write
---
3. Skim (Open Source PDF Editor for Mac)
Skim is a free PDF editor and a note taker made for OS X. It functions similar like Preview. Most of the major features that you need to view PDFs would include adding and editing notes by highlighting important text, making snapshots for easy reference and navigation using table of contents or thumbnails with a visual history.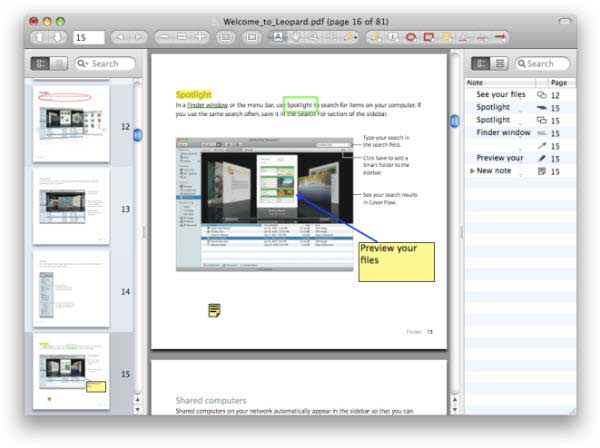 Features:
Views PDFs
It can Add and edit notes
Highlights important text, includes one-swipe highlight modes
Skim can makes snapshots for easy reference
Giving powerful presentations with built-in transitions
Smart cropping tools
Pros:
There are lots of options available to annotate
You can choose more than five colors
Great for reading and editing PDFs
Highlight text, navigate with TOCs and more
Integration with LaRex, PDFSync
Cons:
Not as advanced as Adobe Acrobat X
There are some basic features that is not as intuitive as it should be
---
4. Preview (Built-in Open Source PDF Editor for Mac)
Preview is the default PDF viewer and editor for Mac and one of the top Open Source PDF Editor Mac. It functions more like PDF viewer that will allow users to annotate PDF files. Mac comes with preview that is acceptable for reading and signing PDF files. It is basically limited PDF editor available for free and there is no download required. Preview is the simple PDF editor for Mac since it allows users to create, merge and spilt PDF files.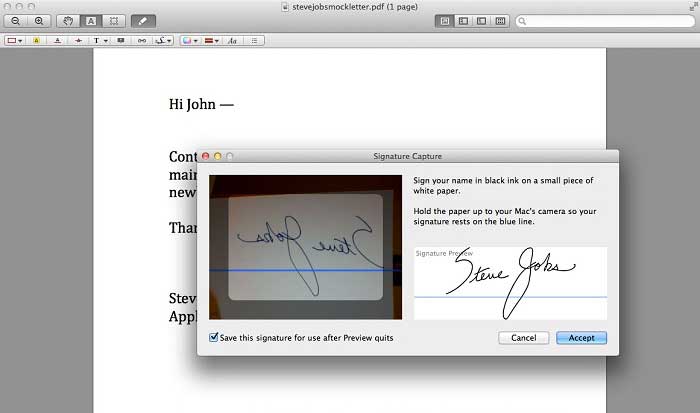 Features:
Transfer web pages and images as PDF format
By dragging the thumbnails out of the file you can split PDF file
By dragging the thumbnails together you can merge PDF files
Rotate PDF pages
Annotate PDF files with a range of tools
Pros:
Add and Edit hyperlinks in a PDF file
It can view and edit PDF metadata
Cons:
No multicolor Highlighting from the tool bar
Inserting new pages is sometimes difficult
---
Shortcomings of Open Source PDF Editor for Mac
Many of them face problems in opening PDF on Mac. There are varieties of reasons for that, however it can be solved just in minutes, check out the three main reasons.
1. Web Browser needs updating: This is a common problem, try updating your browser before any other problem arises.
2. Your Browser is not compatible: This is an issue when your OS is not working properly. As your browser is not compatible with your OS try out some other browser
3. Check the Adobe Reader Plug-in: This is very curious problem that has affects many users so try using Adobe Reader as stand-alone programmed, rather run into your browser or plug-in can be reinstalled easily if necessary.
---
Best Solutions for Open Source PDF Editor for Mac
PDFelement 6 for Mac is a professional tool with is affordable easily and is one of the best open source pdf editor mac. It provides full editing features for Mac users that can create, edit, convert PDF files and fill out PDF forms on a Mac. This tool is fully compatible with Mac OS X including latest OS X 10.13 High Sierra. It is compatible with Mac OS with supports over 20 languages.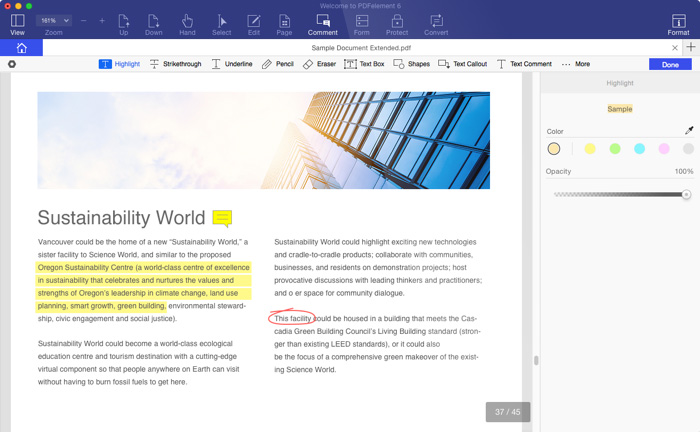 Full PDF Editor
Edit and fill out PDF form hassle freely
You can add or remove Batch watermarks, delete all annotations from PDF
Smart Form Filler and Creator
You can create and combine web pages, text files, images and more
This tool can Edit PDF text, images, watermark, and pages
Powerful PDF Converter and Creator
PDF files can be merged and spilt
Reuse PDF content in Office documents, HTML pages, and EPUB eBooks