Wondering how to print to PDF on Mac? You can print to PDF on Mac without needed to employ the services of Adobe® Acrobat®, since Adobe Acrobat XI will be end of support on October 15, 2017. It is very easy to print to PDF on Mac as this article will clearly show. We will also provide you with one of the best alternative way to print to PDF file on Mac (High Sierra Compatible) with PDFelement for Mac.
While it is easy to print to PDF on Mac, this Mac feature lacks the versatility that a desktop program may have when it comes to creating PDF files. If you are looking for more options when creating PDF files, your best bet may be PDFelement for Mac. Not only will this program allow you to easily print to PDF on Mac, but it will also allow you to easily manage the PDF files you create. You can also easily combine multiple files in multiple different formats to create a PDF file. This is a feature that is unique to the program and severs to save a lot of time. You can highlight, markup, add comments and even strike through text easily.
All of the features that this Print to PDF on Mac solution comes equipped with are designed to help you create, edit, save and even print PDF files easily. It is a program that is like no other when it comes to PDF management and a must have for people who constantly find themselves having to use PDF files on a daily basis. It makes PDF creation very easy. You can create a PDF file from a single file like we have done on the Mac with the above tutorial.
You can use it edit the PDF document in numerous ways. You can add and remove text, add and remove images and even remove whole sections of the document. Annotation features also allow you to further customize the PDF.
Printing PDFs with it is even easier. You even get the option to print double-sided PDFs and password protected PDFs.
Despite all of these highly useful features, this program lacks the complexity of function you will find on other similar software. It is very easy to use and effective in whatever function you choose.
You can export the PDF files easily via email and to the major cloud storage options.
PDFelement for Mac supports Mac OS X 10.10, 10.11, 10.12 and macOS High Sierra.
---
How to Print to PDF on Mac with PDFelement
There are three ways to print to PDF in PDFelement for Mac, after downloading and installing the program on your Mac, select one of the following methods to print to PDF on Mac.
Method 1: Print to PDF on the Main Interface
Launch the program and then click "Create PDF" box. You should see it in the Home window. You will them be able to select the file from the local folder.
The opened file will now be available on the interface. You can then click "File" and select "Save" and select the destination folder.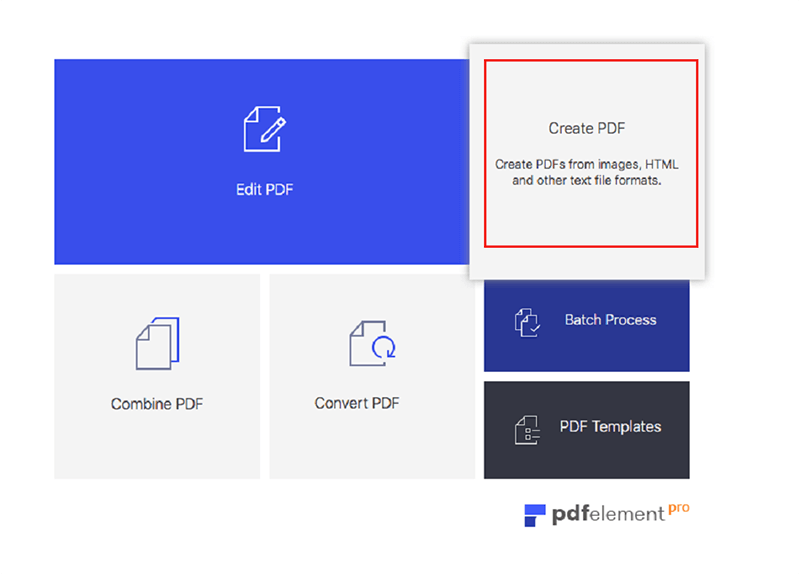 Method 2: Open the Program and Drop the File
Just go to the "File" option on the top toolbar and select "Create". You will see several options there and here is the meaning for each option:
Create PDF from File: make a PDF from the file on your computer.
Create PDF from Window Capture: you can generate PDF from the window you have opened on Mac.
Create PDF from Selection Capture: you can create a PDF by selecting an area of your Mac desktop.
Create PDF from Screen Capture: you can make PDF file from the Mac computer screen.
PDF from Clipboard: you can make a PDF from clipboard that you have pasted.
Combine Files into PDF: you can create a single PDF file from multiple different files.
Blank Document: make a blank PDF file using this option.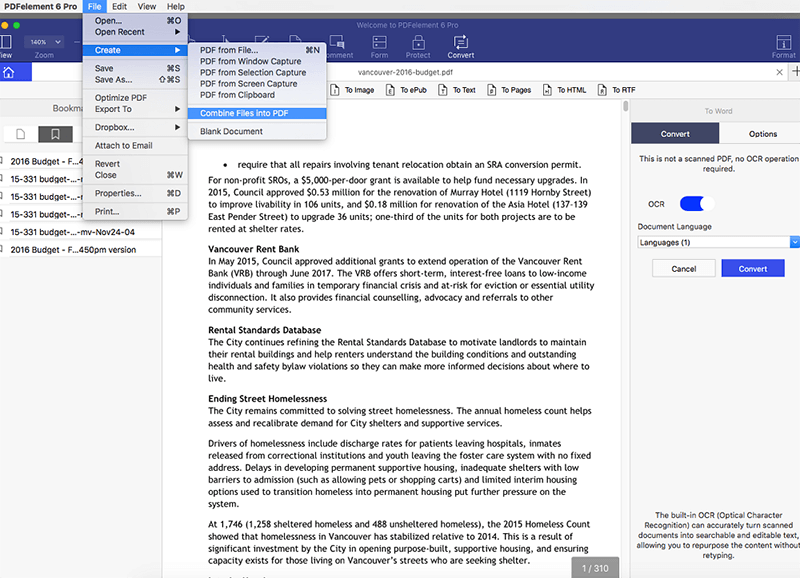 Method 3: Drag the Document to print to PDF
One of the ways to print to PDF on Mac easily using this Mac print to PDF solution is to simply drag and drop the file to the PDFelement icon on your Dock. The file will now be available on the program ready for editing or saving.
You can also alternatively open the program on your computer and then drag and drop the file to the main interface. The program will then be available to save.
---
Tips: How to Print to PDF on Mac with Built-in Printer
When you print to PDF on Mac, you are essentially exporting the file as a PDF. This process may sound complicated but it is quite easy. Here's how you can print to PDF on Mac with the built-in printer.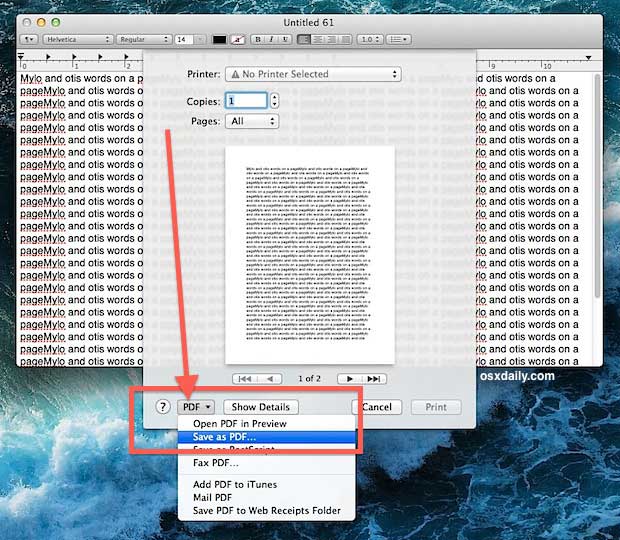 Step 1: begin by opening the document you want to print to PDF on your Mac. Once the document is open, click on the file menu and select "Print". You can also just hit CMD+ P on the keyboard.
Step 2: in the lower left corner, you should see the PDF button. Click on the drop down menu to select the "Save as PDF". Click on "Save" in the dialogue box and select a destination folder to save the file.
Your file will now be saved as PDF and the original document will also be available on the Mac. You can make sure that the file has been saved as a PDF by locating it using Finder or another app. You can view the file later and even edit it as a PDF using a PDF editor.