There are numerous ways to split PDF for free by using free software or online programs. But you should also be aware of those safety issues if you care about confidentiality. Since various PDF splitters are being used as a regular way to split documents, this article is going to show you the performance of various free PDF splitters including the best PDF splitter - PDFelement .
How to Split PDF with the Best Best Splitter
PDFelement is the best tool for splitting a PDF in to multiple pages, it makes splitting very easy and reliable. You can easily do it by using following the steps below.
Step 1.Open the specific PDF file in PDFelement
Launch PDFelement. You can open PDF files to be split by clicking the "Open File" button and browse it from the local folders. The simple way to open the files is to drag and drop it into the program.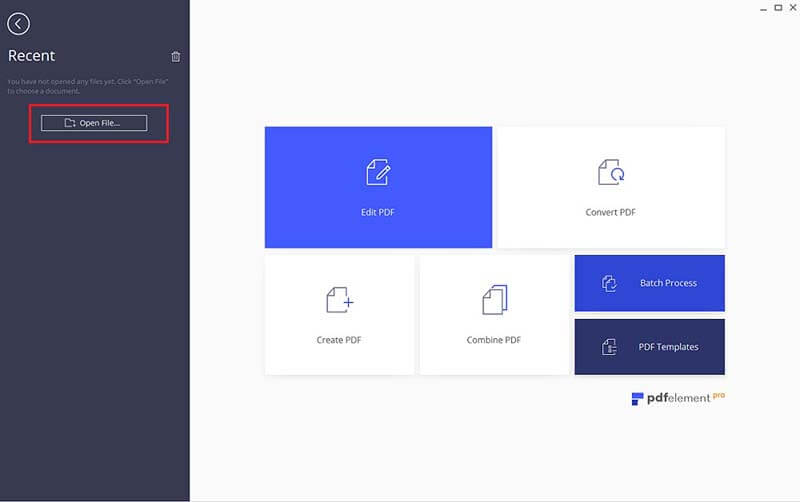 Step 2. Go to the Page Menu
Under the "Page" menu, you can see a group of buttons which serve all the purposes of editing PDF pages, including extract PDF, delete PDF pages, rotate the page view and replace PDF documents. Click the "Split" button.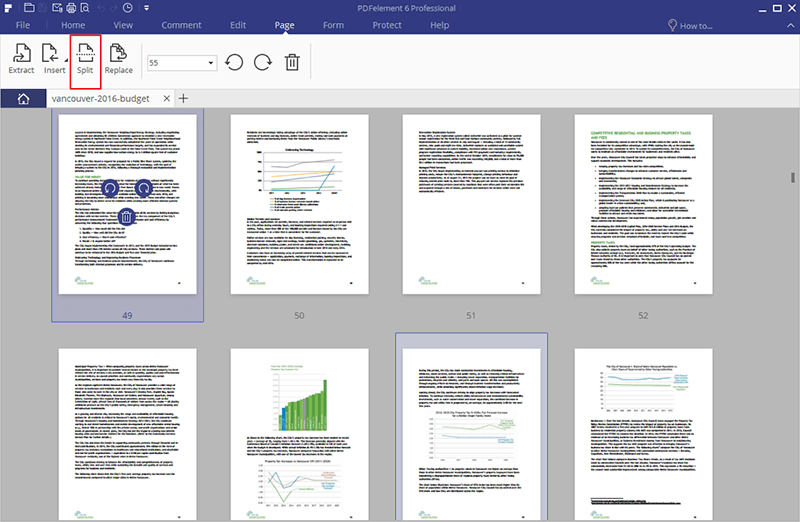 Step 3. Split a PDF
A new window will appear; here you can select the page numbers or page range to split. After your selection is ready, click on "OK" to complete the operations. You will see the new PDF files are saved in the output folder.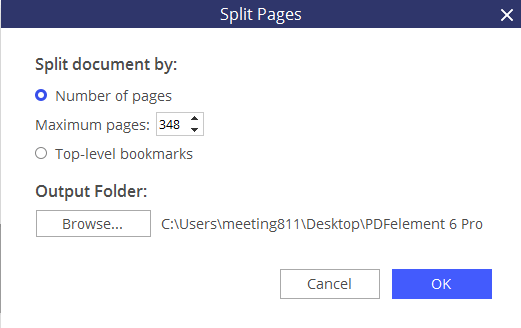 ---
Other Free PDF Splitter to Split PDF
1. Estelar PDF Splitter
Estelar PDF Splitter is a highly developed utility particularly designed to split PDF free of cost. There are three ways to split a PDF file, firstly you can split a PDF document in multiple parts, secondly you can split PDF by page numbers and thirdly you can just extract a range of pages from a large PDF file. You can also use the drag and drop option to split PDF files using this freeware tool.
Advantages:
View PDF files in Display Mode
Edit PDF text, images and pages as you want
Tools such as markup of PDF files, highlight, strikethrough or underline text
Combine two or more PDF files or split a large file
Disadvantages:
Requires additional OCR plugin for easy scanning of PDF files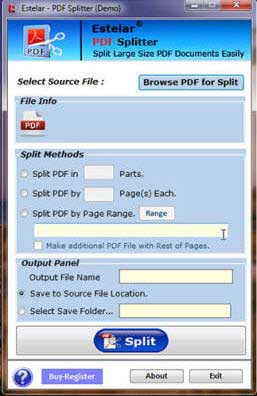 ---
2. 4Videosoft PDF Splitter
4Videosoft PDF Splitter is a split PDF freeware that can help you make it very easy to split a PDF file in to multiple separate pages. There are many different methods to split PDF files. It includes split by the number of pages, splitting by bookmark and splitting specific page range. They claim that it has an ultra initial interface to ensure that the splitting process can be done in only a few steps.
Advantages:
Easy to use
The latest version has many new features
Disadvantages:
Small dimensions for user interface
Only compatible with Windows system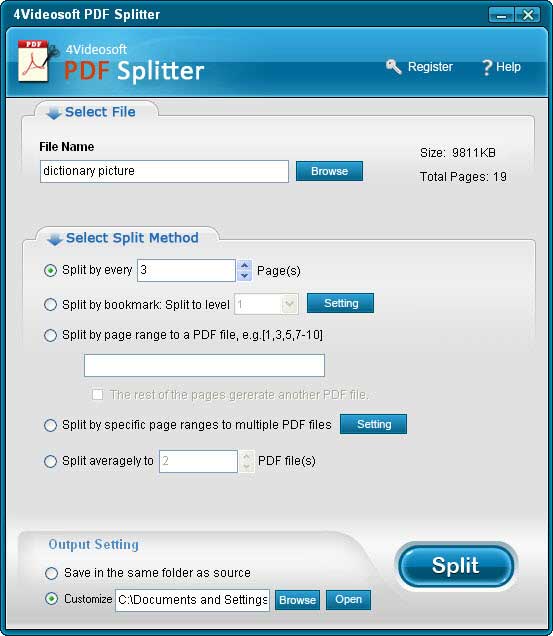 ---
3. 7-PDF Split and Merge
7-PDF Split and Merge is a split PDF freeware which can be used to merge and split PDF into multiple files. It splits PDF documents in an easy and fast process. Password protected files can be easily split into PDF files. The developers claim that it is 3 times faster than other similar software. You can use a portable version of this software which can be taken anywhere for use to split a PDF file.
Advantages:
This split PDF free software can be used for 30 days.
Well designed user interface.
Disadvantages:
No free trial version.
Some of the options create confusion for the users to split PDF file into multiple files.
Only compatible with Windows system

---
4. PDFsam
PDFsam is available in two versions. The PDFsam Basic and the PDFsam Enhanced, where the former is a PDF split free software and the latter is a paid program. The PDFsam Basic is a software designed to split PDF file into pages, merge and rotate PDF files. There are six modules to rotate, mix, split and merge PDF documents. PDFsam Basic will cover most of your PDF related needs you have related to splitting and merging PDF documents.
Advantages:
Well developed user interface
Supports drag and drop function
Disadvantages:
Various bugs reported by users
Full features are available only in the professional version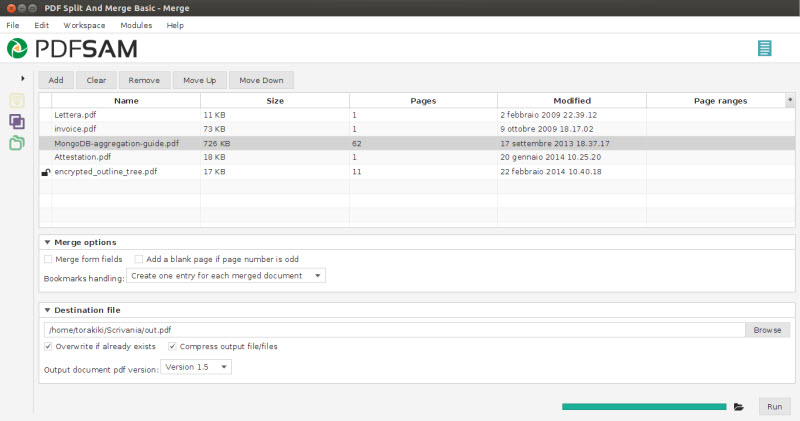 ---
5. Kvisoft PDF Splitter
This online program helps split PDF file free of cost. It is simple and can be used from anywhere if you have internet connection. You can split PDF files however you want with minimum additional features to customize your PDF output files. The compression level of the output can be adjusted and also it has the batch processing feature. You can also merge PDF files using this online tool and there is no drop in quality of the PDF pages after conversion.
Advantages:
There is no drop in the quality of the output
Free program
The user interface is easy to understand
Disadvantages:
There is no additional feature except splitting and merging
Crash happens often when splitting multiple PDF files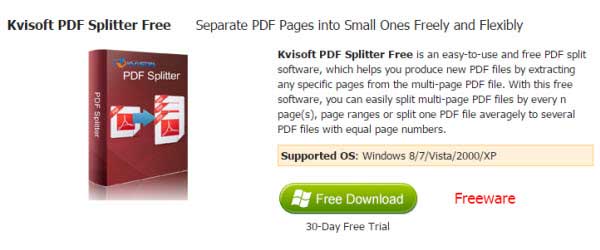 ---
6. PDFSplit
The online program PDFSplit is another online tool to split PDF free of cost. It has a drag and drop options where the users can drag the PDF file drop it to split it in to pages. If you have PDF documents uploaded in Google Drive and Dropbox you can easily split it by pasting the link of the files. It also allows the users to extract PDF files after uploading it as well as you can provide names for the pages required to be split. It also offers many other services like converting, merging and compressing PDF files.
Advantages:
Files uploaded in Google Drive and Dropbox can be directly converted here
The online program is free to use
It has a user friendly interface to split PDF files
Disadvantages:
No desktop version for this online tool
Crash happens often when splitting multiple PDF files
---
7. Small PDF
The Small PDF is an online tool to split PDF file free without using any software. You can just drag and drop the PDF file you want to split. Now, press the split button after you set the specific pages required for splitting. It offers a feature to upload files directly from Google drive and Dropbox. There are many operations that can be done using this online tool to convert and merge PDF files.
Advantages:
Direct splitting of PDF from Google Drive and Dropbox
It is combination of splitter as well as a converter
Disadvantages:
This too sometimes cannot split certain PDF files
It also has problems in converting password protected PDF files
---
8. iLovePDF
iLovePDF online tool has been designed to perform many function. Splitting PDF file can be reliable using this online application because it has many additional options for customization. After dropping the files you just have to select the pages you want to extract. After pressing Split PDF, it will separate a PDF into multiple files, and will be available for the next hour. A link is generated after the files are split, you can share them with directly by copying the link.
Advantages:
This online tool is free to use
Software version of this online tool is also available
Disadvantages:
The features available are not very much advanced.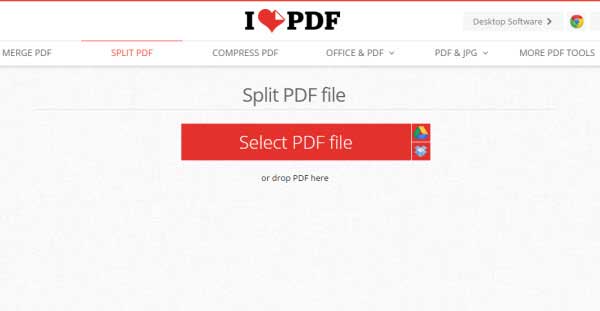 ---
9. FoxyUtils SplitPDF
FoxyUtils SplitPDF is an online tool that enables you to split PDF files by only browsing into the website. Simply just drag and drop the PDF file, select the pages and press split PDF. It can consistently split many PDF files at once. It does not require any software and registration to split PDF using this online tool. It also allows the users to directly upload PDF files from Google drive and Dropbox.
Advantages:
Supports Google Drive and Dropbox
It also performs as a converter
Disadvantages:
This online tool is not available as a software
Sign up required for splitting large files
---
More Free Ways to Split PDF
1. Take Advantage of Google Chrome to Split PDF Document
Google Chrome can serve you more than an explorer. You can also use Google Chrome to split PDF document found from web source. Sounds complicated? Not at all! It is very easy and also straightforward. The following step by step guide shows how to split PDF document by using Google Chrome.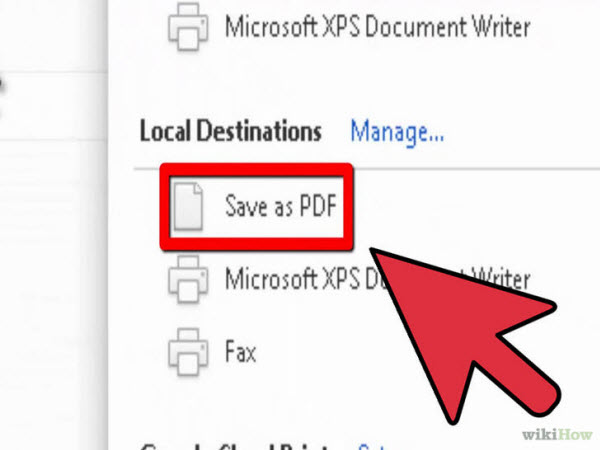 Step 1: Install Google Chrome if you do not have it already. You can download it on Google website.
Step 2: Open the PDF file you want to split in Google chrome. One of the best ways to do this is to drag the PDF file into an open chrome window.
Step 3: Click the "Print" Button. Note that the "Print" button is in the row of buttons that normally appears when the mouse is moved to the lower right corner of the chrome window.
Step 4: Click "Change" button under the Printer. At this point, select the "Save as PDF" that is found in the "Local Destination" section.
Step 5: Put the number of pages required for the new document. Click the "Save" button and name the file.
---
2. Split PDF Pages with Open Source Splitter
PDFsam is an acronym for PDF split and merges. It is a free and open source application to split PDF pages online. Online tool is always simple to use. Check the following guide to get the skills to split PDF pages online for free!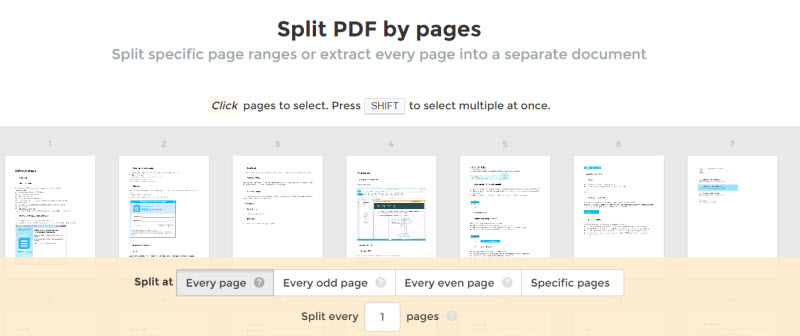 Step 1: Add PDF files using the "Add" Button.
Step 2: Then click on "Split". Note there are a number of options available. An example is the "Burst" option which splits the PDF into single page PDF file while "Split after these pages" split the PDF document into two at a specific point.
Step 3: Enter the page number where the split is expected to occur. Select Destination folder and others. Click on "Run".
---
3. How to Split a PDF with Preview
For mac user, split PDF file can be quite simple with built-in application Preview. It comes with all Mac computers and does not require extra software to operate. Preview splits the PDF files by extracting a single page of that file and then saving it as its own pdf file. Let's check the following instructions for how to split a PDF in Preview.
Step 1: Open the PDF file in Preview. Note that if your PDF files are not set to open in Preview, another way is to right click on the file you want to split and click "Open with" Preview.
Step 2: Click the "View" Menu and select "Thumbnails". It will display all the pages of the PDF.
Step 3: Drag and drop each page you will like to split from the thumbnail pane to the desktop.
---
4. How to Split a PDF by Adobe® Acrobat®
The Adobe® Acrobat® is a good tool that allows you to split PDF document in different ways. Note that both the paid and free version can be used. To split a PDF, acrobat users can follow the step by step guide below.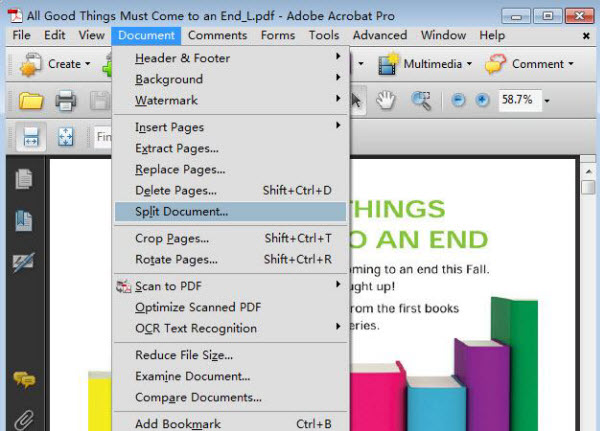 Step 1: Open the PDF document you intend to split in Adobe Acrobat. Click the "Tools" button on the left side of the window.
Step 2: You will have to expand the "Pages" section of the tools panel. Click "Split Document Button".
Step 3: Set the pages for the new file.
Step 4: Click "Output Options" to select the saved location of the new file.
Step 5: Then Click "OK" to split the file.
The tools listed above constitute some of the easiest methods for to split PDF files. However, the PDFelement has more advantages due to simplicity, ease of use and the quality output it brings. Other function of the PDFelement includes PDF conversions and merging among others. You can take advantage of the highly rated PDFelement to split your PDF as you want it.
Limitations of Splitting PDF Free
You can use split PDF freeware to split PDF files for free. However, there are many limitations and safety issues regarding the use of these software.
The freeware software most of the times does not have all the features included in them. You have to purchase them to get hands on all the functions of these software.
Using online free PDF splitter can sometimes be a security threat to you valuable documents, because these software save the files in their servers. They claim that they delete it but, in case it's not deleted that it may go into the wrong hands.
It happens a lot that free software contains malware, adware and many other harmful programs in it. The online programs you will be using may ask you to register or send a link to your email address.
---
Why Choose PDFelement as the Best PDF Splitter
PDFelement, in this sense, is a program tailored to compile all the necessary and standard tools that are related to PDF. With the help of this program, the user will be able to split and merge PDF pages in seconds, as well as edit existing files, create new from other files, view documents and convert them into various other formats. Besides, you can use it as a tool to e-sign and validate documents.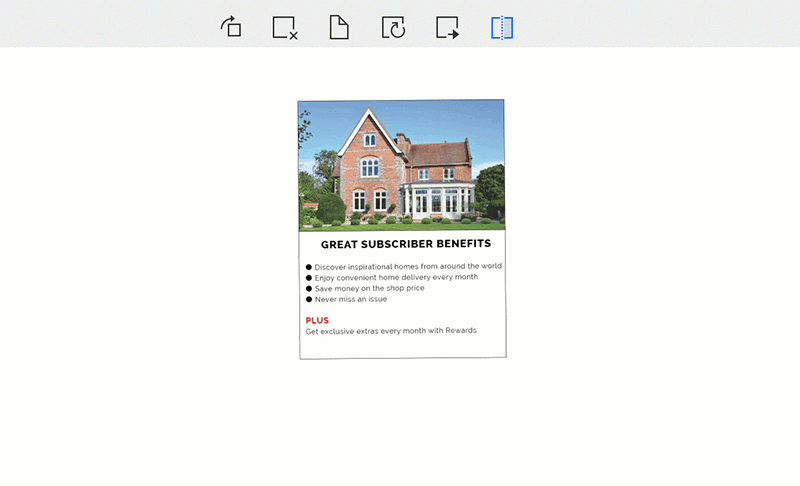 Key Features
Nice interface, user friendly.
Edit PDF forms, images and pages as you need.
Inclusive annotation and editing tools to facilitate your work with PDF documents
Combine two or more PDF files or split a large file