There have been several questions on how to print PDF files on Mac in recent times. While there are a lot of PDF printers capable of doing this. In addition, it requires no additional skills or settings. This article reviews 8 top-rated PDF printers for Mac and also examines their advantages and disadvantages.
8 Best PDF Printers for Mac
1. PDFelement 6 for Mac
PDFelement 6 for Mac is equipped with one of the best printing functions that is capable of printing your edited PDF at any time you desire. Embedded ajustable page boxes will help you set the printing size when you doing your printing job. The following easy steps will help you print PDF files easily with PDFelement.
It is an all-in-one PDF solution, which enable users to edit PDF, annotate PDF, create PDF, convert PDF, protect PDF, sign PDF and print PDF etc.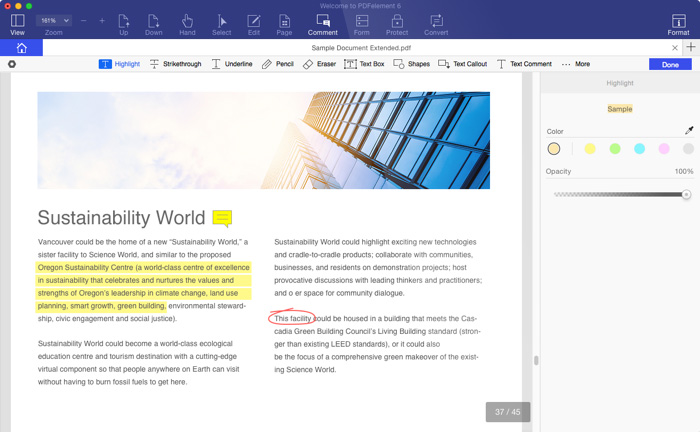 Benefits of PDFelement 6 for Mac:
Texts, images and pages can be easily edited, inserted or deleted within the PDF.
It's easier to combine two or more PDFs into one or split a large file into separate files.
Open passwords and permissions are used to protect a PDF document.
Fill in and edit your PDF form or create a new one with various fields, buttons and boxes.
Convert PDF to a wide range of file formats or vice versa.
It supports Mac OS X 10.10, 10.11, 10.12 and 10.13 High Sierra.
Step 1: Open and Print
Open the file that you want to print to PDF with Wondershare PDFelement for Mac. Click "File" > "Print" or use the Command+P keyboards to active the print command window active.
Step 2: Set Printing Options and Save
Set the printing options you prefer. Click PDF button on the print window and choose Save as PDF from the drop-down menu. Name the PDF files and select a location to save it as you need.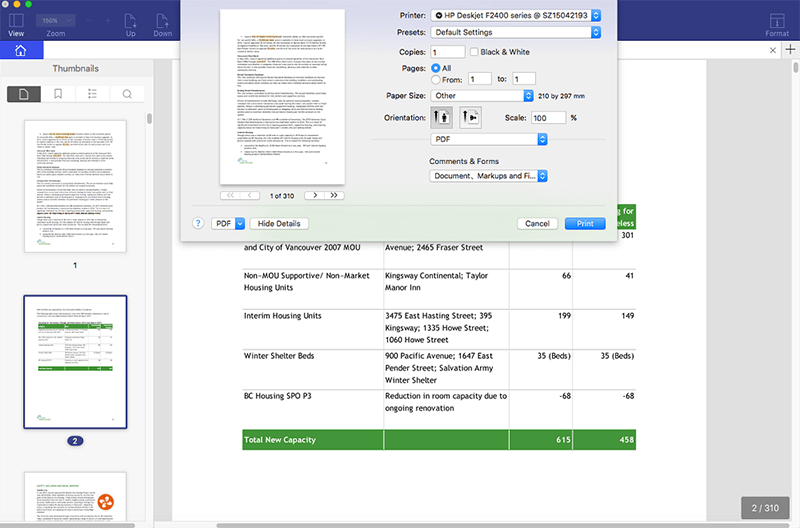 ---
2. Adobe® Acrobat®
Adobe® Acrobat® makes it possible to create and print PDF from any application on Mac system. When you install an Acrobat, you are also installing a virtual printer known as Adobe PDF. It is important to note that when you print to this printer, it converts your document to Adobe file instead of printing sheets of paper which you can print as a PDF file on Mac by the following steps.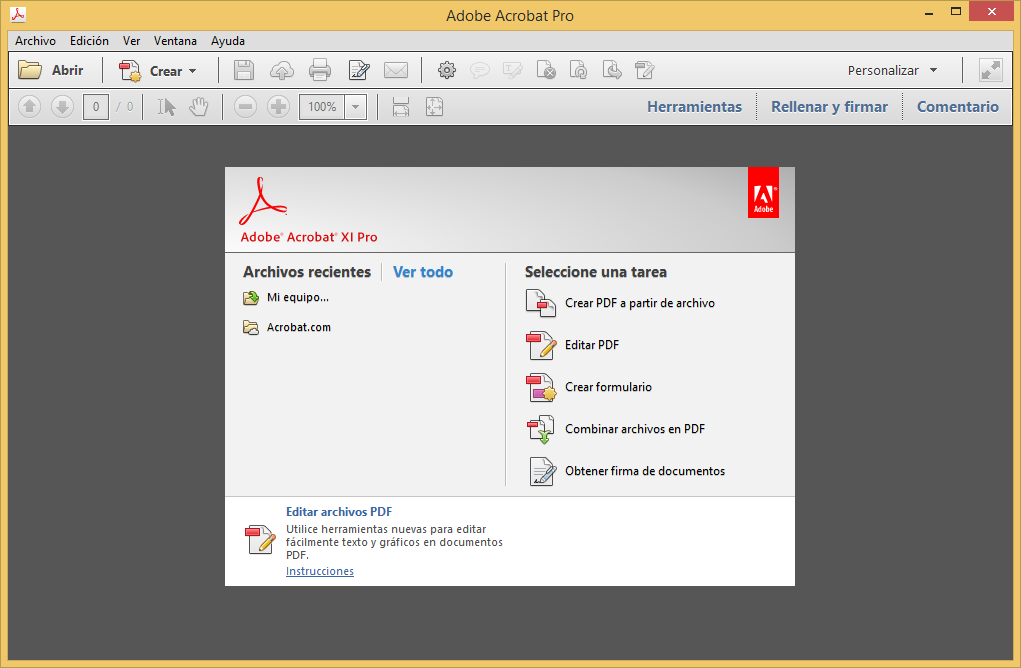 Step 1: Choose "File" > "Print". Choose Adobe PDF in the printer popup menu on your Mac system.
Step 2: Click on "Save as Adobe PDF". A dialog box opens where you have to make a choice between selecting an Adobe PDF setting or another PDF reader.
Step 3: After making your choice, you will be prompted to name the PDF file and select location. Type a name for your PDF file and Click OK to save it.
However, Adobe Acrobat XI will be end of life on October 15, 2017. That makes it better for you to choose the best alternatives to Adobe Acrobat.
---
3. Mac Computer Built-in PDF Printer
You can use the built in feature in Mac to create PDF files directly, print documents, webpages or anything as a PDF document without the need for an additional software or app.The whole process is simple and in just few steps, you should be able to print to PDF.It works basically on exporting the file as a PDF on the Mac print service The following steps will help achieve the purpose.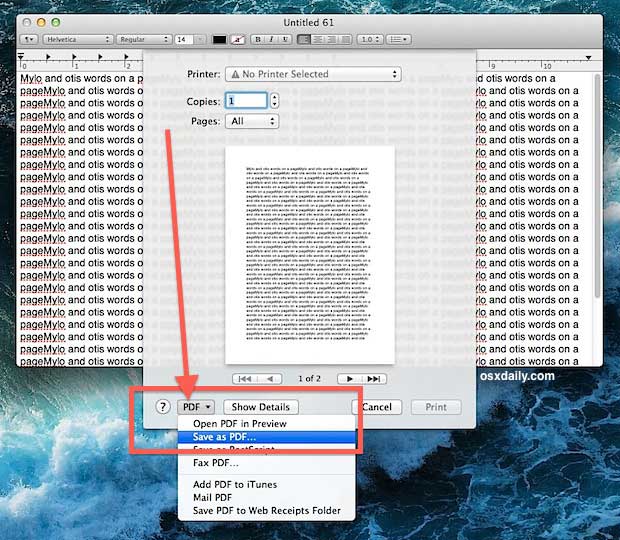 Step 1: Open the document, file, webpage you will like to print to PDF.
Step 2: Click on the file menu and select "Print" or alternatively you can use the Command+P shortcut key to active the Print dialogue.
Step 3: Find the PDF button in the lower left corner and select "Save as PDF". Click on "Save" in the dialog box and save it to where you want to.
---
4. PDF Writer For Mac
The PDF writer for Mac can work in the capacity of a printer driver for Mac. It is important to note that it is a free PDF creator for Mac and it lets users make any PDF file by allowing them to use the " Print" option from files of a popular format. Note that it does not use ghostsc_x_ript to generate PDF files but it uses the Mac internal PDF capabilities which are designed to create synergy among different PDF tasks.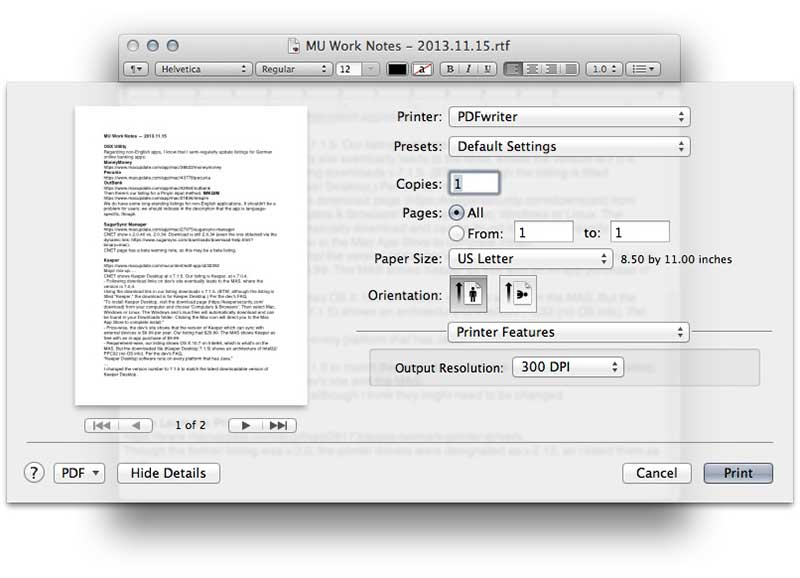 Advantages:
It can simply create PDF just by printing.
It has the capability of letting users merge multiple images in order to create one PDF file.
Frequent updates.
Disadvantages:
The PDF writer for Mac only comes with the print function.
It is based on CUPS-PDF and the output file size could be huge.
---
5. CUPS-PDF
The CUPS-PDF is an open source backend module for CUPS nd it is a great tool if you want to print files to PDF format. The CUPS-PDF package for Mac is a nice little utility that wraps the CUPS-PDF module in a standard Mac installer.In any program, you just need to choose the print command, the PDF button on the dialog box and then choose the " Save as PDF" It will give you a virtual printer in which it prints a PDF when a standard print job is sent to it. It is important to note that it is possible to create a desktop printer and use it for drag and drop converting.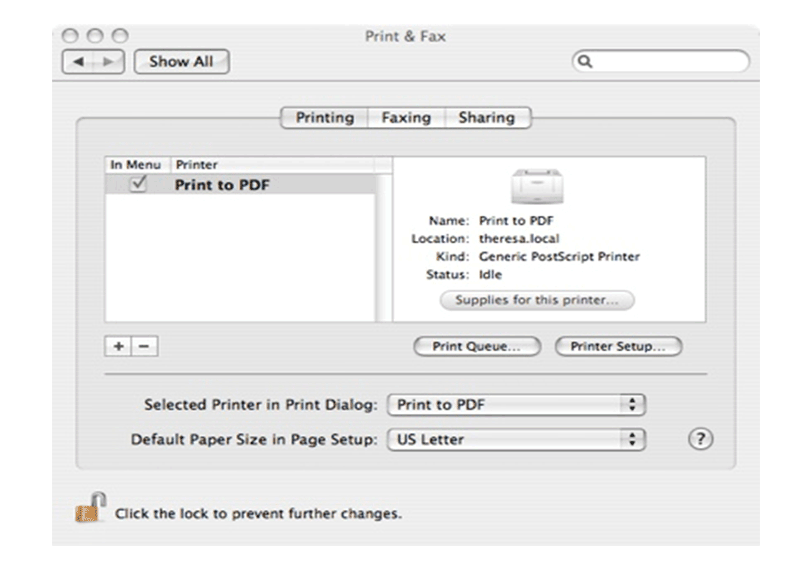 Advantages:
CUPS-PDF is free and very handy especially if you want to save a few clicks.
It is quite valuable if you want to automate your print to PDF task.
Disadvantages:
Could be confusing especially when trying to save a document as a PDF.
Navigation is not as easy as some other printers.
---
6. iPubsoft PDF Creator For Mac
The iPubsoft Creator for Mac is one of the free softwares that can make PDF files out of several text and image files which include tif, jpg,gif, ico, cur, bmp, xpm,pcx, ani, tga etc. It has so many facilities for users to help them create quality PDF files while ensuring their exact format is preserved. The iPubsoft creator for Mac helps to create PDF files conveniently and efficiently. For example, it will create a PDF document in a highly accurate manner that retains the look and feel of the original document while outputting files to a specific path freely.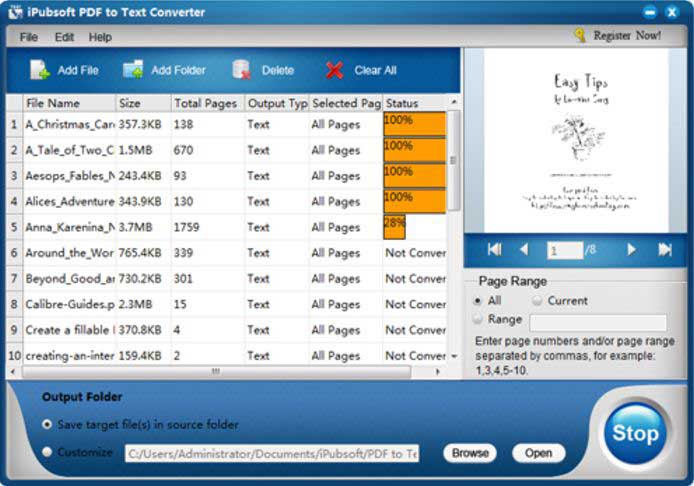 Advantages:
It has the capability of merging important files into a single document.
The PDF files can be created in such a way that the exact formatting is preserved.
It is simple to use.
Disadvantages:
It may not keep the excel and complex word documents.
It cannot encrypt PDF files.
---
7. CUTEPDF
CutePDF is one of the most sought after free print to PDF solution.It has an easy name to remember and does not work as standalone interface where it will be able to work with ghostscript so as to help you create a PDF file without buying writer software. It has a virtual printer for all print support applications in your computer. To print PDF with CutePDF printer, it is important to first install a PS2PDF converter which is a postsc_x_ript driver that supports the process of PDF printing. Printing with the CutePDF involves using the "Print" button and selecting the destination folder to save the output file.
Advantages:
There are two versions which is the free version and paid version. However, the free version has almost the same features as the paid version.
It is fast and has the capability to resize printed PDF files to a more email friendly size.
Disadvantages:
To get a password protected feature, you will need to upgrade the program to a paid version.
It does not have a text editing tool. Therefore it is not possible to alter your post PDF documents.
---
8. Bullzip PDF Printer
Bullzip PDF printer has the capability to give you a high quality output every time. It has the most features among it competitors. With Bullzip, it is possible to password your PDF files, add any water mark and merge multiple documents. The program comes with translation capabilities for variety of languages. It is so simple enough for a casual worker to operate and it is a very valuable tool to have in a corporate settings. To print on Bullzip PDF printer, you will need to choose the Bullzip printer driver, customize the output PDF files and save it.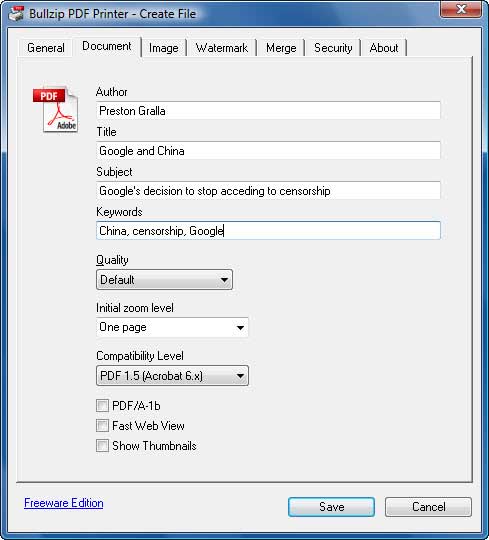 Advantages:
It has an easy to navigate interface with super capabilities to add security and display settings via a dialog box.
It has the ability to encrypt PDF files.
Disadvantages:
It is not possible to deploy output search function in the output file and does not in any way allow users to control output's file zoom level when opened with Adobe reader.