To edit image based PDFs you require a software that has an OCR technology. The OCR feature enable you to digitize your document and save you time of retyping document. You will be able to edit and extract content from the image-based document. Here you will learn how to OCR a PDF on Windows with PDFelement and some other PDF OCR software .
PDFelement is a comprehensive PDF OCR software which comes with leading edge OCR that makes it possible to edit scanned PDFs and perform PDF text recognition. Its OCR recognizes multiple languages used globally. This tool allows you to convert your scanned PDF files to other document formats with OCR.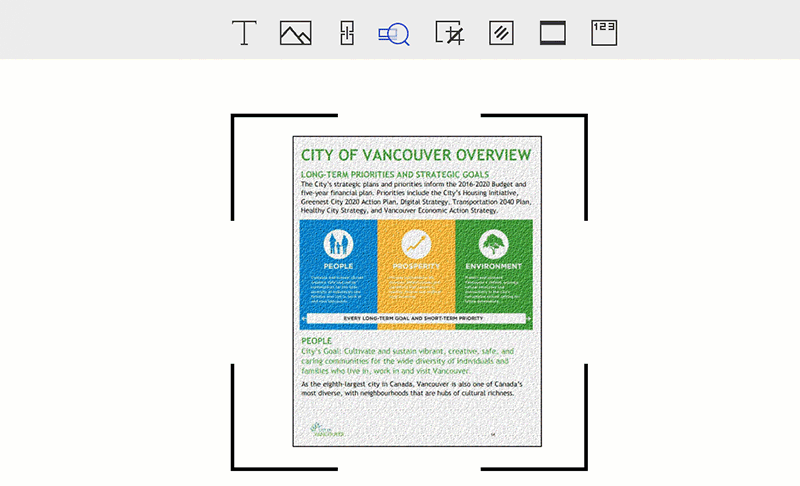 It also has many other features:
Edits texts, change pictures, change font size, modify color, add pages, add links and much more.
Converts PDF files to format like Excel, Word, PowerPoint, Text, HTML, Rich Text and image etc.
Creates PDF files from blank documents, existing PDFs, images and HTML formats etc.
Fills out interactive and non-interactive fields in a form or create new forms.
Protects your PDF from being viewed, copied, edited or new content being pasted.
---
How to OCR a PDF on Windows
Step 1. Open Files on PDFelement
When you have installed PDFelement, you can now open it ready to perform OCR on your PDF. To open PDF files with this program, click on the "Open File" button at the bottom left.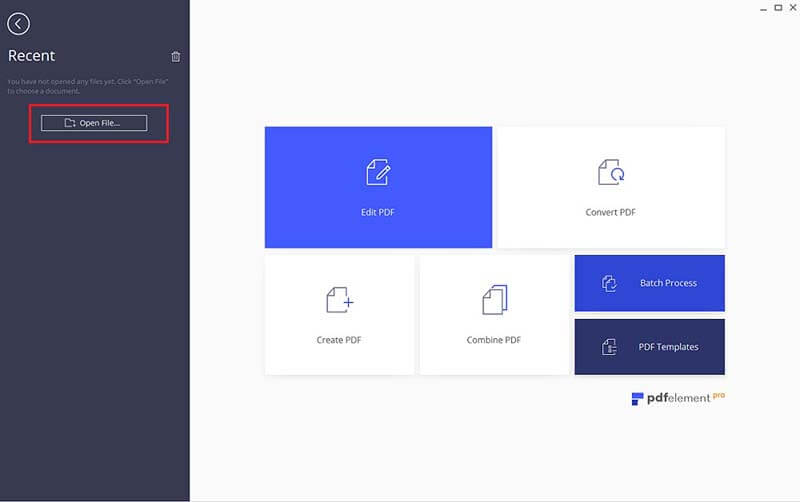 Step 2. Run OCR on PDF
Click on the "Perform OCR" button on the top notification bar and then select language you want to perform OCR with your file. After that save it and the program will perform OCR immediately.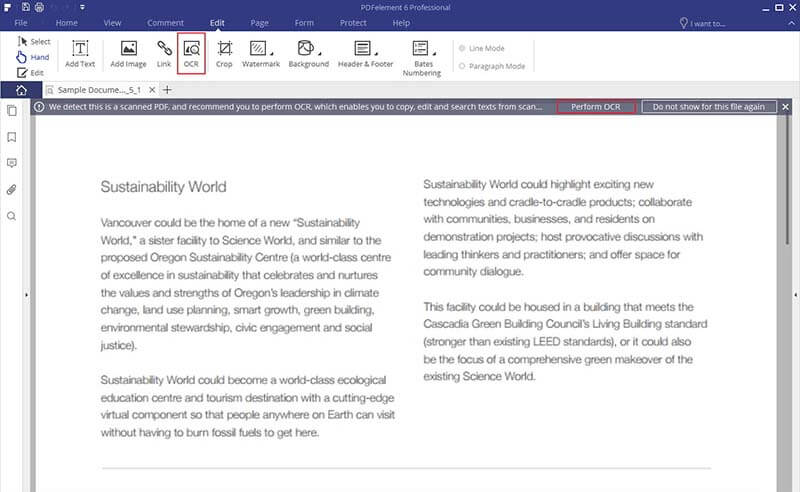 Step 3. Edit PDF after OCR
Click on the "Edit" tab to get the editing options. To change texts, click on the "Edit" button and double click to starting modifying text; you can also change images with ease.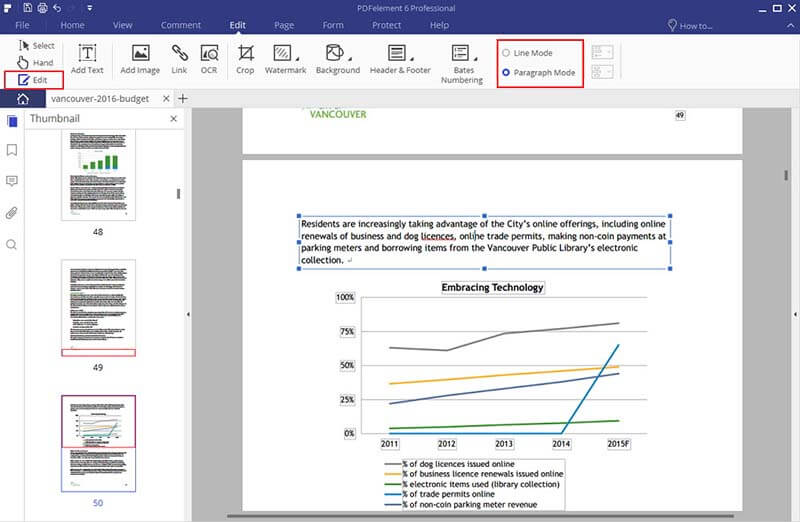 ---
Other OCR PDF Editor on the Internet
1. Soda PDF
This OCR PDF tool allows you to manipulate scanned PDFs to editable formats like Excel, Texts, Word and PowerPoint. It OCR technology is fast and allows you to do a batch conversion of files. This software not only converts scanned PDFs but also ordinary PDFs to any supported output format. Moreover, you can also modify the text and images on your PDF. It comes with annotations, which allows you to mark your PDF for easy reading. With Soda PDF you can encrypt your PDF with passwords. Also this software allows you to share documents on Evernote, Box, Google Drive, One Dive and DropBox.
---
2. ABBYY PDF Transformer +3
This OCR PDF software is integrated with advanced OCR technology. It has the ability to detect text and images on images. Although it recognition is a rated at 99% it is still very useful since it supports up to 189 OCR languages such as English, Greek, Albanian, Chinese, Arabic, just to list a few. This software also allows you to edit texts and images on your PDF. You can also convert, create and combine PDF using this software. Furthermore, this software lets you protect your PDF from unauthorized person.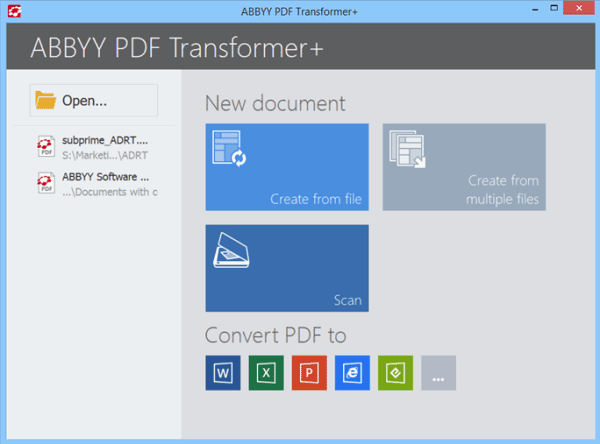 ---
3. Google Docs
Google Drive will let you perform OCR on your images and the PDF files. Just upload the scanned PDF file or image and enable the text from Images and PDF files in Google Drive, it will show you a new screen to set different options to perform the OCR on that document. The worst thing about using the Google Drive is the quality, if you cannot compromise on the quality of the text, you should try Wondershare PDFelement PDF OCR editor.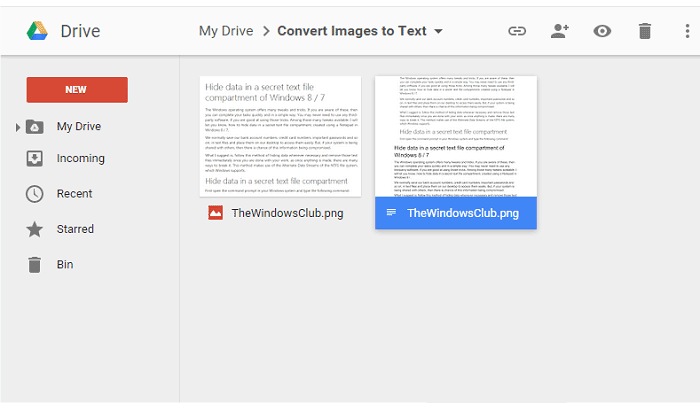 ---
4. FreeOCR
There is an option in this FreeOCR to directly scan the images or the PDF documents from your scanner, you can also use the camera of your mobile phone and can put this picture in FreeOCR to perform the OCR. This little utility gives promising results for the simple documents, but it fails when it comes to the complicated tables and sheets of Excel. Another problem associated with this software is the malware attached to it, whenever you will download this software on your computer, you will also have to install a third-party software or extension to complete the installation process which will finally make your PC slower.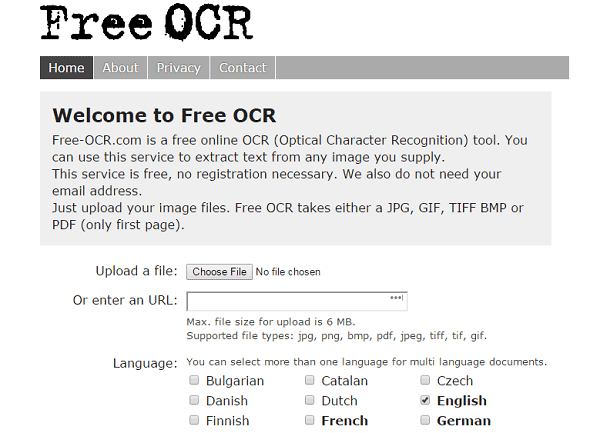 ---
5. SimpleOCR
SimpleOCR is also one of the most popular OCR software out there. With SimpleOCR, you can change the font and imaging of image-based scanned PDF file. This can quickly switch most readable writing, saving you countless hours in the process.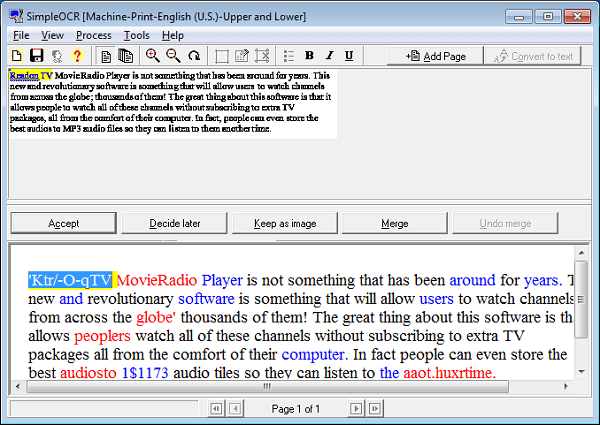 ---
6. PDF Converter Pro
Our list cannot be complete without PDF Converter Pro PDF to OCR sofware. This also highly rated software with leading edge OCR feature. This high-end feature allows you to convert scanned PDFs or image based PDFs to formats like Word, PPT, Excel, Text, HTML and EPUB.
Converts PDF to Word, Excel, PowerPoint, HTML, EPUB, and image.
Supports uploading unlimited PDF files for batch conversion.
Merges multiple PDF files into one with just a click
Can convert password protected PDF documents.
Creates PDFs from Word, Excel, PowerPoint, TXT and EPUB just to mention a few.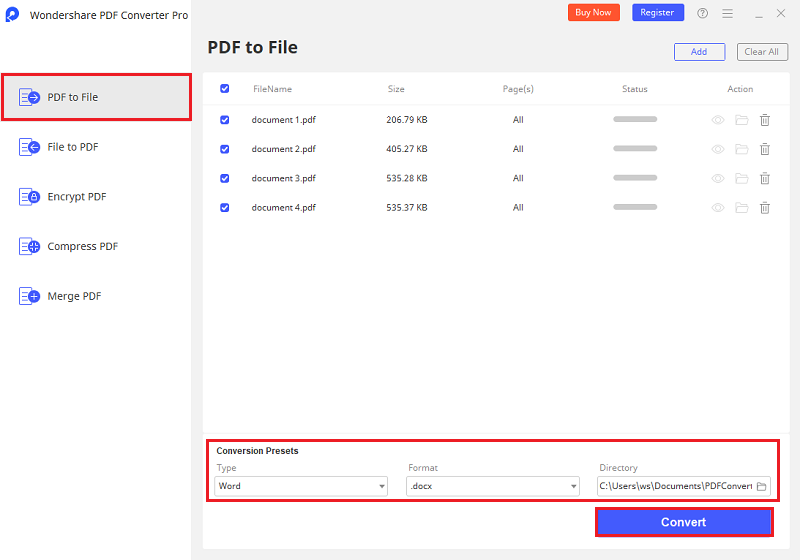 ---
7. OnlineOCR
One of the free websites that offers OCR feature is Online OCR. This PDF OCR editor online free converter allows you convert PDF to editable formats like Word, Excel and Text. Moreover, this pretty website allows you to extract images and texts from your PDF. It OCR online is multilingual and supports up to 46 languages which include English, Danish, Chinese, Korean, Estonian Finish and much more. What you need is just to register to enjoy the total features it has.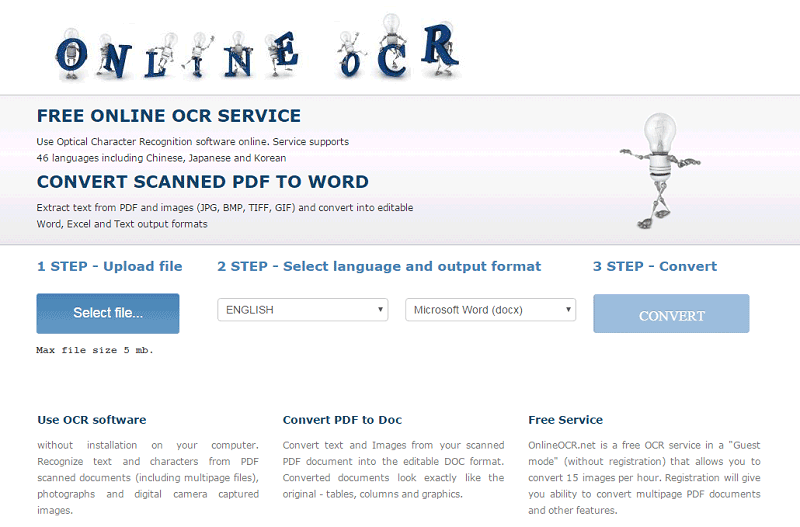 ---
8. Evernote
Users use Evernote because it allows the user to keep the file in professional manners, and keep personal life file separate to work. Evernote also connects to other devices as well, for example, the tablet and Smartphone, and with the OCR feature, Evernote has become one of the most popular software out there. Evernote also allows users to save important memories and information through photographs.
---
9. PaperPort Professional
PaperPort Professional is another OCR PDF converter that cannot miss on our top five list. This software has a multilingual OCR feature. With this OCR functionality you will be able to make scanned PDF files editable within a few clicks. When it comes to conversion of these scanned files this software allows you to perform OCR on them. The goodness of this software is that it allows you to do a multiple conversion of files. Apart from that you can also edit texts and images on your content. You can also modify pages of your PDF file. Another benefit of PaperPort is the ability to fill out PDF forms.