How to Create a PDF Form on Windows
Are you looking for the best PDF fillable form creator on the market? Being able to create interactive and fillable PDF forms is important since PDF has become the most widely used format for business documentation. To create a fillable PDF form, a powerful PDF form creator is needed. We'd like to recommend a great PDF form creator – Wondershare PDFelement - PDF Editor. Here you'll learn how to create PDF form with PDFelement.
What PDF Form Types You Can Create?
1. Text Field
Text fields may be used to capture a variety of highly variable information such as addresses, names, descriptions, and such unstructured data types. They can also be used as password fields, where the user's input will appear as a string of asterisks, usually with a reveal/hide option next to it.
This type of field usually accepts any user input, including numeric, alphabet, character, and alphanumeric. It offers several important advantages, such as multi-line text, spell-checking, and Rich Text support. Another important feature is the ability to limit the character count of the input, both at the lower end as well as the upper end. Moreover, the comb property allows the form to spread the text input evenly across designated spaces.
2. Check Box
If you think about it, the humble check box is actually one of the most widely used form field types. Checklists, to-do lists, official forms, tax forms, business communications, online questionnaires and tests, academic assessments, psychiatric or psychological evaluation - nearly every such document is a use case for checkboxes.
The job of the checkbox is to capture the user's selection in the form of a marker that fills the checkbox. In many cases, this also makes the selection unambiguous and legally binding once the form has been filled, signed, and submitted.
A checkbox can either be selected or deselected by default, and its style defines the marker that will be used to populate the checkbox. This can be a check or tick mark, which is usually the default style setting, or it could be a circle, diamond, square, or any other shape.
3. Radio Button
The purpose of a radio button is to get the user to pick one option out of many. In most cases, only one radio button can be filled/selected; however, where multiple answers are allowed, simultaneous selection will be possible.
Similar to checkboxes, radio buttons can also have a variety of markers but, in this case, the circle is the default value. Additionally, a radio button can trigger the selection of another radio button that has the same name and value. For instance, if you select the radio button for 'Self-employed' in the 'Type of Employment' field, this selection will be duplicated wherever the 'Type of Employment'' field appears on that form.
4. List Box
A list box is simply a visible list of items from which a user can choose one or more options. It is rendered in the form of a list inside a box and can be made scrollable based on the number of items on the list. List boxes are an easy way to get accurate user input, but it is inefficient from a UI perspective because it occupies more space than its cousin, the Combo Box.
5. Combo Box
In the world of database management, the combo box is a handy tool to capture the user's choice from a list of options provided as a drop-down menu. These options can be easily populated by a field list or a table/query.
The dropdown feature is the key distinction between the Combo Box and the List Box. The Combo Box takes a bulky form field and turns it into a space-efficient form field. What's more, Combo Box form fields are typically used to ask users to choose from a list of options. Both single and multiple selections may be allowed in the form field settings.
6. Push Button
A button or push button form field is another very popular form element. Buttons can be used to submit form data, save files, attach files, play media, print files, export files, etc. They're convenient because they can guide a user down a logical progression by showing different states or colors as the user interacts with the button or series of buttons.
A push-button form field can either trigger a single action or a set of actions in a sequence. It can be labeled and customized to fit the description of its action. For instance, a button to play media can be represented by a Play button that turns green when pressed. When using it to submit information online, the Submit label can turn into Submitted Successfully, and so on. In many instances, a button is the perfect CTA or call-to-action element.
---
How to Create PDF Forms with PDFelement
Step 1. Create a Blank Document
To save time and energy when designing and creating a PDF form from scratch, download PDFelement to assist you. Once you've downloaded the program, go to the "File" tab and click "Create" > "Blank PDF" to create a blank document.
Step 2. Create Fillable PDF Forms
Click the "Form" tab to reveal all the interactive form field options. You can select any of the form options, including text field, check box, list box, combo box, radio button, and push button. Then move your cursor to the area on the PDF page when you want to add the interactive field.
After creating an interactive field, double-click the field to reveal the properties of a dialogue box. From here, you can name the check box, set its appearance, colors, and its style, etc.
Step 3. Fill the Forms
After creating a PDF form, you can switch to the "Preview" mode under the "Form" tab to start filling out the form. Once done, please do not forget to save the file by clicking the "Save" icon on the top right.
---
Why Choose PDFelement to Create PDF Form
PDFelement is a comprehensive tool that enables you to easily create PDF forms in Windows. Not only can you create forms from templates, or create a personalized PDF form with text fields and buttons, but you can also fill in or edit your forms as you want with this amazing PDF form builder.
In addition to offering great PDF creation tools, PDFelement also acts as a powerful PDF editor, allowing you to edit and convert PDFs without hassle. You can easily insert, delete and modify the texts, images, and pages in your PDF, annotate your files with a variety of markup tools or convert PDF to Word, Excel, PPT, Text, and more. Enjoy the complete PDF solution with PDFelement.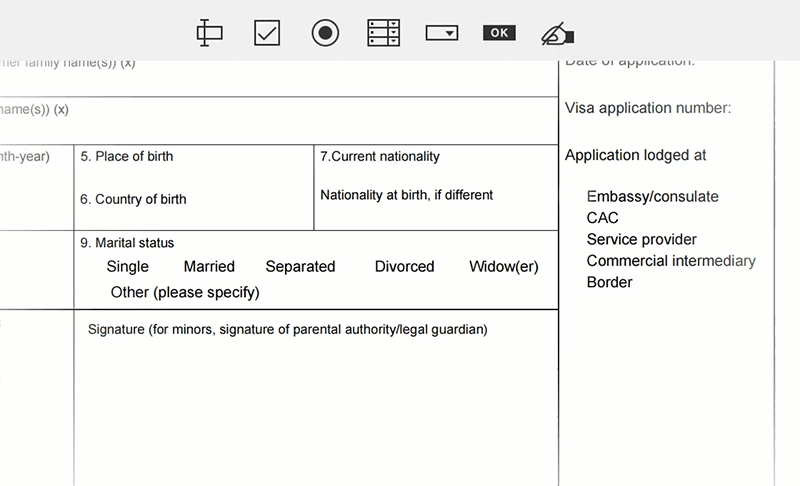 ---
Other Recommendations for PDF Form Creators
1. Nuance Power PDF Advanced
You can also use Nuance Power PDF Advanced to create PDF forms. It has an intuitive interface that allows you to insert checkboxes, list boxes, text fields, and radio buttons with the intent to create interactive fields. This software also lets you add e-signatures to your forms. Nuance is suitable for work and office use and is built with a PDF converter, merger, editor, and creator.
It supports different file formats like Word, Excel, Images, PowerPoint, and HTML. Nuance PDF software also safeguards your privacy with its redaction tool. You can easily hide any sensitive information with this tool. An advantage of using this software is that it supports batch processing of files, and is also fast and stable to download.
---
2. Bluebeam Revu
Bluebeam Revu is a great tool for creating PDF forms. This software allows you to create PDF forms using checkboxes, list boxes, radio buttons, and texts fields. Bluebeam's PDF forms are compatible with other PDF form fillers and have interactive form fields. Furthermore, Bluebeam Revu is also a PDF creator that allows you to create PDF files from different sources.
You can edit PDFs, add comments, organize, add sketches, insert markups, and customize exactly the way you want. It is also a reliable redaction software. If you have a scanned PDF file that you need to search text, or edit fields in, it's a breeze since Bluebeam Revu is equipped with OCR functionality. This PDF form creator also supports batch processing of files.
Free Download or Buy PDFelement right now!
Free Download or Buy PDFelement right now!
Buy PDFelement right now!
Buy PDFelement right now!
---
Other Popular Articles From Wondershare