Sometimes, you may want to compress images in PDF to reduce the file size. Although compressing the images in the PDF file will reduce the quality of the images but it will also decrease the size of the PDF file making it much easier to send tens and hundreds of images altogether. Here's PDFelement you can have a try.
How to Compress PDF Image
The very first step is to download the PDFelement then follow the on screen instructions to reduce PDF files size. Below is the detailed guide on how you can optimize images size in PDF.
Step 1. Importing PDF into PDFelement
Once you have installed the PDFelement, run it on your computer and on the Home, click on the "Open File" button and select the files to import to your computer.
Step 2. Edit Your PDF (Optional)
Click on the "Edit" tab in the top bar and there you will find different options such as "Add Image", "Add Image" or "Link".
After selecting the "Edit" button, select the image that you want to edit and you can change the size of the image as you want. Moreover, you can also change the rotation of your image. Just click on the image and press the green dot above the image and move your cursor to rotate the image.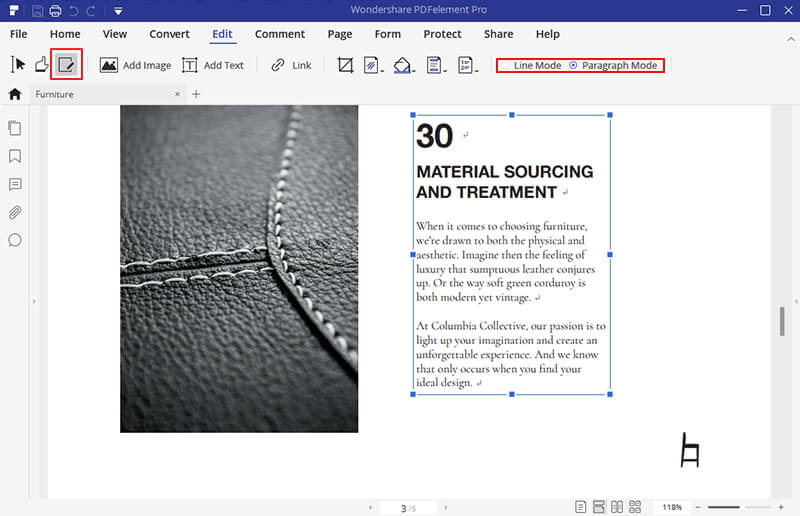 Step 3. Compress PDF Images
To compress an image in PDF, click on the "File" menu in top left bar. Now, Click on the "Optimize" option and on the new page select "Custom" which is at the bottom of the page.
Now, you will see the custom options to compress the images in the PDFelement. Select the DPI, Compression and Image Quality for the color images, grayscale and monochrome images.
Step 4. Save File after Compression
Once you are done with compressing images, you can save the PDF file to make changes in the images of the PDF files. Click on the "File" menu and select "Save".
Compressing the image, we will recommend you to set the Default DPI of the image. Because changing the DPI image will change the quality of the image.
With PDFelement, you can easily compress the images in your PDF without any problem. The best thing about the software is that you can compress the Color images, Monochrome and Grayscale images separately. You can also adjust the DPI and the image format for all the images in your PDFelement.
Image compressing in PDF file is just one aspect of PDFelement, it also provides editing of the images. You can resize the image size and can rotate it any direction that you want. A new image can also be added in the PDF file with just one click. Text editing or signing the PDF files is also pretty much easy with this software, with the powerful annotating features, you can highlight the text to replace it with the text of your choice.
---