Aspect ratio of an image can be defined as the ratio to the width to the height of an image. Changing the aspect ratio of an image means changing the size of an image in the PDF file. But how to resize PDF image to get an ideal aspect ratio? Follow the guide below to finish the task with PDFelement.
2 Steps for Resizing PDF Images
Step 1. Open PDF in PDFelement
After installation, launch PDFelement on your computer. Then click on the "Open File" button and select the target PDF file from your local folder.
Step 2. Freely Change Aspect Ratio
After opening the PDF file, you will need to enable the "Edit" option. Now you can select the image that you want to resize in the PDF file and a blue box will be shown around it.
Freely Change Aspect Ratio: Adjust the height and length of the image using the dots on the corner of blue box in the image. Carefully change the size of the image as it may disrupt the quality of the image.
Retain Original Aspect Ratio: Another way is to resize image while retaining original aspect ratio. Select the image and hold "Shift" while adjusting the size of the image. This will retain the quality of the image and will provide promising results.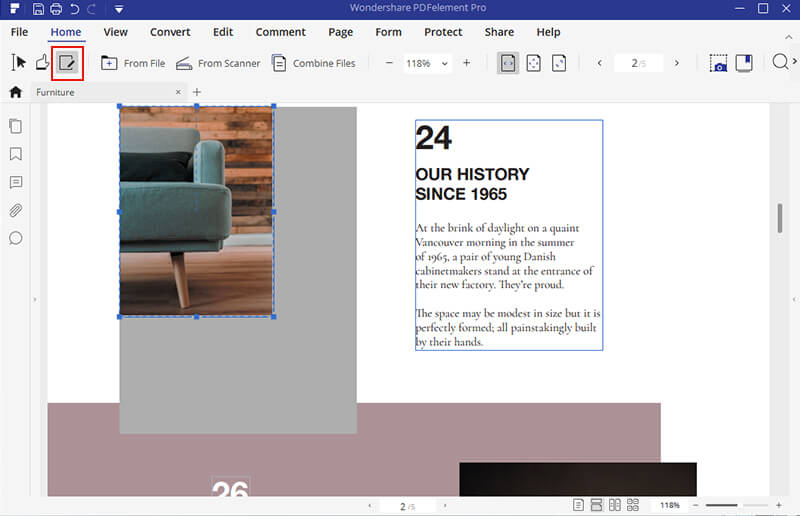 PDFelement comes with a lot of useful features to edit, create, and convert PDF files. You can either adjust the size of an image in PDF or can change the direction of the image. You can also easily extract one image or all the images from the PDF file with just two simple clicks.
The best thing about PDFelement is its OCR feature. If you have scanned a document, you can easily extract and edit the text in that file without lengthy process. Lastly, when your PDF file is ready, you can convert it to the most useful formats such as Microsoft Word, PowerPoint, Excel, Text and more.
---