How to Reduce PDF Size Manually
When you want to reduce the size of your PDF file, you can always try optimizing it. But that way, you have no control over what the software does to reduce your file size. So, what is the alternative? You can try to reduce PDF size manually. All you need to do is change font size and style, reduce your images, and delete unnecessary pages. Today, we will help you gain control over your PDF file and reduce its size.
How to Reduce PDF Size Manually
For this purpose, we will use one of the best PDF editors on the market, Wondershare PDFelement - PDF Editor. Potent, feature-rich, and affordable, this tool makes things simple and easy. We will discuss the full features of the software later on. For now, let's see how you can use the software to reduce your PDF file size manually.
Step 1: Remove Unwanted Texts Manually
Start by removing unwanted text and reducing the font size. Click the "Edit Mode" icon on the "Edit" tab. There are two options, line and paragraph mode. The first one allows you to edit the text line by line. And the second by whole paragraph. Remove unwanted text.
Step 2: Resize or Remove Images or Objects
It is now time to turn to images. Right-click on any image in the PDF, and click "Delete" to reduce its size manually. You can also edit other aspects of the image to reduce PDF size manually.
Step 3: Remove Unwanted Pages Manually
For the third part, you need to take a look at the pages in your PDF. Do you need them all? Or you can delete some of them. To delete pages from the document, go to the "Page" section, and select the pages you want to remove. Then click on the "Delete pages" trash icon, and tap on the "Delete" button in the pop-up window.
Step 4: Reduce PDF File Size Manually
Last but not least, you can compress PDF file size manually. This step will reduce the file by compressing it. Go to "Tool" and select the "Compress" option from the drop-down menu. Choose compression quality, low, medium, or high. When you chose, the software will tell you about the new size. Please note that if you choose high, the new file will be larger in size.
We mentioned that PDFelement is one of the best tools to use to compress PDF size manually. What makes this software great is its simplicity and features. With an intuitive and familiar user interface, this tool helps you solve all your problems. There is no learning curve. Just launch the program, and you will see how easy it is to use it.
The software comes loaded with features, everything you need to organize and edit PDF documents. And with a price that is lower than the competition. Here is a quick list of some of the features.
Optimize and convert PDF files with a single click.
Add, remove, rotate, and resize graphical elements in your document.
Edit text, remove text and change font style and size.
Insert header and footer, page numbers, or bates numbers.
Extract data from your document and export it in Excel format.
Automatically recognize form fields and create new interactive form fields with a single click.
Create a digital signature and sign your documents.
Protect documents with password encryption.
Perform OCR to turn scanned images and documents into searchable and editable documents.
Batch process to convert many PDF files together.
---
How to Reduce PDF Size Manually Online for Free
We said before that there are many tools you can use to reduce PDF file size manually. If you do not want to download software for a simple task, you can try online tools. Let's discuss how to reduce PDF size manually online.
We recommend hipdf, a great tool with a simple and easy-to-use design. You can use it to optimize and compress PDF documents or manually remove text and images.
To compress a PDF, go to the hipdf compressing page and upload your document there. Choose the type of compression you want. Options are Low (less compression, high quality), Medium (good compression, good quality), and High (High compression, less quality).
Another way to reduce PDF size online is to manually remove text, images, and other unnecessary aspects with the editing tool. Go to the hipdf PDF editor website, and upload your document. And then remove text, images, or anything else you do not need.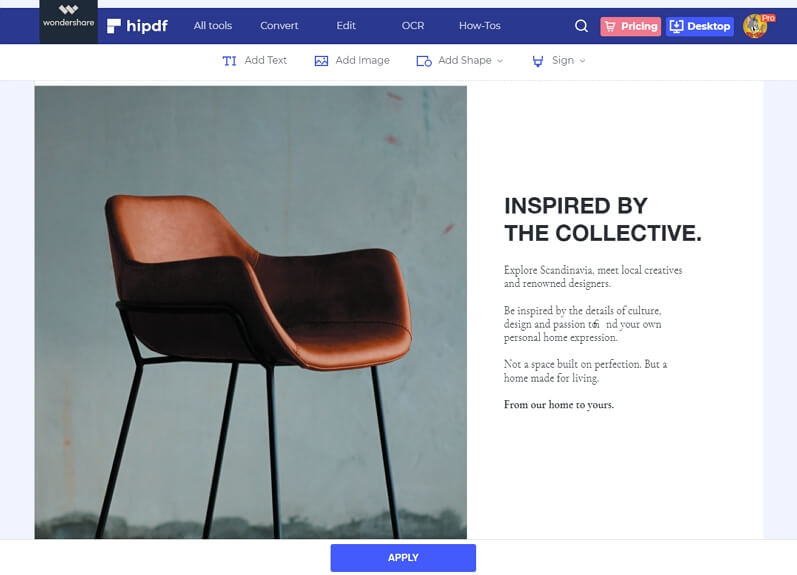 Free Download or Buy PDFelement right now!
Free Download or Buy PDFelement right now!
Buy PDFelement right now!
Buy PDFelement right now!
---
Other Popular Articles From Wondershare