CSV is a simple file format for storing tabular data. They can be created by programs that work with tables such as Microsoft Excel, Microsoft Access, and OpenOffice Calc. And they can also be converted from PDF files. In the following section, we sample 5 of the most popular PDF to CSV converters.
Top 5 PDF to CSV Converters for Windows
1. PDFelement
PDFelement is a popular application used to perform a variety of PDF tasks, including PDF conversion and creation. It is also an awesome tool for viewing/editing PDF documents, creating and filling out forms.
Apart from conversion, the application can be used to compress the size of your PDF files, merge or split PDF documents, insert or remove PDF pages, and redact sensitive sections of your content. You also get a nifty set of tools for adding annotations, bookmarks, watermarks, Bates numbers, digital signatures, passwords, hyperlinks, footers, headers, and other useful tools.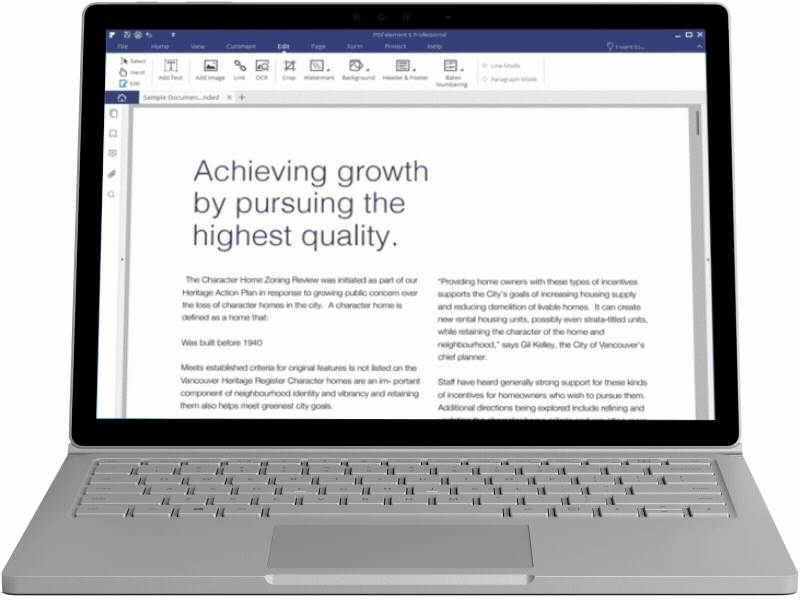 ---
2. ProperSoft PDF2CSV
ProperSoft's PDF conversion solutions offer multiple features for converting PDF documents to a variety of other file types. One of them is the PDF2CSV converter, which offers a simple and user-friendly platform for converting PDF documents to CSV, XLS, XLSX, and CSV Mint. It is popularly used to convert credit card and bank statements to editable spreadsheet files, which is a great plus for convenience.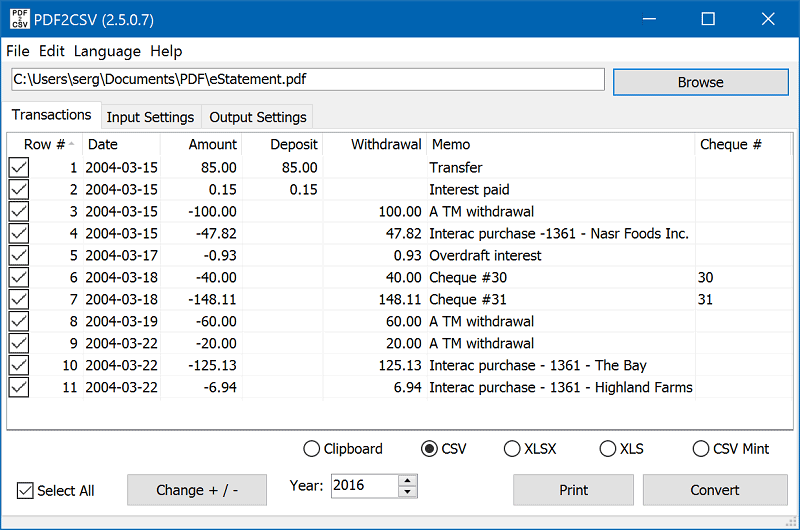 It also allows you to combine multiple PDF files into a single spreadsheet to help you keep your documents neat and tidy. You can both the full and trial versions of the application for your Mac and Windows PC.
---
3. PDF2XL Basic
PDF2XL Basic is a premium solution from CogniView that extracts tables and other content types from PDF documents and writes the data to an Excel-friendly file format such as CSV. It boasts of one of the fastest conversion speeds ever for a PDF converter, with speeds of up to 500 pages/minute. It can also convert a PDF file with unusual structure and layout, for example, documents with multiple tables, unreadable fonts, or other atypical elements within the document.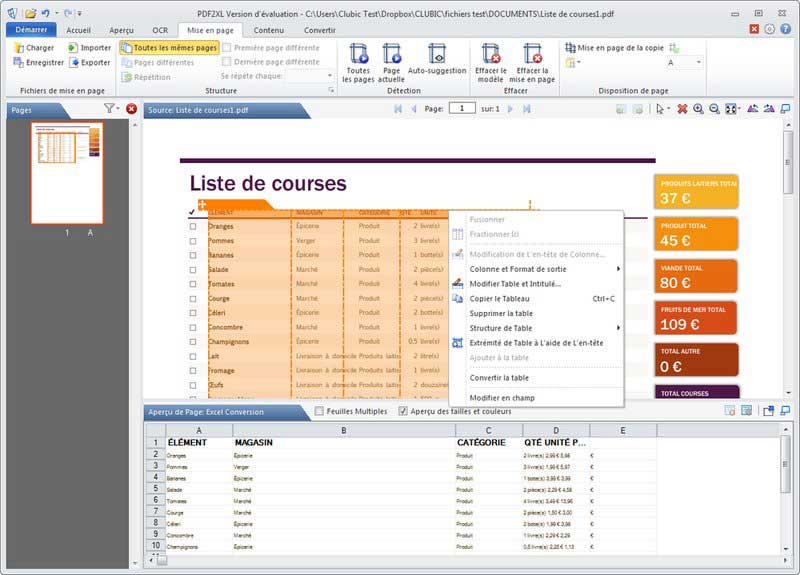 PDF2XL Basic is available in multiple languages, including German, Spanish, French, and Dutch, which makes it a global solution for carrying out PDF conversions. It's not cheap, though, with the smallest package going for close to $200 for only Windows platforms.
---
4. Simpo PDF to Excel
As its name suggests, the Simpo PDF to Excel provides an easy, straightforward platform for converting your PDF files to formats supported by Microsoft Excel, including CSV. You simply add one or more PDF documents, select specific pages from the uploaded PDF files that you want to upload if need be and convert the PDF files to CSV. It's usually that simple.
Its batch conversion process is one of the most efficient: it allows for the conversion of up to 200 different PDF files at the same time. More files don't necessarily slow it down, and users can typically expect to receive the output CSV files within seconds or minutes, depending on the size of individual files.
---
5. Wondershare PDF Converter Pro
Wondershare PDF Converter Pro is a tool specially crafted to enable simple but sturdy PDF conversion and creation. PDF Converter Pro is typically used to convert PDF documents to Word, Excel (including the CSV format), PowerPoint, image, HTML, and EPUB files. It also supports creation of PDFs from these file types.
Wondershare PDF Converter Pro features multilingual OCR to enable users to work on scanned PDF files in over 20 different languages. It also processes files that have been protected with editing passwords and can also be used insert password prior to CSV conversion. It further incorporates batch processing that allows users to work with multiple documents for fast and stable conversions with full preservation of native layouts and formats.