PDF files are also used to represent physical files in digital format, often as a product of scanning. While there are many ways to obtain a PDF file from a scanned file on most computers, the easiest and most common route for everyday users involves scanning a file and directly saving it as a PDF file. This article will explain you the best PDF scanner to scan to PDF on Windows with PDFelement.
PDFelement is a premium PDF scanner for everyday users looking to have more control over their documents. PDFelement can be used to perform various functions, including viewing and editing text and images, inserting and editing comments, digital signatures, notes, and multiple types of annotations.
In addition to editing, you can use PDFelement to fill out forms, extract data, convert documents interchangeably, and secure documents with passwords and redactions. Like many of the features on PDFelement, the Scan-into-PDF feature is quite easy to use, with one-touch functions, multiple settings, and an intuitive interface that lets you produce quality PDF files from your scanner in minutes.
---
Scan File to PDF on Windows with PDF Document Scanner
To get started with the PDF scan tool, PDFelement needs to be installed on a device that is connected to a scanner. Note, however, that the scanner feature is only available for the Windows version at the moment. Once the application has been downloaded and installed, launch it and follow these steps to scan paper to PDF.
Step 1. Launch PDFelement Scanner
When PDFelement launches, the "Home" menu button should be selected by default. On the "Home" menu bar, select the icon marked "From Scanner" to launch the "Scan to PDF" function.
Note: Ensure the scanner is powered and all drivers are updated. Follow the guide that comes with the device to find your way around the scanner, including loading and adjusting paper before scanning. Once you're all set, go back to the running instance of PDFelement and proceed.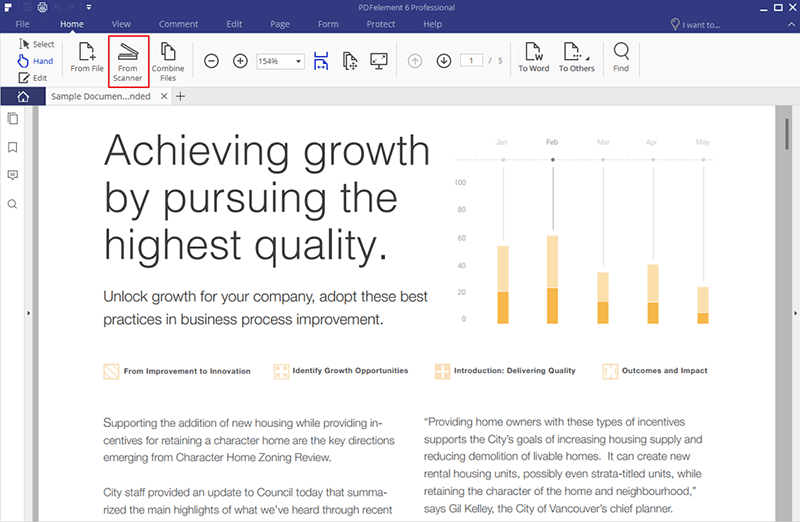 Step 2. Customize Scanning Properties
With this option selected, a popup dialogue box should appear with different customization options for the scanning function. First, select the scanner from the list of scanners on the first drop-down menu on the dialogue box. Once the scanner is selected, you can either choose to continue with the current dialogue box or scan your files using the scanner's interface by checking the option box below the drop-down menu.
You can also customize how you want to scan the files by selecting from the number of pages, the color mode, the resolution, and the paper size. If you want to edit the scanned file or make it searchable, select the option box "Recognize Text (OCR)" to use OCR to read the contents of the scanned file.
Finally, select "Make PDF/A-2b compliant" to standardize your file with the ISO 19005 standard, which will make your file accessible across most platforms.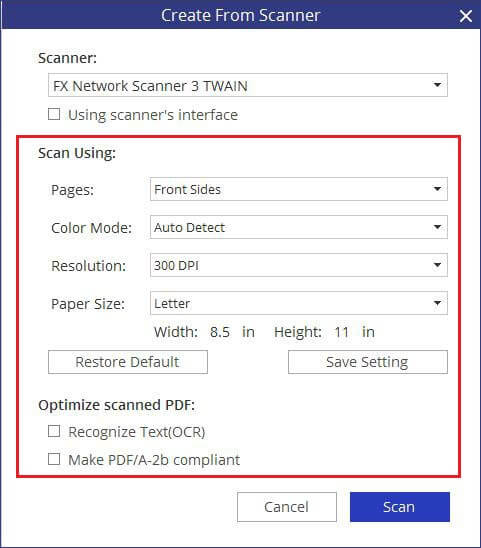 Step 3. Scan File to PDF
Once you're satisfied with the customizations, click "Scan" at the bottom of the dialogue box to begin scanning. The document in the scanner will be scanned and automatically imported into the PDFelement interface as a fully editable PDF file. Feel free to edit the new PDF file or add more to create a multipage PDF document – all from your scanner.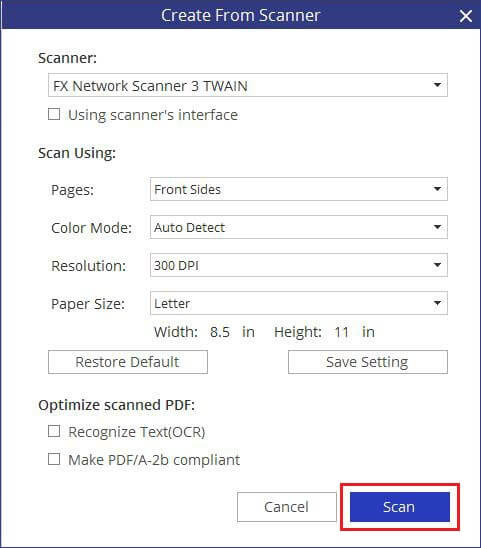 ---
Tips on How to Scan a Document into PDF
Scanning files directly into PDF can help save you a great deal of time and effort. Without it, you would be scanning files into JPEG or other default scanning formats and then converting them into PDF, which could also interfere with the integrity of the files.
Always remember to keep your scanner drivers and associated software updated for the best results. This will go a long way in helping to improve OCR functionality and give you more control over your PDF files.