Viewing PDF files online has become a necessity with readers getting better and better day by day. The introduction of Windows 10 has, however, created some complications in the way PDF viewers work. The latest Windows software uses Microsoft Edge to read PDF files. Sadly, support for the browser is not available in all countries making it necessary for regular users to choose either a free or paid alternative. Below is a list of top 5 PDF viewers for Windows 10.
Top 5 PDF Viewer for Windows 10
1. PDFelement
Wondershare has released simple software loaded with features that will interest professional users as well as beginners. Compatibility with Windows is adequate, as the program works with older versions of Windows starting from XP right up to Windows 10. If you add up features included within the complete suite, Wondershare PDFelement is likely to be very popular with users.
Pros:
The working area is well organised with all features listed clearly within boxes for users to identify immediately.
The view function allows users to load PDF file from the computer from within the software.
Viewing modes can be changed quickly with the drag-and-drop function.
The ribbon-like view presents all possible functions neatly allowing users to load nearly 300 different formats.
Scanned images can be clearly viewed using the OCR feature.
Cons:
The OCR plug-in is optional. Viewers are therefore limited to reading PDF files and other formats but not scanned images unless the plug-in is registered and installed.
---
1. Foxit Reader 7
The application has been consistently popular among users. Compatibility issues are very limited with the powerful software working seamlessly with Windows 10 and older versions of Windows including Vista.
Pros:
A familiar interface is provided for users habitually working with the ribbon-style menus.
Text can be viewed within PDF portfolios.
Tabs can be created by the user for customized views.
Managing comments is simple with all commands including export, import, comments, e-mail, and pop-up notes available on the same screen.
IT professionals have better control of standards by viewing and using features like Using Group Policy.
Cons:
Some users have found problems viewing and opening a document in Windows 7.
Bugs have been detected causing the system to crash.
Software trials are different when updates are initiated.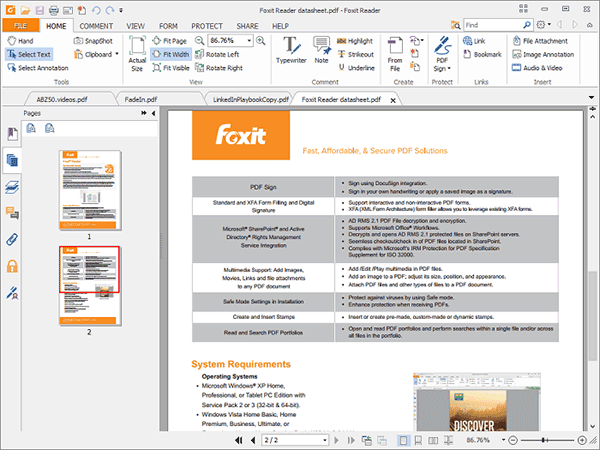 ---
2. Nitro Pro PDF Suite
It is one of the most used the viewers and extends an excellent media viewing platform with minimum burden on available computer resources. The software has been tested for compatibility with Windows Vista, 7, 8 and 10.
Pros:
It follows a Microsoft style of presenting the interface, so users are introduced to a familiar setup.
Optimization features a user-friendly.
Available features match the best in class.
Reviewing files is easy with mark-ups and sticky notes.
Special features are clearly visible to convert PDF files into MS Office documents.
Cons:
It is available only as a paid program.
Audio and video files cannot be aimed into the PDF document.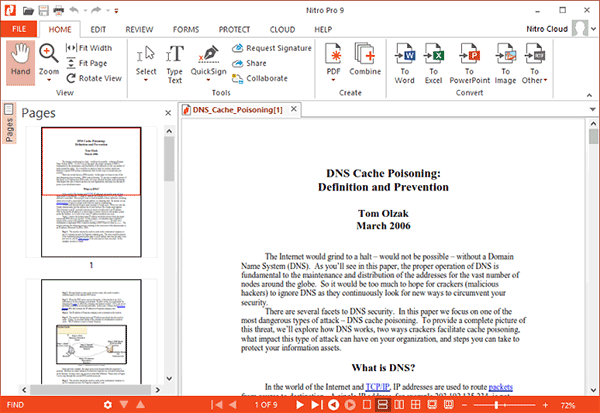 ---
3. Adobe Acrobat Reader DC
Adobe has released media products for more than 20 years now. The new viewer is definitely an advanced version in terms of viewing, creating, and managing files. It is compatible with Windows server 2008 R2, 2012 R2, 7, 8, and 10.
Pros:
The versatile viewer does feature among the top PDF viewers with added features.
Fast performance levels allow readers to seamlessly in complete tasks.
The User Interface is matured to allow users view more functions.
Cons:
Features are still limited as compared to other PDF suites.
The export function is limited in terms of speed at which PDFs are converted into other document formats.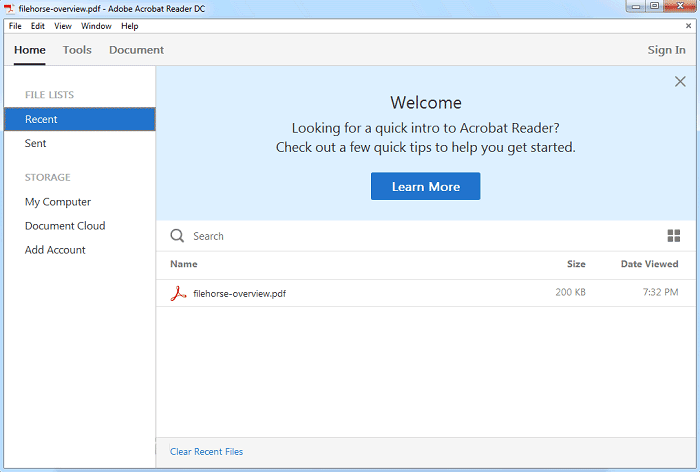 ---
4. Sumatra PDF
Here is a lightweight PDF viewer that does not complicate functions. It has all the necessary features to allow seamless viewing and is compatible with the latest Windows 10 version as well as older versions like 8, 7, Vista, and XP.
Pros:
The program has the inbuilt EasyStart that saves time and allows conversion previews.
Advanced features of deskPDF including creating custom profiles, merging, and watermarking are clearly visible.
The lightweight app sums up as one of the simplest viewers.
Comic book reader (CBR) format is supported.
It is available as freeware.
Cons:
Once the user is familiar with the interface, features appear limited.
Optimization controls are not on par with other applications.
---
Useful Tips for Choosing a Right PDF Viewer
Basic versions of most leading PDF viewers are useful for beginners. Professionals that need to manoeuvre between documents faster usually opt for paid versions.
All functions within a submenu must be clearly visible without the user having to go forward and come back to complete the same task.
PDF viewers packaged with other important functions like edit, annotation, and creation provide more value.
The viewer must be compatible with all formats.
Loading times must be minimum to increase viewing pleasure.
All these features are readily available in Wondershare PDFelement making it one of the most wanted viewers available in the market.
---
Why to Choose PDFelement