OCR PDF in Preview in Hassle-Free Way
It is with no doubt that nearly everybody is going paperless. As you receive and send emails or even downloading documents online. You won't miss to have scanned files that you need to extract content from them. You can also receive a scanned PDF document that you wish to edit or delete some content in it. However, you cannot do this without using Optical Character Recognition software. This article will explain you the things you need to know about Mac Preview OCR.
Preview inbuilt feature is good PDF reader and editor that you can use it for free. It also allows you to annotate, highlight, add notes to PDF, and combine files. However it lacks an inbuilt OCR technology that will recognize images and scanned PDF files. However, in this case you need to look for third party software that is cost effective and supports multiple languages. OCR software for Mac that is well renowned for robust performance is PDFelement.
How to OCR PDF without Preview on Mac
Step 1. Open Your Scanned PDF Files
Launch PDFelement, on the Home window click on "Open File" to upload your scanned PDF file to the program.
Step 2. Perform OCR on your PDF
Once the PDF file is added to the program, it will notify you to perform OCR since it is a scanned PDF file. Click on the "Perform OCR" button. It will prompt you to select an OCR language. Select a language that suits you. For this case, you can select English since the documents needs to be in English.
The software will convert the PDF to editable format. From there you can edit and add annotations to your PDF file by clicking on the "Text" button on the left toolbar. After editing save your file.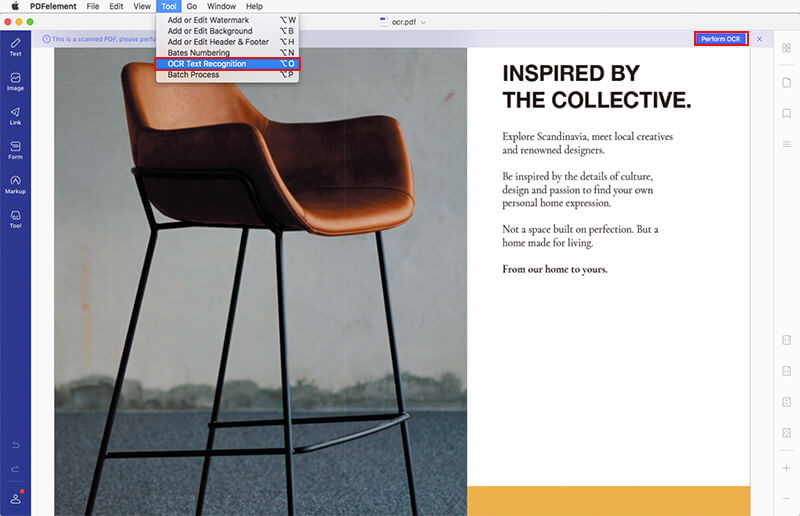 PDFelement is a good companion for your PDF files. It is built with OCR that lets you convert scanned PDF to readable and editable texts. In turn it allows you to search for texts within PDF easily. Also, it allows you to edit text, add text, and insert images to your PDF files.
OCR technology is very useful since it will allow you to edit and add markups to your PDF file just they way you could have done to an ordinary PDF file. To add on, this OCR technology is multilingual. It supports over 20 languages like: English, Korean, Japanese, Ukrainian, Greek, Polish, Portuguese, and German the list is endless. (Note: OCR feature does not work with free trial version.).
Free DownloadFree Download or Buy PDFelementBuy PDFelement right now!
---
Related Articles
All Topics