PDF files are important documents that you could like them have your identity. For this reason, you need to add watermarks to PDF files so they can be unique. Adding watermarks to PDF files is an easy task. You can add watermarks using online PDF watermark tools or you can use a desktop software. In this article, we have listed top 5 tools that can help you watermark PDF online.
Top 5 Tools to Add PDF Watermark Online
1. VeryPDF Free PDF Stamp Online
VeryPDF Free Stamp Online is a tool that allows you to add watermarks to your PDF files online without requiring any PDF applications. It also allows you to set the text color, font color, font style, stamp position, stamp capacity and layer level of the watermark. However, VeryPDF Free PDF stamp online allows you to add watermark or stamp to one PDF document of less than 10 MB every time.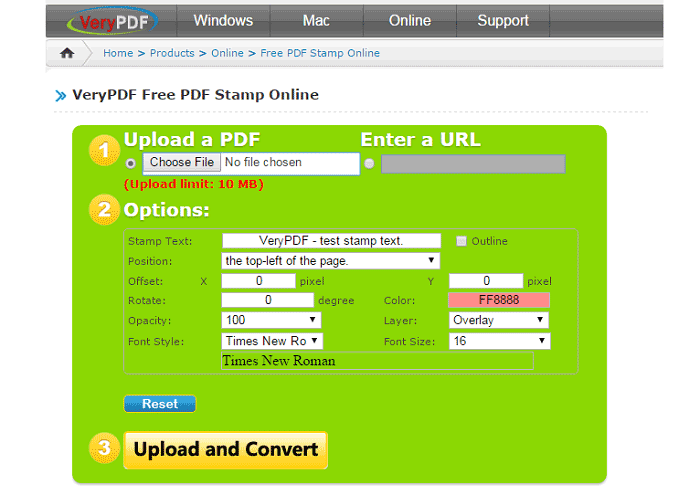 ---
2. PDFaid PDF Watermaker
PDFaid PDF Watermaker is an online tool that allows you to make your PDF documents unique by adding a watermark to it. It gives you full control of adding watermarks to your PDF files; you can choose the position to place your watermarks, the font color, size, type and color. It also allows you use Japanese Chinese and Korean fonts.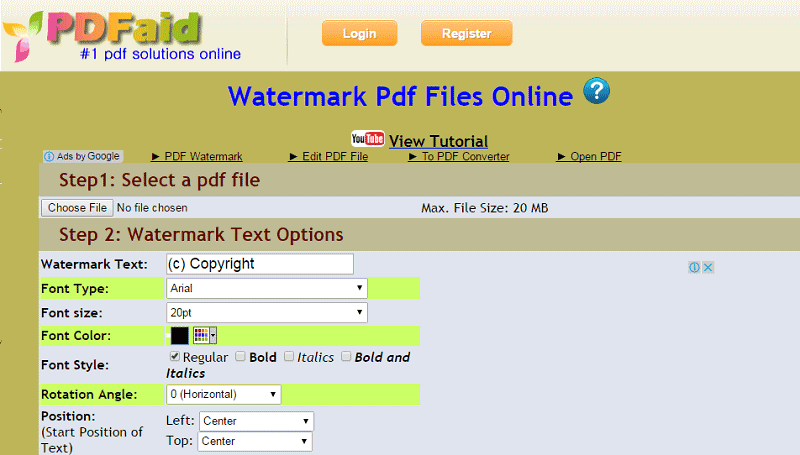 ---
3. PDFdu.com
PDFdu Free Online Add PDF Watermark is an incredible tool that allows you to add watermarks or stamps to your PDF files with little effort. It lets you select the picture file where you want to add a picture watermark. It allows you select the font type, size and color of the text watermark you want to add to your PDF file. It also allows you to specify on the opacity and rotation.
---
4. OnlineFreeware.net
This is another online PDF file that helps you add watermarks to your PDF files for identity or uniqueness, as you would want. It is an editing tool that you can use to edit PDF files freely. It can insert texts and images to your PDF files. Furthermore, it can handle large PDF files. It allows you to rotate PDF watermarks within a click.
---
5. PDFConvertOnline.com
This is a free PDF creator that not only helps you in creating PDF files but also helps you to add watermarks to it. It allows you to add watermarks to PDF documents after they are created. It allows you to add watermarks on the foreground or background of a PDF file. All you need to do is to upload and define where to add the watermark.
---
Limitation of Watermarking on PDF Online
However, good the online free PDF watermark software are, they are also of disadvantage. They have a limit on the size of PDF files they can add a watermark to at a time. For example, an online PDF watermarking tool allows you to add watermarks to one PDF file smaller than 10 MB each time. This makes it impossible to add watermarks to multiple PDF files with online PDF watermarking tools.
---
Best Desktop Tool to Watermark PDF
Wondershare PDFelement is the best desktop tool you can use to add watermarks to your PDF. You can add text and image watermark and even import a PDF file as a watermark. It offers you the flexibility of customizing the size, position, appearance of your watermark.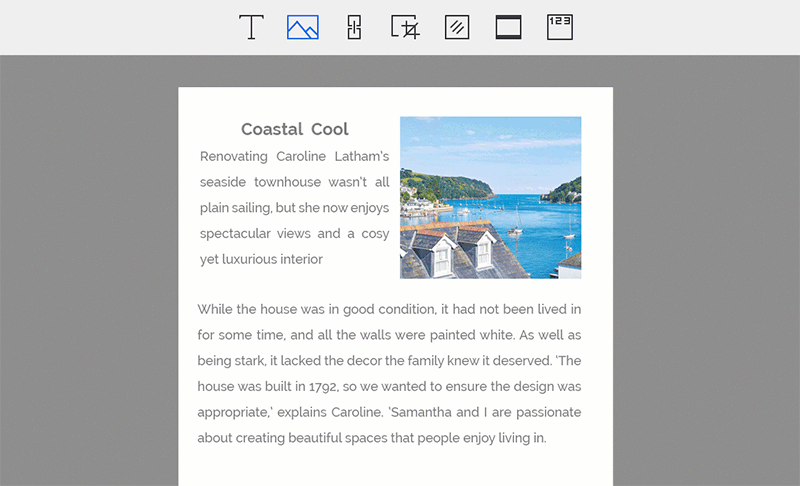 The features of PDFelement are not limited to watermark, it also helps you:
Edit PDF contents such as font, pages, color, images and texts.
Make your PDF documents editable with OCR plugin.
Create PDF from images, HTML, text, blank documents and screen captures etc.
Encrypt PDF files with a password to prevent malicious person from editing, copying and printing your PDF.
Support a wide range of output formats such as Word, PowerPoint and Excel, HTML, EPUB and images etc.