Easily Edit Metadata or Properties in PDF
Most applications on computers and portable devices add some type of personal information to documents and images upon creation or modification. This is what is usually referred to as metadata. Images and documents in formats such as PDF format usually include information that may include your name, email, address, and the subject, creation and modification date of the said file. What to do if you want to edit PDF metadata? Here introduce the best PDF metadata editor - PDFelement for you to edit PDF metadata or properties.
How to Edit PDF Metadata
Step 1. Open PDF with PDFelement
Launch the PDF metadata management tool on your computer. Click the "Open File" button to import the PDF you want to edit. Alternatively, you can navigate through your computer and locate the PDF file you want to edit. Right-click the file and select "Edit with PDFelement 6 Pro" to open the file directly from your computer.
Step 2. Edit Metadata in PDF
Once you have selected and uploaded your file, click on the "File" button at the top left end of the menu bar and select "Properties" to launch the document properties box. Here, you can edit the title, subject, and keywords that you want to be identified with your document. You can also add PDF metadata and properties or remove them from the document under the Related People section on the properties box.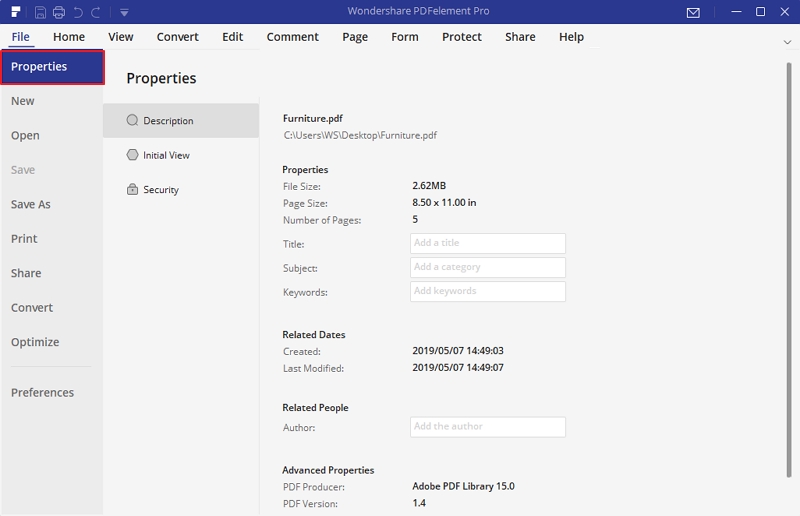 Step 3. Save the Edited PDF
Once you are done editing the metadata, save the document to commit the changes on the document by clicking "Save As" under the "File" tab. Editing the metadata associated with your document is that simple. Once the changes have been committed, take advantage of the application's numerous features to further edit PDF metadata.
The tool you use to edit PDF metadata comes down to personal preference. PDFelement is a free PDF metadata editor and viewer that can be used to manage your PDF metadata and a whole lot of other things. It features a simple design, a user-friendly interface, and functional features that are easily accessible by non-techies.
PDFelement is an application that is chiefly used to edit PDF documents, just the way you would with Adobe® Acrobat®. And with embedded OCR, even image-based scanned PDFs can be easily edited. With PDFelement, inter-document conversion is simple and straightforward. You can convert PDF from or to a variety of document and image formats like Word, Excel, PPT, JPG, PNG and more. With PDFelement, there are virtually no limits to how much you can modify your files.
Free Download or Buy PDFelement right now!
Free Download or Buy PDFelement right now!
Buy PDFelement right now!
Buy PDFelement right now!
---