Need to copy and paste content from a PDF file, only to find it does allow you to do that? This happens all the time. To protect the PDF file from being used, users are very likely to add password to protect the PDF file from copying. And in addition, even when the PDF is not protected, it is time consuming to copy and paste text from PDF line by line. In cases like this, you need to figure out a workaround to let you copy and paste from a PDF easily and efficiently with PDF Converter Pro.
PDF Converter Pro is the tool that helps us convert PDF files to editable documents. It supports converting PDF files which are protected from copying and exports PDF to Microsoft Word, Excel, PowerPoint, and HTML. After you download it, install it on your computer. Both Windows and Mac version are available.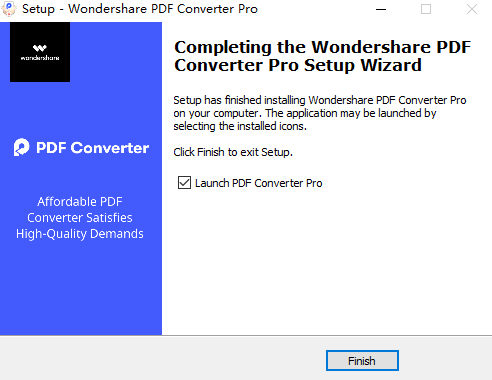 This PDF converter can help you convert PDF to other formats and then you can copy and paste from PDF freely.
OCR feature gives users a solution for those read-only and uneditable PDF files. With it, you can edit the scanned documents easily.
If you want to save time, just add as many PDF files as possible. You can get them converted together within a few seconds.
Except the batch conversion it provides, users can also select page range for each document and even can convert different PDF files into different formats at a time.
---
2 Steps to Copy and Paste Content from PDF
This part is specially written to tell you an easy way to copy and paste text from a PDF file. All you need is to download and install Wondershare PDF Converter Pro on your computer. And then follow the steps below to convert PDF files to editable documents on which you can copy and paste the text easily or you can just manage the content with the output documents, not bother to copy and paste it again. Here we take the Windows version as an example.
Step 1. Import PDFs and Select the Output Format
Launch PDF Converter Pro. Click "Add Files" to browse your computer for the PDF files you want to copy and paste from. Up to 200 PDF files are supported each time. To save time, you can import an array of PDF files. To select the output format, I suggest you choose Microsoft Word on the right side of pane.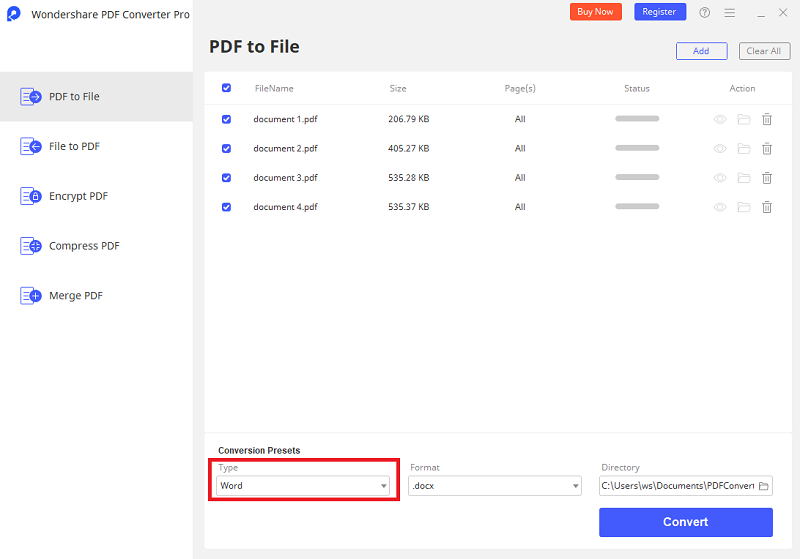 Step 2. Copy and Paste Text from Output Documents
Click the "Convert" button to convert PDF files to editable Microsoft Word documents.
After the conversion, you're able to check the output Word document by clicking the little folder on the PDF item bar. After opening these output Word documents, you can easily copy and paste the PDF text.