Quick Way to Change PDF Background Color
The standard PDF file has a white background to easily showcase the text. However, users are able to change the PDF background color or add an image to the background of the PDF file easily as well. Wondering how to change the PDF background color? We'll show you how to accomplish this with PDFelement.
One of the easiest way to change the PDF background color is using PDFelement. On top of this, PDFelement lets you easily edit PDF files and convert them to different file formats such as documents, presentations, or excel sheets.
3 Steps to Change PDF Background Color
Step 1. Open PDF File
Launch PDFelement and click on "Open File" within the "Home" tab. Now, select the PDF file that you wish to open.
Step 2. Change PDF Background Color
After opening the PDF file, click on the "Edit" tab as shown in the screenshot below. Here, you will find a "Background" button. You will find three options for background. You can either add a new background, update the existing background, or remove the already present background of your PDF file. After you finish making changes to the background, click on "OK" to add the background and change PDF color.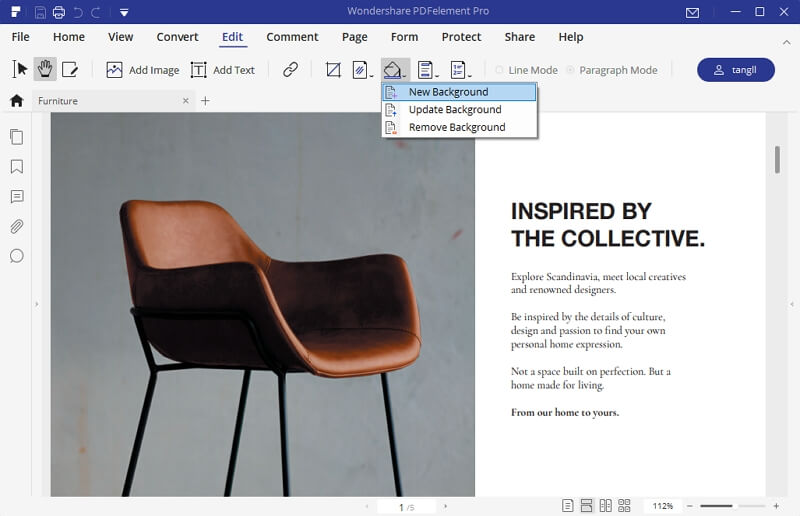 Step 3. Save PDF File
Click "Save As" under the "File" tab to save the changes you've made.
Professional Tips:
Carefully select the background color to ensure text shows up in the final PDF file.
Don't add an overly busy image as the background.
Free DownloadFree Download or Buy PDFelementBuy PDFelement right now!
---