To make a document seem more official, you can add background image of the company's logo. However, it can be tricky to do so in Microsoft Word if you are thinking of using the Microsoft save to PDF feature. Therefore, you will need to find a different way to insert a background image. For those whose eyes cannot take the stark white background in every PDF documents, you can change the default background color to something that is less glaring. This article will tell you how to add background to PDF files with PDFelement.
PDFelement is a PDF editing software that is dynamic, easy to navigate and effective. You can insert background images and change the background color of your PDF document. You can apply this change universally or selectively on specific pages within your document.
Additionally, PDFelement has other features that are similarly useful for every user:
Produce, revise, print and mark up PDF documents.
Add, delete, modify text, images and pages inside PDF documents.
Make PDF documents secure with passwords and redaction.
Change the format of PDF documents to other formats like Microsoft Office, HTML, rich text file, images etc.
Produce fillable PDF forms and complete non-fillable forms.
Add paginations, bates numbering and other page elements.
Stamp and sign your approval digitally or electronically on PDFs.
Convert scanned PDF into searchable and editable texts by using OCR.
---
3 Steps to Add PDF Background Color and Image
Are you almost done with a white paper report and the only thing that keeps the paper from looking polished is the absence of background image or clolor? To solve this problem, all you need to do is download PDFelement and install it on your computer. After you have followed the installation wizard, launch PDFelement to start adding PDF background image and color.
Step 1. Open PDF File
To import your PDF into PDFelement, You can search for your file by clicking the "Open File" button located on the bottom left corner of the screen. The file finder window will pop up thereafter. You can alternatively right-click on the PDF file. This will give you access to a drop-down menu. Click on "Open with" and choose PDFelement.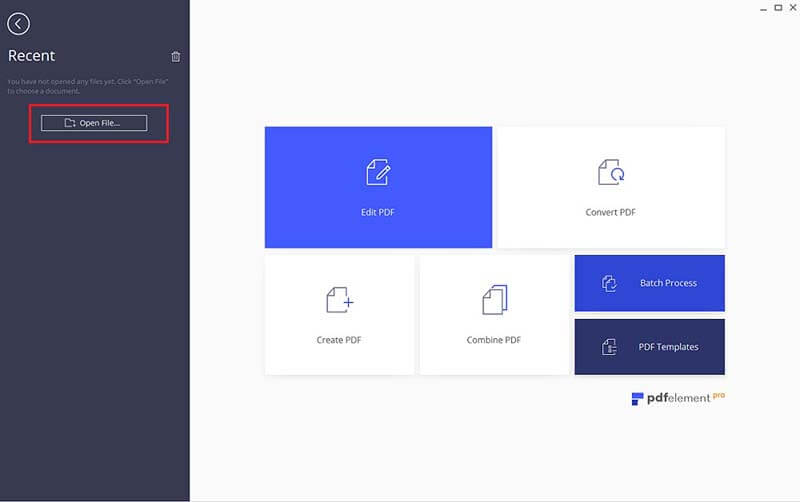 Step 2. Add Background into PDF
You need to open the "Edit" ribbon and click on "Background". Next, click on "New Background". The Add Background dialog box will pop up. To add the image that you want as the watermark background, click on "File" and then "Browse" to choose an image from your computer. Alternatively, you can choose a color for a solid background.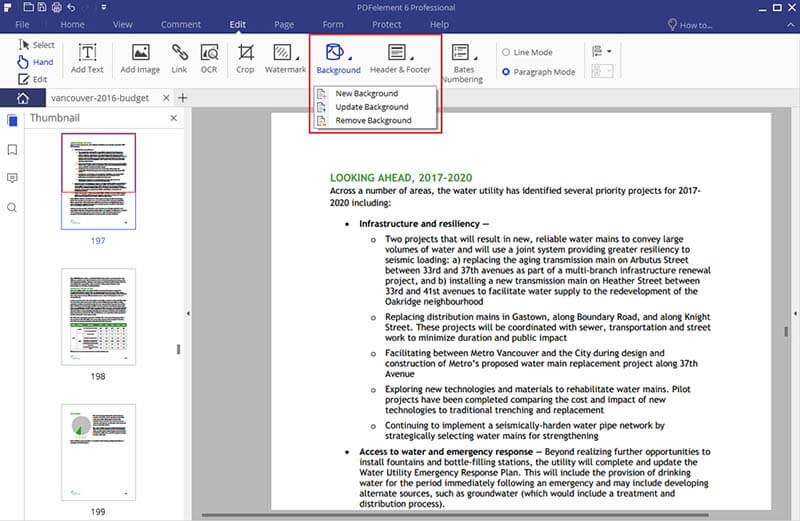 Step 3. Save the Document
You can customize the look of the image by adjusting the rotation degree and opacity level. You can also check the check box if you want to scale the image to the size of the page (this might distort the pixelation of the image). Finally, choose if you want to apply the image universally or to specific pages.