Digital documents such as PDFs offer the user versatility and convenience that can't be matched by physical paper. This is why it always makes sense to represent your most important documents in digital format, preferably PDF. If you decide to go with a digital file, please use a scanner to produce a PDF version of your physical documents.
Tips for Scanning to PDF by PDFelement
PDFelement as the best package full of useful tools, which also supports to scan physical documents into digital PDF files directly. What's more, after creating the PDF file, you can even use OCR function to recognize the scanned content and change the PDF file to be editable and searchable.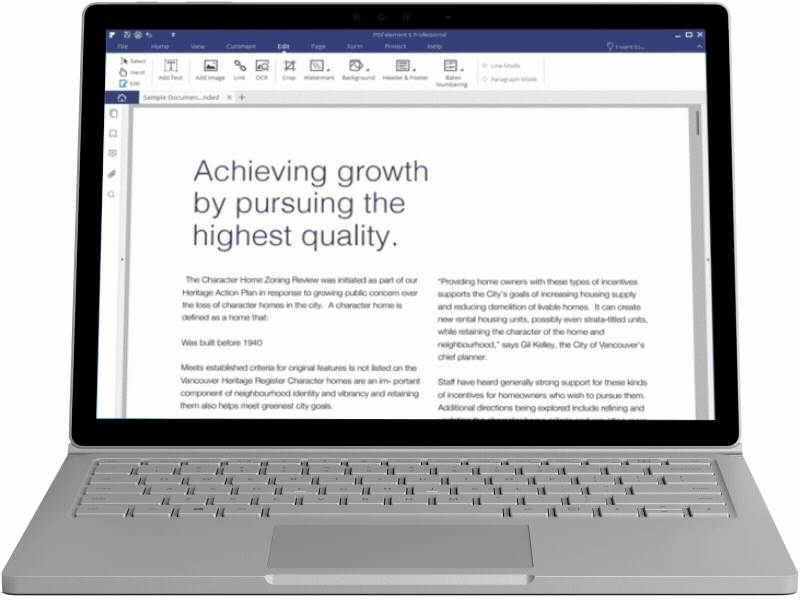 1. Launch PDFelement
After installing and launching the program PDFelement, please click the "Arrow" button on the top-left corner to go to the main window.
2. Connect with Your Scanner
Click the "From Scanner" button, select your scanner to connect. Then use the settings to scan as you need.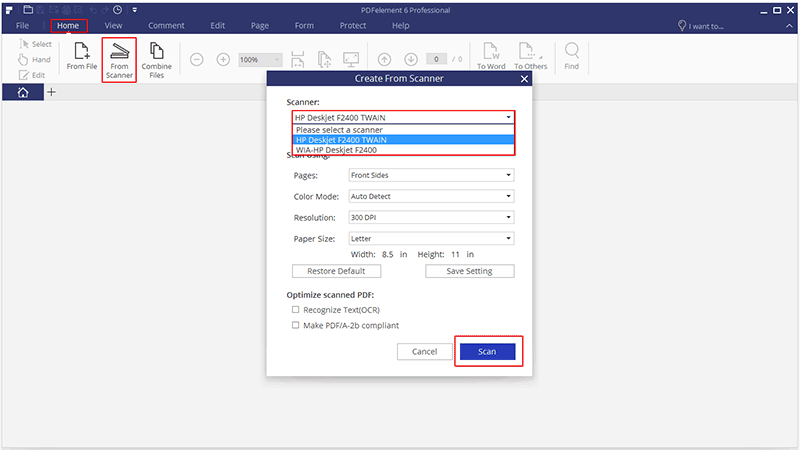 3. Scan and Create
Once you click the "Scan" button, the scanning process will be started. After scanning one page, you will get a window to ask whether to continue scanning more pages to create as one PDF.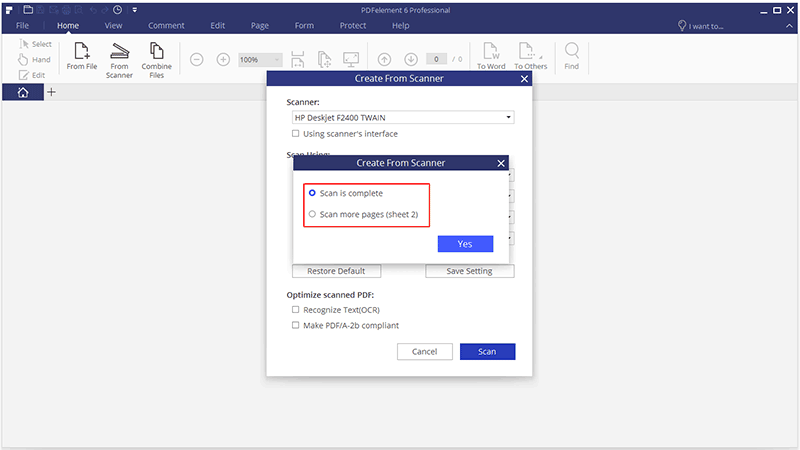 4. Save the Created PDF
When the scanning is completed, the created PDF file will be opened in PDFelement directly, you can start to work with it or save it on your computer.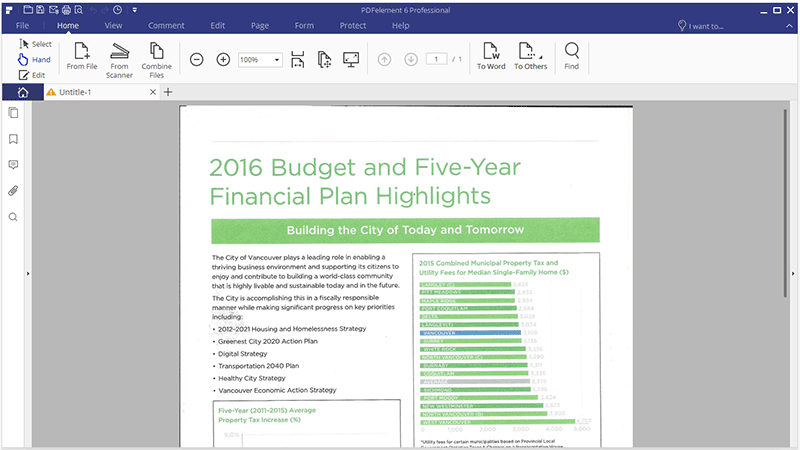 ---
Top 5 Scan to PDF Free Software
Everyone loves a freebie, especially when that scan to PDF freeware makes life easier for you at home or at the office. However, while most of these free PDF scanning tools will help you get professional-quality output for nothing, always beware of malware, viruses, or other phishing tools that come with these tools. Here are the top list of free scan to PDF software.
1. Advanced Scan to PDF Free
Advanced Scan to PDF Free is one of the most popular free tools for scanning physical documents into PDF. Unlike most free applications, this tool packs a decent number of features that enables you to modify the scanned PDF file in many different ways. For instance, the application allows you to customize the size of the page and modify the compression type when setting up the scanning profile.
You can also add digital signatures and passwords to protect your files, which offers a nice touch for the average user.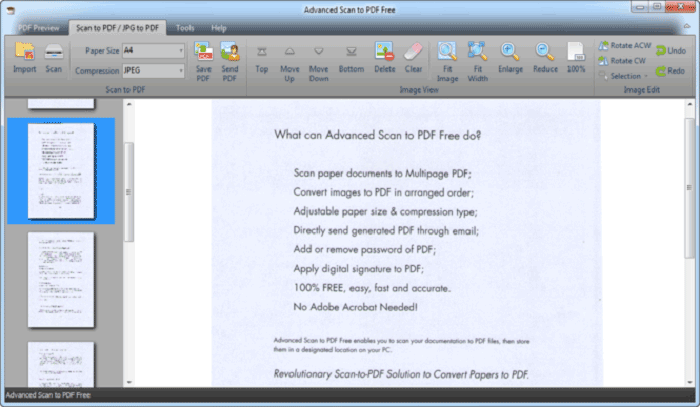 ---
2. Free Scan to PDF
When you conduct a simple search on the internet for "Free Scan to PDF" software, you'll likely be bombarded by a huge database of results. This specific tool is the brainchild of FreeAudioVideo Software, a website that hosts a large collection of free apps. As its name suggests, Free Scan to PDF is a free app currently available for Windows PCs.
Like many free applications in its class, as a simple app in both presentation and function, Free Scan to PDF gives users a set of standard features for both of pre-and post-scanning, including page adjustment, rotating, cropping, and copying. You can even edit PDF metadata, send the scanned PDF files via email, and even protect your PDF files with a password and digital signature.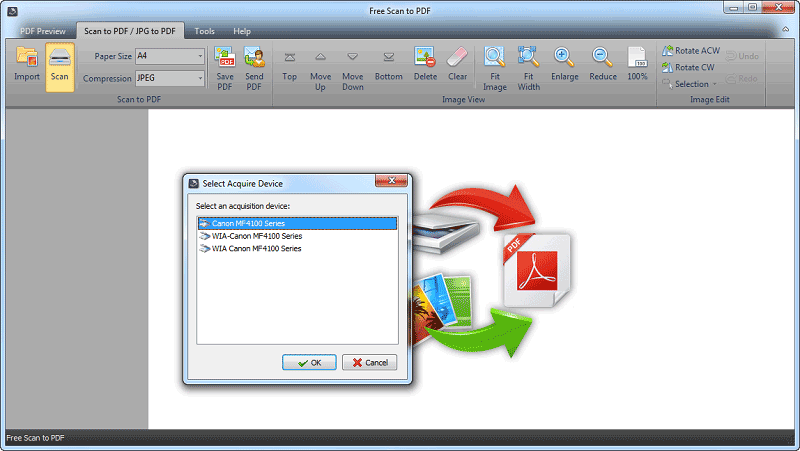 ---
3. NAPS2
If you were talking to a friend and heard them say "NAPS2" you'd be forgiven for thinking that they were referring to a spaceship or a fancy startup out of Silicon Valley. NAPS2, which full name is Not Another PDF Scanner 2, is actually a very functional PDF scanner that has many useful features – all for free. NAPS2 doesn't come with the beautiful UI or detailed user guide that many of us would expect with such tools.
But, for everything it lacks in presentation, NAPS2 more than makes up for in function and simplicity. To scan, you simply select a custom scanning profile, choose a destination folder, scan your documents, and save them as PDF. The scanning profiles on the app are customized according to scanning sources, document size, resolution, and other settings that make it quite easy to use the app.
---
4. Scan2PDF
Scan2PDF is another simple but efficient program that lets you scan paper work documents into a variety of formats, including PDF. The application as a freeware for Windows systems, gives users a short list of extra features, which is quite generous for a free application.
Users can combine several scans into a single PDF document, something that is often seen on paid applications. You can even rearrange the order of the merged files, rotate pages, and import additional files from your hard drive to add on to your merge list.
Overall, if you'll not be scanning tons of documents on a daily basis, Scan2PDF you should be just fine with this scanning tool.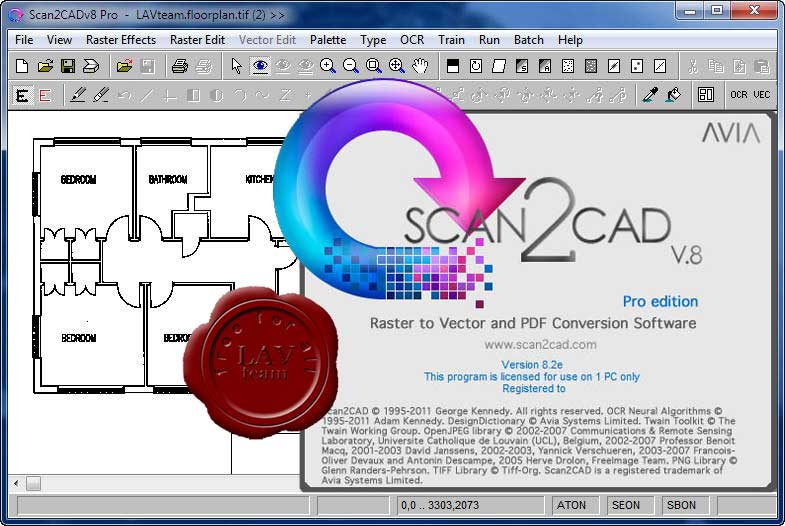 ---
5. Quick Scan
Quick Scan allows you to scan documents quickly and easily on Windows-based platforms freely. Quick Scan balances between speed and simplicity as well as functionality, creating it as the best tool to scan for average users.
The application is most notable for its different color modes, including grayscale, RGB, and black and white. You can select the color mode you want for your PDF file depending on quality and speed. For instance, the RGB mode gives you the highest quality output but scans quite slower than black and white, which is of lower quality but produces scanned PDFs quickly with better font clarity.