PDFelement-Powerful and Simple PDF Editor
Get started with the easiest way to manage PDFs with PDFelement!
While PDFs have been a staple format for document sharing, they have limitations on web compatibility and user experience. Thus, converting PDFs to HTML Email makes content more versatile, interactive, and accessible across various devices and platforms.
This comprehensive guide aims to give you the knowledge and tools to effortlessly convert PDF to HTML code for email. We will explore the benefits, features, and step-by-step tutorials for using PDFelement, a powerful PDF-to-HTML conversion tool.
Part I. Process of Converting PDF to HTML Code for Email
Given the basic differences between the two formats, converting a PDF to HTML code for email can be difficult. While HTML is utilized for online pages and responsive content, PDFs are fixed layout and print-optimized. However, some programs can assist with the conversion, such as PDFelement and other PDF to HTML converters. Due to complicated PDF formatting, the conversion's initial output might not be ideal. You must examine and tidy up the HTML code to fix this, eliminating redundant tags, inline styles, and elements and simplifying the structure.
Since PDFs often have custom fonts and complex tables that don't translate well to HTML, manual adjustments will be necessary. You must replace fonts with web-safe fonts to make tables more compatible with email clients. The email must be thoroughly tested to ensure a consistent appearance on all email clients and mobile devices. Use media queries to adapt the layout and styling of your email to the size of the screen to ensure that it is responsive and mobile-friendly. Overall, while converting PDFs to HTML for email, it's critical to pay attention to the specifics since the results may not be perfect occasionally, especially with complex or carefully designed PDFs.
Part II: PDFelement Overview
PDFelement is a comprehensive PDF editor that also offers a reliable conversion feature. It allows users to convert PDFs to HTML Code for Email seamlessly. Designed to cater to the needs of marketers, businesses, and individuals, PDFelement offers a range of features that make it a top choice for seamless and efficient PDF-to-HTML conversions.
Further, its user-friendly interface, batch conversion feature, and support for preserving hyperlinks and bookmarks make it an excellent choice for converting PDF to HTML code for email. PDFelement ensures high accuracy in preserving the original layout, formatting, and images of the PDF during the conversion process, resulting in visually appealing HTML emails.
Key Features of PDFelement for PDF to HTML Email Conversion:
PDFelement employs advanced OCR technology, ensuring precise and dependable conversion of both standard and scanned PDF files into editable HTML.
PDFelement's user-friendly interface makes the conversion process easily approachable for users with varying levels of technical knowledge.
PDFelement offers extensive customization features for the converted HTML code, enabling users to craft visually attractive and personalized email content.
PDFelement includes interactive elements within the converted HTML code, such as hyperlinks, buttons, and forms.
PDFelement supports batch conversion, allowing users to save time and effort by simultaneously processing multiple PDF files.
Advantages of Using PDFelement for PDF to HTML Conversion:
Using PDFelement for PDF to HTML conversion offers several advantages that make it a preferred choice for individuals and businesses:
PDFelement offers a cost-effective solution for PDF to HTML conversion compared to other specialized tools or services, making it a budget-friendly option for businesses of all sizes.
PDFelement turns HTML into a format compatible with various email programs and web browsers to give consumers a smooth viewing experience across all platforms and devices.
PDFelement's fast conversion process and batch conversion capability save significant time, enabling users to focus on other essential tasks.
Modern OCR technology from PDFelement creates consistent, error-free HTML content for emails by assuring accurate text extraction.
PDFelement's customizable layout options enable users to maintain brand consistency throughout their email marketing materials, increasing brand identity and familiarity.
Using interactive features, PDFelement enables users to design compelling emails that motivate readers to act, increasing click-through rates and campaign effectiveness.
Part III. How To Convert PDF to HTML Code for Email Using PDFelement
Converting PDF to HTML code for email campaigns using PDFelement is a straightforward process. By following these instructions, you will be able to create HTML emails with precision and efficiency.
Step 1 Click "Open PDF" in the PDFelement interface to import the PDF file you want to convert.
Step 2 After opening the PDF, click on the "Convert" tab in the top toolbar. Select "To HTML" as the output format for conversion.
Step 3 If needed, click on the "Settings" button to customize the conversion settings. You can adjust the layout, font styles, and other elements to suit your email design preferences.
Step 4 Click on the "OK" button to begin the PDF to HTML conversion process. Then, once the conversion is complete, click "Open in Folder" to locate the newly converted HTML file.
Step 5 To send the converted HTML file as an email, open your preferred email client (e.g., Gmail, Outlook). Create a new email and compose your message. Depending on your email client, you may directly attach the converted HTML file to the email or paste the HTML code into the body of the email.
Step 6 If you choose to paste the HTML code directly, ensure that you switch to the "HTML" or "Source" mode in your email client before pasting the code. This mode allows you to view and edit the raw HTML code.
Step 7 After composing the email and attaching the HTML file or pasting the code, send a test email to yourself to check how the email appears in different email clients.
Step 8 To verify the code of the HTML email, open any web browser (e.g., Google Chrome, Mozilla Firefox). Create a new blank document in the browser and paste the HTML code into it.
Part IV. How To Convert PDF to HTML Using HiPDF
HiPDF is an online PDF conversion platform that offers a viable alternative to PDFelement for converting PDF to HTML code for email campaigns. It is one of the best alternative solutions for converting PDF to HTML code for email. It provides a range of features to facilitate seamless and efficient conversion, making it an excellent choice for users seeking a web-based solution.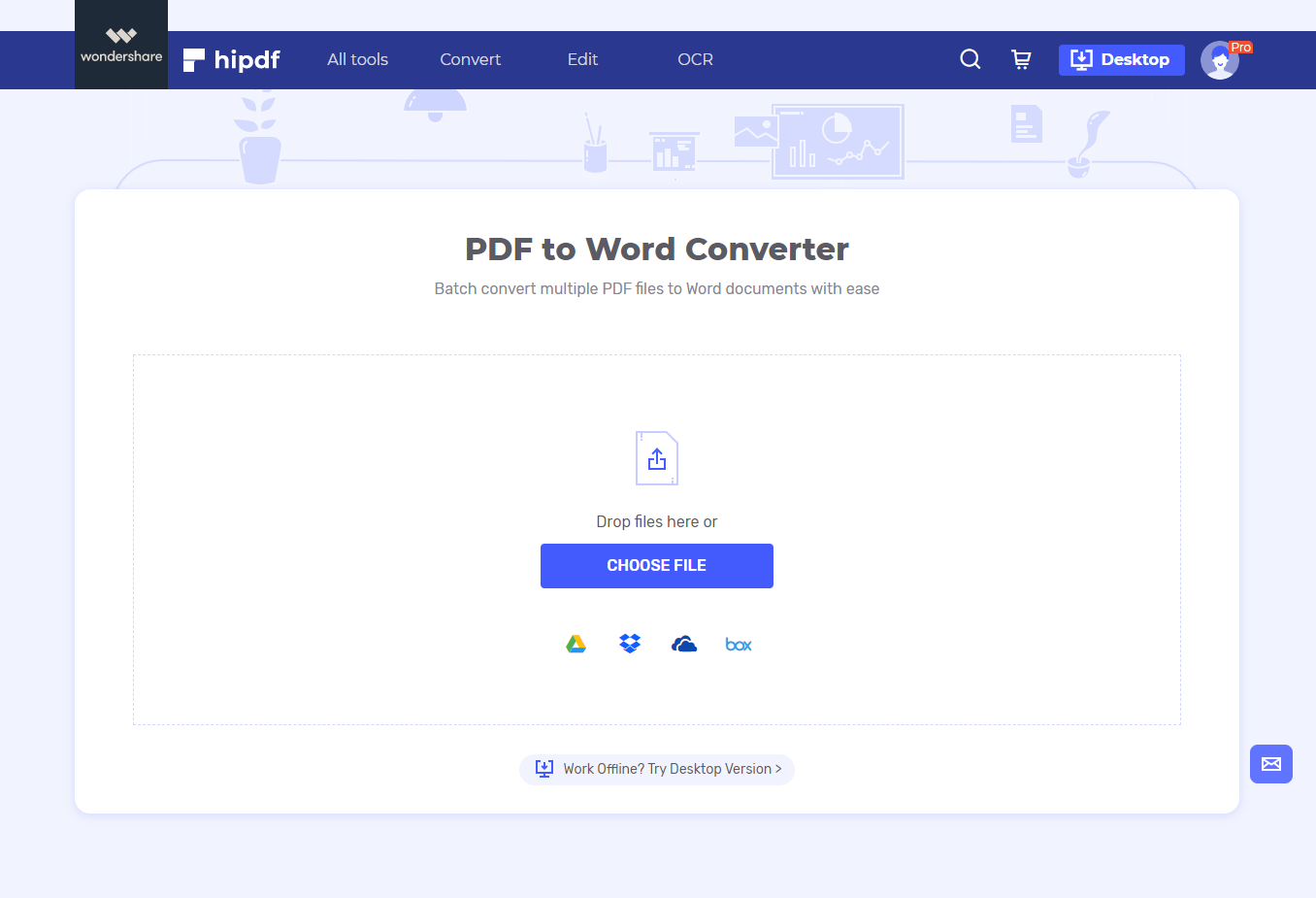 Features of HiPDF Converter
HiPDF is an online platform that can provide you access services directly from web browsers without any installation.
HiPDF uses cutting-edge OCR technology to guarantee accurate conversion, giving them trustworthy options for managing scanned PDFs.
HiPDF allows the integration of interactive elements in the HTML code, enhancing user engagement in email campaigns.
HiPDF offers batch conversion, allowing users to handle several PDF files simultaneously and save time and work.
Using HiPDF to Convert PDF to HTML Code for Email
Step 1 Visit the HiPDF website at https://www.hipdf.com/pdf-to-html from your web browser.
Step 2 Click the "Choose File" button to upload the PDF file you want to convert to HTML.
Step 3 After uploading the PDF, click the "Convert" button to initiate the conversion process. HiPDF will promptly convert the PDF to HTML.
Step 4 Once the conversion is complete, click the "Download" button to export after processing. To view the page source of the PDF converted to HTML file, click "View," then select "Source," then to add the code to your clipboard, press "CTRL + C."
Step 5 Use any email service that supports HTML to compose a new message in your email account and paste the HTML code. Change the code as desired. To view the email's contents, send the PDF file converted to HTML to yourself first.
However, even if HiPDF offers a dependable and practical PDF-to-HTML conversion solution, it is still important to search the Search Engine Results Page (SERP) for more resources and alternate solutions. Different tools could provide special features or fee schedules that better meet your requirements.
Conclusion
Converting PDF to HTML code for email is crucial in modern email communication. You can easily convert PDF files into HTML format using trusted solutions like PDFelement and HiPDF, ensuring compatibility, design flexibility, and increased user engagement.
Using these tools and other resources, you can elevate your email marketing and provide your audience with intriguing content. Whether for marketing purposes or personalized communication, PDFelement is a reliable solution for maximizing the potential of PDF content in the digital world. Embrace the power of HTML emails and unlock your email marketing potential with PDFelement's PDF-to-HTML Email converter.