Do you find it's easy to export iWord Keynote files to PDF format, but not the other way around? Mac users are lucky because Apple iWork Keynote allows them to export files to PDF format easily. However, if they want to convert PDF to Keynote on Mac, they need a PDF tool to help them achieve this. This article tells you how to convert PDF to iWork Keynote friendly format on Mac with PDFelement for Mac.
How to Convert PDF to Editable Keynote on Mac
Step 1: Upload PDF Files
Double-click the quick start icon to launch the PDF to Keynote Converter. Drag and drop your PDF file into the program window. Or you can go to the File menu and open the PDF document by browsing through your local folders.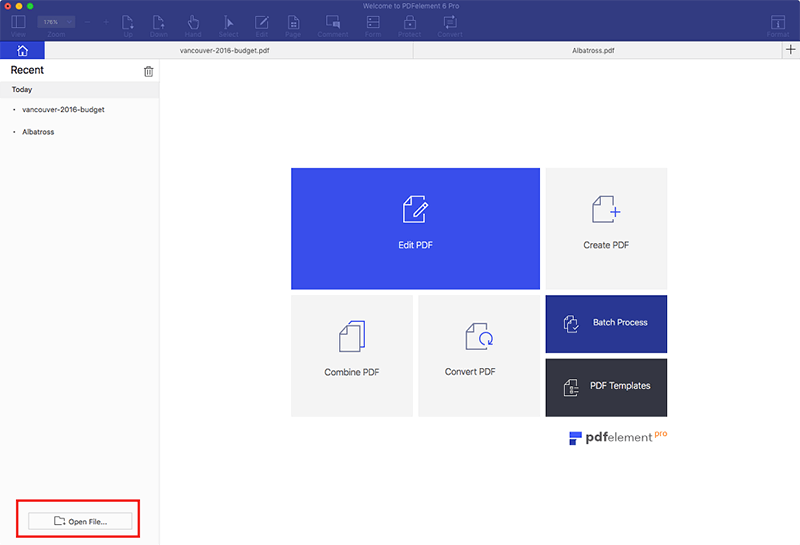 Step 2: Convert PDF to Keynote-Friendly Formats
In this Mac PDF to Keynote Converter, click the "Convert" button in the top toolbar. Then select the "To PowerPoint" option. You'll be able to change more settings on the right side if required. Once you have made all necessary changes, hit the "Convert" button on the right side to start the PDF to Keynote-friendly file format conversion process. If your PDF file is a scanned or image-based PDF file, you can refer to the method provided in this article for how to convert PDF to Powerpoint on Mac. The converted PowerPoint file will be editable, and you can open it with Keynote on Mac directly.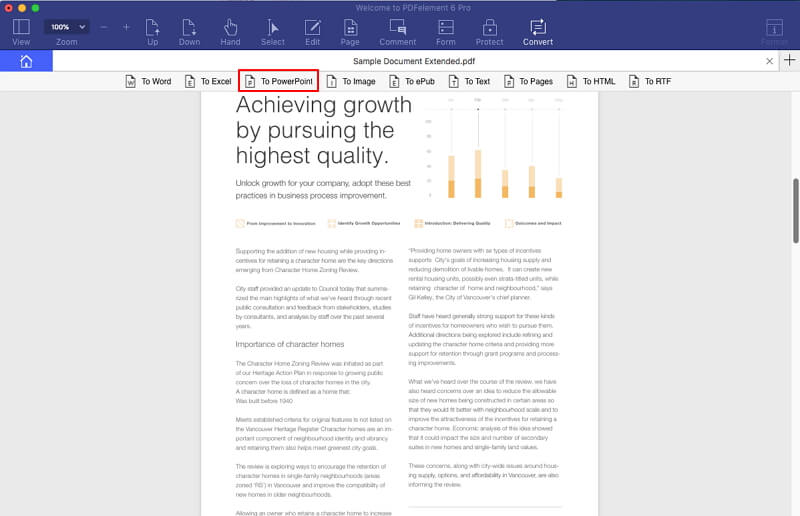 ---
Convert PDF to Keynote on Mac for Free
Even though Keynote does not support opening PDF format files directly, it supports changing PDF file type to Keynote format. However, the PDF will be added as an image and the content will not be editable, so the output Keynote file will not be editable using this method.
Step 1: Open Keynote
Launch Keynote to select an existing Keynote file to be opened, or choose a Theme to open a blank Keynote file.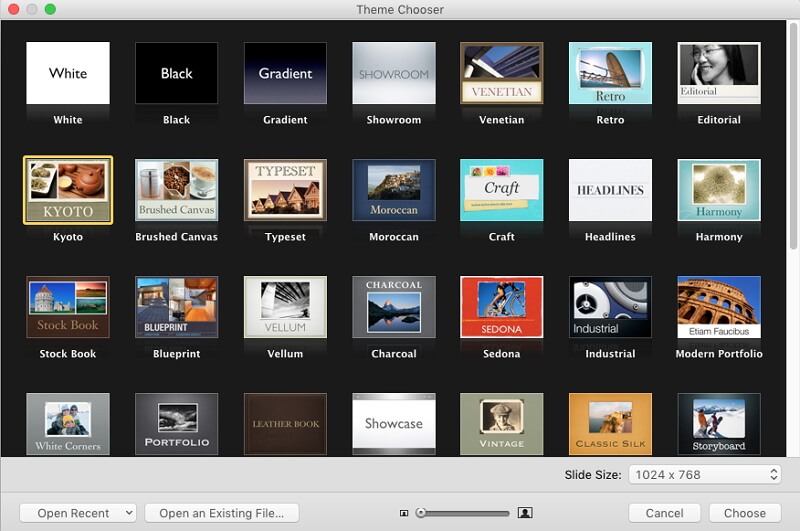 Step 2: Add PDF File into Keynote
Open a PDF file on your Mac with a PDF reader, then drag and drop the PDF page into the left side thumbnail of the Keynote file. The PDF page will be added as an image, and you can arrange the page order as you wish.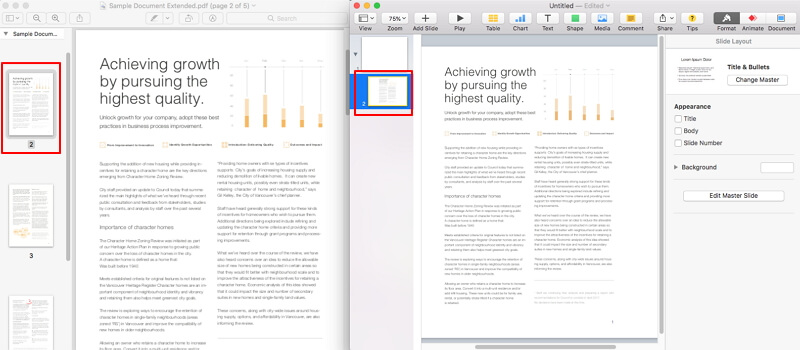 Step 3: Convert PDF to Keynote on Mac
Click the "File" > "Save" button on the top menu to save this Keynote file in your local folder.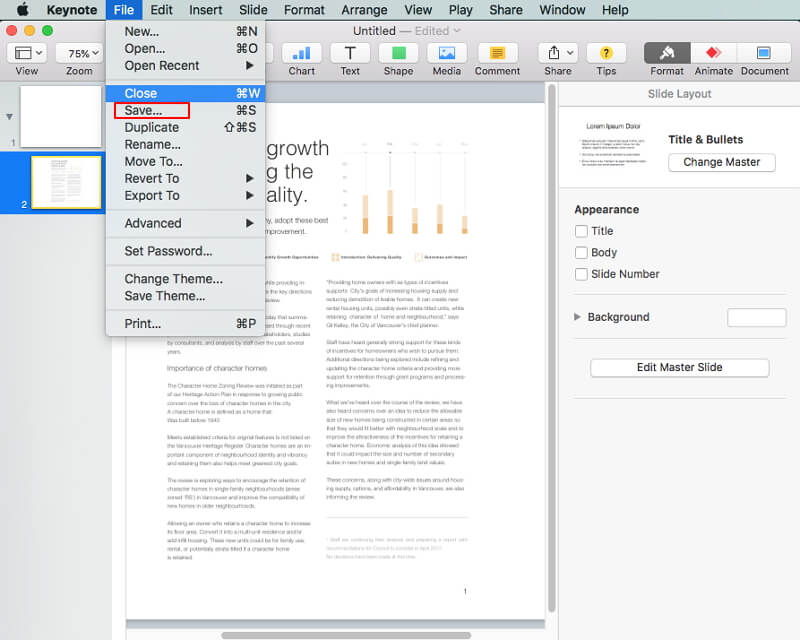 ---
Best PDF to Keynote Converter on Mac
PDFelement for Mac is among the most reliable PDF tools to assist you with PDF editing, conversion, and managementing. It allows users to edit PDF content such as text, images, pages and font color. The embedded OCR function recognizes text in multiple languages and turns scanned PDFs into editable and searchable digital files.
Plus, it has security features that help protect highly sensitive information from being accessed by unauthorized user. The digital signature feature lets you add your signature to protect your PDF files from being tampered with and make them legally binding. Another impressive function is that this program can batch convert PDFs to multiple different formats quickly, without lusing the original document quality.
Tips: Benefits of Converting PDF to Keynote Friendly Format(.pptx)
Converting PDF to Keynote friendly formats, such as PowerPoint (.pptx) is useful when you want to share files between Mac and Windows. Mac users can open files with the .key extension easily with Keynote in Mac, but Windows users cannot open these file types at all. Both Keynote and Microsoft PowerPoint can open files with the extension (.pptx), which is why it can be beneficial to convert documents to PowerPoint for universal access.