How to Convert PDF to EPUB on Mac
Have you ever found it annoying to read PDF files on the small screens of your iDevices like iPhone 7, iPhone 6S, iPod touch or iPad mini? By using PDF software to convert PDF to EPUB files, you will no longer have to deal with the hassle. To convert PDF to EPUB on iMac, MacBook Pro or MacBook Air, you need a professional tool that can convert your PDF file to an EPUB eBook with the extension of .epub. This article introduces how to use PDFelement to convert PDF to EPUB on Mac.
How to Convert PDF to EPUB for Mac
Step 1. Open PDF File
Launch PDFelement. Click the "Open File" button on the Home window and choose the PDF file you want to convert.
Step 2. Edit PDF File (Optional)
You can edit the PDF file before you convert it to EPUB if you'd like. Click the "Text" button, then use any of the tools reviewed to modify your PDF file. Here are more details about how to edit PDF on Mac.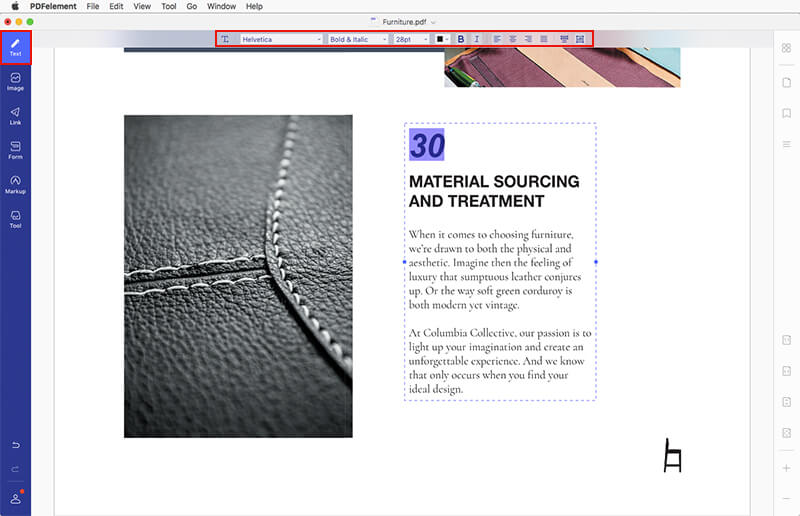 Step 3. Convert PDF File to EPUB
Click the "File" menu on the top toolbar and then select "Export To" > "ePub" option. In the pop-up window, name the converted ePub file and select the output folder and click "Save". Within one second, your PDF will will be converted to ePub.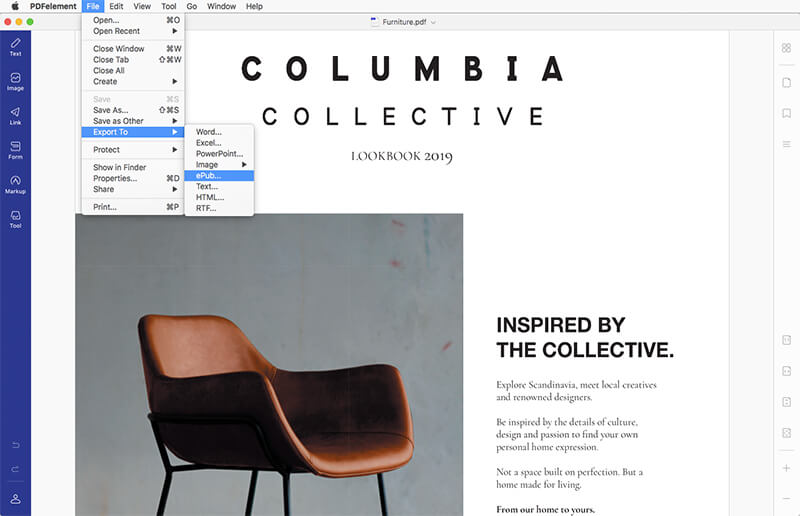 ---
Convert PDF to EPUB on Mac in Batches
PDFelement not only converts a single PDF file to an ePub file, but it can also convert multiple PDFs to ePub files in batches. Follow the simple steps below:
Step 1. Open PDFelement
After launching PDFelement, click the "Tool" button on the left column and select "Batch Process" > "PDF Converter".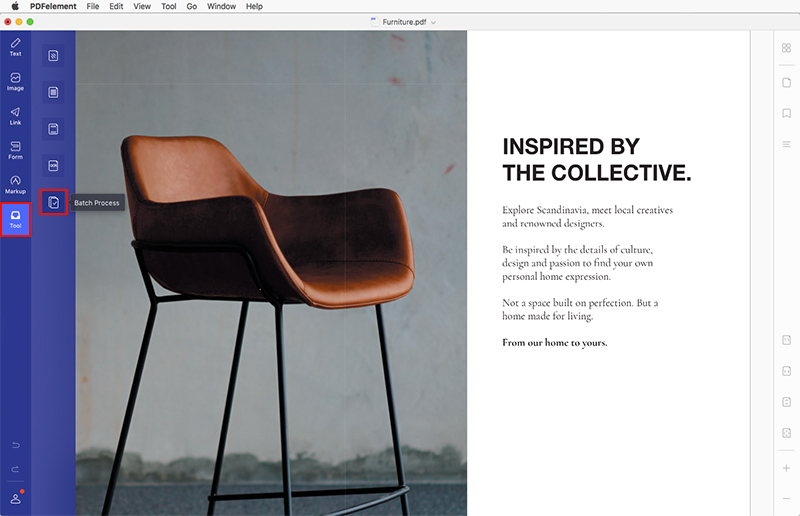 Step 2. Load Multiple PDF Files
Drag and drop multiple PDF files into the new window. Or click the "+ Add" button to select the files that you want to add.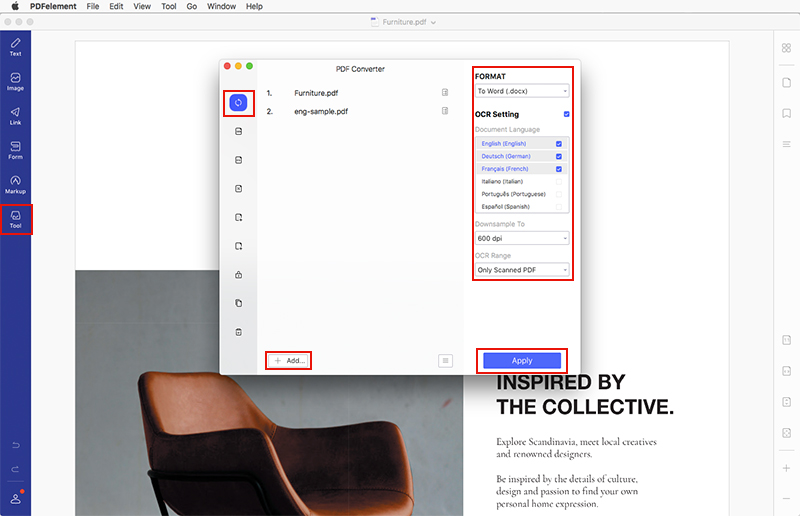 Step 3. Convert PDF Files to ePub on Mac
Select "To ePub (.epub)" under the "Format" tab. You can adjust more settings on the right side. Once this is complete, click the "Apply" button to start the batch conversion process.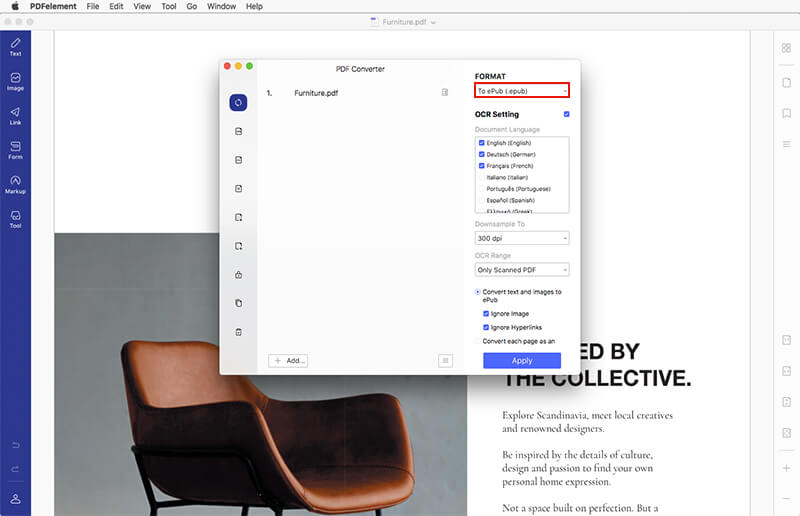 Although PDF is a universally used format, it is not without its flaws. When trying to view a PDF file on your mobile device, you can run into problems, such as when you try to zoom in, the text gets misplaced outside the screen, for example. The EPUB file format is better designed to faciliate easy viewing so that you can properly adjust screen size, etc. If you want to convert your PDF files into EPUB file format, PDFelement can help. This article will outline how to complete this process with the best PDF to EPUB converter for Mac (including macOS 10.14 Mojave).
---
The Best PDF to EPUB Converter on Mac
PDFelement is a powerful PDF tool that allows you to create PDF files and forms quickly and easily. It is also a powerful PDF editor that lets you modify text, graphics, watermarks, digital signatures, and more. It can convert PDF to and from hundreds of different file formats, along with some of the other features listed below:
Edit PDF text and images smoothly with powerful editing tools.
Use the batch process feature to create PDFs from other popular file formats or convert PDFs to other formats in batches.
Use the Optical Character Recognition (OCR) tool to scan PDFs and convert them into searchable and editable digital files, in over 20 different languages.
Create personalized forms using various form options like text fields, combo boxes, drop-down lists, and buttons etc.
Batch remove all restrictions on multiple PDF files.
Work on macOS X 10.10, 10.11, 10.12, 10.13 and 10.14 Mojave.
---
Other PDF to EPUB Converter Tools for Mac OS X
1. 4Videosoft PDF to ePub Maker for Mac
4Videosoft PDF to ePub Maker for Mac is an effective tool that lets you convert your PDF files to EPUB format with ease. You can drag and drop source file into the program and convert multiple PDF files into the EPUB format at once. If you want to customize your output file, there are two options available in this tool. You can select text or image mode to convert your PDF pages to EPUB. Also, if you want to specify a page range that will be converted, the paid version allows you to do just that. 4Videosoft PDF to ePub Maker for Mac also has a friendly user interface that is easy to navigate.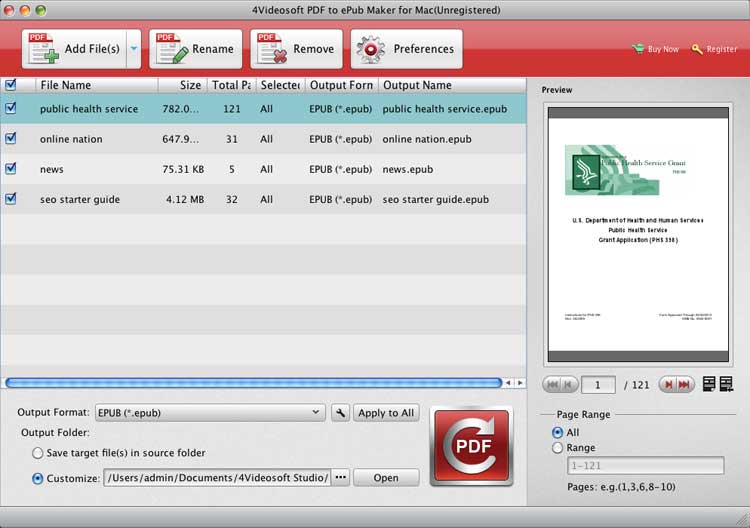 ---
2. Aiseesoft Mac PDF to ePub Converter
Aiseesoft Mac PDF to ePub Converter is one of the best PDF to EPUB converter tools on the market. You can edit your PDF file using this tool's various features. PDF to EPUB Converter Pro will enable you to convert your encrypted PDF file to EPUB file format. This tool also allows the user to perform custom settings on the output file depending on his or her interest. These customized options include adjusting font, font size, and the image DPI among others.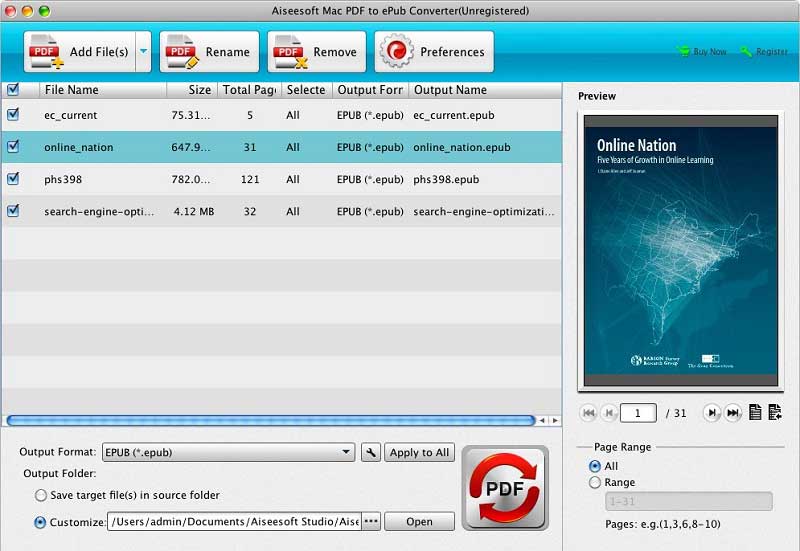 PDF to EPUB Converter Pro will automatically convert PDF catalogues and bookmarks into EPUB TOC by keeping the original structure of the document. This makes it easy to browse and read documents. This tool is also capable of automatically detecting and identifying paragraphs. This ensures that the content and formatting is maintained from the original file. This program also has a nice user interface that is easy to navigate through.
---
3. PDF Converter Pro for Mac
PDF Converter Pro for Mac is a very powerful PDF to EPUB converter tool. This tool lets you reuse, edit and even print your document into different types of data files. These file formats include Microsoft PowerPoint, EPUB, Microsoft Excel, HTML, and Microsoft Word, among others. This tool is swift in conversion and is capable of creating output file that retain the original layout.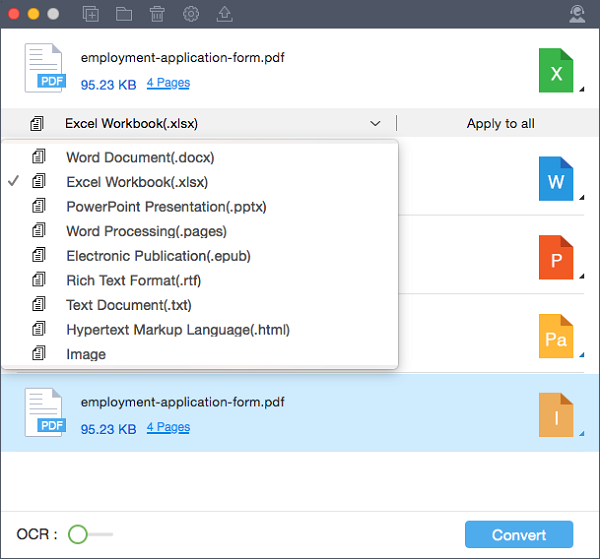 PDF Converter Pro for Mac has a simple interface that makes it easy for users to navigate. If your document is protected with a password that you don't have access to, this tool will still be able to convert your PDF file. Since the uploading and downloading of PDF documents does not require an internet connection, the conversion process is fast and can save you a ton of time.
---
4. PDFMate PDF Converter for Mac
PDFMate PDF Converter for Mac is a very useful tool that can be used to convert a PDF file into EPUB file format. There is one unique feature about this tool that makes it different from the other PDF to EPUB converter tools. The user is provided with a set of PDF to EPUB preset rules that allows them to use custom rules to convert their PDF files to an EPUB equivalent file format.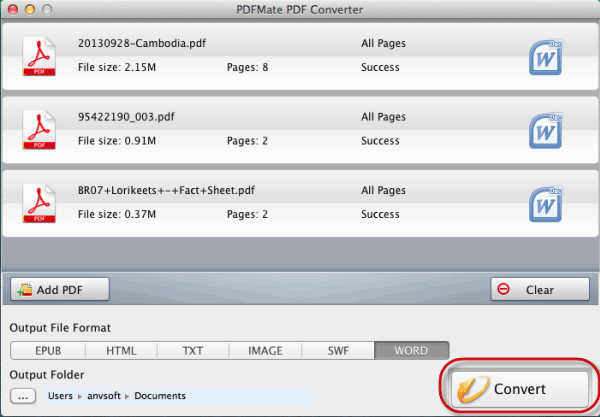 Through the use of scripting language, the user is able to customize how the text and images in the PDF file are to be extracted. Also, this feature allows the user to set the DPI (the resolution of the image) and the glyph (the character images) with ease. The conversion speed for this tool is not as fast as others; it takes a little longer when compared with the similar products. Common users may find some difficulties in customizing conversions and looks like it is designed for professional users.
---
Free DownloadFree Download or Buy PDFelementBuy PDFelement right now!
---
Related Articles
All Topics