Picture to Word Converter with OCR
Need to add some text to a picture, but don't know how? One of the most convenient methods for performing this process is by converting the picture to a Word document. There are many programs available online that you can employ to do this. However, some of such apps are too expensive, annoyingly slow and cumbersome to operate. PDFelement, an affordable and efficient picture to word converter, can help you carry out this conversion process using OCR instantly and professionally.
Convert Picture to Word with PDFelement
To turn a picture file to Word using the Optical Character Recognition tool of PDFelement, follow the tips stated below:
Step 1. Load a Picture
Start by pressing the "Create PDF" button to load the picture that you want to convert.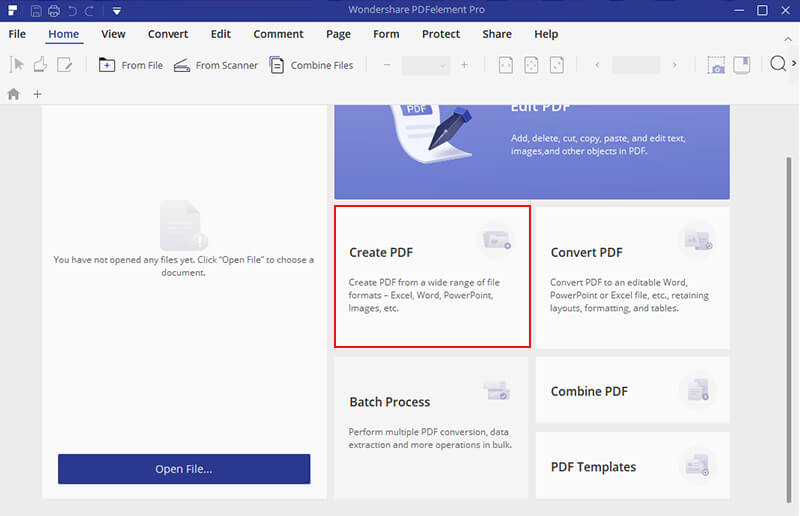 Step 2. Use OCR
The next step is to carry out Optical Character Recognition. Here, you can click the "OCR" button in the "Edit" tab to choose "Editable Text" option to perform OCR.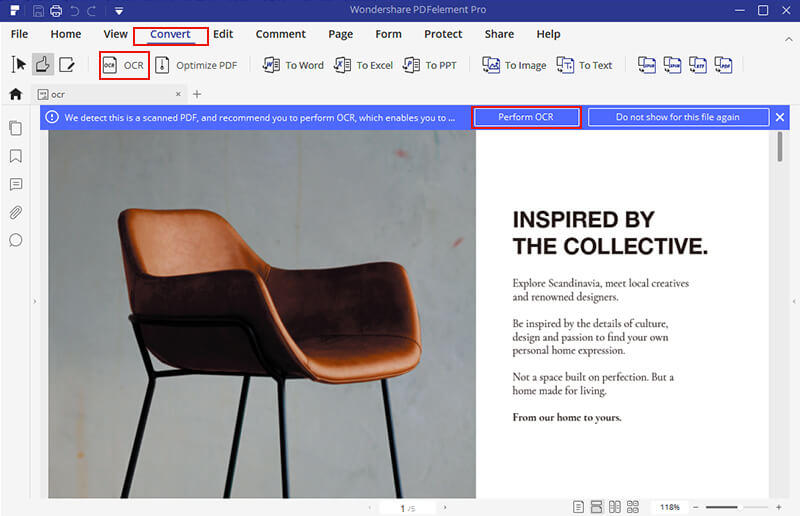 Step 3. Convert Picture to Word Document
In the last step, you can now convert the resulting editable document to a Word file that you can edit and add necessary text or other graphical elements to by using the "To Word" button.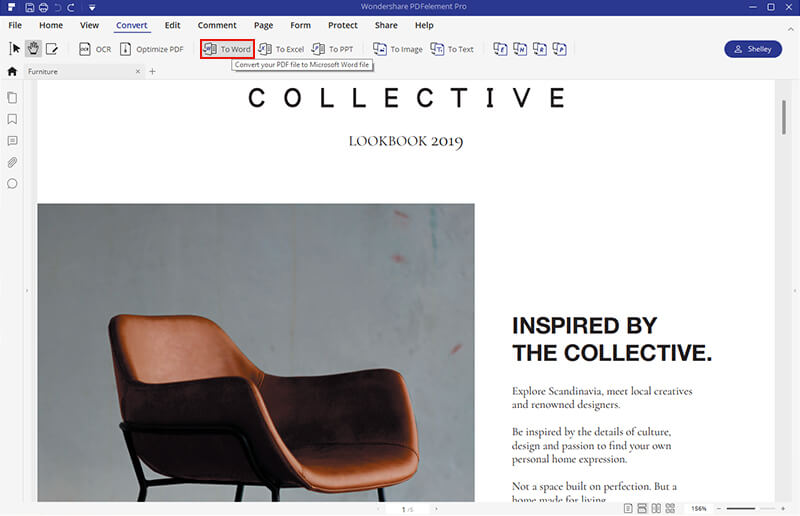 ---
Convert Picture to Word with Google Drive
Google Drive is able to help you convert picture to word with an embedded OCR feature.
Step 1. Upload a Picture
Upload a picture into your Google Drive account.

Step 2. Process OCR to Editable
Find the picture and right-click it to choose "Open with Google Docs".

Step 3. Convert Picture to Word
After the file is opened, you can convert it to a docx format word document.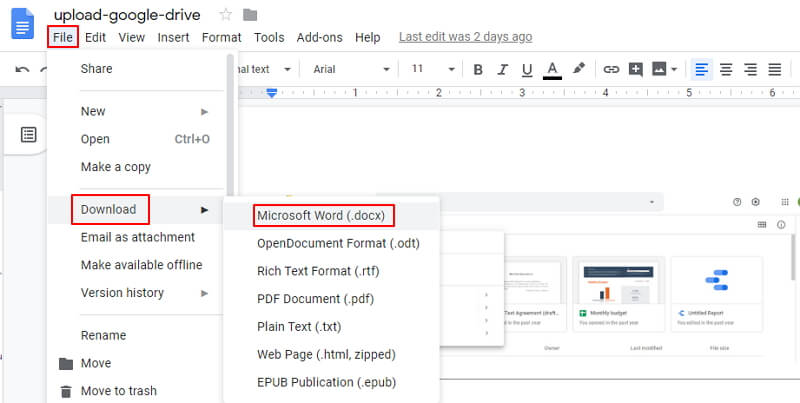 ---
Convert Picture to Word with PDF Converter Pro
In this second method for turning a picture to Word, PDF convertor Pro is employed. Before we discuss the nitty-gritty of the steps required for the conversion, it is pertinent to introduce this software briefly. PDF Converter Pro, it provides all you need for converting picture to Word, and PDF to or from many file formats like Excel, PowerPoint, Word, TXT, HTML, EPUB, and others. In turning picture to Word, PDF Converter Pro employs OCR too. Using this program, the conversion process is performed in 2 steps:
Step 1. Import a Picture
Click the "Create PDF" tab to load your picture file.
Step 2. Enable OCR
Click the "Advance Settings" button and in the "OCR" tab, you can select the top option to enable it, and select the picture content language in the OCR language list.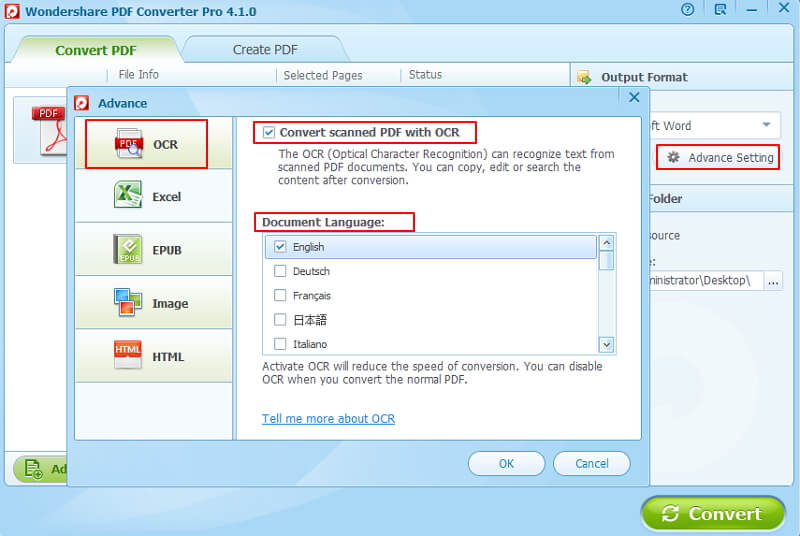 Step 3. Convert Picture to Text Microsoft Word
Select "Microsoft Word" as the output format of your file by clicking the "Output Format" drop-down list. Lastly, click the option, "Convert", so this software can turn the picture to an editable word document.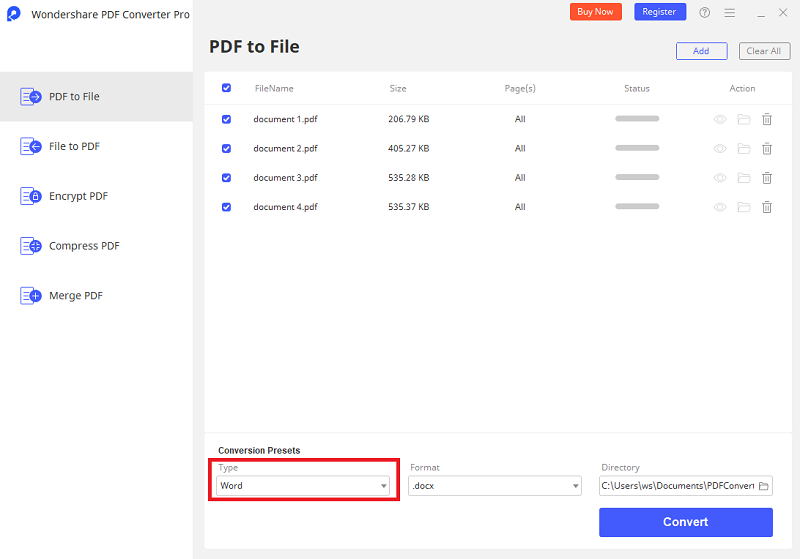 ---
The Best Picture to Word Converter
Owing to its user-friendliness and an impressive array of powerful features, PDFelement is the most outstanding picture to word converter on the market. It is a versatile program with unique tools for opening, creating, editing, and saving documents in several formats including Word, PowerPoint, Excel, TXT, HTML, images, etc. PDFelement comes with amazing offerings for annotation, including e-signatures in PDFs and stamping documents.
Its Optical Character Recognition (OCR) technology remains another primary feature that has endeared the app to the hearts of a host of users worldwide. OCR is used in many File Management operations. First, it is employed in reproducing the same pictures, columns, in addition to other non-textual elements without losing any formatting and layout of the original scanned document after the conversion process from picture to Word. Also, the OCR plugin helps in creating scanned documents which are editable. It supports multiple languages — more than 25 of them.
PDFelement can be used as form filler for creating, editing, filling out, and adding electronic signatures to PDF forms. It allows you improve the quality of your documents when it's employed in editing texts, images along with pages which are within your PDFs. With the annotation tool of PDFelement, you can remark content using sticky notes, highlight and strikethrough context.
It's an efficient and highly responsive picture-to-Word converter.
It sports an easy-to-use and intuitive interface.
The software features a robust OCR tool for unlocking text that is within images.
PDFelement is used for performing partial Optical Character Recognition on specific user-defined fields, which are within PDFs that are scanned.
It has remarkable capabilities for converting PDF files to or from many other formats including Excel, Word, PowerPoint, TXT, HTML, and pictures in formats like JPG, JPEG, PNG, BMP, etc.
It lets you open, mark-up, save, edit, and print PDF files.
PDFelement is employed in adding, moving, removing, and rotating graphical elements contained within PDFs.
It features strong security with its reliable password protection system for files.
The program is employed in creating interactive form field as well as automatically identifying form field.
It allows you extract data from interactive forms in Portable Document Format (PDF) and export it in comma-separated value (CSV) format.
PDFelement helps you insert page elements, page numbers, and bates number.
It's used for approving and adding e-signature to documents.
It can be used in batch process for conversion and extraction of data, bates number as well as watermark.
Free Download or Buy PDFelement right now!
Free Download or Buy PDFelement right now!
Buy PDFelement right now!
Buy PDFelement right now!
---