Word Documents are a great way to present information in a flexible and easy to use manner. Inserting PDF into word is not very difficult, but doing it incorrectly could cost lots of time. Let's take a look at how to insert a PDF into a word document.
Insert PDF into Word Directly for Free
Within your word document, you can insert a PDF file as an object. While you might be able to open it, view it, and resize it, you can't edit it. Here's how to embed PDF in word.
Step 1. Insert PDF to Word
While working on your document, click "Insert" > "Object". In the object dialogue box, click "Create from File" and then click "Browse" to find the PDF you want to insert. Click "Insert".
Step 2. After Embedding PDF into Word
If you want to display the PDF icon, check "Display as icon". Leave this option unchecked if you want to display the first page of the document. Then click "OK" to finish.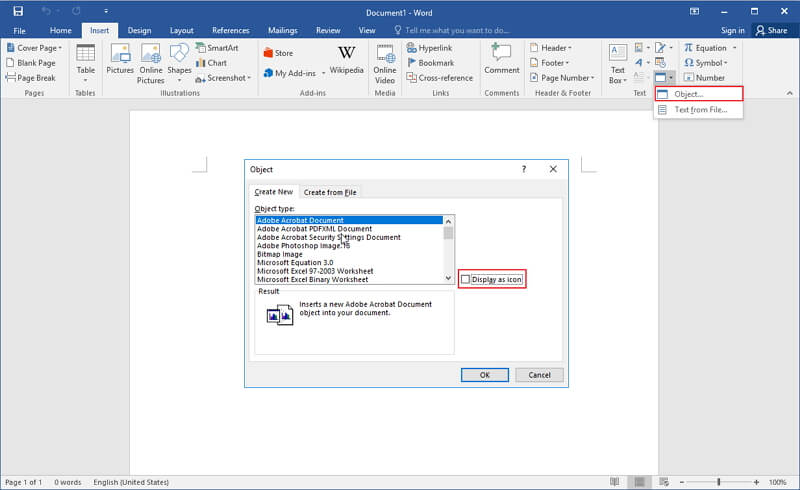 ---
Edit or Read PDF before/after Inserting PDF into Word
While this is a great and easy way to insert PDF into Word document. Follow the above steps to add PDF to word as an object. If you want to edit it after you insert it, you'll need to have a PDF editor installed to read or edit PDF files before or after adding PDF to word. This is why it is important to use PDFelement, which enables you to read, annotate and edit PDF documents.
It comes with tools that make it easy for you to combine, edit, transform and even organize your PDF files with ease.
It is very useful in converting PDF files to other formats such as Word, Excel, PowerPoint and many others.
It can also be used to insert new pages into a PDF or existing pages from other PDFs, as well as combine multiple file formats like Word or Excel and PDF.
Despite all of its impressive features, PDFelement is very easy to use, even for a beginner.
It also comes with the Optical Character Recognition (OCR) feature that enables scanned PDFs or image-based PDFs to be transformed into editable and searchable text. It is essential to perform OCR on any PDF document before converting it to editable formats such as Word, Excel or PowerPoint.
Best of all, your document's formatting will not be altered in any way.
Edit PDFs Like A Word Document
Before or after inserting PDF into word, you may need to read or even modify the content of the PDF document. PDFelement will be the best choice to do this. It not only provides various reading modes for you to choose from, but also allows you to edit a PDF like you would a word file.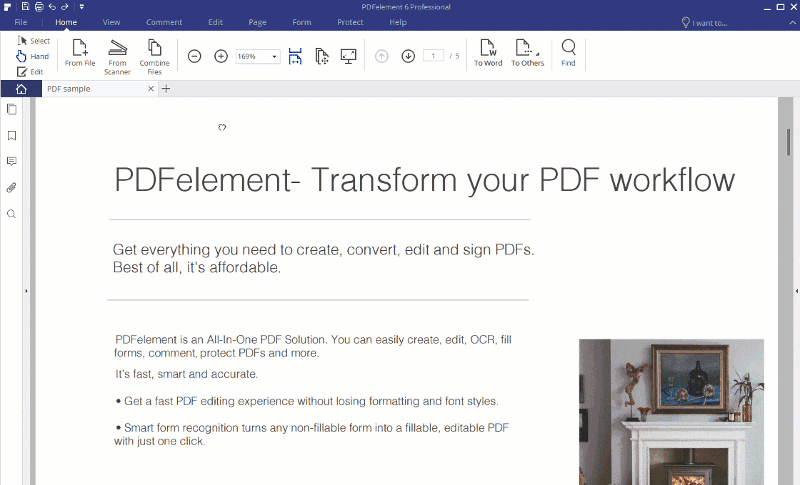 Attach Word to PDF
PDF format is also the best format to display content with perfect layout for a presentation, so if you want to display both Word and PDF documents together, you can attach the word file to a PDF file to present instead using the attachment feature of PDFelement.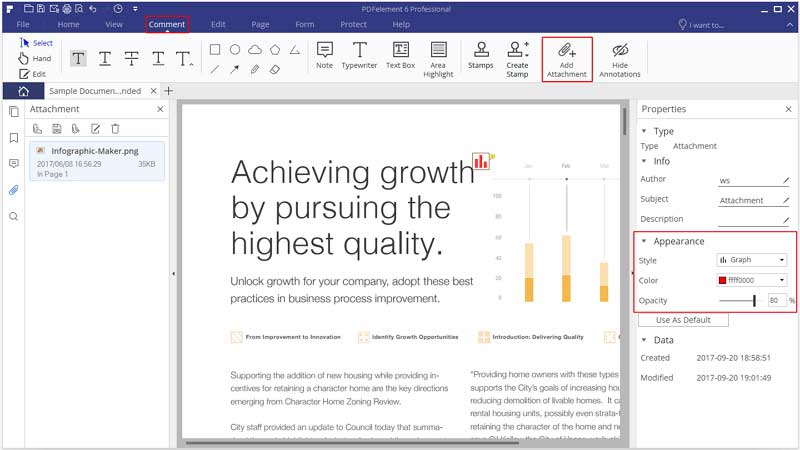 ---