OCR is the technology to convert image into text. Here the image does not stand for any images, like wallpapers. It refers to these images that scanned from text-books, magazines or any text-based files, usually saved as PDF. OCR is able to extracts text from these images. Here we're going to introduce 10 free OCR readers to handle scanned PDF files easily.
10 Best Free OCR Readers
1. PDFelement
PDFelement can easily help you work with scanned PDF documents with its advanced OCR technology. This feature can recognize text in scanned PDF and make your file editable. In addition, it can also convert your scanned PDF to other editable document formats like Word, Excel, PPT, Text and more. While you convert the document you are rest assured that the quality of your document is maintained.
PDFelement is equipped with powerful editing tools, which enable you to insert, delete, modify texts, images and pages. You can also fill out both interactive and non-interactive forms and create new forms with various options.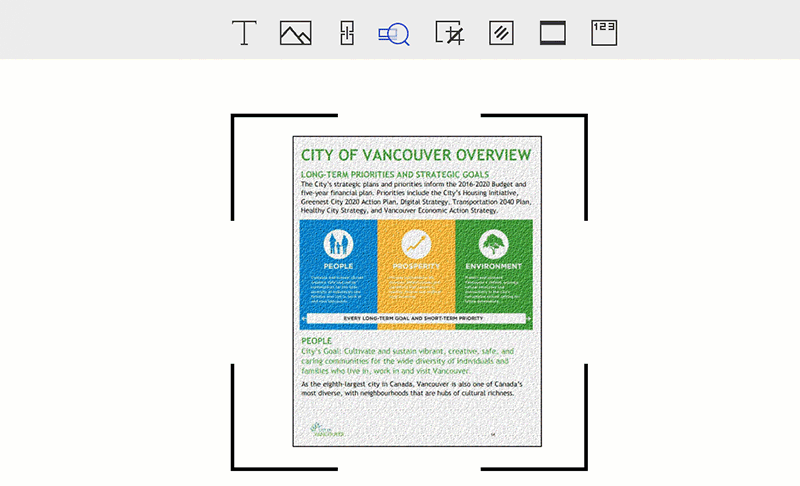 ---
2. FreeOCR
The free online OCR is totally free, no charge, no need to register, no email address needed. Everything is so good here. It supports images, a JPG, GIF, TIFF BMP, or PDF with multi-column text. And more than 30 recognition languages are supported. The limits are any uploaded image is less than 2MB, no wider or higher than 5000 pixels and only 10 images are allowed to upload per hour.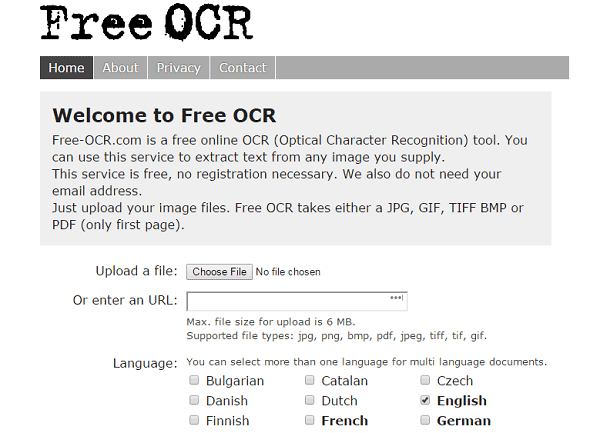 ---
3. i2OCR
i2OCR allows to upload images, TIF, JPEG, PNG, BMP, GIF, PBM, PGM, PPM or paste the URL of an image. It means you can convert images in your PC local drive or convert image from the Internet. No registration is needed. It supports multi-column documents, 33 recognition languages. Unlike FreeOCR, Sciweavers enables users to upload as many images as users like.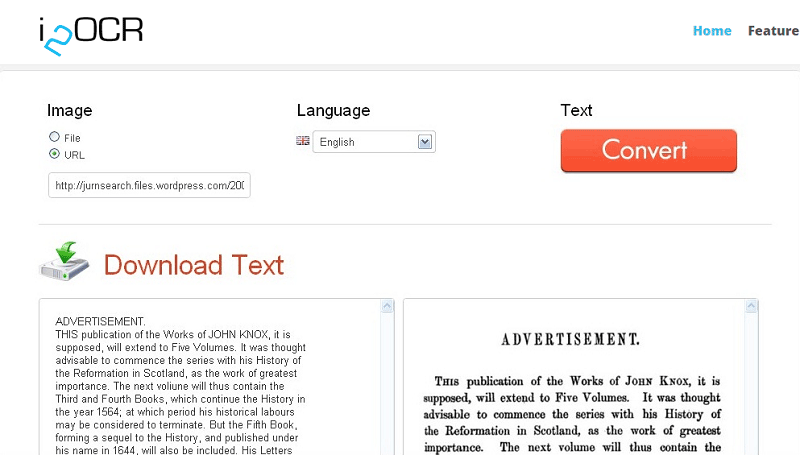 ---
4. Online OCR
Online OCR is able to convert photographs and digital camera captured images into text with 32 recognition languages. More concretely, it converts scanned PDF to Word, Text, RTF, extracts text from JPG, JPEG, BMP, TIFF, GIF and converts into editable Word, Text, Excel, PDF, HTML, etc. 15 images can be converted within an hour.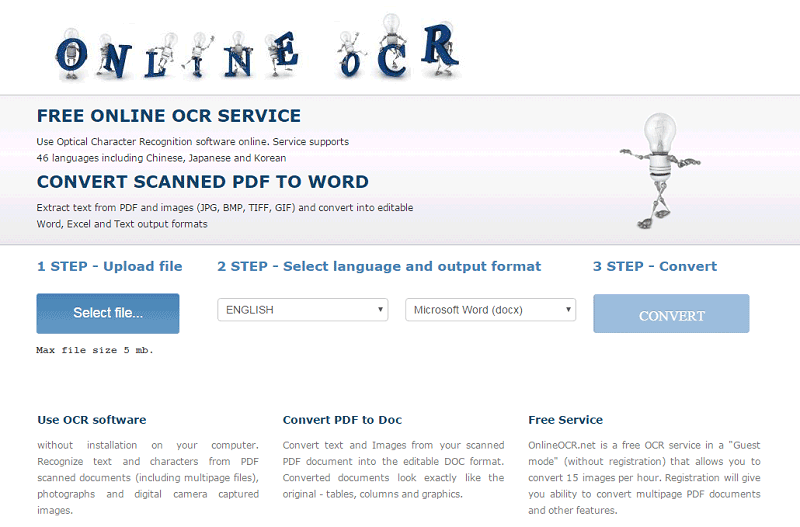 ---
5. Free Online OCR
Free Online OCR is able to convert scanned documents, screenshots, faxes, and photos into editable and searchable text, such as DOC, TXT, PDF and RTF. It supports PDF, BMP, JPG(JPEG), PNG, GIF, TIFF.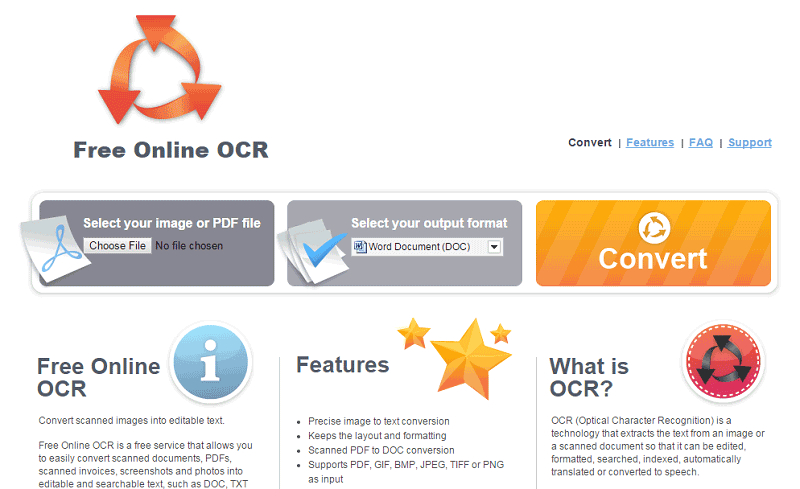 ---
6. Cvisiontech
Cvisiontech also supports uploading multiple PDF, TIFF, JPG, and BMP at one time. Ensure the file size of any uploaded file is less than 100MB. Here you can compress your target file and optimize it for website.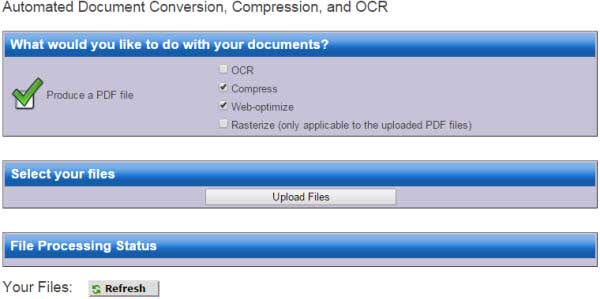 ---
7. SuperGeek Free Document OCR
SuperGeek Free Document OCR is a user-friendly and powerful image OCR converter designed for both professional and home users. It can read text from JPEG, JPG, TIFF, TIF, BMP, PNG, GIF, PSD, WMF, EMF, DCX, J2K, JP2, PCX, etc. and convert into editable MSWord and TXT document with just few clicks on your mouse.
---
8. onOCR
Regardless of the size of a scanned or PDF file that you have, onOCR is able to handle it. Free OCR would read an uneditable document and turn it to copyable text which you can edit the way you want. It also allows you to process images and turn it into editable text.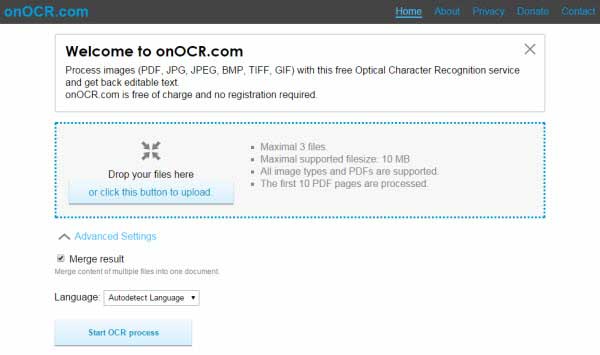 ---
9. Investintech
Able2Extract from Investintech is a PDF management powerhouse which you can use in converting scanned OCR PDF to over 10 editable file documents, make secure PDF files from just about any type of file, view and edit PDF files, extract text from a scanned document, and then modify and preview conversion results.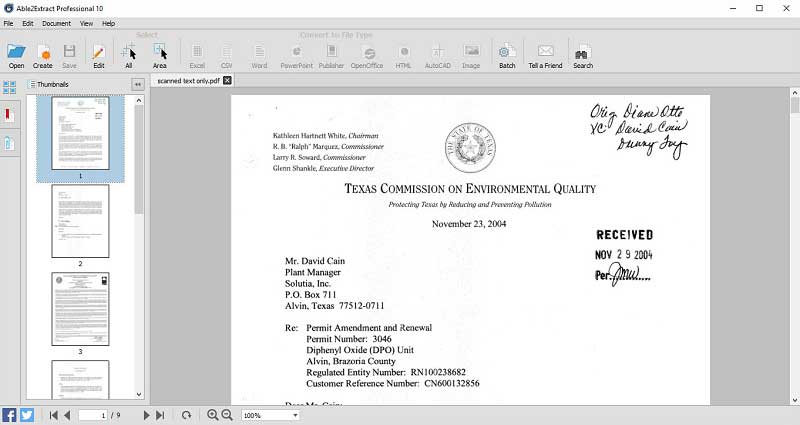 ---
10. OCRGeek
OCRGeek.com allows you manage OCR online in bulk mode. It allows you to upload multiple files at the same time without trouble. The entire process is easy and quick. All your documents will be organized and converted into TXT format. The input formats OCRgeek can support are: PNG, JPG, PDF, TIFF, GIF, DJVU, and BMP.