Adobe® Acrobat® XI is an awesome application to its users. It is a perfect editor and converter. However, Adobe Acrobat XI was end of support on October 15, 2017. This means that there will be no more updates. Using Adobe Acrobat XI on newer versions of Windows will be a challenge since there will be no more updates to make the application compatible with these new versions.
Best Alternative to Adobe® Acrobat®
1. PDFelement (Windows, Mac, iOS and Android)
PDFelement is a premium Adobe Acrobat alternative that offers multiple features on the same platform. Apart from being multi-featured, PDFelement is also multiplatform, with support for Windows 10, macOS Sierra, and iOS platforms. The application comes with the usual set of functions that include PDF editing, viewing, and printing, and combines these with advanced functions such as PDF conversion, creation, and making documents searchable with OCR. Forms and templates can also be worked on within the application.
Benefits of using PDFelement:
Easily convert files and at anytime you can create HTML, Microsoft documents, and images from files.
Create and combine multiple PDFs into one PDF.it supports batch PDF creation.
Editing of PDF files without tampering with its fonts or original document.
Create editable PDF forms from non-fillable files enhancing productivity in businesses.
It promotes the security of your documents where you can sign your own documents and even give passwords to encrypt your files.
---
2. Nitro Pro 11 (Windows)
Nitro Pro 11 is another worthy alternative to Adobe Acrobat Windows 10 that has grown popular over the years, largely due to its integrated cloud-based solutions. Nitro Pro 11, a product of Nitro PDF, is the paid version from Nitro that bundles different features for advanced users. It can be used to edit PDF files, perform document conversions, print, and add annotations to documents that can then be shared via Nitro Cloud, a proprietary service from Nitro that connects users to the cloud.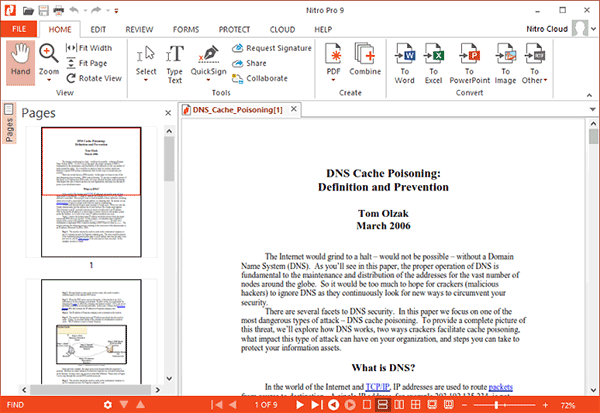 Pros:
Integrated cloud-based solution, via which Files can be shared by users.
Light and easy-to-use interface.
Cons:
It has the tendency to misbehave when using OCR on large documents.
Edit experience is much worse compare to Microsoft Word.
Price: $159.99
---
3. Foxit PhantomPDF (Windows and Mac)
Foxit Software is one of competitors of Adobe Acrobat XI for the earliest time. The free version of Foxit Reader contains the basic functions that Adobe provided, such as viewing, printing, and annotation features. However, the PhantomPDF line of PDF applications is released for competition with the advanced version of Adobe Acrobat.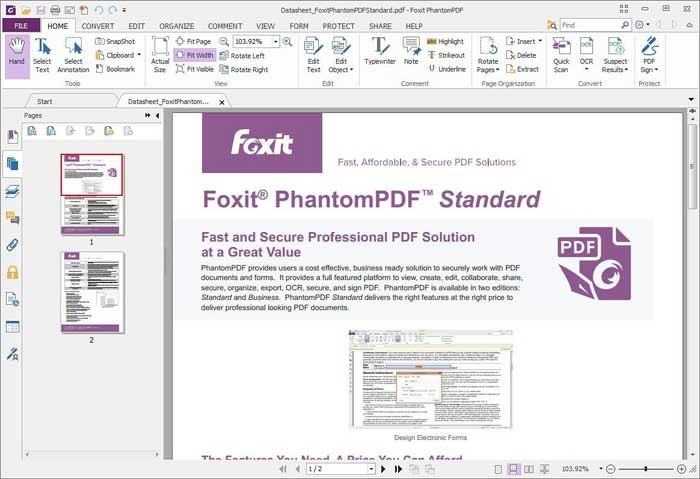 Pros:
It has a Business version and Standard version for different usage.
Almost contain features of PDF industry in every aspects.
Cons:
Too many features offered by the software, which makes it a lot more complicated to learn how to use..
Price: $109 for standard version/$139 for business version
---
4. Infix PDF Editor 7 (Windows and Mac)
Infix PDF Editor 7 is another worthy contender in the area of PDF modification and handling. This application comes with an interesting user interface that is strikingly similar to Microsoft Word. It even works more like a Word processor in many ways, including making changes to font, text, making scanned files searchable with OCR, and images within the application.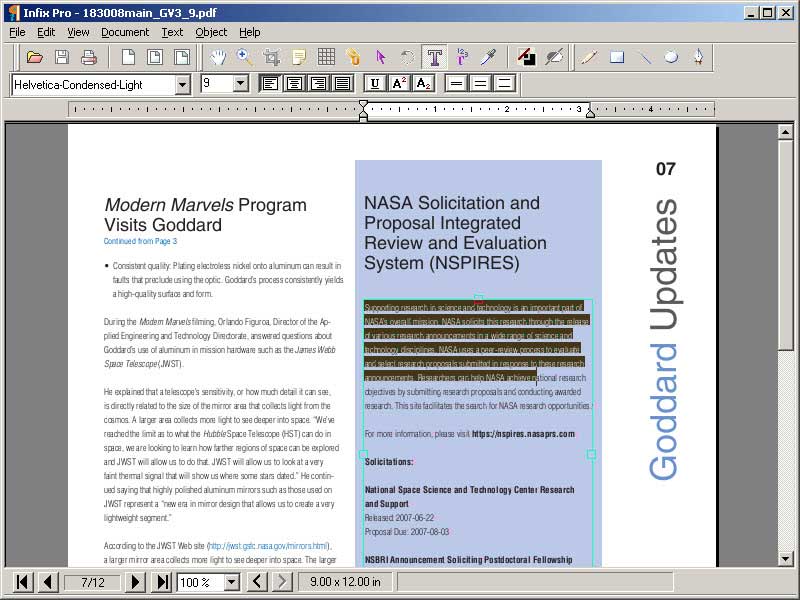 Pros:
Embedded multi-language spell-checker.
Inserts a printing module in the printer dialogue when creating PDF.
Cons:
Fixed watermark for filled forms on all PDF outputs.
Subscription mode makes it difficult to manage the company deposit.
Price: $9.9 for one month or $99 for one year
---
5. Master PDF Editor (Windows, Mac, and Linux)
This is a simple but powerful PDF editing tool that lives up to most of its PDF editing promises. Master PDF Editor is a capable PDF text, image, and page editor that also bundles PDF creation, XPS to PDF and PDF to image conversion, the addition of PDF controls, form validation, and other editing features on a single platform.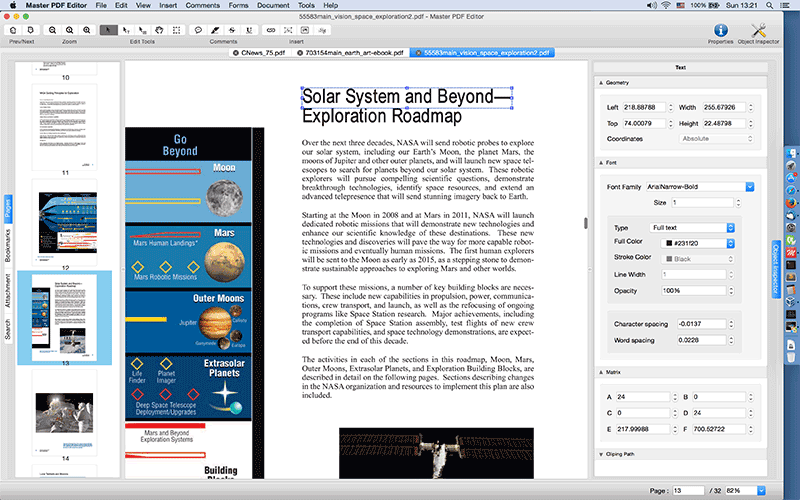 Pros:
Simple and light progrma, makes it easy to use.
Supports digital signatures and encrypt files with 128-bit encryption.
Cons:
Lack of advanced features to cover your needs.
Can not move watermark with the free trial version.
Price: $49.95
---
6. PDF Expert (Mac and iOS)
This is an incredible Adobe Acrobat alternative for macOS Sierra. It is a software program that can edit PDFs texts, edit images and modify links. It is able to combine multiple files into a single PDF document. You can also annotate PDFs and secure your PDFs with this software. With powerful reading capabilities, whether you are comparing 100 pages of a contract or reading an essay, you can choose the layout which is the most relevant to make your reading tasks easier and faster..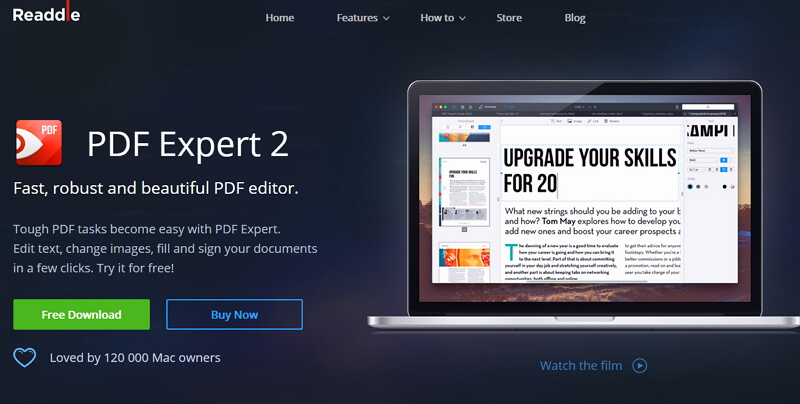 Pros:
Compress the PDF and reduce its file size without messing with the formatting.
More cost efficient than Adobe Acrobat.
Cons:
Not support the conversion of PDF files.
OCR feature is also unsupported in this program.
Not compatible with Windows OS.
Price: $59.99
---
7. PDFPen Pro (Mac and iOS)
With PDFPen Pro you will be able to view and manage your PDF files just like you did on Adobe Acrobat XI. It's one of the alternative to Adobe Acrobat for Mac OS X El Capitan. It can convert files to other popular formats. This software not only allows you to view PDFs but also edit its texts and images. You can also draw markups, highlights, edit text pages and add comments. It can also scan, redact, sign PDFs and fill out the PDF forms easily.
You can also use PDFPen Pro to create PDFs and export PDF files to formats like Word, Excel, PowerPoint and Images. This software also has an app that is compatible with iPhones and iPads.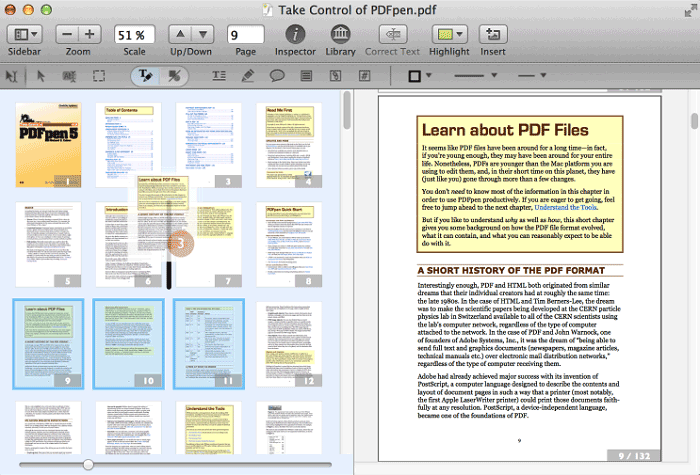 Pros:
Powerful form-building tools and more export options to deal with PDF forms.
Compatible with iOS, makes it easy to work with iPhone and iPad.
Cons:
Only support Mac OS 10.11, but not the latest 10.12 macOS Sierra.
Price: $124.95
---
8. PDFMate PDF Converter (Windows and Mac)
PDFMate PDF Converter is a PDF program with powerful functionalities. It enables to convert PDF documents to EPUB, JPG, HTML, Text, Word and SWF format for Mac users. In addition, scanned PDF files with OCR can also be easily converted. It also supports batch conversion and customization of files.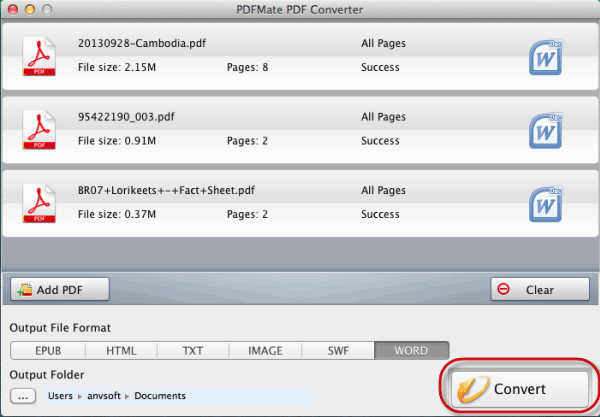 Pros:
Support converting PDF to hundreds of files of different formats.
Embedded OCR can convert scanned file into editable one.
Cons:
Lack of other PDF feature except converting from and to PDF.
Price: Free
---
9. Nuance Power PDF (Windows)
Another alternative to Adobe Acrobat XI is Nuance PDF Pro This software is also integrated with several PDF features that makes it appear on our top list. It allows you to create PDF files from papers and existing PDF files. It can also output PDF files to formats like Word, Excel, PowerPoint and JPEG. You can also edit PDF texts and images and reorganize the PDF pages.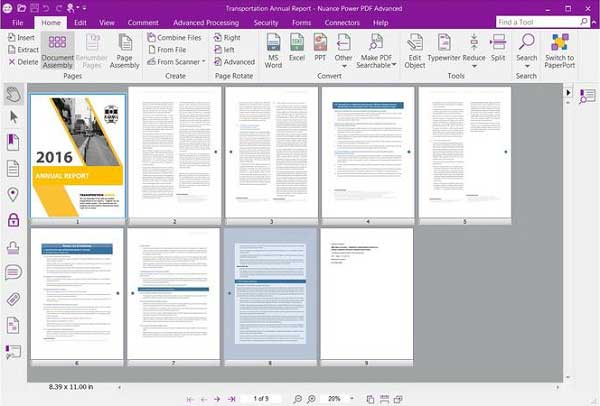 Pros:
Automatically check documents and delete sensitive data through advanced revisions to achieve secure document sharing.
Integrated with enterprise document management systems to achieve secure of integration.
Cons:
Not compatible with Mac OS X.
Price: $149.99
---
10. Bluebeam PDF Package (Windows and Mac)
Bluebeam Revu is specially designed for business professionals who can easily edit, manage, mark up, organize or collaborate through PDF documents. It has many advanced options such as Cloud based services for sharing, enhancement tools, Hyperlinks, Add alignments, export bookmarks, and so on.
Pros:
It offers batch conversion of PDF's, MS office and Outlook file formats.
It is available in 3 flexible pricing structure for different usage.
Cons:
Charge from its customers in the name of maintenance or upgrade features.
Price: $349 for Standard, $399 for CAD, $499 for Extreme
---
11. SodaPDF (Windows and Mac)
SodaPDF supports many useful features for viewing a PDF document. It consists of a unique feature such as Multi-Document viewing and many reading modules for making you reading experience more fun. You can fill forms, annotate, highlight or even convert PDF into HTML, RTF or TXT.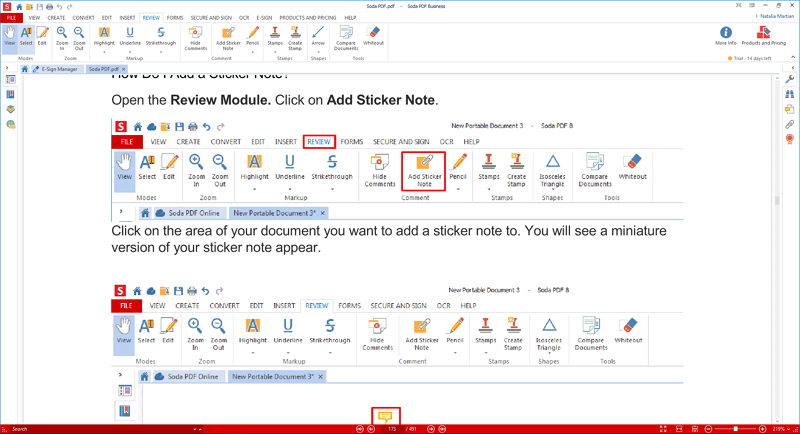 Pros:
You can also view PDF via online sharing services such as OneDrive/Google Drive.
Search for spcific keywords and automatically replace or redact them.
Cons:
Subscription mode for charging.
Price: $84/Year
---
12. PDF-Xchange Editor (Windows)
PDF-Xchange Editor is best suited for students and individuals as it has all the resources necessary for handling any type of PDF file. It has the ability to handle multiple PDF documents and projects. It supports all the basic features like Add bookmark, Reading modes and Annotation tools.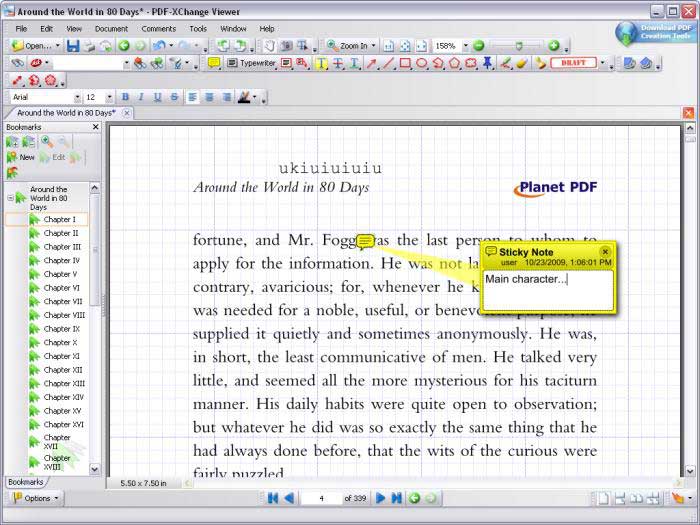 Pros:
It has good markup tools as well as annotation features such as shapes and add notes.
You can open files from your browser and create PDF documents from existing file formats.
Cons:
Its free version has only limited features.
Price: $54.5 (charge extra money for version updates)
---